It is always a good idea to carry a flashlight in your survival kit. No matter the occasion, you will certainly find yourself in a situation that requires more light than that which is available. Think about it. If you are at home and the power goes out, having a flashlight in your emergency kit is essential after the sun goes down. The same goes for camping, hiking, or a full-blown survival situation.
Streamlight 74751 Strion Flashlight Review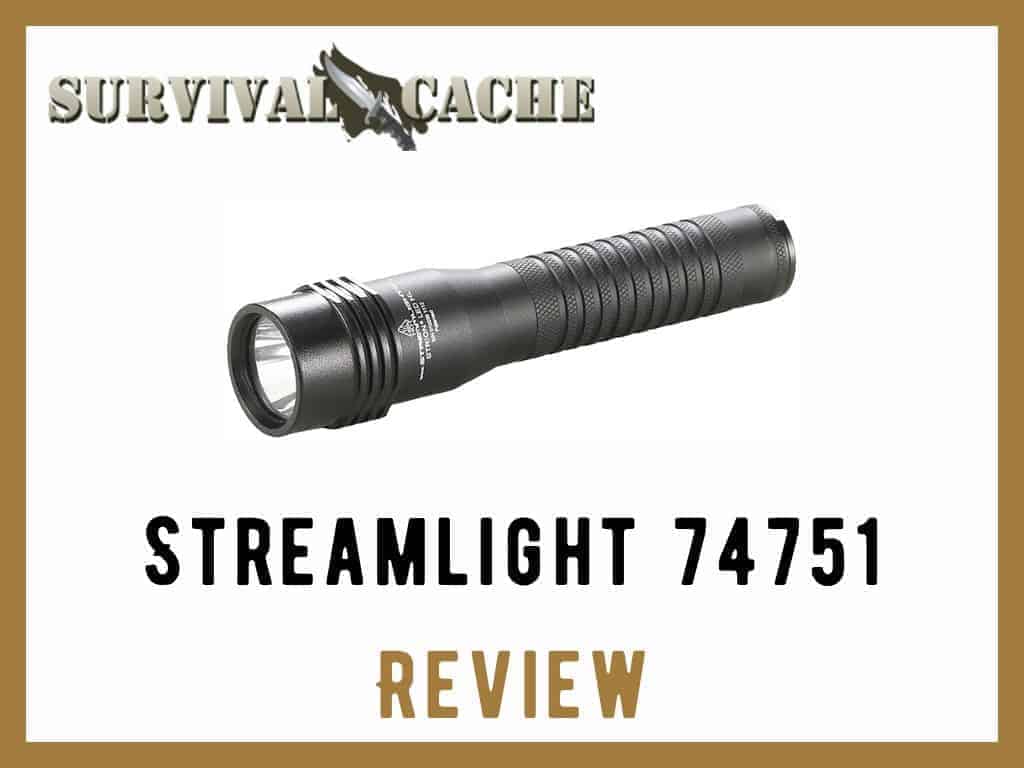 There are plenty of flashlights out there, but some flashlights have inherent problems that could get in the way of getting the job done. In this review, I will be going over the Streamlight 74751 Strion Flashlight and what makes this a great flashlight for your survival kit. First, let's have a look at some of the features of this particular flashlight:
C4 LED Technology:
With C4 LED technology, the flashlight itself can withstand shock and has a lifetime of about 50,000 hours of use.
Battery Specs:
With a lithium ion battery, the flashlight is rechargeable and can be recharged up to 1000 times. It takes about 3 hours to completely charge the device.
Settings:
The Streamlight can be set to blink or run constantly.
Construction:
The Streamlight is available in only black. The body is constructed of durable aluminum and has ridges across its length for grip. The flashlight also has a clip attached so that it can be clipped on a pocket or belt for easy storage and carrying.
Run-Time:
The 3 AAA (which are included with the purchase of the Streamlight) can power the flashlight for up to 60 hours.
Bulb Specifications:
The LED bulb of the Streamlight has a brightness of 500 lumens and will greatly outlive standard bulbs which are typically used in flashlights.
Charger:
The charger is a 120-Volt DC/12-Volt AC charger that is included with the purchase of the flashlight. The charger also comes with a holder for convenience.
Size:
The flashlight is just shy of 6 inches long and weighs just over 5 ounces.
---
Streamlight 74751 Pros and Cons
Pros
C4 Technology that gives the flashlight a lifetime of 50,000 hours.
Durable construction.
Each charge provides a decent run-time.
Charger is included.
The grip and clip are excellent and durable.
LED bulbs are bright and last a long time.
Rechargeable.
Sleek design and comfortable size that is not too small and not too large.
Rated to work well in harsh environments.
Cons
Fairly expensive.
Some applications may require more than 500 lumens
Last update on 2021-07-24 at 07:22 / Affiliate links / Images from Amazon Product Advertising API
---
What People Are Saying About the Streamlight 74751 Strion
While most have thought this flashlight to be a slight 'stretch' of the budget, the Streamlight has proven to be a bright and dependable flashlight. Its durability, ease of handling, and charger have been a 'crowd pleaser'. One of the aspects that a lot of people find appealing is the fact that the light can be set to low or high brightness with ease. Another aspect that does not go overlooked is the size and weight. The size of the flashlight lends it to be durable and manageable without being bulky or 'light and flimsy' feeling. The Streamlight is a great addition to utility belts, emergency kits, or survival packs. The only downside to the Streamlight 74751 is that it is a bit costly. Most have said that it was a bit more expensive than they had thought, but that it was well worth the investment.
---
FAQs about Streamlight 74751 Strion
Q: What are Lumens?
A: Lumens are a method of measuring the brightness of light. Basically, the more lumens your flashlight produces, the brighter the beam of light should be.
Q: How long does it take to completely recharge the batteries?
A: To recharge the batteries after they are completely should take about 3 hours. If your flashlight takes longer or will not hold a charge, it is probably time to replace your rechargeable batteries.
Q: How many lumens do I need?
A: It depends. 500 lumens is pretty bright. If you are wanting to illuminate objects far away, 500-1000 lumens should be plenty.
Q: Is a bigger flashlight brighter?
A: Not necessarily. Some flashlights are made bigger to accommodate larger batteries. LED bulbs do not require as much power, thus the batteries do not have to be as large.
Q: What benefit is a good grip?
A: It is important that your flashlight is easy to carry and stays in your hands. If you are using your flashlight in wet conditions or if you are sweaty or tend to shake, a flashlight with grip will help you to keep ahold of your flashlight.
Q: Does this flashlight come in other colors?
A: No. The only color option available for this model is black.
---
Verdict
The Streamlight 74751 Strion Flashlight is a great flashlight. In my experience, 500 lumens is more than enough brightness for camping, hiking, and emergency situations. The only reason that you might want more is if you plan to use your flashlight to illuminate objects at great distances. I have found, however, that this flashlight will do everything that I need it to do and probably more.
The Streamlight is a heavy-duty flashlight that is easily carried and has an excellent battery life. The batteries are easily charged and easily changed. The grip on the flashlight is sufficient. I have found that flashlights and other similar tools that have a rubber grip tend to separate from the rubber after some use. Having a flashlight with grooves or ridges for grip ensures that this does not happen and that the grip on the flashlight lasts as long as the flashlight itself does. Having LED bulbs instead of the typical flashlight is a huge benefit because the LED bulbs last uch longer, are not as fragile, and tend to be much brighter with a larger range in distance of illumination. Since the flashlight comes with a charger, there is no need to trouble with finding an external charger for the batteries.
The sleek and heavy construction of the Streamlight is a reassurance of the quality of the product. To be completely honest, holding the flashlight simply feels good. Of all of the flashlights that you can find on the internet, this one is a straightforward, simple, and quality flashlight. If you are looking for a flashlight that will last a long time while maintaining integrity in quality, this is a great choice. The batteries are not easily drained, the C4 technology protects it from substantial tumbles, and the clip is sturdy and fits nicely onto my clothing and/or pack. Although this flashlight may look humble for the price, It performs well and will stand the test of time and hard use.
Last update on 2021-07-24 at 07:22 / Affiliate links / Images from Amazon Product Advertising API
---