Finding a flashlight that's sturdy, compact, and lasts long is challenging – regardless of if you're looking for a flashlight for everyday carry or your firearm.
The Streamlight 88850 PolyTac flashlight seems to fill the void perfectly. But is it really worth the money?
In this review, we'll go over all of the flashlight's features and weigh out the pros and cons to help you decide.
Let's begin.
Sale
Last update on 2023-12-01 at 21:43 / Affiliate links / Images from Amazon Product Advertising API
Streamlight 88850 PolyTac Flashlight Review
Design And Durability
At first glance, the flashlight looks rugged – which it is!
The flashlight boasts an engineering polymer housing, making it virtually indestructible. It is also IPX7 rated, meaning it is waterproof to 1 meter for 30 minutes. All of its openings are either O-ring or gasket sealed.
The "Rocky Stipple" texture ensures that you have a firm grip over the flashlight at all times, and even if you drop it, it is impact tested (3 meters), so you don't ever have to worry about breaking it.
It's five inches long, and the body has a one-inch diameter, which enables you to slip it into your pocket whenever you don't need it.
The small size also makes it perfect for carrying around in a purse, a backpack, and a tool bag. It comes with a belt clip, which makes carrying it convenient, but it's also the right size to be used as a firearm flashlight – all you need is a flashlight mount.
It weighs just 4.1 ounces, and you'll barely feel it on your weapon.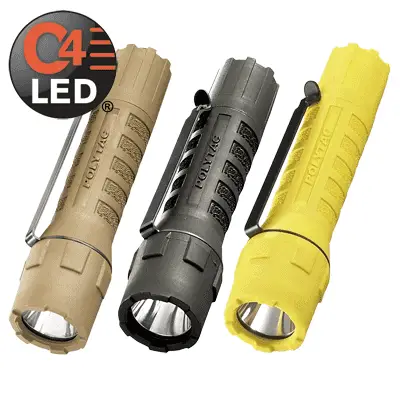 If you are going to use it with a firearm, you can remove the belt clip with a little elbow grease. The clip is held in place underneath the O-ring, and you will need to roll the top off carefully to remove it – but it can be done. 
Size- and durability-wise, the flashlight is perfect for law enforcement, hardware, automotive, security, sporting, and other outdoor applications.
It comes in three colors: Black, Coyote, and Yellow.
LED Specifications
Streamlight claims that the LED used has an ultra-long 50,000-hour lifetime, which is super impressive considering the price.
It comes with a parabolic reflector, which produces a concentrated beam of light, providing optimum peripheral illumination.
The Streamlight 88850 PolyTac offers three different output modes – high, medium, and low, and it also has a strobe function.
High
Brightness: 600 lumens
Intensity: 11,500 candela
Throw distance: 214 meters
Runtime (approximate): 2 hours, 45 minutes
Medium
Brightness: 260 lumens
Intensity: 4,900 candela
Throw distance: 140 meters
Runtime (approximate): 5 hours, 30 minutes
Low
Brightness: 35 lumens
Intensity: 675 candela
Throw distance: 52 meters
Runtime (approximate): 34 hours
Strobe Mode
Runtime (approximate): 5 hours, 30 minutes
Functionality And Ten-Tap Programming

The flashlight comes with a tail-switch and operates on half-push/tap-and-click function, which is pretty standard.
But what makes it unique is the different modes that you can toggle between using the switch.
By default, you must tap it once for high mode, tap it twice for the strobe mode, and tap it thrice for the low mode.
To lock a mode in, you must push the button in all the way until it clicks.
If you want a simple on/off functionality and don't want to be able to cycle between the modes, you can use the Ten-Tap Programming feature to change the way the flashlight works.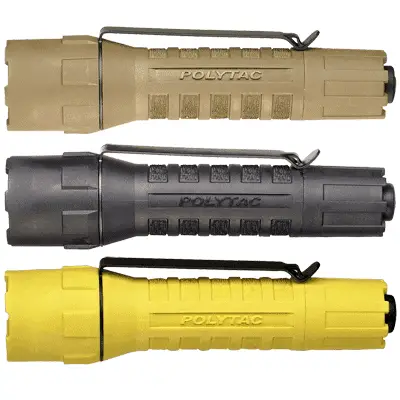 Programming #2 is high-mode only, meaning you won't be able to toggle to strobe or low even accidentally. To switch to programming #2, you must tap the button ten times, and hold it on the tenth tap. The flashlight will turn off, confirming that the programming has been changed.
Tapping it ten times again and holding it on the tenth tap will switch you to programming #3, which enables you to toggle between low, medium, and high modes.
The tail-switch isn't recessed inside the housing, so you may accidentally click it on at times. However, the protruding switch also makes for convenient momentary access – you won't have to look for the button when you need the flashlight to turn on.
Battery 

Two 3-volt CR123A batteries power the flashlight. Batteries are included in the box.
Since the Streamlight 88850 flashlight has solid-state regulation, the beam of light will never dim when the battery starts to run out. 
The technology ensures that the light output is consistent throughout the battery's life.
Depending on what mode you use it on, the flashlight should last you between two and five hours.
---
Pros And Cons
Pros
Rugged housing 
50,000 LED lifetime
Waterproof (IPX7 rating)
Batteries included
Four light modes
Slip-resistant grip 
Light won't diminish with battery life
Cons
Button protrudes outside of the housing, causing accidental clicks
Could have a better battery life
CR123A batteries are more expensive and less common
Customer Sentiments
Customers love the specifications they're getting for the low price. The powerful LED makes it a better choice over alternatives from companies like SureFire. The sturdy design is another feature that nudges customers to make their second purchase.
However, one common complaint is the relatively low battery life, and the fact that the CR123A batteries are a tough find makes matters worse.
Overall, though, customers seem to love this handy flashlight.
Sale
Last update on 2023-12-01 at 21:43 / Affiliate links / Images from Amazon Product Advertising API
---
FAQs About Streamlight 88850 Polytac Flashlight
Is the clip removable?
The clip is removable, but since the top is screwed on tightly, it will take a lot of effort. You have to remove the top bezel and the O-ring, then you'll be able to remove the clip.
Can I mount it to my weapon?
As long as you have the right mount, you can mount it to any weapon.
Are the batteries rechargeable?
The CR123A batteries are one-time use only, and you will have to buy new ones when they run out of charge.
Can I use it with a helmet?
You must purchase the PolyTac Helmet Kit from Streamlight separately to use it with a helmet or a hat.
It comes with a screw-on clip that will enable you to mount it onto a helmet.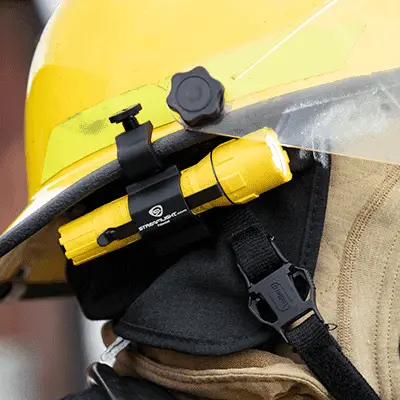 ---
Verdict
The flashlight is compact and boasts an impressive throw distance of 214 meters. It is also super bright, capable of producing a beam as bright as 600 lumens.
Having it in your pocket or the car can help you out in risky situations, and since it's rugged and waterproof, you don't have to worry if you drop it in the rain or the snow.
The aggressive pricing and the ten-tap programming feature make it a must-have for anyone looking for a reliable flashlight.
Sale
Last update on 2023-12-01 at 21:43 / Affiliate links / Images from Amazon Product Advertising API