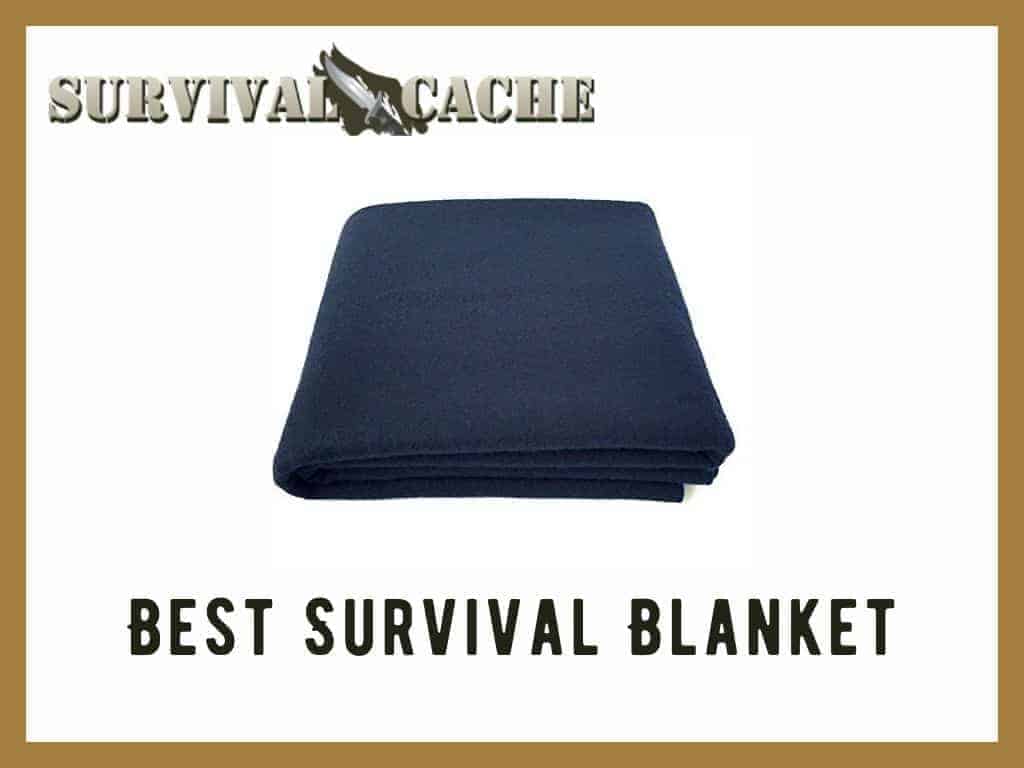 No matter what you plan on doing with your time out in the wilderness, it would always be recommended to equip yourself with a quality survival blanket.
While taking part in camping, hiking, backpacking, bushwacking, or any other activity that takes place in the outdoors, you should be well-aware of the fact that emergencies can arise at any time, and you can find yourself in a situation where your survival skills will be tested. Surviving an emergency situation requires having the right equipment and gear with you, especially when the weather is cold and harsh. With an emergency survival blanket, you'll be able to retain your body heat, and stay warm in adverse conditions.
Before getting started, let's go over the top picks:
BLANKETS
DETAILS

Compact design that can fit in multiple bags + kits

Backsides can be coated in noticeable colors for emergency situations

Blocks and retains heat

Check Price on

Amazon.com

Heavy duty with a good warmth-to-weight ratio

Can be multipurpose, acting as blanket or ground cover

Fire resistant

Check Price on

Amazon.com

Sleeping bag rather than just a blanket, which can be used for full enclosure

Stuff sack has whistle to notify rescuers

Easily fits in most bags

Check Price on

Amazon.com
BEST Survival Blanket: My Top Picks
In order to help make the search a bit easier for you, I've compiled a list of some of the best survival blankets on the market. These are blankets that are reliable, durable, and affordable. The blankets in this list are made of various materials, so it's best to know when certain ones are better to use than others. Wool, fleece, and mylar are the most common materials used to make survival blankets, but other materials are still commonly used.
These survival blankets from Titan come in multiple colors in shades on one side, which can help you get noticed by someone in an emergency situation. There is a shade for orange, as well as purple / red, as well as more discrete shades like camo and olive-drab. On the other side, you'll find the upper-quality metallic and reflective layer, which is meant to retain body heat, or reflect heat if needed. These mylar blankets are the perfect thing to have on you during an emergency situation; they can help to keep you warm, and you can also feasibly carry more than one around with you since they are foldable and compactable. Five different blankets come with this purchase. 
Since these blankets from Titan are able to retain much of your body heat in relatively cold conditions, they can help to prevent shock and / or hypothermia. This blanket could also easily be used as a ground cover, poncho, or tarp in the event that you need to build an emergency shelter. These survival blankets won't tear easily, but once they do, it will be hard to stop it from spreading.
Pros
Compact design that can fit in multiple bags + kits
Backsides can be coated in noticeable colors for emergency situations
Blocks and retains heat
Cons
Once it rips / tears, it's hard to stop
Last update on 2023-11-29 at 09:12 / Affiliate links / Images from Amazon Product Advertising API
As you would expect with wool blankets, this one is a bit heavier than fleece and mylar blankets, and can take up a bit more space. Regardless, it's hard to dismiss the warmth you can receive from Ektos' 100% Wool Survival Blanket. These survival blankets are loom woven, and feature finished edges on each side that helps to prevent any fraying. Wool blankets like this act as excellent insulators, and are able to retain your body heat just as good as any other blanket. This blanket from Ektos is heavy duty, durable, and is meant to keep you warm in rather cold conditions. Using this survival blanket in any relatively warm weather would leave you sweating and too hot.
Using this blanket while it's wet isn't too much of a problem since it can still act as an insulator. Keep in mind that a completely drenched wool blanket will take a long time to fully dry, though. One of the best things about this heavy duty blanket is how comfortable it is; it feels soft on your skin, and is also mildew and fire resistant. This blanket weighs in at 5.5 lbs, and takes up about 66" x 90" of space overall.
Pros
Heavy duty with a good warmth-to-weight ratio
Can be multipurpose, acting as blanket or ground cover
Fire resistant
Cons
Can take up a bit of space in / on your bag
Few reports of blanket having a smell upon arrival
Last update on 2023-11-29 at 09:12 / Affiliate links / Images from Amazon Product Advertising API
The only thing better than a survival blanket during an emergency would be a survival sleeping bag. This survival sleeping bag made by Tact Bivvy is made with HeatEcho technology, and consists of reflective polyester film that is able to reflect much of your body heat right back to you. This sleeping bag is super-thin and lightweight, weighing in at only 4.7 ounces. Each sleeping bag comes with a stuff sack that's used for storage and portability, and can easily fit into any bag, and most kits. The stuff sack also comes equipped with a whistle on it to alert any nearby rescuers. When the sleeping bag is fully opened up, it measures 7 feet x 3 feet.
As with most survival blankets and sleeping bags made with mylar / polyester, this sleeping bag is wind and water resistant. Most water that comes in contact with it can be wicked away, keeping it dry. In very windy conditions, this bag will not keep all of the wind out, so it would be best to use it with another blanket or cover if possible. Regardless, having a sleeping bag rather than just a blanket will certainly help to keep you warmer.
Pros
Sleeping bag rather than just a blanket, which can be used for full enclosure
Stuff sack has whistle to notify rescuers
Easily fits in most bags
Cons
Not a replacement for a real sleeping bag
Our Favorite Sack

Weighs only 6.2 ounces. Very durable.

Use in all survival situations to stay warm

View Latest Price
This survival blanket from Snugpak is a bit larger than others, and is very effective at retaining body heat. It measures in at 76" x 64", so it should feasibly fit people of most sizes. The Snugpak Jungle Blanket is made of polyester material, which allows it to wick away water and stay breathable. It is rather lightweight, and can be folded down into a compact 6" x 6" fold. The high loft fiber insulation works to keep you warm during cool nights. It has a temperature rating of 45 degrees F, and 36 degrees F at the low, so it wouldn't be recommended to bring out this specific blanket if you happen to be going out into very cold conditions. The fabric lining is treated with antibacterial and antimicrobial substances to deter the growth of odor-causing bacteria.
Pros
Ultralight and easily compacted
Treated with antimicrobial and antibacterial substances
Cons
Can't be used in very cold conditions
Snugpak Jungle Blanket Olive
Blanket dimensions are 76 inches by 64 inches; water wicking and breathable, this blanket only...
Lightweight, high loft fiber insulation will not lose function even after compression packing;...
Last update on 2023-11-29 at 09:12 / Affiliate links / Images from Amazon Product Advertising API
If you need a survival blanket that will work the best in very cold conditions, then this one may just be the ticket you are looking for. This extreme weather blanket from Mambe is designed to be 100% water-proof and wind-proof. The inside of this blanket is covered in Genuine Polartec fleece, while the other side consists of a honeycomb nylon lining. The Genuine Polartec fleece will provide you with ultimate warmth, while the nylon lining will keep away and wind and water. The fleece is thick, warm, and is perhaps some of the softest material you could ask for in a survival blanket. This heavy-duty blanket is available in two sizes; small at 4' x 5', or large at 5' x 7'. A drawstring stuff sack is included so you can fold it down and pack it up to take with you wherever you go.
Pros
Great for very cold conditions
Blend of materials that work together for enhanced warmth
Ultimate wind + waterproof
Cons
Larger-sized, so can take up a bit of space in your bag
Last update on 2023-11-29 at 09:12 / Affiliate links / Images from Amazon Product Advertising API
Just like the other one listed earlier, this is another survival sleeping bag as opposed to just a survival blanket. This bivvy is super lightweight, weighing only 3.8 ounces, so even a few of them can easily be carried around. In the event of an emergency, you can easily bust out this bivvy and have it ready to wrap yourself in within seconds. In light rain, this bivvy can be waterproof, and also does an exceptional job of keeping wind out. Another perk is that it's rather quiet while moving around in it. This is a perfect emergency bag to have in the event of a broken bone / injury, where you'll have to stay warm while waiting for help to arrive.
Check out the hands-on review of this blanket here. Our team also put together a video review:
Pros
Lightweight and easily transportable
Can be used as sleeping bag, ground cover or even shelter protection
Cons
Thin, so may be hard to stop from tearing more once it is ripped
Last update on 2023-11-29 at 06:23 / Affiliate links / Images from Amazon Product Advertising API
---
How To Choose a Survival Blanket
Types Of Survival Blankets
As an avid hiker who finds themselves out on the trail often, I always keep a survival blanket with me in my pack in the case of an emergency arising. At any given moment, something could go wrong, and the preparation you decided to put in beforehand can be the difference between life and death. Either way, survival blankets don't always have to be used in an emergency, and can sometimes just make a good blanket for camping / backpacking in general.
As a result of the evolution of outdoors gear, there are different types of survival blankets that are available for you today. You can find survival blankets that are made of different material, and some could be better for certain situations than others. It's important to be aware of the different types of survival blankets since they do different things and are used differently.
Mylar Blankets
Mylar isn't necessarily a traditional material used to make blankets. This material was actually created by NASA, and is a polyester resin that's used to make heat-resistant plastic sheets. The sheet is reflective, and it's main goal is to prevent heat loss. These types of survival blankets can't typically be used by themselves, and are best used in conjunction with other blankets in very cold conditions. A good mylar blanket should be able to reflect up to 80% of your body heat back to you, given that you are not losing a lot of heat from wind whisking.
Since mylar blankets are reflective and are just as good as keeping heat out as they are at keeping heat in, they can also be used to line the inside of a survival shelter to keep it cool during hot conditions. Mylar blankets are also waterproof, so this can help to prevent heat loss that can occur through evaporation. These blankets may be thin, but they can certainly be durable.
Here are some more reasons on why to use a mylar blanket:
Reflective Heat Source
If you watch Dual Survival on the Discover Channel, then you know they use mylar emergency blankets a lot. In this one episode Cody Lundin, of When All Hell Breaks Loose, used a Mylar Emergency Blanket as a heat reflector to warm up his shelter.
He managed to get his shelter to a smoking 70 degrees even though it was in the low 30's outside. That's some serious heating power and the mylar blanket was big part of that.
Mylar sheets are highly reflective and this is obviously a much better use of an emergency blanket than simply trying to wrap up and sleep in it.
Other reasons
Provide a waterproof layer under you for sitting/sleeping on moist earth or snow, similar to the rubber pad used by Stroud of Survivorman.
Wrap un-eaten food up in it for transport – any fluids in the food won't get on your gear (the stuff is almost like tin-foil).
With a little well-placed duct tape, you can cut up a mylar blanket and use it to fashion water skins to hold drinking water.
Emergency distress signal
Wool Blankets
Wool blankets are often used in replacement for a sleeping bag, but there's an ongoing debate as to which one is better. Most would prefer sleeping bags for their enclosing zippers and other features, but wool blankets have plenty of benefits in themselves. In light rains, wool blankets are able to wick away water and keep you warm. However, in heavy rains, they may become wet, and take a long time to dry. Even though a wet wool blanket will not insulate as well as a dry one, it can still be effective in an emergency situation.
Wool blankets are able to take a beating, and can potentially last you a long time. They aren't punctured or torn very easily, so this means they can also act as a good cover over a bed of pine. They can block wind, but not often as well as mylar blankets. Wool is naturally flame resitant, so this means you won't have to worry about it catching on fire very easily. One downfall about some wool blankets is that they can often be thick, so they may take up a bit of space in your bag while on your travels.
Fleece Blankets
Fleece is good for insulation, and retaining your body heat. One of the best things about fleece survival blankets is how soft and comfortable they are against your skin. Compared to wool, fleece can be much more comfortable, especially for youth and children. Even though fleece is very quick to absorb water, it is also able to dry very quickly. This can be crucial in a situation where you need your blanket to be dry as soon as possible. Fleece blankets often need to be accompanied with another blanket or shell in very cold conditions since they are not very effective at blocking wind. A beneficial aspect of fleece blankets is that they can be folded up into a very compact state. This can help to leave room for other items in your bag.
Features To Look For
Material
As shown above, different kinds of material are better for different situations, and some are more appropriate for some times rather than others. Whereas fleece can be good for warmer conditions where the temperature only drops a bit at night, mylar and wool would be more preferable for when it is going to be very cold out. Knowing the conditions you may be facing is crucial in deciding what type of blanket to bring.
Length
The last thing you would want is to pull out your survival blanket only to find out that it's too small for you. The good thing is that most survival blankets come in a common size, which is around 55-60" x 80". If you happen to be an exceptionally tall person, you may want to look for a larger survival blanket that would suit you better. For most others, this size should be fine.
Windproof / Waterproof
Having a survival blanket that is either windproof or waterproof is essential. Even if a survival blanket offers one of these features and not the other, it can be used with another blanket to achieve the full effect. Whereas mylar blankets are wind proof, wool and fleece blankets may let some wind in. As mentioned, using blankets in conjunction helps to achieve maximum wind and water protection.
---
I get asked these questions a lot…
What Are Survival Blankets For?
Survival blankets are mostly there for you to use in the case of an emergency, where you don't have any other blankets on you. However, some may be comfortable enough for some to want to use primarily while camping or outdoors. Overall, survival blankets are there for you to equip yourself with before heading out into the wilderness, in order to protect yourself against the cold weather and adverse conditions.
Do Survival Blankets Make A Lot Of Noise?
Whereas some survival blankets made of mylar material can become a bit noisy as you begin to move around in them, survival blankets made of wool or fleece won't make nearly as much sound. Noise can be a problem for some, so if you're going to purchase a mylar blanket, it would be recommended to try and look for one that is rated as less noisy than others as per customer reviews.
---
---
Wrap It Up
At this point, you should be aware of the different types of survival blankets, and how some would be better in certain situations than in others. Whereas mylar blankets can be good for relatively cold conditions with minimal wind, heavy-duty wool blankets would be recommended for very cold and windy conditions.
Knowing what the conditions are looking like is something to always take into consideration before packing up a given survival blanket. Now that you know of some different survival blankets that you can choose from, make sure to grab one for yourself before heading out into the wilderness again!