Ask any experienced backpacker or outdoors-man and they will tell you that the single most important piece of equipment is their shoes. Take away his or her knife, tent, or jacket and a resourceful person may still find a way to survive but without good survival shoes a person's chances are significantly reduced.
At a quick glance, here are our top picks that you can buy today:
BOOTS
DETAILS

Superior durability

Easy to tie and secure

Lightweight for easy moving and maneuverability

Check Price on

Amazon.com

Does a great job absorbing shock

Great for those who work in law enforcement or military professions

No slippage on ice or wet surfaces

Check Price on

Amazon.com

Affordable for those on a budget

Can handle all kinds of weather

Easy to put on and lace-up

Check Price on

Amazon.com
Survival Footwear: All You Need To Know
Caveman Shoes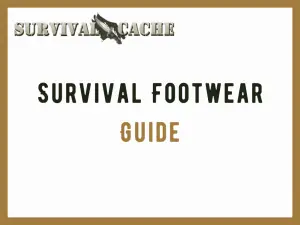 Poor footwear limits your ability to move and you lose heat fast through your feet.  In some conditions, taking away a man's boots is a death sentence.  Given the new Bushcraft and back to basics revival the casual reader may believe that in the good old days people went barefoot.  This isn't an accurate estimation.
There have been archeological discoveries showing the existence of sandals as far as 500,000 BC.  While some societies did use to go barefoot, mostly thanks to permissive climate and topography, in the same period other civilizations saw the advantage of proper footwear.  The Romans dominated and marched all over the known world using tough hobnailed sandals.  They were made of strips of leather reinforced all over with iron nails and studs for added traction and feet protection.
Survival Shoes
Today, intelligent selection of shoes presents several advantages as well.  While most people will go along with what fashion dictates at the time, the modern survivor should have other considerations in mind.  I can relate a couple of good examples of the advantages provided by proper shoe selection.
During a trip to Spain with my wife and two kids we experienced car problems in the middle of the highway.  There was no sidewalk and the only thing we could do was walk along the side of the road between the guardrail and the railway's fence.  This place was roughly two feet across and full of tall grass and junk, everything from cans to broken glass bottles.  Having trekking shoes made the little ordeal easier.  My wife and oldest son had to advance carefully, and given that had better shoes I could advance with better footing while carrying our youngest child.  The strobe in my LED survival flashlight proved to be a lifesaver when crossing that highway as well, signaling the cars to stop as we crossed.
In the crowded trains of Buenos Aires, having working boots with steel toe protected my feet from the unavoidable stomping by the human mass of commuters that packed into the wagons like sardines in a can.  Those same shoes proved to be too much during a hand to hand fighting class and I had to change them so as to spar safely with a partner.  It's nice to know that if the need arises, you can kick with a steel toe shoe.
Footwear Requirements for the Modern Survivalist: Boots!
The shoes you chose should be above all comfortable yet tough so as to tolerate more abuse than common footwear chosen for esthetics purposes alone. Thanks to the broad selection available, it's not hard to find something both functional and esthetically pleasing for common casual wear.
Soles should be thick enough to provide adequate insulation as well as being slip resistance. The material surrounding the feet must tolerate a reasonable amount of wear and tear and breathable waterproof layers such as Gore-Tex are preferred.
Cross trainers or hiking shoes would fill these requirements nicely. Columbia, New Balance, Nike, Hi-Tec and Timberland are just some of the better-known brands out there that offer such footwear.
I have found that survival boots and shoes have some of these traits and more.  Usually they will come with oil, slip and electric shock resistant soles, materials that can tolerate chemical spills better, rugged leather construction, steel or reinforced plastic toes and puncture-resistant soles.  Imagine how useful this could prove to be after all kinds of disasters, from earthquakes and tornadoes to terrorist attacks, where debris cover the ground and broken electric cables present danger all around you.  Imagine a 9/11 scenario.  You may have to crawl and climb your way through collapsed structures and then walk miles getting away from the potential danger.
While trekking boots and light trekking shoes are good and look nice, I've found that safety shoes such as the ones made by Caterpillar give you more resistance and better capabilities for the money. The cheapest models are more functional and better suited for the work environment, but in most lines of safety shoes, their top of the line offerings will not only be neat looking and well made, but comfortable as well without losing the desirable specifications.
---
Types of Footwear for Preppers
Footwear for Soft Prepper Work
How active are you and what prepper tasks do you undertake on a daily basis that might require considerable walking, running, hiking, or climbing?  Maybe it is a mix of these prepper job tasks.  If your prepper plans and movements demand a lot of time outside, then you will need sturdy, well-made shoes with soles that have soft soil or mud-terrain gripping capabilities.  You don't want to be slipping and sliding.
For ankle support, check out high top shoes or low top boots with thick enough sides for the support that lace up.  You will want a shoe/boot that can be tightened up around the ankles for full support especially on the ankle bone points.  With laces you can vary the tension as needed.
If you bug In, then comfortable light shoes or boots will work.  These can be slip-on, or even Velcro strap latch which is popular with older folks.  Comfy house shoes are great to shuffle around the house, but at least get the types that can be worn outside if necessary in the grass, dirt, or on wet, snowy days.  Forget cheap fabric construction with light fake material soles.  Keep to leather with non-slip rubberized soles.
Footwear for Hard Prepper Work
If your Bug Out is a camping mode or a remote site on the rough side, then you are going to want heavy-duty boots for most outside activities like perimeter patrolling, hunting, scouting, or defensive actions.  Start by checking outlines of hunting-related boots as these can serve well for cutting wood, working gardens, building projects, fencing, and other tough outside jobs.  You'll want lace-up, waterproof and insulated versions if the weather is wet and cold.
Again, I strongly consider leather as the base boot material.  Nylon or synthetic uppers can work if weatherproof and thick enough to provide side support.  Look for Vibram lug soles for long-lasting wear and a tread pattern to handle mud and rocks.
Now you know that there's more to footwear than just walking comfortably, we are going to cover the details on survival boots. I believe these boots are a must-have for all survival situations and should be next to your bug out bag at ALL times ready-to-go.
---
The Best Survival Shoe is Boots
Having the best gear is essential when you're a prepper. There will be times when you'll want to escape the SHTF situation in the quickest way possible. This includes a good amount of planning alternative routes since the main routes that most people will take are often congested. This also means escaping on foot as opposed to a vehicle.
If I intend to escape on foot, I need to be prepared to take on any kind of terrain that might be considered rough even for a vehicle. This includes but is not limited to unpaved roads or pathways, grass or wooded areas, shallow bodies of water that may be enough to sweep a vehicle off the roadways (six inches of floodwater can incapacitate a vehicle).
The one thing you need to know is that a pair of sneakers or running shoes isn't built to withstand rugged terrain. You're going to need a good pair of survival boots in order to navigate your way around any kind of terrain that may otherwise damage a good pair of shoes. Survival boots are your best chance if you are looking for something with a lot of durabilities.
You want boots that will allow you to move quickly and with agility, not something that will weigh you down. Boots that are made from durable material and are lightweight are what you need.
---
Best Survival Boots: Our Top 5 Picks
Smith & Wesson might have a reputation for making the most reliable handguns on the market. But what you probably don't realize is that they also manufacture some pretty tough boots as well. These are made from high-quality leather and have rubber soles. The rubber is quite thick to a point where it can absorb a good amount of shock. On uneven terrain, you are more likely to produce shock with every step (and thus it makes it a lot more uncomfortable). Not only can you secure these with good old fashioned laces, but you'll also zip them up so they stay secure on your feet and will never slip off.
The color preference doesn't make a difference. Black or brown, you still get a pair that is proven to be tough as nails and will be able to withstand plenty of uneven terrain and abuse. Perfect for when you are hiking, hunting, fishing, or "bugging out". Just like their pistols, these boots are reliable in times when you need them most.
Pros
Perfect for outdoor activities like hiking, hunting, etc.
Superior durability
Easy to tie and secure
Can last you well over a year or more
Lightweight for easy moving and maneuverability
Cons
The zipper may tend to snag or break after a short period of time
May not be suitable for extremely cold temperatures
5.11 is a brand that I have long trusted. However, I expect this to at least duke it out with the Smith & Wesson boots for the best overall slot in the not so distant future. These boots were designed to handle plenty of abuse. Not to mention, it will also prevent you from slipping on wet or icy surfaces. This is the perfect pair of boots if you want something that can handle every season of weather from the cold winters to sweltering summers. Of course, you won't have to worry about your feet sweating since the material is a breathable type of leather.
If you are in law enforcement, the military, or a civilian you'll get the best protection possible against shock and uneven terrain. Plus, it has plenty of ankle protection so you won't risk injuring yourself twisting your ankle. This might be one of the best boots that will withstand any demanding conditions.
Pros
A perfect fit for many users (depending on size)
Does a great job absorbing shock
Zips and laces up pretty good. No slippage to speak of
Doesn't take long to break them in
Great for those who work in law enforcement or military professions
No slippage on ice or wet surfaces
Cons
May be hard to get on at first
Might feel a little uncomfortable around the ankles at times
Does a great job absorbing shock

Great for those who work in law enforcement or military professions

No slippage on ice or wet surfaces

Check Price on

Amazon.com
If you are looking for an affordable, but high-quality pair of boots I highly suggest you give these boots from LA Police Gear a try. You don't have to be a member of law enforcement or the military to get your hands on a good pair of boots. If you are looking for a good mix of leather and breathable materials for superior comfort and durability, these boots might be just what you're looking for. There are times when you might be on your feet all day or constantly on the move without any short periods of rest. You'll want a pair of boots that will keep your feet protected from shock and prevent any kind of discomfort. For the price that these boots are going for, you're getting a heck of a steal.
These boots have rubber soles that will absorb shock and prevent slips and falls due to ice and wet surfaces. Not to be outdone, the laces are made from durable nylon that will be hard to fray or rip apart. Longevity is another thing you need for survival boots. And these will have the potential to last you a year and beyond that. Durability and longevity do go hand-in-hand. That's why it's so important to place quality over all else when it comes to survival boots that will keep you comfortable and are lightweight enough to get you out of a jam or two.
Pros
Affordable for those on a budget
Very durable
Can handle all kinds of weather
Easy to put on and lace-up
Great for law enforcement officers and civilians
Perfect for the outdoors and tactical applications
Lightweight for agile and quick movements
Cons
The zipper may tend to break after a while
Some say the boots may ride a bit too high
A good pair of boots should keep you warm in the colder months. I hate it when I'm wearing a pair of boots that won't prevent my feet from getting cold. And that is no picnic when you are ankle-deep in snow as well. These boots from Garmont include the Gore-Tex insulation that is designed to keep your feet warm in even some seriously cold temperatures. I can say that if I had to buy a second pair of survival boots, I want them to be these ones. Or any pair of boots that I know will get me through some of the most extreme cold temperatures.
Durability won't be an issue with these boots since they are made from high-quality leather (along with the inclusion of durable nylon laces). These are the real deal for those who are constantly outdoors or working the front lines as police officers and military personnel. Garmont may be one of those names you might not have heard of. But they certainly fly under the radar when it comes to delivering excellent quality and protection for those who wear their boots.
Pros
Very comfortable to wear
Waterproof and handles all kinds of weather
Available in wide or medium sizes
Perfect for even the most extreme winter weather conditions
Excellent for outdoorsmen and tactical applicants
Cons
Medium size might be a bit narrower than expected
Very comfortable to wear

Waterproof and handles all kinds of weather

Available in wide or medium sizes

Check Price on

Amazon.com
Best Minimalist Survival Boots: Under Armour Boots Review
If you are looking for a minimalist design, Under Armour's Jungle Rat Boots might be the go-to option for you. Aside from the design, these boots are lined with anti-odor lining, making it comfortable and breathable in every environment imaginable. If you hate it when your boots smell to the point where you can sniff them out a mile away, these will be perfect. Besides, any kind of boots that are not breathable is not worthy to be worn in any outdoor or survival situation. Discomfort is not the kind of thing you want to feel especially in situations where you need to keep moving in order to survive.
These boots ride at a perfect height. So if you are looking for the best in ankle protection, these will definitely save you the trouble of spraining or rolling your ankles. I don't think I could say no to that. Especially that one time when I twisted my ankle hiking. Thankfully I had a buddy of mine help me out. But imagine going at it alone. Your mobility might be limited and can put you in a grave survival situation. Sometimes, even the little things that may seem like no big deal can take a turn for the worse.
Pros
Super lightweight
Doesn't take long to break-in
No discomfort or blisters to speak of
Perfect for those with wide feet and/or high arches
Excellent quality. Has the potential to last you a long time
Great for the summer months
Cons
Insoles could be a bit more comfortable
Super lightweight.

Doesn't take long to break-in.

Perfect for those with wide feet and/or high arches.

Check Price on

Amazon.com
---
What To Look For In Survival Boots: Buyer's Guide
Finding the right kind of survival boot is essential. Since your best course of action in a survival situation is to evade and escape danger, it's important to keep moving no matter what. Changes in terrain can and will happen depending on the geography. Here are some things you'll need to look for in the best survival boots:
Durability
No "ifs, ands, or buts" here. You want boots that are guaranteed to hold up very well against abuse and unforgiving rugged terrain. Anything less would be asking for trouble. Here's what makes survival boots so durable:
Material
The right kind of material is what you need in order for a boot to resist any kind of ripping or tearing. Chances are you'll be walking through terrain that will have rocks, branches, and other objects that can puncture through soft fabrics. These can create small holes that will eventually get larger over time. Leather is usually much tougher than various fabrics.
Waterproof
Since there's a good chance that you'll be encountering bodies of water during your treks through the woods, you'll want your boots to be waterproof to the point where they will handle water like a champ. Meaning that the material won't get ruined even after long exposure or even submersion.
Breathability
The last thing you need is a pair of shoes that will make your feet sweat after a long trek. Breathability is one of the key components that make a pair of survival boots a lot more comfortable. Plenty of durable materials will offer your boots plenty of fresh air and make it less likely to smell bad after they have been worn for quite some time.
Protection For Your Ankle
When trekking on rough terrain, the chances of you rolling your ankle as a result of taking the wrong step will increase. Any good pair of survival boots should cover above your ankles. The last thing you want to do when you are on rough terrain and away from any kind of medical help is to sprain or even break your ankle. What might seem harmless at first can be a recipe for a dangerous survival situation. Nature's elements are one of those things that pay no attention to those who may be stranded and unable to move. Especially when it can get cold at night and cause you to get hypothermia (and eventually exposure, which can be fatal if nothing is done).
Affordability
While a pair of survival boots don't come cheap, it's important to find a pair that will fit your budget. If you are looking for a good pair but need to fit it into a specific budget, you'll need to place quality over all else. In other words, find the best quality that you can afford rather than go for cheap and sacrifice quality.
Lasts Every Season
Here's the thing about survival boots — they are not ordinary survival boots. They're not the kind of boots that you only have to wear in the wintertime. In fact, these can be worn year-round by people like yourself and those in professions like law enforcement and the military. Not to be outdone, they can handle any weather conditions nature can dish out. Heat, snow, or rain these boots will protect your feet no matter what.
That being said, this is what I look for in a good pair of survival boots. You'll see that I stress high importance in quality. Because you'll never know what you'll encounter on your off the beaten path adventures. Whether I hike or escape danger, I know that a pair of survival boots will hold up very well whenever I need them most.
---
FAQs about Survival Boots
How do I weatherproof my boots?
Weatherproofing your boots is something you should consider doing regularly. However, the method depends on the type of leather your boots have. If your boots have non-suede leather, you can use a sealant coating that is made with cold water and white wine vinegar (Note: do not apply this on bare leather). Liquid shoe polish and conditioner will be used on other types of leather.
Are survival boots waterproof?
Yes. In fact, most of the survival boots have material that won't absorb all kinds of water even when your feet are submerged under a few inches of water like in a stream or snow.
What are survival boots good for?
Survival boots are perfect for hiking and other outdoor activities like hunting or fishing. If you are in law enforcement or the military, survival boots are great for when you will be walking constantly or standing on your feet all day long.
---
Verdict
While there are plenty of choices for survival boots, we recommend the 5.11 Tactical ATAC survival boots. They are lightweight, durable, and built for any given survival or everyday situation. I also know that they have the edge in lasting a bit longer than some of the other boots on the market.
Alternatively, the best option for those on a budget as we mentioned before is the LA Police Gear Tactical Core Leather Boots. They are just as tough and just as comfortable as their 5.11 counterparts. Of course, they are a more affordable alternative when quality matters most.