Not every firearm we review on Survival Cache is the ultimate survival gun.  Sometimes we see something and say "That is badass, I gotta get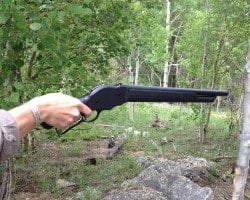 my hands on one of those."  Which is the case with the T-Model Lever Action Shotgun.  Last year at Shot Show, we were bleeding out of our eyes from seeing AR15 after AR15 when we came across the 1887 T-Model Lever Action 12 Gauge Shotgun for the first time.  The T-Model, which is made by Chiappa Firearms and sold in the United States by Taylor's & Co, was a much needed break from the black rifle guys.  As soon as I saw it, I said "Is this thing for real?  Looks sort of like the Shotgun from Terminator 2."  That is when the guy who was working the booth for Taylor's & Co told me "That is why it is called the T-Model."  My next question was "Is it legal?" And the answer to that was yes.  Oh ya, Jimmy C was sold.
The Video:
The Review:
What can you say about a lever action 12 gauge shotgun that is 27.5 inches long except that it works.  We pulled it out of the box – no lube, no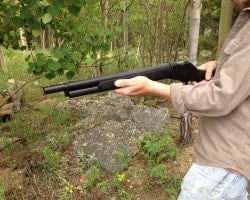 cleaning and it worked.  We decided to include T-Model Lever Action Shotgun review in our video series because it was so badass.  Bottom line, everyone that was with us on the range that day shot 20 to 30 rounds of 12 gauge through this bad boy.  No jams.  Even the camera guys from Camera Speeds were like, "I gotta shoot that thing."  This shotgun is a blast to shoot and as you can see from the video, the recoil got me on the first shot.  After that, the T-Model was in Jimmy C's wheel house.  Realistic uses for the T-Model Shotgun:  Urban Bug Out Bag, Car/Truck/Boat Gun, Home Defense Shotgun, You're Dropping My Daughter Off Late Gun? Or The Undead Starting Rising From Their Graves Gun.  The best part is, with T-Model 12 Gauge Shotgun you only have to knock once.
Specs
Barrel Length:     18-1/2 Inch Round
Caliber:     .12 Gauge
Capacity:     5 rounds
Weight:     7.9 lbs
Finish:     Matte-Black
Grip/Stock:     Black Soft Touch Rubber Coating
Manufacturer:     Chiappa – Italy
Sights:     No – You Don't Need Them
Overall Length:     27.5 inches
Badass Rating:    9.5 out of 10
Conclusion
After you get the action and the recoil down, it is game on.  I am still trying to wipe the smile off of my face.  Tell your local gun store to order one….you need it for the Zombie Apocalypse.
Also Read: Survival Shotgun Selection
Photos and Video by the Survival Cache & SHTFBlog Team