How long have you been looking for a portable water filtration system, but have not been able to justify the expense and weight of a full size filter for your Go-Bag?   We found a solution, the Aquamira Frontier Pro Water Filter.
Specs
Compact Size: Fits in the palm of your hand or in a small pocket (1 ¼" OD x 5 ½")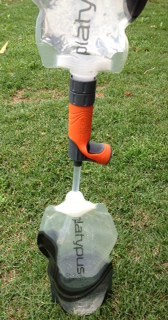 Light Weight: Weighs less than one half of a typical pump system (dry weight = 2oz.)
Two Stage Filtration: Replaceable pre-filter removes larger particles. Aquamira porous plastic micro-filter removes 99.9% of Cryptosporidium, Giardia.
Capacity: 50 gal. (200 L)
Pump Free Design: Eliminates hoses, reduces size, weight, and cross contamination potential from hose mix-ups.
Miraguard Antimicrobial Technology: Suppresses the growth of bacteria, algae, fungus, mold and mildew within the filter media.
Country of Origin: Made in the USA
Cons
Let me get this over with right off the bat.  This is not a big unit.  It does not have a long life, only 50 gallons, and it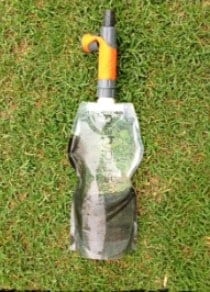 does not have a replaceable filter element.  You buy it, use it, and once you have filtered fifty gallons, you throw it away.  The guys at Aquamira say it is tested out to 100 gallons but they like to over deliver and under promise, they stand by 50 gallons of the worst quality water.  In a pinch, you can probably count on the Frontier Pro out to 100 gallons.
Pros
With the above listed cons out of the way, here are the pros.  The unit only costs 20 bucks, buy two (two is one, one is none).  It is small, it does not take up much room.  It can easily fit in your front pocket, cargo pocket, glove box, Go-Bag, mountain bike seat bag, etc.  There is also an adapter available from Aquamira to hook up the Frontier Pro to your home water heater (see below).  When you get thirsty, instead of having to stop and pump water from a puddle, you can just grab your bottle and take a sip.  It filters as you drink.  It filters 99.9% of Giardia and Crypto.  Aquamira is a United States based company that makes all of their products in the USA.
The Low-Down
When you open up the package several items come tumbling out. You get the filtration unit, 2 adaptors which I will
explain in a moment, 2 extra pre-filters, a piece of tubing, and an instructions sheet. There are three ways to use this very versatile filter.
The first uses the included water bottle adapter. The adapter will let you use your filter with any old water bottle, but those of us with class will realize that you can attach your filter directly to your nice, new Platypus bottle.  Talk about nice, right?
The second uses your other adapter.  With this adapter you can hook your filter right up to your hydration system, it is compatible with offerings from Camelbak, Platypus Big Zip, No products found., and No products found..  Now when you are posing for your forum picture, you can do so in style with a Frontier Pro filter hanging from your backpack strap.
The last way to use your filter is with the include piece of tubing.  You can set up a gravity filtration system by pulling of the bite valve and inserting the tubing.  Then you just hook your filter up to your reservoir or bottle and let it go to work.
Also, For another $6 you can purchase an adapter to fit your hot water heater at home.  If your tap water becomes
contaminated or if there is a SHTF situation and your water gets shut off, you can hook your Frontier Pro Water Filter along with the Frontier Pro Water Heater Adapter to your hot water heater and have a large supply of fresh, clean tasting water for drinking & cooking.
Where to Buy the Frontier Pro
No products found.
Photos by:
Josh
Aquamira
---