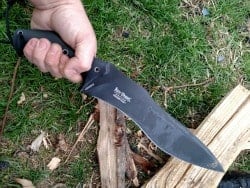 The CRKT Redemption knife designed by Ken Onion is one, big, knife!  The Redemption is not for carving little wooden characters out of balsa wood, or cutting up hot dogs for the kiddie table at the neighborhood barbeque.  It has one clear mission, to clear trees from the Redwood and Sequoia National Forrest and to use that wood to build the ultimate shelter! And it can do both before having to be sharpened.  If you are squeamish about large blades in any fashion you may want to avoid this article.
CRKT Redemption Review
Part of EDC is a pocket knife and a multi-tool.  So, I always have two fairly small blades on me at all times.  I figure that between these two blades I can get by with all the small tasks I might encounter, i.e. game processing, food preparation, etc.  Since those tasks are covered, I want to start my quest of finding a large blade to have in my pack ready to go for the heavy duty work.  I decided to check out what kind of large knives CRKT had to offer as I have always been happy with their smaller tools.  I won't lie, when I first saw the photo of the Redemption Knife I thought that it looked bad ass and really wanted to try it out just for that feature. I figure if I can find a knife that can handle the heavy work and look wicked, well that is a win, win situation.
Last update on 2023-12-01 at 20:33 / Affiliate links / Images from Amazon Product Advertising API
Also Read: Ontario Falcon Knife Review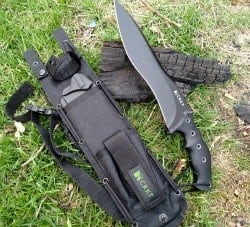 Let's start from the outside.  I love the sheath that comes with this knife.  The external part of the sheath is high strength nylon with a formed thermal insert that the knife slides into.  There is a fairly large Velcro pocket on the lower half of the sheath.  I like the size of this pocket.  I have found that most sheaths that have a similar pocket, are quite small and only large enough for a small sharpening stone.  I was able to fit a sharpening stone and a fire rod into the pocket with some room to spare. Of course, you can customize the items you want to carry in the pocket, a fishing kit, cordage, whatever you want.  Sometimes I have found with newer sheaths, especially ones with formed inserts, inserting and removing the blade from the sheath isn't always smooth.  The blade can rub tightly against or even get caught up on the form of the insert and when trying to pull the knife out all you are doing is lifting the sheath up with it.  I have even had some sheaths rub the finish off of a blade.  The Redemption sits snugly in the sheath and is removed with ease.
Also Read: Parry Blade Survival Knife Review
On the top of the sheath are two belt loops for attaching to your person.  I really like that there are two loops instead of just one. With one loop I have had knives flop about when I was walking or running.  One leg loop also doesn't' provide enough anchor support for removing a large knife from the sheath smoothly.  The two loops coupled with the nylon leg strapping and clip on the bottom of the sheath, makes the knife feel very secure when I am carrying it.  There is also a length of paracord that threads around the outer portion of the sheath and hangs off the bottom.  I like having the extra paracord handy but I might end up braiding it a bit more. The loop that the paracord makes seems a bit too large and I don't want it to get hung up on anything when walking about. I could just cut it off but I don't want to lose the extra cordage to have on hand and I do like the appearance it gives the sheath.
The first thing I always test on a knife is its sharpness right out of the box.  I do not recommend my method of testing this to anyone else.  I picked this method up from some "old timers" and now it has become a habit for me. I see if the knife can shave the hair off the top of my hand or arm (it is a good thing that I don't test out new knives every day!)  The Redemption knife was razor sharp and easily shaved hair from my hand. I have encountered new knives that are not uniformly sharp which is very annoying to run into on a new blade, and some have even had chips of metal missing from the edge. To me this is unacceptable of any new knife, especially an expensive one. This knife was sharp from top to bottom and on close inspection the edge was perfectly finished. Here are the specifications of the knife taken from CRKT's webpage.
Dimensions
Open Overall Length: 15 inches
Weight: 20.8 ounces
Blade
Length: 9.5 inches
Thickness: 0.26 inches
Material: 01 Tool Steel
Blade: HRC: 56-58
Finish: Black Powder Coat
Grind: Flat
Style: Modified Drop Point
Edge: Plain
Handle
Material: Black G10
Carry
Carry System: High-Strength Nylon Sheath with Formed Thermal Plastic Insert
Weight: 10.7 ounces
There are some reviews out there on the Redemption, where people don't like the balance of the blade.  Personally, it suits me well.  Like most large knives, the balance of the blade is obviously going to favor the blade portion of the knife; simply because there is more material past the handle.  When holding the knife, I was able to let the blade to "fall" onto a piece of wood and it sliced very nice tinder curls.
I like the feel of the G10 handle, however, due to the design there is really only one way to hold it. Most knives with "straight" handles give you the option of multiple holds. The CRKT Redemption has more of a formed handle.  This is one downfall of the knife as it will not give universal hand placement.  The other issue I had was the top curve of the handle.  When I was using the baton method to split wood, the handle would buck upwards, driving that top curve of the handle into my palm.  That was very uncomfortable so I had to move my hand placement around a bit until I found a hold that would work for me. Even though I had to fiddle with my hand placement I was still able to find a comfortable and safe hold when splitting wood.  I was afraid that with the handle lacking texture, it would be prone to slipping when wet.  While splitting some wood I doused the handle several times with water and found that my hold on the knife was never compromised.  The contoured handle proves to aid a solid hold.
Last update on 2023-12-01 at 20:33 / Affiliate links / Images from Amazon Product Advertising API
Related: Fallkniven A1 Survival Knife Review
After I found a good hold, using the baton method was very easy with this knife.  Because of its size and sharpness it went right through a log after about five good hits.  The tips of some knives that I have tested have become very dull or even broke when I have used them for a baton test.  This knife had no issue with this particular test. Also, during this test I found out something else that was quite interesting.  About halfway down the blade on the top, the form goes from straight flat metal to a beveled edge.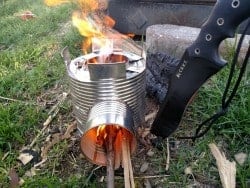 When I noticed this I looked at the piece of wood I was using to hit the top of the blade and found that there were significant cuts made into the wood.  I decided to flip the knife over and tried using this part of the knife to cut into some wood.  It did very skinning the bark and small pieces off a log. If I was desperate I could make deeper cuts with this section of the knife.  I like that the Redemption has this capability because you could use this part of the knife for certain duties while saving the edge of the blade for more important work.  When my short term testing was complete I was a little dismayed.  The spine of the blade that I was hitting to split wood, was beginning to lose some of the finish off the metal.  I wouldn't have expected this after only splitting four or five pieces of wood, then again maybe I was hitting it too hard?  This definitely is not a deal breaker as the entirety of the finish was not worn down.  I think I will ask around and see if anyone else who owns this knife has had a similar issue.
Also Read: Benchmade Bushcrafter Knife Review
Anyone interested in this knife is going to have to dig into their pockets a bit.  The lowest price I have found is $150 through Amazon.com. CRKT lists the knife at $300 on their webpage.  Over all I give The Redemption knife three out of five stars.  I would have liked to seen the handle have a bit of texture on it since this is a big knife and is meant to be swung a lot.  The hybrid design between a Bowie and kukri is very pleasing to me but makes sharpening the blade a little tricky.  For the price of this knife, I would have liked to seen a sharpening rod added to the sheath. The Redemption looks cool, wicked and feels great in my hand.  However, for the asking price I would like to see those few small changes made before investing that kind of money.  I would like to note that it is my opinion that every knife that is sold should come with a knife sharpening system of some sort especially ones that have sheaths.
Last update on 2023-12-01 at 20:33 / Affiliate links / Images from Amazon Product Advertising API