Although the folding knife has been with us since pre-Roman times, and popular since the late 1600s, it has always been a compromise of
size and strength. Anything that moves is a potential weakness. In the modern world, most cutting tasks don't require more than a basic blade of even mild sharpness and strength. It's not a function of the world changing, but more that many folks have lives limited to domestic chores where the heavy lifting is done by the professionals.  Since you have read this far, I am going to assume that you still have more than a passing curiosity about yet another knife, which might also mean that you are not perfectly satisfied with your current carry.
Hey, I Know You
Or perhaps you are interested in other EDC options in addition to the usual suspects. In fact,
just the other day I was reading about a great knife designer who once again made a stronger locking mechanism where the spring metal frame lock was further secured by a ball bearing. While do appreciate creative engineering, I cannot help but be skeptical that adding yet another moving part into a folding knife system will solve the problem.  Ball bearings have lots of enemies including pocket lint, dirt, hair, water and heavy use.  But there is a solution out there for those who demand (or just want) the strongest pocket knife, it's called a fixed blade.
History Repeats Itself
In the spirit of reviving inspired designs from the past, the determined folks at Fallkniven Knives in Sweden offer what is essentially a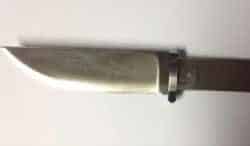 fixed blade knife specifically designed for pocket carry. Although it does not sound revolutionary, the concept of carrying a FBPK or fixed blade pocket knife does require a change in carry routine.  In the old days there were many who preferred a small fixed blade knife that was undisputedly stronger than any folding knife of similar size or weight, yet carried well in a pocket.  Sheath knives by nature had a home that rode on a belt.  Neck knives were secured to a container worn like a necklace. And those blades designed to live in the cloth pouches sewn into clothing (now called pockets) were compromised with a hinged attachment, a dual-purpose handle, and a mechanism that held the blade somehow in an operational position with varying degrees of security.
A fixed blade knife can be of solid design with no moving parts and have a handle or grip created for the sole purpose of fitting the human hand.  Of course modern folding knives are vastly superior to older locking mechanisms, no folder will last as long as a fixed blade under sustained use.  Moving parts wear, need lubrication and adjustment, and collect debris that diminishes their function.  Without proper and regular cleaning and tuneups, a folding knife will ultimately fail.
Pocket Rocket
The Fallkniven KK  is a sub-3 ounce fixed blade that has a blade cover specifically made for pocket carry. Fallkniven KK (for Kolt
Knife) has a blade thickness rivaling the best folders that weigh two or three times more, and a positive grip complete with stainless cross guard clearly separating the boundary between grip and blade. It has a very pleasant "yin-yang" shape with the blade shape mirroring the grip.  Literally, the KK began life as a sketch with a flowing symmetrical doodle ultimately becoming a knife.
For a small fixed blade knife it fits remarkably well in the hand, and provides excellent control and as takes as much force as you can muster. One of the things I found most interesting in my first few months of carrying the KK is that when I pull it out instead of one of my usual EDC folders is just how stout the blade feels. It's like comparing a hatchet to an axe. If you just have a hatchet, things go well doing what your blade is capable of, but if suddenly your folder was fixed, or your hatchet was an axe, things become quite different.
Last update on 2021-10-16 at 00:12 / Affiliate links / Images from Amazon Product Advertising API
I first noticed this effect when I had to slice up some large pieces of heavy cardboard.
Although I did not really think about it, I held my folders a just enough of a angle to keep it from folding back on my hand should the lock fail or blade snap off. But when I started slicing with the Fallkniven KK all angles, twists, and torques were fair game. And of course the cobalt steel blade ripped through the corrugated paper like butter. With a Rockwell hardness of 60, even after dozens of feet of cardboard, the blade was still shaving sharp. Dangerously shaving sharp.
Also Read: Fallkniven A1 Review
To be specific, the blade is a 402J2/Cobalt steel laminate. Fallkniven is famous for its laminated blades with good reason; they are
arguably the best production laminate knives in the world. A laminated blade is where the cutting edge steel is flanked or sandwiched between a different steel thus providing the best of both worlds of overall blade toughness and stain resistance along with a superior cutting edge that is not beholden to cosmetics, looks, or care and feeding. The grind is known in Fallkniven circles as the Improved Convex Edge, also known as ICE in case such a thing needs a trendy acronym.
Cobalt is an expensive and somewhat rare element to add to knife steel in any quantity, say 5% or more. Cobalt by itself increases the hardness and strength of the blade, but many elements do that. What makes Cobalt so intriguing is that it intensifies the desirable contributions that other elements make to the overall steel composition as the steel becomes more complex. So bringing Cobalt to the party further raises the performance bar for high-end knives even though the bar is already astronomically high through the use of modern super steels. Honestly, what more could we want? Yea, I know…famous last words.
The handle of the Fallkniven KK is a checkered pattern Thermorun plastic. The track record for Thermorun is exceptional and gained wide acceptance with its successful performance on the Fallkniven F1. Personally, I am quite partial to G10, but for an EDC pocket knife handle without scales, Thermorun is a fine choice.
Deep Cover
The Zytel sheath is more of a blade cover that prevents the edge from unwanted exposure than a sheath in the traditional sense. And
that's about it. The sheath comes off quite easily and has no way to be securely fastened to the knife beyond the small crossguard hook. In fact it pops off with a surprisingly small amount of force, yet seems to be the proper amount once you agree to the terms of use for the Fallkniven KK. With a smooth stroke of the thumb, the sheath slides forward off the blade either remaining in your pocket, or to be deposited near your cutting project. The design is definitely a throwback to earlier days when speed and convenience were not selling features of a knife. Instead performance and way of life sold the blade.
Also Read: Parry Blade Survival Knife Review
To be very clear, the Fallkniven KK is not a neck knife. The blade cover does not provide anywhere near the retention for such carry, and
the overall design of the knife should put it on the thicker and longer side of anything that would be mistaken for a neck knife. The KK works best as a pocket knife carried along the outside seam of a front pants pocket.
The Fallkniven KK is a knife to be savored. Once in the hand, it performs like other fixed blades with extreme supersteels, but since its carry and deployment are not from the 21st century, or even the 20th century, using the KK for your daily carry ranks right up there with mechanical watches, expensive fountain pens, and Italian leather key fobs. If you want tactical, keep walking. If you want knife experience that will change your carry habits and possibly your knife lifestyle, then the Fallkniven KK should be given serious consideration. It really is that simple.
Last update on 2021-10-16 at 00:12 / Affiliate links / Images from Amazon Product Advertising API
All photos by Doc Montana & Fallkniven
---