By definition the parang knife or more aptly described machete is by origin of Malay design.  Malaysia of course is dense with thick jungle terrain which by necessity demanded the creation of a handheld cutting implement for indigents to literally slice their way through the maze of tropical growth.
In modern applications the machete tool is useful for a variety of chopping tasks around the home, camp, farm, and ranch.  The most common type being a simple long blade up to or from 18-24 inches more or less with a wood handle held to the blade via 2-3 rivets or internal threaded bolts.  Some today offer molded plastic handles and many variations of design, size, and heft (Read 5 Types of Machetes).
Originally I think the machete was most likely created and designed as a utilitarian type tool and perhaps not intended to be a highly customized or finely finished blade as one might expect of a personal pocket or sheath knife.  Machetes are working tools.
The Gerber Rendition
Gerber makes good knives and tools.  I have only had trouble with one knife rusting heavily, but that was my fault for leaving it in the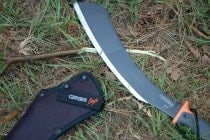 fabric sheath that apparently absorbed moisture.  Shame on me.
Gerber recently introduced their form of a machete that they have fashioned after some of the original Malay designed parangs.  The Gerber Parang design is an angled blade fixed for clearing brush and trail chopping.  The blade is a high carbon steel which should sharpen easily and retain a good edge.  The handle is a textured rubber grip over the tool's full tang.  This is an important aspect to any quality cutting instrument that the blade be extended into the handle tang.
The specs for this machete include an overall length of 19.5 inches.  The blade itself is 13.5 inches long.  The weight without the sheath runs a tad more than 19 ounces.  The nylon sheath adds another six ounces.  This is entirely a manageable weight even if belt carried, but for me it resides strapped down to the rack of my Honda ATV.   The retail price is around $45.  I bought mine on line for $30 on Amazon.
Field Use
This rubberized grip has a good, tight in the hand feel.  A lanyard cord is attached that when looped over the grip can act as a sort of guard to help enhance the grip.  This cord loop also makes a good storage hanger or a way to tie the machete to a pull up rope for elevated hunting stands, observation points, or aerial hideouts.
Personally I like the angled blade design as it seems to aid in an improved ergonomic swing into the bush.  That angle also seems to naturally add to the down slice cutting momentum of the blade.  You'd have to handle one and use it to clear some brush to fully appreciate this.
The blade comes sharper than most cutting implements from the factory, so use regular care.  Sharpening is easy.   In thirty minutes of trimming hanging vines from a tree positioned in front of a hunting stand, it showed no signs of gumming up or dulling.  Afterwards a quick swipe with a gas soaked cloth to clean it, then a light coat of oil to hold off the rust kept the blade ready for the next job.
The sheath is in my opinion just "OK".  Once the machete is slipped into the nylon sheath it is secured by metal snaps on the open side.  None of these snaps gave me a real secure "snap in" feel or sound.  I cleaned them with gun solvent then oiled the male and female snap components, but this did not alter their lack of a secure snapping together.  I think I will add one or two pieces of hook and loop strap for extra security.   Having these sewn onto the sheath from the factory would be a future improvement recommendation.
Bear Grylls
Also I cannot escape this review without a comment on the Bear Grylls marketing angle to a line of Gerber products with this guy's
endorsement.  I don't watch his show for my own reasons.  I mean a guy who fashions a swimming "floatation" vest out of the skin of a dead seal simply has to have issues.  Perhaps it is all for the camera anyway?
The good part is that despite the Hollywood marketing hype, this product was still offered by a company with a solid reputation for making quality gear.  For that reason alone the Gerber Parang Machete deserves a place among your survival equipment.
Photos By:
Dr. John Woods
Wikipedia