Staying off the ground is not just an important part of back country camping, it can also be a matter of life or death if you are outside the sphere of assistance or in a survival situation.  The ground can literally suck the heat from your body.  Enter, the No products found..
About the Hammock
Model: No products found.
Height Limit: 6′ tall / 180 cm
Weight Limit: 250 lbs / 115 kg
Weight of Hammock 2 lbs 9 oz / 1160 g
Click to watch review – Hennessy Hammock Expedition Zip


Conclusion:
The Pro's
I have used this No products found. multiple times in the back-country of the Rocky Mountains and here are some things that I like about this hammock.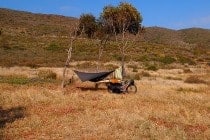 The hammock is very light weight compared to almost any tent and has no tent poles, which can be bulky in your pack.  The No products found. is very compact-able and fits well into your camping pack or bug out bag. The mosquito netting is a nice feature depending on your location and provides great ventilation while protecting you from small insect like predators. Quick and easy to set up, I can set up the hammock in less than five minutes (more like three minutes). I usually spend more time looking for the perfect trees. The hammock is great for uneven ground, as long as you have several trees to choose from you can literally camp on the side of a mountain or a hill in this hammock.  It comes with a rain fly which is key to protecting you from the elements, as well as keeping your body heat within the hammock .  It also has a paracord draw string across the top of the hammock to keep the mosquito netting and rain fly off of you, while providing a place for the sliding mesh gear bag for your headlamp, pistol, glasses, etc.  The Hennessy Hammock Expedition also has additional draw strings so that you can stake open up your hammock to provide more internal space, which is nice.
The Con's
The cons are that you need to have trees available to you or you're screwed.  The No products found. only fits one person, so this is not the
ideal family bug out tent.  The rain fly that comes with the hammock is small and would not protect you very well in severe weather conditions.  A sleeping pad seems necessary to keep your body heat from escaping beneath you.  It does not come with any tent stakes to stake out your rain fly.
Some recommendations I would make are to purchase the additional No products found..  It is very large and provides the necessary protection from the whatever Mother Nature throws at you.  Hennessy also offers Snake Skins, a tube-like sheath which attaches to each side of the hammock for quick storage and fast set-up and tear-down.  This way you don't have to try and fold up or stuff your hammock into a cinch sack.  I would also add lightweight tent stakes to stake out the rain fly and hammock.
And the most important feature of all, I get a better nights sleep in a hammock than I do in a tent on a sleeping pad.
Video by SurvivalCache.com Team
Photos by:
jon_beard
bicyclerust
utspoolup
---