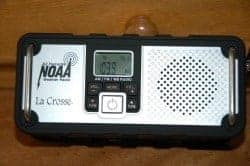 There are pieces of emergency gear that preppers and survivalists simply have to have.  A multi-functional, multi-powered weather radio is one of them.  One of these radios should be extremely high on your "to buy" list if you do not have one now.  It needs to be kept easy to access and ready to go out the door, too. Undoubtedly there are numerous such weather radios on the market and I have had two or three over the years that all eventually died.  I have an old model sold by L.L.Bean that still works but the station dial is so crude it is difficult to zero in on a station with clear reception.  It also eats batteries like popcorn. Enter an intuitive, energy efficient rebuttal to older inefficient radios: the LaCrosse Model 810.
By Dr. John J. Woods, a contributing author to SHTFBlog & Survival Cache
This LaCrosse model has it all.  In fact its features are darn near too many to mention, but here is a rundown on the essentials. First of all, the radio is small and compact.  Out of the package it appears to be well made in a black matte finish in ABS plastic.  The grill or speaker front is silver matte chromed.  Had it been bright chrome, it could have been used as a signal function.  The 'control' panel is centered on the front with simple, intuitive buttons to manage all the radio's functions.
The LaCrosse Model 810
To begin activation of the LaCrosse 810, pull the battery seal out of the back to activate the LIR123A recharge battery to initially power up the unit.  Backup power sources also include a built-in solar panel on top that can recharge the radio in 10-12 hours of sunlight.  Also available is a hand crank on the back to recharge the unit.  About one minute of cranking gives 30 minutes of radio juice to hear anything that is being broadcasted.
Related: Surviving Alone
A red charging crank rate light will shine as you crank.  It will turn green when fully charged.  As you crank, you can get into a sort of rhythm, but one minute of cranking seems an eternity.  It occurred to me during the process what a great job for the kids to do.  
The radio itself can be set to AM-FM for standard stations for music, news, and local weather.  One more button push switches the radio to the NOAA weather bands for fully detailed weather reports from an official government weather source.  The LaCrosse 810 picks up seven weather band frequencies, so something should be available and live no matter where you are.  
Other Features
Besides the more or less regular features of a weather radio, the 810 unit also has a built-in LED flashlight with focused fresnal lens, a blue back light flashes red during weather alerts around the digital read out panel, a digital station tuner, volume buttons, and a digital clock reading AM-PM time readouts. There are two stainless steel bars on the ends of the front panel which go through the case to reinforce the internal framework of the radio to make it more durable.  On the side is a telescoping antenna that can be pulled out and rotated to isolate the best radio reception.  There is also a 3.5 mm earphone jack if you want to listen via headphones.  
Read Also: Survival Radio: What Will Work 
Also built into this unit is a mini-USB port that can be used to charge the radio via a computer or any other USB power source.  Users can also utilize the hand crank feature to charge a phone or other external mobile device. The LaCrosse NOAA Weather Radio is very simple to self-use, but directions are printed on the bottom of the radio in case the paper instructions become lost.  The included directions come printed in three languages, English, Spanish, and French.  I guess the Russians will have to hack in.  
As a final footnote, I plan to find some kind of soft-sided slip case or bag to store the LaCrosse radio to offer extra shock protection and safety from any outside elements.  For now the radio sits on my work desk ready for the next weather event or to listen to talk radio or music.  The LaCrosse 810 retails for just under $50 and is well worth the investment.
Save
Save
Save
Save