According to the Washington DC Metro Police, in 2018 alone the city averaged 80 car break-ins a day; that is a little shocking! One of the most painful things that can happen to you, as a car
owner, is the "smash-and-grab" car break-in. They don't even steal your whole car, just the valuable items in it – which you then have to painfully replace while dealing with the costly window repair process. My wife's friend from college used to play in a band. One night after a show in Milwaukee, she left all of her musical equipment in the car, only to wake up in the morning to a broken window and she found everything was stolen. I can report that she took a little vacation from being in a band after that. 
Lock'er Down Exxtreme Center Console Safe Review
In this day and age of concealed carry and being prepared, many people like to keep handguns and spare money in their car in case of emergency. Losing a handgun would make a typical smash-and-grab even more painful,  since now you would have to report a missing gun to the police and possibly your state firearms registration office (depending where you live).
My New Toy
I recently upgraded from my old truck to the new Jeep Gladiator, which I have been waiting patiently to come to market for a few years. This is my first Jeep, and I can already see the problem
with owning a Jeep: There are just too many options for aftermarket modifications. It is like Legos for adults! It very much reminds me of the AR-15 market, where you buy a rifle and then a year later you have 20 things hanging off the end of your rifle for the zombie apocalypse. I can see myself already saying, "The steel bumper on the Gladiator Rubicon is fine, but what if….."
Also Read: V-Line Brute Gun Safe
But one thing that I needed right away was a place to securely store my valuables inside the new Jeep. Of course, with the Jeep Gladiator being a new model, the options for lockable center console or glove box are limited. I also wanted something that was quickly accessible. I did not want a key lock; I feel like a key lock would be too slow in an emergency. I wanted something that either came with a combination lock or possibly a fingerprint scan system (combination lock was the preferred method – batteries are always a bad option).
Choices
So after searching both Google and Amazon for the "center console safe for Jeep Gladiator", I found products from two companies, Tuffy
and Lock'erDown. I read a lot of reviews and contacted both of their customer service departments to ask detailed questions about the products. Lock'erDown seemed to have people available all day to answer questions and they really took their time with me and made me feel like they knew their stuff. Tuffy on the other hand, left me on hold for some time. They also answered my questions but I seemed to get transferred around on their phone tree before finally finding a human. Another feature I loved about Lock'erDown that they build all of their safes in the United States. It is always best to support American based workers!
The construction of the Lock'erDown center console safe seemed to be superior based on reviews and description of the product. Lock'erDown uses both 10 gauge & 12 gauge steel in their product, while Tuffy uses inferior 16 gauge steel.  The Lock'erDown also came with a Lifetime Warranty; that is pretty tough to beat. 
Description of Lock'erDown Exxtreme Console for the Jeep Gladiator:
Heavy 12 Gauge Gauge cold rolled plate steel construction.

10 Gauge plate welded to lid.

Welded tab and notch seams.

Superior 3 point locking system resists prying.

Drill resistant locks.

Easy 10 minute installation.

Must be assembled inside console.

Counter balanced door with spring assisted hinge.

Largest selection of lock options in the industry.

Only product in industry with lifetime warranty.
Don't Follow My Lead
Installation: Installation would have been easy but I did not read the directions completely before I (Mr. Know It All) started to install the center console safe. By not reading the instructions, I skipped a major step that bit me in the butt by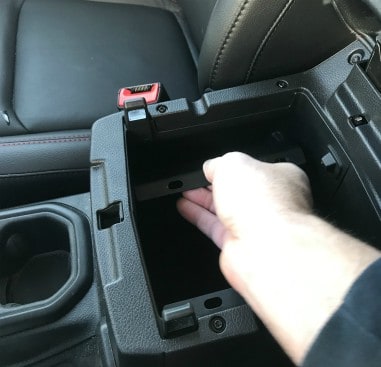 the time I finished. On my first attempt to install, the center console lid would not close properly when I finished installing the safe. I went back and re-read the directions and realized that I skipped over a critical step that was made pretty clear in the instructions. I am not going to go into the installation steps in this review, just read the directions and don't be a (Mr. Know It All) like me.  🙂
Also, there is a center console light in the Jeep Gladiator that makes the installation of the top door of the safe a little difficult. I chose not to mess with it and just popped off the plastic cover to the light using a small flat head screwdriver. The top safe door went on easy after that. As you can see in the picture with the installation complete and the main center console door open, I just have a little light bulb with no protective cover. The light actually works better now since it is not restricted to pointing down. Either way, not a big deal to me.
Also Read: 3M Window Security Film Review
Setting the Combination: Again, this is one of the steps where you want to take your time. I can report that after I screwed up the
installation, I took my time and read and re-read the combination directions. I made sure not to screw this part up, and neither should you – or else you might be locked out of your new center console safe. So take your time, "measure twice and cut once" as they say. I would recommend setting the combination lock prior to the last step and "for sure", try locking and unlocking the lock prior to closing the safe door and locking it for real.
I have had the Lock'er Down Extreme Console safe now installed in my 2020 Jeep Gladiator JT for over two months. I haven't had any attempted break ins with my Jeep to report but I do feel pretty confident leaving it parked anywhere that when I come back, the contents of my safe will still be there. Lock'erDown makes center console safes for many models of vehicles. Check out their site to see if they make a model for you.