As if LED flashlights weren't powerful enough, there is another level of mobile lighting that should have it's place
in your SHTF kit. Battery-powered tools, whether 12, 14, 18. or 28 volts are indispensable these days, and the top makers have now set their sights on innovative LED lighting. Milwaukee Tools has several unique high powered lights that run off the same batteries as their tools. No surprise there. But what is astounding is the massive number of photons the light throw off, their features, and the significant advantage of large-scale rechargeable batteries compared to the grocery store batteries.
Turning 18
Two notable lights for a temporary grid-down are the Milwaukee 2361-20 M18 LED Flood Light and the M12 12-Volt Cordless Lithium-Ion LED Lantern.The M18 LED Flood Light is a blindingly bright octogonal block that uses eight LEDs arrayed in a two by three
inch matrix kicking out 1100 lumens of floodlight for up to eight hours.  Note that it's over 1K of flood lumens, not spot ones.  In flashlight parlance, that would be 1100 lumens of spill!  It accepts any of Milwaukee's newer 18v Fuel Lithium-ion batteries from the compact through their extended life version.
The unique shape of the M18 LED Flood Light allows it to be positioned many ways including nine different sitting poses, as well as hooked, hung, and slung on a rod. Although the light is not lightweight, it is durable. But not waterproof.  The roll-cage design provides excellent protection for both lights and battery. That does come at a cost, however, in the form of almost three and half pounds of weight. And it is not particularly small either being a rough cube about eight inches per side.
Milwaukee made and markets this light to replace the halogen work lights that are dangerously hot, fragile, and power-hungry. While the M18 does not quite match my 120v Craftsman halogen lights in terms of brightness, this floodlight excels in every other area. And I never would consider halogen lighting for a bug out.
Last update on 2021-05-10 at 18:12 / Affiliate links / Images from Amazon Product Advertising API
A Twelve Pack of Volts
The Milwaukee M12 12-Volt Cordless LED Lantern is a vertical lighting solution that contains several useful design
options. First, the Three columns of six LEDs can all fire forward blasting photons across 180 degrees.  Or with slight turn of the base ring, the two outer columns fold back around behind the central one each now addressing one third of a circle of light. In an instant, the Milwaukee M12 12-Volt Cordless LED Lantern went from a powerful 180-degree flood solution to a shadowless 360-degree circular area lighting solutio. Or any lighting arc in between.
Other features of the M12 12-Volt Cordless LED Lantern include a battery charge indicator that uses four red LEDs to show the condition of the battery. Also a 2.1 amp USB port is included from which cell phones and other electronics can be charged.  Two complementary stainless steel hooks rise from top and double as a carry handle.
The four lighting modes of the M12 12-Volt Cordless LED Lantern include high, medium, low and strobe (on high). My one complaint about the user interface of this light is that the On button and the USB port cover are similar and almost indistinguishable in the dark. Further, they are exactly 180-degrees apart on the shaft of the lantern. More often than not, I either push the USB port as button to no avail, or blind myself by turning the light's full 400 lumens in my face. The only real tactile indicators of the light's directing is with the light's loosely triangular base.
The soft white light the M12 12-Volt Cordless LED Lantern generates is enough illumination to safely move about a campsite at night.  The low setting it is plenty inside a tent whether in circular or unidirectional mode.  At about the same size of a quart water bottle but a little taller, the M12 12-Volt Cordless LED Lantern fits into some water bottle cases including some tactical and MOLLE-compatible ones.
More Bright Options
For those already invested in the Milwaukee 18v Fuel battery tools, there is a larger version of the Milwaukee M12
12-Volt Cordless LED that runs on the same 18v lithium batteries as the  M18 LED Flood Light. This particular light in this same form factor as the 12v but a little taller and blasts 700 lumens. It's called the M18 LED Lantern/Flood Light and also has the USB port.
All the lights mentioned thus far are IPX4 rated which means mild water resistance for splashes, spilt beer, etc. And each light is should survive a six-foot drop onto most surfaces.
The Yellow One
On the DeWalt side, there is a wonderful little 12-volt light called the DCL510 12V MAX LED Work light that puts out plenty of useful photons in a fairly narrow spot.  Where the DeWalt shines, if you pardon the pun, is within its rotating and swiveling head.  Additionally the it comes with a belt clip as well as two powerful magnetic bars will anchor this light to most reasonably flat ferris surfaces such as on a car or or truck body.  Of course the DCL510 12V MAX LED Work light has several different sitting positions including a kickstand that work wonders as well as both a hook and larger footprint for balance.
Although the DCL510 12V MAX LED Work light specs list only an output of 130 lumens, it seems much brighter. The on-switch is just that, it turns the light on and off. No variable power, strobe or anything else with this one, nor any added bumpers or IPX rating.
Last update on 2021-05-10 at 18:12 / Affiliate links / Images from Amazon Product Advertising API
Lights Out
Although Dewalt, and Milwaukee make other lights, they are either incandescent, fluorescent, or LEDs in a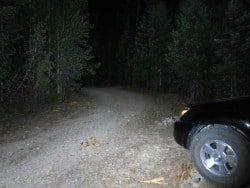 traditional worklight form factor, not these survival-themed versions. The point of this SHTF lighting introspective is to consider some relatively new light designs that will make a difference when things go dark for real, which is just what happened.
In fact, I am typing this addendum on a laptop while the power is out. Going on day three to be exact. A windstorm moved through the valley while I was in Missoula, MT. It not only knocked over trees that turned power lines into spaghetti, but the hurricane-force breeze also took out the very high-voltage transmission poles that carry the power into the city. The first night in the dark was cute reminder of what could happen. By the next night, it was obvious that things were amiss here in river city. The power company gave no estimates of when the power would flow again, and instead hid behind the word "complicated" when it came to fixing the situation.
But me?  Frankly I enjoyed the darkness and thought it could teach the world plenty about self preparedness. Survival expert Lars Fält is worried about people today with their "built-in helplessness," which Lars believes is increasing everyday due to our push-button lives.  "Society has never been so vulnerable as it is today," proclaims Lars Fält flatly.
Lars Fält was on my mind when the sun set. The local news reported a run on generators, flashlights and bags of ice.
Remember folks, this is summer.  Every morning the sun rises into a blue sky, and the temperature follows from a pleasant morning to a toasty afternoon.  What's wrong with this picture? Well, there is no snow. No ice. No blizzard.  And no real concern.  But if this same bit of windy nastiness had arrived during the third of the year we call winter, it would have been a much different story.  Rather than concerns that the meat in our refrigerators would rot, we would be trying to keep our own carcasses from freezing. Like the rules of three so often noted in survival articles, I would like to add some additional ones. In a grid-down, you have three hours before mass concern sets in.  Three hours before folks start to wonder out to the stores to hoard.  And in the winter, three hours before you get seriously cold in your own home.
But with my Milwaukee shop lights, at least I didn't have to worry about light for a while.  The runtime for my shop lights given all my fully-charged rechargeable batteries could be measured in days or weeks not minutes or hours so I guess that's some consolation.  Plus the Milwaukee shop lights will quickly earn their keep around the house and campsite long before the lights go out for real.
Last update on 2021-05-10 at 18:12 / Affiliate links / Images from Amazon Product Advertising API
All photos by Doc Montana
---