In the world of survival prepping there is no substitute for having quality optics on hand.  I have found that out the hard way a number of times, but never again.  So many quality optics are on the shelves these days that no self-respecting prepper should be without a good set. 
By Dr. John J. Woods, a contributing author to SurvivalCache.com
Having a good set of both binoculars and/or a high quality spotting scope is the double whammy for observation, game spotting, and security surveillance.  The bottom line issue with good optics these days that the prices seemingly have gone out of the roof and blurred the options for choices.  With a tight economy and a considerable number of working class survival enthusiasts having to stretch their prep dollars even further, a high quality product at a reasonable price is a premium.  Enter Optics Planet's own proprietary line of optics they are marketed under the moniker of "OPMOD."
OPMOD 8×42 Waterproof Binoculars
This 8-power binocular is no wimp optic.  They are fully waterproof with a textured gripping surface (a real essential plus in wet weather or snow conditions), fully multi-coated lens, center focus, 42mm objective lens, 5.25 light transmission factor (42/8), nitrogen filled, twist-up eyecups, 1.5 pound weight, and many other specification features.
In field practice these binoculars are perfect for everything from bird watching, game hunting, spying on neighbors, or watching bug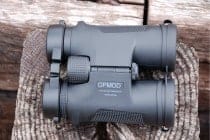 out perimeters at premium distances.  The gripping surface remains pliable in cold and wet, which mean they don't slide out of the hands like slick surface optics often do.  The sides of the optics "barrels" are dimpled with tiny gripping points like fine gun checkering.  The center focus wheel is done the same way.  This is a very nice touch indeed.
The eyepiece focus is simple and accurate.  I wear bifocals which are the bane of all trying to use riflescopes or binoculars.  This is not an issue with the Optics Planet OPMOD binoculars.  There are twist-up eyecups as well, but I find with my glasses they work perfect in the fully down position.
Out of the box the Optics Planet OPMOD binoculars come in a nice, fully cushioned case, with a nice neoprene neck strap.  The objective lenses have soft material covers that can be popped open or removed altogether.  The eyepieces also have a one-piece cover that loops into the strap.  These are features only very top end optics usually has.  This whole package retails for over $200, but when I checked on Amazon they were listed on sale for $149.99.  I have little doubt this binocular is a best buy offering top quality and utility.
OPMOD 20-60x60mm Spotting Scope with Tripod
From my hunting perspective as an experienced western big game hunter and now fanatic white-tailed deer hunter/prepper, I never seriously considered owning much less using a spotting scope.  That was until spending time in two different outfitted elk camps years ago convinced me otherwise.  These adept outfitters used spotting scopes set up outside the camp area for hunters to scan, observe, and spot elk far up on the mountain meadows and tree lines.  The viewing advantages of using the spotting scopes quickly became obvious.  Now I use them regularly.
Optics Planet has had a spotting scope custom designed and manufactured to their strict specifications.  It is a variable power unit from 20-60 power with a 60mm objective lens.  This offers a wide power range for wide viewing as well as up close examination of viewing targets preppers might want to keep an eye on.
Since critical evaluation of area activities is a must in a bug out scenario, a spotting scope is the best instrument for the task.  If you
are in the market for a high quality, precision optical spotting scope then seriously consider the OPMOD 20-60.
Spec wise, this spotting scope has all the essential features needed for long range observation.  The unit is water resistant, light weight (2.2 KG), offers a powerful zoom range, 4mm-1.3 mm exit pupil distance, and an included tripod which is ideal for shooting range work or spotting game off a vehicle hood or placing atop a standing height photo tripod.
The eyepiece is an angled affair making it easier to use afield especially on a tripod as the user can simply bend over to look through the unit.  Both lenses have soft rubberized protective covers, but they are not attached.  The 20-60x power adjustment has a locking ring so the power can be dialed in and set fast.  There is a large easy to manipulate focus knob on the side of the scope barrel.  The eyepiece lens also has a twist out focus feature.
Another nice feature is the lock screw that allows the tripod mounting platform to be rotated around the circumference of the scope for different use applications.  The exterior surfaces of the scope are fixed with a soft rubber-type material offering a firm grip.  Optical quality is exceptional.
Again like the binoculars, the spotting scope can be viewed and ordered on Amazon.  The listed sale price was only $159.99 retail.  I highly recommend preppers, hunters, campers, bird or people watchers, observers, and others interested in quality optics at a reasonable cost check out the OPMOD optics.
All Photos by Dr. John J. Woods
Get Exclusive Survival Articles!
Subscribe and get survival prep, gear reviews, and guides sent to your inbox.
Thank you for subscribing.
Something went wrong.