When I was a kid my dad bought me a youth compound bow.  I loved shooting it but I never shot at anything other than the practice target in our yard. I spent all my hunting years using firearms even though the desire to bow hunt was always just below the surface.  I didn't have a person in my life who was an experienced archer, so I never took the leap to go bow hunting.  Recently the desire to become an archer became too great and I decided to take the plunge into the bow world.  To my dismay, I quickly realized how expensive this new endeavor was going to become.  Sadly, I just couldn't justify spending that kind of money to start out, until I talked to a friend of mine who has shot bows for years.  He recommended that I check out Primal Gear Unlimited and their folding bow.  Their folding bow sells for $149.00, which was more in my price range.
IMPORTANT NOTE (10/06/2020): We have been notified that Primal Gear is not shipping any of their products to customers after payment. Please be aware of this issue.
Primal Gear Unlimited Survival Bow Review
A Tip From A Friend
I talked to my friend extensively about the bow, since he has one for every member of his family.  After our two hour discussion I went to the Primal Gear Unlimited website (goprimalnow.com) and placed an order.  Primal Gear Unlimited currently offers three bows, at 40lb, 50lb and 55lb draws.  I ordered the 55lb. draw and a set of three take down arrows. Here are the specifications of the bow from the manufacturer's website:
Specs
Can easily be converted for right-handed or left-handed shooters.
Average arrow speed is 181 feet per second.
The riser is milled from T-6 6061 aircraft grade aluminum.
Limbs are made from fiberglass.
The folding bow is 23" x 1.5" x 1.5" when folded and 59" long when extended.
Weight is 2.25lbs.
The bow comes with an Endless Loop Dacron string and an owner's manual.
I was very excited waiting for this package to arrive, and when it did, my excitement soared as I opened the box.  The black compact bow was roughly the length of my arm.  I took it out of the packaging and admired how light and compact it was.  I quickly undid the Velcro strap that held the string and the limbs in place.  The limbs fold out and after a few turns of the locking bolts (Do Not over tighten, just snug tight with your hand) the limbs were set.  I have never strung a bow in my life, but was able to string this bow in a matter of seconds.  It only took about a minute to set the bow up from folded to ready to shoot and the best part is that it requires no tools to do this.  The only time you will need tools for this bow is when converting the limbs from a right-handed to a left-handed shooter.  For that purpose, all you need is a simple Phillips screwdriver.
The other feature of this bow that many people might not like is that it does not have a sight, as it is more of a long bow design. I'm sure if a person was experienced they could fit a sight onto it but in my opinion, that would take away from its intended simplistic design.  Personally, I like that it does not have a sight, as this makes the experience more traditional and challenging.
A Bow For Your Bug Out Bag?
The take down arrows are extremely cool.  There are two inserts in the middle of the shaft where the arrow screws together.  I put all three shafts together and began shooting at ten yards.  I know this seems ridiculously close, but as I stated earlier, I haven't shot a bow in years and I did not feel like spending my time looking for missed arrows.  I also started at this range until I got the hang of the bow and felt comfortable with my shooting position.  Once I felt comfortable, I moved back to twenty yards.  At first my shots were not very consistent but I was not missing the target. Surprisingly, I was shooting high, from my view point I would have thought I was shooting quite low. After adjusting my finger placement and smoothing out my release I was beginning to shoot consistent groups.  I would say my best group was three shots that were no more than five inches apart.  Finally I moved back to thirty yards and my groups began to get a bit worse and I even missed a few times.  However at this point I was starting to get fatigued since I had shot around thirty times in a row and I did not have arm protection so that was beginning to hurt.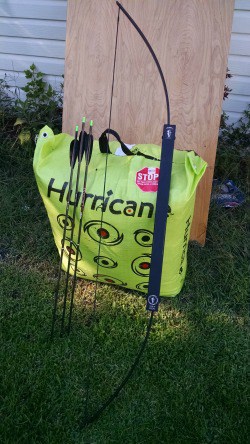 Where the concept of this bow really shines is for backpackers.  This bow and the take down arrows easily fit inside a pack making it much easier to transport over a traditional longbow or modern compound bow.  Also considering that the set up time for this bow is about one minute without needing tools, just adds to the appeal.
What makes this bow ideal for a survival situation?  Its size can't be beat.  It can easily fit, along with the take down arrows, into a standard bug out bag  and even under a vehicle seat.  I'm positive that it can even be strapped to the frame of a bicycle if one were so inclined.  So the size of the bow and arrows is a huge plus for transportation purposes. Also this bow can shoot any kind of arrow. It can shoot carbon, fiberglass, or wood arrows.  This increases the availability of arrows drastically, especially if you happen upon some arrows or even need to make your own.  Being able to easily switch the limbs for someone who shoots right handed or left handed makes it much more versatile and user friendly, especially if you are in a group.
Conclusion
The best feature has got to be the price.  Even though I have not had this bow for a long time I feel I don't need to look any further for any other kind of bow.  In fact I have already order another one for my wife.  For the quality, ease of use, simplicity, and compact size for the price that Primal Gear Unlimited offers, I give this a five out of five star rating.
IMPORTANT NOTE (10/06/2020): We have been notified that Primal Gear is not shipping any of their products to customers after payment. Please be aware of this issue.
Photos By: One Eleven Photo, Primal Gear Unlimited, The author – Tinderwolf