To find success when big game hunting, you have to get as far away from the roads as possible. That's doubly hard, because while you may be able to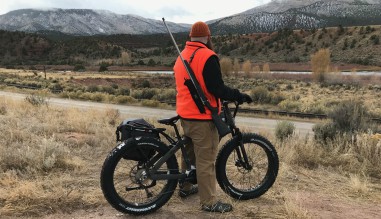 comfortably hike 10 miles in, you may not want to pack a critter 10 miles out over four or five trips. According to multiple studies cited on backcountryhunter.org, most game animals like to stay at least 300 meters away from roads. Distancing yourself from lazy road hunters and their noisy vehicles greatly increases your chances of seeing that prized critter. ATVs are great, but many national forest trails are closed to motorized vehicles like Jeeps, ATVs and Motorcycles. Also, ATVs are noisier than most trucks, and just push animals even further out.
QuietKat All Terrain Electric Mountain Bike Review
We saw this first hand on a recent hunt out in the Rocky Mountains of Colorado. Both trucks and ATVs were Road Hunting the Forest Service roads like they were patrolling the southern border. None of these road hunters shared the success that we noted during our hunt. So what are you to do? You want to reach the backcountry but maybe hiking three miles up to 10,500 feet is not an option for you. Or maybe you are looking to get really deep and don't want to spend two days hiking. According to TrailTrove, the average human hikes at two to three miles each hour. This is average from TrailTrove is without a backpack (20 to 30 pounds), a hunting rifle (6-7 pounds), and hunting clothes including boots, pants and jacket (7 pounds). With this extra weight, you are most likely going to be below 1 mph with stops & breaks. Also, consider the toll on your body. You hike three miles up to 10,000 feet with 40+ lbs of extra weight. You are going to be huffing and puffing by the time you get to the top. 
An elk can average 88 to 270 lbs of harvestable meat.  You might be lucky if you don't get an elk because that will be at a minimum one more trip back up the mountain for two people to get all of the meat out. Those are heavy loads that put a lot of stress on your body. I recently heard about some backcountry hunters using electric mountain bikes to get deep into the woods. After seeing that the BLM has recently changed their rules on electric bikes, I decided that I wanted to try it for myself. After a bunch of homework studying things like range, price, warranty, extras, reviews, & experience, we landed on No products found.. No products found. is based out of Eagle, Colorado and they seem to have hunting and the outdoors in their blood. I have been watching them for a few years and they seemed to keep coming out with cooler bikes every season. 
Split Decision
We got two bikes. My hunting partner, Derek, has a chronic tailbone injury and required looking for a softer ride. He was willing to spend more money on his bike so he got the Fat Tire Ridgerunner.
QuietKat Fat Tire Ridgerunner
Motor: Ultra Mid Drive 1000 watt

Display: Digital-Color

Battery: 48v/16ah Panasonic

Frame Sizes: 17" Medium & 19" Large

Brakes: 4 Piston Hydraulic Disc Brakes

Fork: RST Air Suspension 150mm, Rockshox on rear

Suspension: Fire-Link Four-Bar Linkage

Wheel/Tire: 26 x 4.8" CTS Roly Poly Fat Tires

Gearing: 9 Speed Wide-Range

Drive: Stainless Steel Chain

Weight: 65lbs

Top Unassisted Speed: 1000W: 28mph

Range: ~25 Miles Unassisted, up to 50 miles under Pedal Assist


Color: Charcoal
I got the Apex which has a hard tail and front suspension. 
No products found.
Motor: BBSHD Mid Drive 1000 Watt

Display: Digital

Battery: 48v/11.6ah Panasonic


Frame Sizes: 19" (M/L) and 17″ (S/M)

Brakes: 2 Piston Hydraulic – 203mm Rotor


Fork: GT Air Suspension 100mm

Wheel/Tire: 26″ x 4.5″ (Fat Bike)


Gearing: 9 Speed Wide-Range

Drive: Stainless Steel Chain

Weight:  75lbs

Top Unassisted Speed:  25mph

Range: ~20 Miles

Load: 300lbs

Colors: Charcoal / Camo

Impressions & Thoughts:

One: Our wheels said Juggernaut on the side of them and the name was fitting. The wheels are huge. And by huge I mean massive.  Riding a normal
mountain bike on single track, I would not want this much tire. Really fat tires would be heavy and hard to push around on a normal bike but the traction from the fat tires bring is insane, and makes you feel much safer on the mountain. With this being an No products found.  and you can push the throttle and with a little peddling you are cruising at 12 mph almost instantly. The big tires add stability and traction both on the front tire for turning and the rear tire for climbing. These are not motorcycles and you still need to pedal, but it really helps climbing those steep inclines.
Two: The bikes are fast. Our first time riding the bikes were not ideal for learning. We were at an altitude of 8,500 feet, little bit of snow on the ground, heading up to 10,500. The QuietKats will take off if you hit the throttle hard, the torque is pretty good. Riding a bike at 20 mph up single track in the mountains can be a little scary and mind blowing at the same time. It took us about about a mile to get comfortable with the bikes, having packs on as well as the cart system that was attached to the back of my bike. To be honest, I have considerable more mountain biking experience than Derek. I was pretty comfortable after about 100 yards. Derek, who broke his tailbone, and has really not ridden a bike since was not a huge fan of the No products found. at first. I heard a lot of cussing and yelling on the trail that made me think "Oh man, this might have been a mistake." but after a little coaching, mainly telling Derek to sit down while going uphill so your body weight is heavy on the back tire for traction made a huge improvement for him. By the time we got to 10,500 ft, Derek was sold. I think his exact quote when we got to the top of the mountain was "These things are sick." On our first ride, I think we averaged about 10 mph uphill with very limited stops. Also, because the QuietKat motors are electric, you do not lose any power at altitude. Most gas engines lose about 3 HP per 1,000 ft of altitude. I know from experience that my old Honda Rincon didn't like altitude above 10,000 feet even though I had it tuned for the mountains.
Three: The bikes are quiet. I personally think we were much quieter on these bikes than if we were struggling up the side of the mountain carrying gear and heavy boots. I don't have a way of measuring this but every time I turned back to see if Derek was still behind me, I always saw him before I heard anything. Also, our exposure time on trail was less than 20 minutes compared to 1 to 2 hours by foot. I also believe our scent signature was much less because we were up high out of the grass and only the tires touched the trail. I believe we pushed the animals less because of how quiet these bikes were.
Four: The bikes are heavy. The one downside of this bike (if there is one) is that these bikes are pretty heavy at roughly 70 lbs, but you get a lot of machine for this weight. It took two of us to muscle these bikes into the back of the pick up truck. Could either of us have done it alone? Yes, but we didn't want to take the chance of scratching the truck. Also, a normal trailer hitch bike carrier (Yakima or Thule) will not work with these, they are too heavy, but the 1up rack (which is sold by No products found. in both a 1 bike & 2 config) works great. Or you could always look into a light weight ramp system to load these into your truck or SUV if you are hunting solo.
Five: Hard to put away. These things are so much fun that you might want to cut your hunt early just to cruise around on your QuietKat. Honestly, you get can places on these things that would be hard by foot without several days of walking. They are super fun on the trail and you find yourself making excuses for wanting to find a new hunting area and getting back on the No products found.. "Hey, I think I am going to go scout this other mountain, be back in a bit."
Six: Tough in powder. The bikes did well on hard snow, and were stunning over normal ground, but thick powder snow caused them to fishtail a bit, and are probably not the best fit. Luckily this isn't most of hunting season. Also, we did not deflate the tires which could be an option. To be fair, rear wheel ATVs also struggle in deep snow.
Traveling With The Kat
We traveled around the Rocky Mountains with the No products found.and a fully assembled pull behind cart in the back of the Jeep Gladiator. The front tires of the QuietKats were
hanging over the tailgate using a QuietKat Tailgate pad. We strapped them down and due to their weight, they travel well in the back of pick up trucks. We were exposed to some pretty harsh weather up there and were worried about the computer components on the Kats. We had no issues. Every time we pushed the power button, the Kats fired right up and away we went.
Stashing the Kats
Once we reached our planned hunting area, we just marked the Kat location on our GPS and laid them down behind some trees. After a few days, we started just leaving our extra gear near the Kats as well. We were never worried about anyone stealing our gear or our Kats at 10,000 feet. You can remove the battery with a key and you can also use a cable lock to secure your bikes but we never did. If I was in the city, I would get a no joke lock for these bikes but Elk and Mule Deer don't steal. 
Kat Down
The 2 wheel trailer system that we got with the QuietKat was awesome. It held a ton of gear and was easy to set up and attach to the bike. A bit of caution,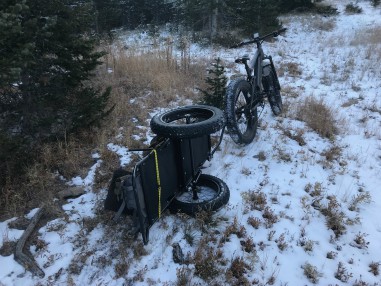 you do have to watch out for larger rocks on the trail with the two wheel system. We turned the trailer system over a few times with large rocks. All of our gear was strapped down so flipping the trailer back upright was no issue. They do make a single wheel cargo trailer. I wish I could have compared the two to see which is better. I feel like the single wheel version may have been better for single track. I know Doc Montana recently reviewed the Burley COHO XC Bike Trailer and made it look easy flying down single track in Montana.  
The Proof is in the Pudding
We got deeper & faster into the backcountry than our hunting competitors and on the first
morning we saw 3 elk walk into a pasture on the backside of a mountain at 10,500 feet. Without the QuietKats this would have been a painful journey and getting an elk here would have made for a long day of packing meat out with at least one extra trip up the mountain. With the QuietKat & trailer, just one trip down the mountain, elk & gear. 
Overall:
We give the QuietKat four thumbs up. Super fun. Super easy to ride. Versatile, you can use them for things besides hunting (ex: commuting, camping, bug out, military operations, etc). Charging was easy, just remove the battery and bring it inside. There is something about the power and quietness of these bikes that will blow you away. I was dreaming about an American Spec Ops unit using these to insert quietly outside of ear shot of the sound of a helicopter, I could see it in the future. Bottomline, they are fun to ride.  
Video: 
This is not our video but we felt this video from Bowsite.com hit it out of the park and captured our thoughts as well. Take a look.