On a cold spring day in Zion National Park, we woke during our practice bug out exercise with the need for some 'hot' food.  As the water was being boiled over the open fire and the hot chocolate found; Richmoor's Hash Brown O'Brien was also grabbed.
By the SurvivalCache.com team
Instructions were easy, boil water.  The instructions claim that you 1. Boil water, 2. Add hash browns and cover to 10 – 15 minutes. 
Once water was boiled you can either put the water in the package (good option if you are doing a little back-country with no pans) or place contents in pot of boiling water.  We opted for the second since we had a stove and pot; I also boiled (not steamed) for 10 – 15 minutes.  There is an optional instruction to draining any excess water and fry (mostly to get any excess water out).  Once done and dished up, all of us were pretty happy.  It tasted like it
should and the peppers/onions were a nice flavor boost.  (And if the 6 year old asks for seconds, you know it's good!)  The only thing it needed (to make it perfect) was a little salt, which was an oversight on our part.
Nutritional Information
Ingredients: Hash Brown Potatoes, Chopped Onion, Mixed Red & Green Bell Pepper.

Servings Per Pouch: 2 (2 person pouch)
Total Fat: 0 g (Total Saturated: 0 g – Total Trans: 0 g)
Cholesterol: 0 mg
Sodium: 15 mg (1%)
Total Carbs: 34 g
Total Protein: 4 g
For more nutritional information about this product click here.
Pros:
Lightweight and compact.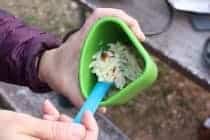 Easy to store (and lasts in storage up to 5 years – may keep long depending on storage conditions)
Easy to make – all you need is water
Can make with or without a pan
Made in the USA
Cheap (Under $3 for the two person – Under $5 for the four person)
Available in 2 person or 4 person pouches
Limited ingredients (no monosodium glutamate)
Tastes good!
Cons:
Needs a little salt
Requires cooking
Requires water
Where to Buy:
Amazon: $2.99
Forge Survival Supply $2.39
TyRy Foods $2.89
Photos by: The SurvivalCache.com Team
Get Exclusive Survival Articles!
Subscribe and get survival prep, gear reviews, and guides sent to your inbox.
Thank you for subscribing.
Something went wrong.