With the onset of fall up here in northern climes, my fellow concealed firearms carriers and I perform a collective
sigh of relief. With colder weather comes warmer, bulkier clothing that allows more comfortable methods of carry, with larger, more effective sidearms.  Gone, for a while anyway, is the season of constantly wondering if my mildly uncomfortable IWB holster  and its passenger S&W M&P Compact are printing through my t-shirt; I can now carry a full-sized SIG Sauer P220 in an outside-the-waistband rig under a heavy fleece pullover or a winter jacket.  Easily-identifiable spare mags in belt rigs aren't poking out, my underwear doesn't get wear holes from IWB kydex holsters, everything is comfortable and life is good.
On October 15th, Maine's new "Constitutional Carry" (anyone who is legally able to on a handgun may carry one, with a few exceptions) law went into effect (thanks in a large part to my brothers and friends in Gun Owners of Maine! Consider joining their ranks if you live here in the Pine Tree State), and the state joins the growing roster of locales that are allowing permit-less carry.  With the new law will come, I'm sure, a large number of people who have never carried a firearm concealed – and they don't realize what a pain in the hind end it can be.  Even just deciding on what holster to purchase is a great way to waste hours in front of your computer or smartphone, searching products and reading reviews.  There is a HUGE market for the concealed carry crowd, with many, many big-name holster and belt manufacturers, plus literally thousands of guy-next-door custom kydex holsters  makers that will make a holster to the configuration you wish.  However, I recently came across another option that piqued my interest: a jacket designed to carry the handgun for you, and it's a pretty slick idea.
In my insatiable daily search for cool gun-related stuff, I ran across a feed from a company that showed a jacket built for concealed carry – and they mentioned that they sourced the jacket from Rothco, a Long Island, NY, based company that has been supplying the police, military, and civilian market with gear since the 1950's.  I've owned a couple packs and other items from Rothco, and they've been decent, solid pieces of gear that held up well to the abuse I've put them through.  Knowing where the jacket came from, and knowing that Rothco offerings have held up well in the past, I soon had one winging my way to try out for myself.
Last update on 2023-12-04 at 04:23 / Affiliate links / Images from Amazon Product Advertising API
The Jacket
Okay, let's get past the one first obvious problem the jacket has when you get it:  It does indeed say "Made in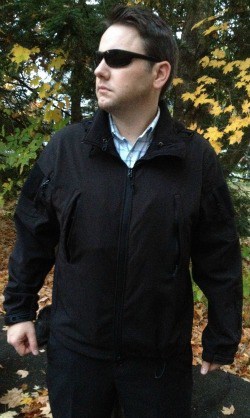 China" on the inside of the jacket.  We try to support "Made in USA" gear as much as possible here at Survival Cache, but we'll make an exception for this jacket because it's pretty innovative.  Before we get into the nuts and bolts of how it carries and hides guns, though, let's look at its primary function:  how does it perform as a jacket?
The Rothco Concealed Carry Soft Shell Jacket is made up of a polyester exterior shell that is advertised as waterproof, and it has a fleece and mesh interior. The good thing about this makeup is that it has a very high wind- and water-blocking ability; the downside is that the material isn't very breathable.  I would wear this jacket when I got up in the morning to do outside chores around the house, go to work in the early a.m., or when it just got chilly out. However, once the sun came up and it warmed up, I definitely got sweaty.  The fleece liner keeps it quite toasty, and the polyester outer shell doesn't let ventilation through.  This is the point, though: The jacket is meant to be a cold-weather jacket, and to keep you warm and dry on the inside even when it's snowing or raining on the outside.  Keeping in mind that this is not a year-round outerwear, it performs admirably.  It definitely did keep me warm, dry, and toasty even during local October rainstorms that can get pretty cold.  The jacket boasts a detachable concealed polyester hood that rolls up into the collar when you don't need it deployed, which is a nice touch.  I haven't worn the jacket out for extended periods of time in the rain or snow, and I do have a feeling that eventually it could waterlogged and soaked through – but you'd have to be in some pretty miserable circumstances for a long time for that to happen.  However, I am happy to report that the jacket has yet to wet through on me, even in some pretty nasty rain; water beads up and rolls off.
Also Read: Survival Footwear
Now, even though the Rothco Jacket materials don't breathe terribly well, that doesn't mean that the designers didn't recognize the problem:  There are long ventilation zippers under the armpits that can be opened up to let some airflow into the jacket, and heat out.  They work well and are appreciated; the armpit area is one of the areas of the body that builds up heat rapidly, and the underarm location means that ventilation is assured without letting rain or other precipitation into the jacket.
Compartments? Zippers? The Concealed Carry jacket definitely has those – but not to the point where you just look at the jacket and remark (with a roll of the eyes), "for real?" From top to bottom, there is first the aforementioned hood compartment zipper in the collar. There are two shoulder/bicep located outer zippered pockets – one on each sleeve – sized appropriately for a medium-sized cellphone or similar device. These shoulder pockets have headphone wire pass-throughs so you can rout your iPod earbuds though and have some tunes while keeping your device dry.  There are hook and loop patches outboard of these pockets, in case you'd like to have unit identification or morale patches for everyone to check out.  On the outside forearm of the left sleeve, there is a mission documents pocket that's smaller than the shoulder pocket, but still big enough for firestarters, keys, small Leatherman, compass, etc.  If you're right-handed, it's pretty great.  If you're left-handed, it's maybe not going to be used as much. Still a nice feature though.
Up high on the body of the jacket, at about nipple height, there are two deep slash pockets with zippers for the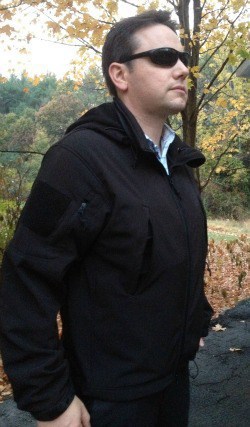 main storage of the jacket, also with wire pass-throughs.  These pockets are, in my opinion, rather inconveniently placed for those who like to walk around with their hands in their jacket pockets; but I will admit that the location was probably dictated by the interior pistol pouch location (more on that later.).  It's just pretty awkward to get your hands and elbows high enough to use the pockets, but not impossible.  Rounding out the external compartments is a pocket located low in the small of the back of the coat, with zipper access on either side.  This pocket is sized appropriately so you could carry documents, a box of ammo, a medical/survival kit, a water bottle, or other flat items with you. I could even see it being a small-game carrying pouch in a pinch if needed.
Also Read: Pocket Carry vs. Concealed Carry
The sleeve openings have hook-and-loop fasteners that you can snug up to tighten around gloves or mittens, or to keep airflow out in cold weather.  The hood and the bottom of the jacket both have nylon pulls with push-button keepers to help tighten the jacket around your body to keep it snug and secure it from loosely flopping about your body.  As with the other attributes, it's been thought through.
The jacket is visually stylish and good-looking, but it doesn't scream, "Operator" or "Mall Ninja" like a lot of other offerings that are marketed towards the firearm enthusiast.  Several people have told me, "hey, that's a nice looking jacket", and I really actually enjoy wearing it.  Whether I'm carrying a gun or not, it's now my go-to jacket since the temperatures have been dropping with the seasons changing. So, as an overall jacket, it really works pretty well, and I'm a fan so far.  Going outside in brisk New England mornings with just the jacket on over a polo shirt is very comfortable, and I'm confident that with the addition of a couple well-planned layers underneath, this jacket would keep you quite toasty and dry through most conditions you'd find yourself in through winter.
The Good Stuff
I'm guessing you're not reading this review because you're an outerwear aficionado, so let's get to the man behind
the curtain here.  This jacket is designed to hide a handgun and spare magazines in comfort, and to do so without tipping the user's hand that he/she is armed.  It's a simple system, so let's take a second to see how the jacket accomplishes its mission.
When one dons the jacket, the first thing you immediately notice are the four hook-and-loop fastened magazine pouches, two per side.  These pouches reside upon the wearer's upper chest, and hold full-sized pistol magazines in a horizontal orientation.  These hold full-sized double-stack pistol magazines snugly – my 15-round S&W M&P40 magazines fill the pouches completely, and take a little bit of wrestling to pull the securing flap over the end of the magazine baseplate.  A pair of Sig Sauer P220 single-stack magazines are swallowed up by the pouch, with no problems pulling the flap shut. Here, we have the potential for some serious firepower backup: if you have a full-sized Glock 17 as a carry gun, you're looking at 68 rounds of spare ammunition, not including what you have in the pistol itself. If you have the mags to pull it off, you could carry 56 rounds of .45 ACP in eight single stack magazines, two per pouch.
Also Read: M1951 Fishtail Parka Review
But what about the pistol?  It's rather the reason for the jacket, right?  Well, lower on the interior of the jacket, near
your waistline, are two pistol carrying compartments, one per side. These measure approximately 9 ½ inches deep by 7 inches wide, making them large enough to carry most full-sized handguns pretty comfortably.  A nylon flap with a small hook and loop fastener tab forms the outside of the compartment; the flap is continuously sewn to the jacket interior on the bottom and one side, while remaining open at the top and front for easier pistol access.  The hook and loop tab is meant to keep the flap closed around the pistol until the wearer needs it, and it is small enough so it tears open when drawing the pistol quickly.  The front zipper is of the two-way configuration, meaning it can open from the top or the bottom, to allow the wearer to access the pistol in the jacket or on a belt holster in a variety of methods.
A full-sized Sig Sauer P220 fills the inside of the pocket pretty well, as does a Glock 17/22. However, the jacket works a little bit better with mid-sized pistols, in my experience.  My EDC S&W M&P40C with a Streamlight TLR-3 sits in the pocket wonderfully, and the weapon mounted light keeps the pistol from rocking fore and aft too much.  Mid-sized revolvers play nicely with the jacket, too, with a 3" S&W M65 working quite well, once you figure out a place to carry spare ammunition – the Rothco jacket was definitely meant for autopistol users.  Everything has been pretty well sorted out for a wide variety of pistols so that the purchaser won't be limited by what pistol they currently own and use.
Drawing and Reloading
Reloading from the pouches is definitely not as smooth and fast as a belt-mounted mag carrier.  A reload entails
dropping the empty magazine from the pistol, reaching into your jacket, ripping open the mag pouch, then trying to wrestle the magazine out of the pouch by the baseplate.  If the magazine has been sucked down inside the mag holder (say you carry a subcompact pistol like the Glock 43 or Kahr MK9), you're in for a marathon of first finger and thumb dexterity trying to wrench the magazine out.  I combated this issue relatively effectively by making sure the magazine baseplate stayed outside the pouch; others may want to push a small block of wood or other filler in the back of the pouch to keep your magazine from being pulled inside too far.
Also Read: 8 Tips For Flying With A Gun
However, once you get used to the "jacket reload", it's not hard to do and works reasonably well.  I kept the magazines with the bullets pointed up, so I could index them a little easier upon reload.  Your technique and mileage may vary. Strong-side spare magazines are a bit easier to get than the weak-side, but luckily the jacket can move around and open up, so accessibility to both sides of the jacket-mounted magazines isn't too much of an issue, generally.  Having magazines on both sides of your body also increases the likelihood that you have access to spare ammunition in you are, say, in a car or floor-bound, laying on your side.  Accessibility plus a lot of spare ammo sounds like pretty good insurance to me. Southpaws should be pretty happy with the setup, too.
Last update on 2023-12-04 at 04:23 / Affiliate links / Images from Amazon Product Advertising API
Using the Jacket Everyday
So we get that this thing is innovative and a bit different than traditional methods of carrying a concealed sidearm.
But how does it work when used as designed, in real life?  Well, as I've stated, I like the jacket quite a bit and I wear it every day now, with or without a gun, as the Maine weather gets brisk and we head towards the snow months. So in that regard, it's worth the price of admission, carrying a gun or not.
As I've been wearing the jacket and using it for the purposes of this review, nuances have started coming out.  Some are mere annoyances, and there are a couple things that really irk me.  But I still use it as a method of carrying a concealed gun, so that should tell you that these problems aren't insurmountable – they just require a bit of careful attention.
Also Read: SHTF Wardrobe List
As far as the jacket being a jacket – a piece of outerwear meant to keep you warm, the only real issues I have are few, and trivial, really.  Behind door number one is the fact that once you unzip a pocket, you open a direct portal to the inside of the jacket, essentially.  The pocket liners are pretty thin and allow cold air through pretty quickly.  The other nuance is the fact that the armpit vent pocket zippers have backings on the inside of the jacket, that are sharp and have a rough texture. If you wear the jacket with just a T-shirt or short sleeved polo, these will abrade your flesh lightly.  I've cut the sharp corners off mine and just make sure to wear long sleeves if possible.
When you drop a pistol into its holding place and throw a couple magazines in the pouches, we start discovering a
couple less-than-ideal circumstances, especially if you're used to a nice, solid, secure belt holster.  I guess my biggest concern is the fact that the gun is not held securely inside the holding pocket, nor does it have a trigger-covering/securing feature.  The gun can and does shift around as you move, so it may not be in the same orientation as when you put the pistol in the pocket, requiring you to fumble around a touch to get a proper grip on the firearm to start your draw.  This condition is obviously exacerbated by extreme movement like running, going prone, bending over, etc.  The pistol CAN fall out – trust me and the scuff on my M&P on this one – so care must be taken to keep your pistol secure at all times when wearing this jacket.  Taking the jacket on and off, and slinging it over a chair back or couch can be a little adventurous, as you are not in control of your muzzle.  The magazine pouches also need to be checked occasionally, especially with full-sized magazines in them – if you have to stretch the securing flap over the baseplate and argue with it to catch, chances are excellent that with movement, the pouches will eventually open and your mags can work their way out.
Related: SHTF Sewing
Since the trigger is not covered (most holsters sport covered triggerguards), there is always the possibility, however remote, of the trigger catching a foreign object – with obvious less-than-desireable results.  So, if you want to be as safe as you should be, you can do one of a couple things: carry the gun with an empty chamber (how I've been carrying with the jacket…flame all you want, it's my personal decision after much deliberation) or look into a push-out trigger block like this one by Saf-T-Blok .  Neither is a really stellar option, but both of them beat an inadvertent bullet in the buttcheek or bystander.
Once the pistol is in the pocket, some care has to be taken that the jacket doesn't fly open. Only the very top outermost corner of the pistol retaining flap is secured by the hook and loop tab, so the front and top are open – and your pistol can be seen under some circumstances if you're looking for it.
One fun fact is that the jacket gets very heavy with its full payload of four loaded magazines and a loaded full-sized pistol, and as such it might lay oddly on your body. It moves differently than other jackets as well, so observers with a keen eye might notice something funky going on. But the firearm doesn't print, so they'll just have to wonder. It's a winter jacket, and winter jackets are bulky. Most people won;t give it a second thought.
Conclusions
To sum everything up, I like the Rothco Concealed Carry Jacket. And I think that it's a good idea that could be a great idea with a couple modifications, like snap buttons on the magazine pouches instead of hook-and-loop, and a wide sewn-in elastic band to keep the gun oriented properly inside its retaining area.  Add YKK zippers instead of the current zippers and this would really be an awesome system.  For the safety conscientious, those who are willing to pay a little bit more attention to the pistol that's in their jacket, it's a good system and a viable alternative to a holster, especially if you're in a situation where you'll need to take your jacket off and can't have a pistol on your belt, but your jacket can be hung on the back of the chair you're sitting in.  Thought will have to be put into how you secure the pistol at all times, but once you're aware of how the jacket works, it becomes second nature.  My worries stated above are sincere, but can be negated with a thought for safety and a little planning.
I really like the placement of the mag pouches, and the pistol – if you are used to a cross-draw holster this will be very familiar to you.  The double-acting front zipper is a stroke of genius, and once you remember that it's available to you, the motion of zipping UP then reaching in is more intuitive than DOWN then in.  To top it all off, it's just a good, nice looking jacket that's warm and useful.  If you're looking for a cold-weather alternative to wearing a holster on your belt, definitely give it a serious look.
Last update on 2023-12-04 at 04:23 / Affiliate links / Images from Amazon Product Advertising API
Questions? Observations? Sound off in the comments!
Stay Safe!
-Drew
All photos by Drew