While I'm not much of a fan of do-everything survival tools, I thought I'd take a stab at this one since it was a requested review by a
reader.  I've used plenty of Smith's blade sharpening products in the past with no notable problems, but adding a handful of survival footnotes to a sharpening device could have some interesting outcomes.  Basically, the Smith's Pocket Pal X2 is a fuller-featured version of the popular PP1 Pocket Pal sharpener by Smith's.  By adding a compass on a lanyard, as well as incorporating a whistle, a fire rod, and an LED light, the slightly larger X2 is just as effective a sharpener but holds a few survival tricks up its sleeve.
By Doc Montana, a contributing author of Survival Cache and SHTFBlog
The issue is that those tricks are not for everyday use, but more for when your backup is up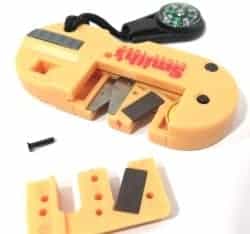 against a wall.  The sharpener, however, is ready for full time use.  So let's take a closer look at the tools.  It goes without saying that the compass is an inexpensive zipper-pull type with the main directions in green, and 10 degree increments marking the rest of the circle.  While I find the compass as accurate as any mass-produced button, others have had different luck when reviewing the online reviews.  But frankly, anyone who places their life in the hands of a compass like this has more troubles than they know.  My cost analysis has the price of the Smith's X2 at about twice as much as a good stand-alone button or half as much as the Suunto M-9 wrist compass.
Blow Me
The whistle is truly an afterthought.  While louder than nothing, it is far quieter than dedicated whistle platforms like the Slim Rescue
Howler or the Storm Whistle.  On a side note, every JetScream I've blown into has disappointed.  But I digress. To me, the "whistle" sounds more like a useless squeak.  My cost analysis has the price of the Smith's X2 at about twice as much as a good stand-alone whistle, but is pretty much worthless.  Even most new sternum strap buckles and knife handle whistles are louder than this.
Light It Up
The LED light is of the traditional brightness of a tiny keychain button-cell light.  Yes, it's much better than nothing, and yes it's a light that has many uses, but its range is barely a yard, and that's downhill with the wind.  A keychain light is used to illuminate a keyhole in which to insert a key.  This light, however, is so weak that other than reading a map close up, it has little practical use.  Of course if Search and Rescue was out looking for you and using night vision goggles, a pulsed LED flash from the Pocket Pal X2 would appear as a bonfire!  Decent keyring lights, are a third the cost of the Pocket Pal X2, and very good ones are half the cost.  I would not consider the LED light much of a tool at this level. Just consider it an add-on to fill space and advertisements.  When opened, the Smith Pocket Pal X2 seems to have a user-replaceable battery but I did not risk pulling on the button lest I destroy it.  However, since the light is little more than an survival afterthought, fixing something that is perpetually broken is hardly worth worrying about.
Strike Three
The firerod is like a mini version of the ones we all carry.  Compared to a Swedish Firesteel, the Smith's is for occasional use, and light
duty at that. At only about 1/8th of an inch in diameter (5/32" or 4 mm to be exact) this rod will break like a high-end aftermarket trigger if you push any harder than necessary.  The included striker is actually the carbide knife sharpener. Hopefully you have a blade with a sharp 90 degree spine but if not, the carbide V works in a pinch.  On the good side, once the veneer has been removed from the firerod, it throws sparks about as well as anything else.   My cost analysis here has the price of the Smith's X2 at about the same as a good stand-alone firerod/striker system.
The Home Front
Smith is an Arkansas company that has been producing quality Arkansas sharpening stones since 1886.  Smith's makes traditional and
innovative sharpening solutions for blades of all types.  Like many companies, the global phenomenon of preparedness has caused product diversification into survival realms. Thus the added features to the popular Pocket Pal 1 gave birth to the Pocket Pal X2. And hopefully there is more to come.
The built-in sharpeners of the Pocket Pal X2 include a course carbide 40-degree V-shaped grinder, and a 45-degree honing V with ceramic blades.  A third tapered 400-grit diamond pole is for sharpening serrated blades and gut hooks, and seat belt cutters.  Given the rough grit of the tapered round, you could touch up an axe or hatchet as well.  I compared the Smith to my Benchmade folding knife service tool and the built-in carbide sharpener in the Gerber LMF sheath.  They all work as advertised but none as well as a quality stone and talent.
My Final Answer
Given that the Smith's Pocket Pal X2 has all the features of the Pocket Pal sharpener, the X2 is a great deal and definitely worthy of ownership.  The standard Pocket Pal with carbide, ceramic and tapered serrated sharpener sells for ten bucks.  The X2 retails for $15, but I got mine for $12.99.  I guess that means I get the added features for about seventy-five cents apiece.  But my advice is to use it daily as a sharpener, but save the survival features for when there is absolutely no other choice.
All Photos by Doc Montana