I remember the first tactical flashlight I bought. It was a flat dark earth Surefire G2 Nitrolon. Everyone I showed the flashlight to was amazed by how bright it was.  Before that, I had never even heard of "lumens." Until then, the only flashlights we had around were huge D-cell Maglites or those 6-volt monstrosities the size of a tub of ice cream. Flashlights sure have come a long way in my lifetime.
TEN-TAP PROGRAMMING – Choice of three user-selectable programs.

CONSTRUCTION - Durable anodized machined aircraft aluminum construction.

Check Price on

Amazon.com
Streamlight ProTac HL-X Review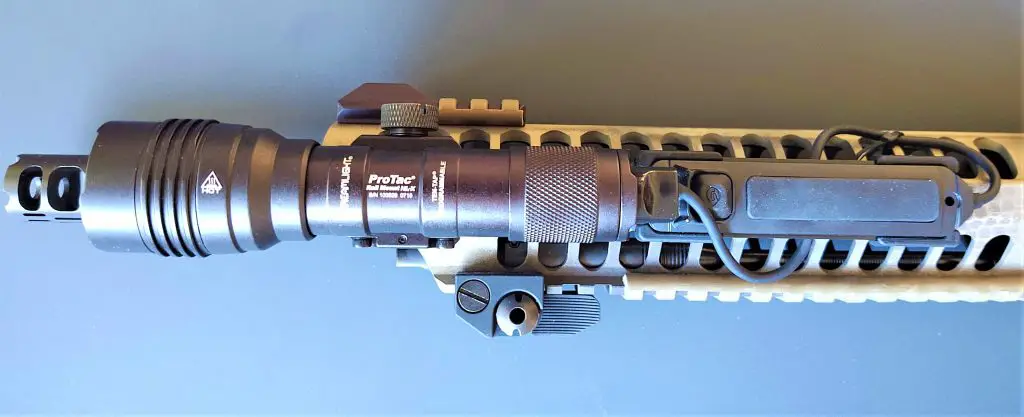 I'm not a huge fan of bolting things onto rifles, but a white LED light is definitely an exception. Finding a quality weapon light isn't difficult; finding a quality weapon light that won't break the bank is another story. If you've lusted after the multi-hundred dollar Surefire M600 Scout light but lack the Benjamins, you absolutely need to take a look at the Streamlight ProTac HL-X.

My love affair with Streamlight began during my time at the fire department. We used the right angle Streamlight Survivor lights, and they kicked ass. The Survivors worked wet, they worked in freezing temperatures, they worked in 100°F+ temperatures, and they worked in the burn trailer the University would bring down. That burn trailer used propane-fueled fires for interior training and generated temps over 900 °F. It gets hot. The Survivor lights took 6 AAs which only needed to be replaced every six months or so, if I remember correctly. They were very bright. I could illuminate the top of the grain elevator and count the buzzards at night from the bay doors, 100 yards down the block. Suffice it to say, I am a fan of Streamlight products! When I saw the Streamlight ProTac HL-X, I had to have one for my rifle. From what I've seen so far, the quality is just as good as the tried and true Survivor lights. 
TEN-TAP PROGRAMMING – Choice of three user-selectable programs.

CONSTRUCTION - Durable anodized machined aircraft aluminum construction.

Check Price on

Amazon.com
What's in the Streamlight HLX Box?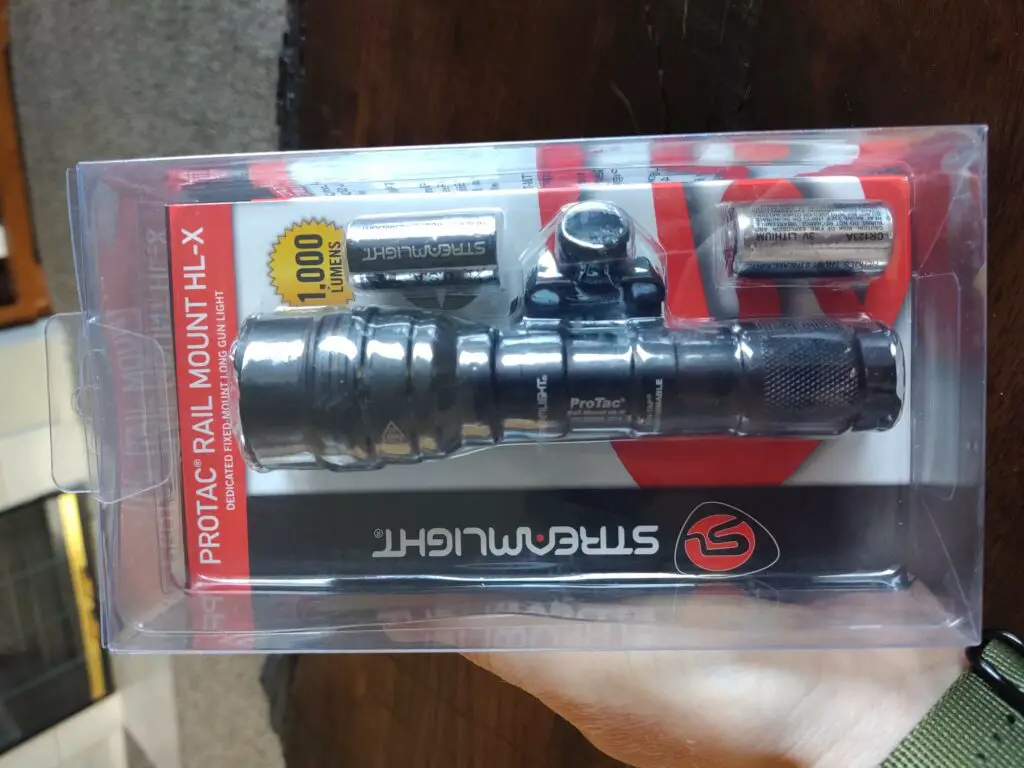 The ProTac HL-X is about 5.5" long, weighs 6.4 oz, and has a single picatinny mount for MIL-STD-1913 rails. The ProTac HL-X's body is machined from aluminum and comes with two tail caps: One cap with a pressure switch, the other with a standard tail cap button. The kit comes with a pressure pad, a couple of zip ties, snap-on pressure pad retaining clips, Alan wrench, two screws, and an adhesive pad. The light is water-resistant, but only for thirty minutes. Rain won't hurt this light, but I wouldn't swim with it. It does take up a good chunk of rail space. It can accept two CR123s or one 18650 battery . On high output, the Streamlight ProTac HL-X will run for 1.25 hrs, and on low, 23 hours.
Also read: Bugout Flashlight Wisdom
Streamlight uses the HL designation to mean "High Lumen." These throw a wide beam pattern, increasing your situational awareness. Tip: If you want to see less of what's around you and more of what's downrange, try their HPL series lights. The ProTac HL-X is 1,000 lumens (27,600 Candela), and Streamlight reports it can throw a beam 332 meters. 1,000 lumens is a lot of output, and in my experience, it is too much for indoor use. I think this Streamlight shines as an outdoor light (pun intended).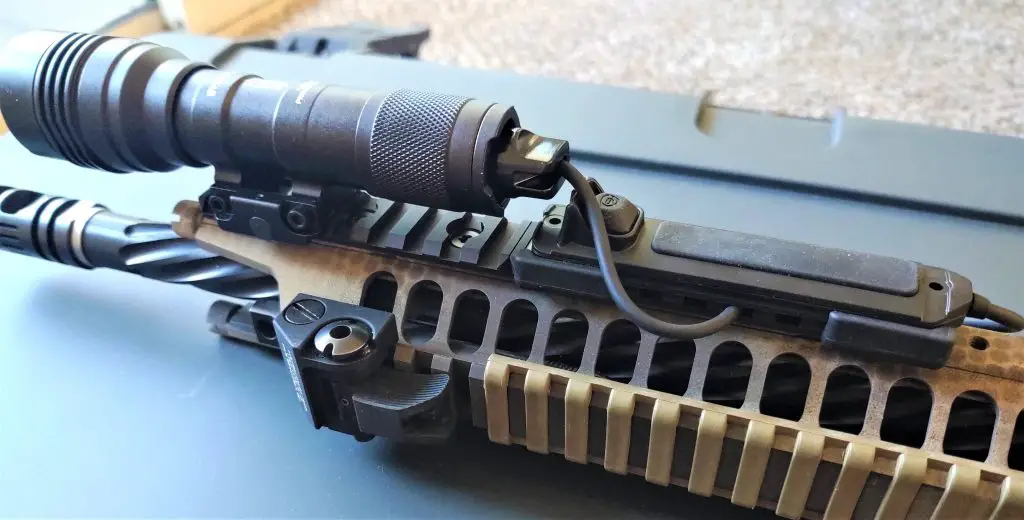 One of the things I love about this light is the TEN-TAP programming. I like my EDC lights to have a high and low setting, but I think a WML should have just one setting: brighter than shit. I'm not a big fan of low, "SOS," or strobes, so I appreciate being able to get rid of those. There are 3 available programs: High-strobe, High, and Low-High. To cycle through the available programs, tap the button 9 times in quick succession and hold it on the tenth time. Voila. You can do this with the tail cap or the pressure switch.
Real-World Trials With The Streamlight Protac HL-X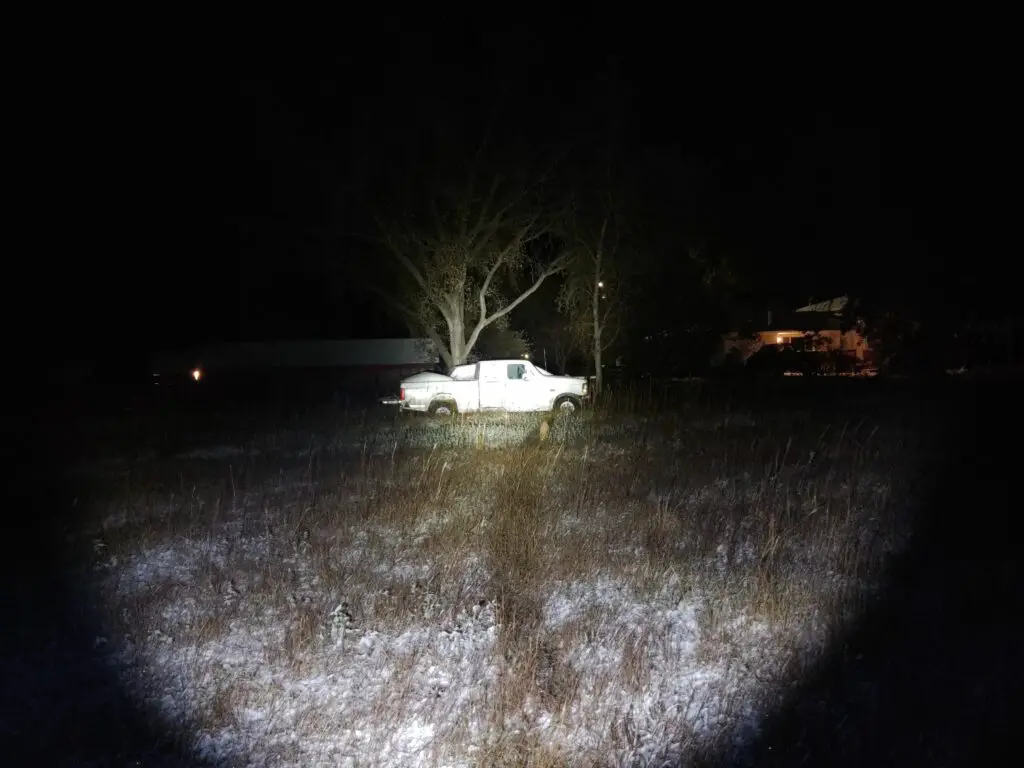 I tried the ProTac HL-X out on a snowy morning before the sun came up to see how far it'd throw a beam. At 25 yards, this light is positively blinding. Same at 50 yards. At 100 yards, you would still have zero problems identifying your target. At 200 yards, you would be able to see what you're looking at, but I think this is where it starts to get dicey. You may be able to see a person at this distance, but are your eyes good enough to make out their intentions at night? Or can you tell a dog from a coyote? You may need a magnified optic, but it certainly will throw light that far. I use a 50/200 zero on my AR, so this is just about perfect for me.
Related: Survival Gear Review: Streamlight TLR-3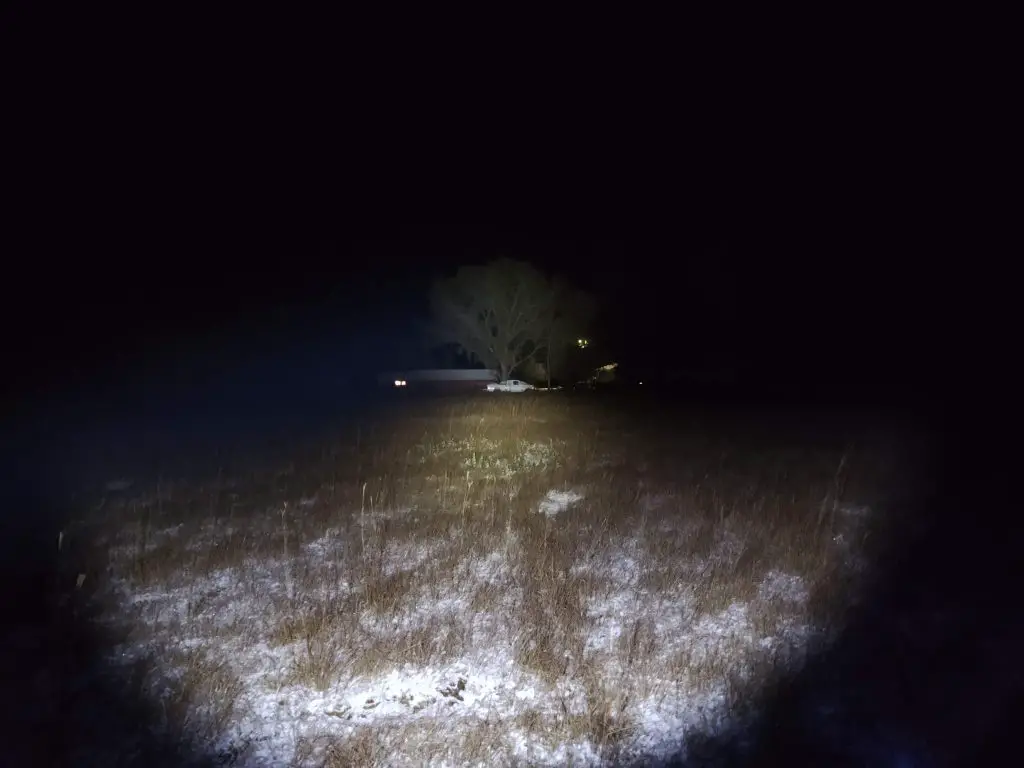 The light adds a little weight to the front of the gun, but it's barely noticeable. A 3 o'clock mount isn't my favorite spot, but I like it better than 6 o'clock. At 6 o'clock the shadow it casts from my suppressor covers up the midnight position on a target. What the hands are doing is probably more important than faces, but I'd still like to be able to ID someone if I had to.
I can't speak for any other calibers these crazy kids are shooting these days, but 5.56 NATO recoil doesn't bother the Streamlight ProTac HL-X at all. It never flickered or malfunctioned, even being close to the muzzle of my LWRC. I'm not surprised; this isn't my first WML from Streamlight. (I also have a TLR-1 HL mounted on a Glock 19, and is a hell of a light! ) As I said before, on full power, this light may be too bright for indoor use. There is some technique involved in using a light "tactically" to avoid blinding yourself, especially if you've just woken up. I can say from experience, its perfect for "in the yard" distance engagements with coyotes and skunks. For the casual shooter on a budget or a professional in need of a solid high-performance weapon-mounted light, you can install the Streamlight ProTac HL-X light and not think twice. You can rest assured it will turn on when you need it.   
TEN-TAP PROGRAMMING – Choice of three user-selectable programs.

CONSTRUCTION - Durable anodized machined aircraft aluminum construction.

Check Price on

Amazon.com