The Surefire G2X Pro is a polymer-bodied (Nitrolon) version of the 6PX Pro.  It is the replacement for the G2 LED, now discontinued, and heir apparent to the standard G2.  We put it through the paces at SurvivalCache to see if it lived up to the SureFire name.

By Mr. Smashy, a contributing author to SurvivalCache.com
SureFire G2X Pro: New Survival Staple
The SureFire G2X Pro has an anodized aluminum bezel, Nitolon body, and polycarbonate lens. The LED emitter produces two
levels of illumination, 200 and 15 lumens, with a runtime of 2.0 and 45 hours, respectively.  The beam shape is very good; a nice hotspot with good throw and plenty of side spill to illuminate the surrounding area.
Comparatively, the G2X Pro is very similar to a incandescent G2.  The
bodies are the same diameter, use use the same P/G series tailcaps, and they have the same bezel diameters.  They are nearly the same length (the G2X is .10 longer), and both weight about 4.2 ounces.   The standard G2 has a tactical tailcap (press and hold for light, twist for constant on), while the G2X Pro had a click tailcap where you click once and the light will stay on, click again and it will switch to full brightness, click again for off. The non-detachable aluminum bezel with dual mode LED and the click tailcap are the primary differences between the G2 and the G2X Pro.  These differences are also what takes the G2X Pro into a completely new role.
In testing, I tried using the G2X Pro as a backup weapon light to search and clear rooms, but found the multi-click interface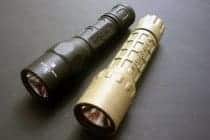 poor for this role.  With some practice I may have become proficient, but with all the better lighting solutions for that role, the G2X Pro doesn't make sense as a weapon light backup.  I lent the light to several police officers and they came to the same conclusion.  They were impressed with the 200 lumens and the beamshape, but the multi-click interface was not acceptable.  If you are looking for a G2X series backup weapon light, you might find it in the G2X Tactical, which is 200 lumens only and does not have a multi-click switch.
Where the light really excelled was the in the general purpose and emergency light roles.  I carried the light in my EDC bag and used it for daily use tasks that I would normally use my SureFire L1 (Read Josh's Review of the SureFire LX2).  It was also good in the outdoors, guiding the way home through a trail using both the low and high settings.  The click tail cap made no difference in these circumstances.  When a storm took out power and the lights at work, I ran the G2X Pro on low mode in my office so I didn't have to work in pitch black.  After six hours the bezel was not even warm.  Running the light on high for about 45 minutes did get the bezel quite hot.
I also have to mention how extremely well this light uses batteries.  As long as you use Surefire approved batteries, you will get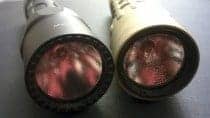 at least the published run times.  Though the thorough testing I tried to put this light through I only changed batteries once.
The Surefire G2X Pro is an outstanding light that is perfect for the survivalist or prepared individual.  If you are comfortable carrying a light this size as an EDC light, it will serve you well.  Otherwise, I suggest you carry it in your EDC bag, bug out bag, or vehicle.   The rugged construction, excellent performance, and enhance capabilities make it a solid choice for almost any situation.

Read Mr. Smashy's Classic Series "Survival Shotgun"
All Photos by Mr. Smashy's (click here for Smashy's Flickr Page)
Visit Our New Survival Gear Store – Forge Survival Supply