It's extra sweet when you open a shiny wrapped present from under the Christmas tree and it is a super gear gadget any prepper could use.  It is even more special when that gift comes to you from your own daughter.  My daughter Allison got it right. The Smart Bungee System is a storable sack of various bungee cords with universal attachment ends to accept a host of connections for a wide variety of applications.  If you want or need to lash down boxes, equipment, gear, bags, or tools in the back of an SUV, pickup truck, ATV, or UTV then this is the perfect kit adaptable to many uses for securing stuff.  
By Dr. John J. Woods, a contributing author to SHTFBlog & Survival Cache
The Smart Bungee kit comes with eight different cords in four different lengths, two each.  Included are 4-foot, 3-foot, 2-foot, and 1-foot lengths.  The bungee cord material itself is composed of a steel core for added strength, durability, and long lasting use.  The base rubber cords are weather resistant and wrapped in a material that is easy to grip and is long wearing.
The Bungee Cords
The ends of each cord are affixed with a universal connection point.  This is a red-orange colored coupling that allows the installation of the many connection devices included in the kit that are adaptable to a wide range of applications.  The variations of how the cords could be configured are nearly endless.  There are also connector sleeves that allow two cords to be connected together to make an even much longer cord to span wider/taller pieces of gear to strap down.  Again, the connection options are left up to the creativity of the user.
Read Also: The Survival Staff 
All of the cords with their connection points accept the attachments in the same manner.  Simply insert the connection point component by pushing it into the receptacle.  Then just twist and turn the connector to lock it in place.  The twist and lock is secure and will not simply pop loose even under the stress of pulling the cords tight to strap something down.
Standard Attachment Points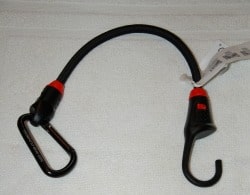 In this kit are four of the most basic connection points.  These are standard "J" hook type attachments that affix to a selected cord length, then simply hook over a hook up point.  This could be the usual bungee cord or net attachment points found in the beds of many pickup trucks, but also inside the rear "trunk" area of an SUV auto or other hatch back type vehicle.  The racks on ATVs are also common tie down locations.  These hooks are made of a super strength ABS type polymer plastic.  The pieces are then sealed in a plastic coating to protect the part adding durability, strength and long use.  
Specialty Connections
The Smart Bungee System includes a number of connection points that I have not seen on conventional bungee cords before.  I mentioned the connector sleeves before of which there are four so cords can be linked together.  This is a nice, functional feature.
There are two "Y" connectors in the set so that cords can be configured in such a way to build a sort of spider net or cords reaching to four end points for wider items like prepper gear or supply boxes, crates, or such.   The "Y" ends could use two shorter cords then connect to a long cord over to the other "Y" point.  
See Also: Pandemic is an Inevitability
There are two connection points that have attached carabiner type snap on hooks.  These are standard functioning carabiners, but without a screw down lock.  These are not intended at all for climbing or climbing support.  They are just a quick connection as like the "J" hooks, but with a closed spring activated latch on a totally enclosed loop.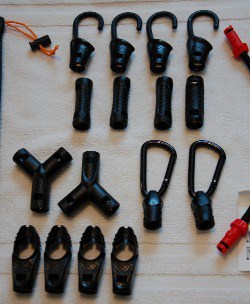 Finally there are four connectors that are termed "loop connectors."  These are made to be attached to a cord end first.  Then the other end of the cord can be looped around a hold point like on an ATV rack frame, a pipe, tree limb, or other point to either be an attachment point or to suspend something overhead as the cord is looped back through the connector hole loop and wedged into the cord gripper. You have to get creative with these connectors, as the more I work with them the more I discover new uses.  Once you loop the cord back through the connector hole, the cord then locks into the "vise" teeth in the loop.  I just call this the cord gripper.  
By now you're thinking this is a lot of parts and pieces to keep track of.  For sure, but the whole Smart Bungee System fits into a nylon bag with a pull string that has a push button lock to cinch the string down to lock the bag closed.  All in all, this is a neat bungee cord system that is buildable into an infinite number of configurations.  These can be ordered via Amazon or likely many outdoor-camping supply outlets.  The set retails for about $30.00.  
Save
Save
Save
Save