If you own a gun, you should own a safe.  There, I said it.  These days, you don't exactly have to strain the ol' gray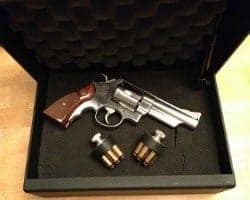 matter to come up with a good reason to keep your firearms secure.  Your domicile or automobile could be broken into and your valuables and firearms could be stolen and used for other crimes (which you would have on your conscience and possibly have liability for.)  Your children (or other peoples' children) could stumble upon your home defense firearm with possible terrible consequences.  Your insurance rates may go up with unsecured firearms.  Your guns stay out of the sight of prying eyes that peer through windows, or curious visitors.  It's kind of a no-brainer that firearms need to be secured and not visible.
There are many, many ways to go about keeping guns secure: build a hidden wall or furniture with hidden
compartments. Section off a part of your basement and build a "safe room" that could be used for preps and a fall-back position in case of danger, or a secure room in case of natural disaster like a tornado. Or, you could go the generally-accepted route and buy a safe.
Safes have a lot going for them: They are, of course, generally impenetrable by standard burglary methods; they are easily obtainable (maybe not quite so easy to move, depending on size), they can be fire-rated to keep valuable items inside from combusting, and come in many, many sizes, from ones that hold over 60 long guns to small safes that are good for one or two handguns. And they all offer more security than stickin' that lovin' .44 beneath your pillow.
Last update on 2023-06-02 at 09:42 / Affiliate links / Images from Amazon Product Advertising API
The V-Line Brute, First Impressions
This review sets its sights on a safe that's decidedly smaller in the size spectrum, as far as safes go. However, don't let
its relatively small dimensions of 9.5 inches deep by 12.5 inches wide by 3.5 inches high fool you; this thing is quite burly, with its 10-gauge (just over 1/8 inch thick!) matte black steel wall construction bringing the weight to a surprisingly hefty 10.2 pounds.  As a matter of fact, pulling it out of the shipping box, that was the very first thing I noticed: it's unexpectedly heavy for its size.  The next thing I noticed was its solid steel lock block with five buttons and a knob protruding from it, and the steel lip with "BRUTE"  laser-cut into its face (used for lifting the lid.) After perusing the instructions to find out exactly HOW to open it (more on that later), a lift of the lid revealed a gas strut on the right hand interior side that keeps the lid (which overlaps the bottom half) from slamming down on careless fingers.  A nice touch, I thought: nobody wants to reach inside a safe for an item and come back with their fingers pointing in different directions than when they started from joints that weren't there before.
Also inside the safe resides foam padding that's perforated into squares, so you can customize it to fit items like handguns, to keep them from sliding around inside if the safe moves.
A Safe That Moves?
Yes, you read that right. One of the things I like best about this safe is its potential to be mobile with you.  This safe
features mounting holes in its floor, under the padding, so it can be lagged or bolted to something rigid, such as the studs on house framing, or the floor of an automobile, boat, aircraft.
The "V-Line Brute's" small size makes me think it won't be terribly obtrusive if you plan its mounting well, yet its heavy construction and lock means that it is legal (in MOST states; check your local laws) for transport of firearms. You can bolt this into the trunk of a car, say, with an UNLOADED gun (that part is usually an essential part of the legalese) secured inside.  If you have the loaded mag in a belt-mounted mag pouch (for instance), you can actuate the lock quickly for almost immediate access to your firearm, and be ready to rumble in a very, very short time.
If you were an Alaskan bush pilot, you could keep a powerful handgun ready for use by you immediately, and out of
the hands of curious clients.  If you're a charter boat fisherman and you need to keep a firearm secure to dispatch a 500 pound tuna, yet you don't want people to be able to get to your gun while you are piloting your boat or dockside, this would work very well.  Mount it to the floor of your bug-out vehicle with a stashed emergency gun.  You can mount it to the floor by your bed for a fast access, loaded and ready-to-go home defense handgun.  I'm sure you can think of other opportunities for a product such as this; it's a quality product with lots of possibilities.
Brute Features
I gave a quick run-down of first impression features; however, let's look into this a little bit more deeply. First off, the "Brute's"  construction is very sturdy. How sturdy? Check out this video done by Covered 6.
It's impressive. Short version: they had a couple different guys with several serious demolition tools, a pickup truck,
and a concrete floor…and they couldn't get it open, and that was when they could pick it up, turn it over, and get some leverage.  If this Brute was bolted securely to a floor, I really don't believe anyone would be able to get into it without copious amounts of time and very loud power tools.  The heavy lid overlaps the base to within about 1/2" of the bottom, so there's no way to get a pry bar or anything under the edge of the lid with enough leverage to pry it open.  The Brute is well thought-out and very tough.
That being said, with its construction being what it is, it is not fireproof or water proof/air tight.  So if you're in a humid environment, or in salt air frequently, it's going to need to be opened once in a while for firearms maintenance and I would guess a couple drops of oil in the hinges and strut, to ensure everything stays freely-operating under corrosive conditions. But that's a small price to pay.
Last update on 2023-06-02 at 09:42 / Affiliate links / Images from Amazon Product Advertising API
Setting The Combination
The most confusing part of this safe is re-setting the combination to your own combo. When you first get the safe, it is set to a default combination. To clear it out and set your new combo, you need to understand how the lock works.  To open the lock, push in the instructions-listed default factory-set combination. Turn the lock knob to the right about ¼ turn and it should open. If it doesn't open, turn the knob to the LEFT ¼ turn to clear out the button combination that has been entered.  This resets everything.  After turning the knob left and clearing the combo, punch in the default button combo then try the knob right. It should unlock and the safe should open.
To change the combination, open the lid, and reset the lock WITH THE DOOR OPEN.  Don't let it close…you'll need to access the bottom of the lock.  Next, input the factory default combination, but don't turn the knob like you would to open it.  Instead, push the small "L" shaped tab on the underside of the lock, IN, towards the lock body.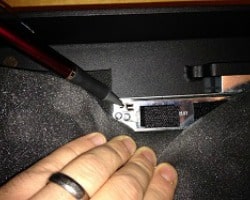 In the picture above, the tip of the pen points out the small "L" shaped tab. My Brute had a bit of red paint on the tab to help find it.
As I said, push the tab in, towards the body of the lock. Then turn the knob LEFT (counter-clockwise) to clear the default setting out of the combination. Then, firmly push in your desired combination in to the lock buttons.  Note: each button can be used only once, but you can use different combinations of buttons in sequence if you'd like.  Once you have your combination input, (write it down!!!), turn the knob RIGHT (clockwise) to set your desired combination to the lock.  Then turn the knob back left until it stops, thereby setting the lock.  Test your combination a few times, and make sure it works before you close and lock the lid. Better safe than sorry!
The good news about this lock is that it is a mechanical push button locking system, no batteries required.  Once the combination is set, there is no back door access or key to hide.  You either know the combination to the Brute or break out the heavy power tools to get it open.
Overall Review
All BS aside, the V-Line Brute is a great "Made in the USA" product for the survivalist or the regular gun-owner who
needs extra security, yet quick access, for a handgun or two.  It is certainly sturdy enough to resist the daily rigors and tribulations of being mounted in a vehicle, while keeping a firearm safely secured.  The next time I have a few extra minutes, I'm going to mount this Brute to the behind-seat floorboard of my pickup truck…I really like the idea of having a grab-n-go gun available quickly, yet out of the hands of anyone who breaks into the vehicle.  It's simple, it's rugged, it's awesome. For what it offers, the price is reasonable, and all the benefits outweigh the only drawbacks I can think of: lack of fire rating and air/water tightness. Grab one, and I'm positive you'll be impressed.
Last update on 2023-06-02 at 09:42 / Affiliate links / Images from Amazon Product Advertising API
Photos By:
Drew
Vline
Video by: Cover 6