A monocular is little more than half a binocular. At least in principle. But in reality, more is less, and more is more. A pair of binoculars gives a wonderful view of the world. Your eyes can relax and enjoy the far away for hours. But binoculars weigh more. Cost more. require eye alignment and diopter adjustment. And, if dropped may never again perform worth a hoot. Monoculars, on the other hand, are much more (and less) than half a pair of binoculars. They actually weigh less than half a binocular, cost less than half a comparable binocular, contain fewer moving parts than a pair of binoculars, and incapable of going out of binocular alignment.
Monoculars combine (there's no choice really) the image focus with the individual eye adjustment. That all said, monoculars do have their downsides, but if a monocular is your thing or your need, then one glass tube to consider is the Vortex Solo 8x36 monocular.
Be a VIP
Vortex is a major player in the outdoor optics space. From binos to rifle scopes to red dots to spotting scopes, Vortex Optics. delivers a range of goods from budget overseas glass to the highest of the high end optics that sit comfortably in the four figures.
Related: Prepper Uses for a Ranger Finder
And then there is the Vortex VIP warranty. It truly has to be experienced to be believed, but hopefully you won't need to experience it. Personally I have used it three times, and all were more than I expected. And in two cases, brand new kit showed up rather than fixed or re-manufactured gear. I should say, however, that I have also received amazing service from Leupold and have no doubts that although Vortex promotes their warranty, other top notch companies also exceed expectations.
The specs of the Vortex Solo 8x36 monocular are as follows:
Weight: 9.7 ounces
Thickness 2.6 inches
Length: 4.9 inches
Field of view at 1k yards: 393 feet
Eye relief: 18mm
Street price: $100 plus or minus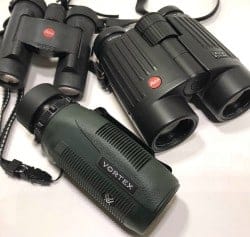 Dissecting the specs, the fun begins with the eight power. 8x is down the middle of the magnification for handheld optics. 6x is for the opera. 7x is for use on boats. 8x is for active land use. Nine and 10x is on the upper end of power for handheld optics. And 12x and above are for special purpose binoculars including bird watching and astronomy. The reason eight-power is the norm and ten is the top is because any less is of little help and any more is too hard to hold still for useful viewing. If you hike up a hill, you won't be able to hold a pair of 10x binos still enough to get maximum use from them. Same with monoculars. As your heart pumps and your lung cycle, so do your optics bounce.
Invest in Plastics
The Vortex Solo 8x36 monocular feels stout yet light. But not so light to feel cheap. the rubber armor both protects against bumps and bruises as well as provide some sure traction for your fingertips and gloves. The coating covers a durable but non-metal housing. To reduce costs, the case materials are not the magnificent elegantly-machined magnesium of a professional Nikon camera or Leica Ultravid binoculars.
Also Read: Leupold LTO Tracker
The grab-and-go nature of a monocular give the user a fast, lightweight, small viewing option designed more for speed and carry than actual long-term viewing. One of the main reasons for buying a higher-end optic is for sustained viewing and for those jobs where sorting out fine detail is critical. Binoculars are excellent at giving the user a rich closeup picture of the world, but it comes at a cost. The moving parts of a binocular weaken it. And any misalignment of the optical barrels makes them near useless at best and completely useless at worst. But either barrel used in isolation of the other still has significant merit. So why not just skip the middleman and run one barrel. Thus the Vortex Solo 8×36 monocular.
The monocular is like a small telescope meaning you have to close or cover one eye for best viewing. While open-eye viewing might work with 1x-3x scopes and red dots, at 8x keeping the second eye open causes you to struggle between which reality to follow. You cannot overlap the imagery in your brain because the magnification scales are much too different.
Slow is Smooth and Smooth is Fast
But the good news is that you can quickly focus a monocular without an additional individual adjustment. Adding to the focus speed is that the rotation of the focus ring from closest to farthest is about a quarter-turn. And if you are glassing targets beyond 20 yards, the focus range is about a tenth of a turn. The Solo has a minimum focus distance of about five yards which is a noted problem for close up work.
The Vortex Solo 8x36 monocular, like most worthwhile optics these days, has an O-ring sealed housing that prevents water from entering, and keeps the fog-reducing nitrogen atmosphere inside the Solo inside the Solo.
Related: Magpul MBUS Pro Offset Sights Review
The only ornaments adorning the Vortex Solo 8×36 monocular are its belt clip, something Vortex calls a utility clip, and the embossed model name along with a lanyard (included) port 90 degrees counterclockwise from the belt clip. An extendable eyecup helps position the Solo for both naked eye use and viewing through glasses. A minor case is included with the Solo, but the case does not fully enclose the monocular. Also of note is that no lens covers are included, or in my opinion needed.
The magnified image produced by the Vortex Solo 8x36 monocular is fine for general hunting, route finding, and homeland security. However it is not exceptional. But at $100, it is acceptable. The central field of view has a fairly sharp image with good contrast, but the peripheral area loses its crispness rapidly and the far edges are blurry. As an optics snob who usually carries Leica, Leupold Gold Ring, or Nikon Premier optics, this monocular is not something you would enjoy using hour after hour. But it is fast to use, rapid on target, quick to focus, and instantly provides an 8x view of the world that is plenty sharp enough to do your work or get on with your hunt.
Choose One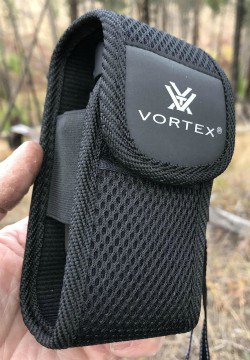 Vortex makes four choices of monoculars in combinations of 8x or 10x power and with 36mm or 25mm objective lenses. For me, the best combination is the 8x by 36mm. While a few more x of power might be nice, the real challenge is holding it still for effective viewing. And with a monocular there is much less to grab compared to a pair of binoculars. The 36mm objective provides the light-gathering needed for early morning and late evening. During a bright afternoon, even the smallest objective optics work well. It's the edges of day where the larger objectives become critical.
The Vortex Solo 8x36 monocular is a handy solution for short-term observation. The small size and speed of operation are its advantages over binoculars. And in the SHTF, advantages are what it's all about.
---