Survival situations are of many types, and the one you may deal with maybe the one you least expected to happen.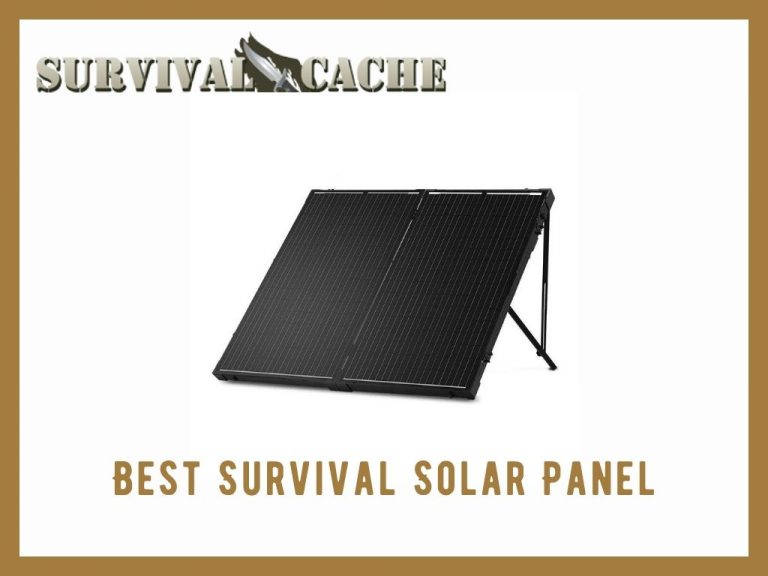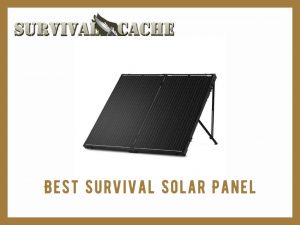 But regardless of if you're stuck in the wilderness, struck by a natural disaster, or in an all-out doomsday scenario, having the right solar panel will make you both safer and more productive.
Luckily, solar panels have gotten both cheap and powerful and improve your chances of getting out of a survival situation by a whole lot.
Sometimes, though, even the trained eye can't tell a good product from a bogus product.
Wasting hard-earned money is never an option, and losing sleep over the questionable reliability of a solar panel is not worth it.
Don't get worked up, though.
I'll help you avoid these adverse outcomes and make sure you get your money's worth.
Here are detailed reviews for the best survival solar panels on the market so you know what to look for.
Best Survival Solar Panel: Top Picks
Living off the grid can get scary, but the Renogy 200W foldable solar panel is powerful enough to help you make it through.
Two 100W monocrystalline panels come connected to each other in a suitcase-like package. The heavy-duty handle of the suitcase ensures that you don't accidentally drop the panels, and the soft protective case ensures safety when moving it around.
The aluminum stand on the case is corrosion-resistant and built to last.
The panel boasts an operating temperature of -40°F to 140°F and comes with a built-in 20A 5-stage charge controller, which provides overcharge protection.
The high-quality charger also reduces fire risk, and since it's negative-ground, it avoids electrical shock hazards while also making it compatible with boats, RVs, and trailers.
Additionally, the LCD panel that comes with the charge controller displays critical data, making managing your power easier.
It can work with gel, sealed, lithium, and flooded batteries, meaning compatibility is never an issue. Also, battery terminal clips are included in the packaging in favor of the smaller alligator clips, making it flexible.
The only real drawback is that the unit is quite heavy, weighing 44lbs shipped. While you can easily set it up outside your RV, you won't be able to get it on top of your RV alone.
Customers report that the panel is super-efficient and delivers 13amps of power on average at noon. One customer also reports getting 15amp outputs on summer days consistently, which is super impressive.
However, there is one other thing to look out for:
The 20A charge controller comes with a 10A fuse, which for some customers, melted during operation.
You will need to replace the fuse for hassle-free use in the long run.
Pros
Adjustable and corrosion-resistant stand
Excellent output
Great price
The controller comes with an LCD panel
Cons
Heavy
20A controller comes with 10A fuse
Sale
Last update on 2023-12-01 at 17:32 / Affiliate links / Images from Amazon Product Advertising API
If you're a hiker, the Ryno-Tuff portable solar charger can be an indispensable part of your loadout.
The bag is lightweight (weighs <1lb!) and easy to carry around, and the two USB ports allow you to charge phones, tablets, and power banks with ease.
It comes with three panels that can fold into each other when it is not in use. The pockets on the inside allow you to put away your phone as it charges.
It's one of the most efficient solar cells on this list, with the company claiming that it can reach 25% efficiency in lab conditions.
However, in normal circumstances, you can't expect higher than average performance – many customers confirm this.
The panel can output 21W, enabling you to charge most phones and tablets in under two hours.
If the USB ports' indicator lights up red, it means that it is sunny enough for you to charge your phone directly. You can either use the included cables to charge your devices or use any certified cable.
What makes it the best solar panel for hikers is that it's waterproof. Rugged 600D waterproof canvas protects the panels when as you traverse.
The two included carabiners make it easy to set up with your tent or backpack.
However, the USB ports are not waterproof, which means if it rains, you will need to protect the bag from getting fully drenched.
The lifetime warranty is a huge plus. If your USB ports do break in the rain, you will be able to replace them free of charge.
But the best part is that the charger can deliver 2.4A per port, and a maximum of 3A when both ports are in use. It is super powerful for its size!
Pros
High efficiency (25% peak)
Super portable
Two USB ports, max output of 2.4A
600D waterproof material
Lifetime warranty
Cons
Last update on 2023-12-01 at 17:32 / Affiliate links / Images from Amazon Product Advertising API
Getting the right panel for your RV is critical – it ensures that your utilities stay powered up throughout your journey.
And there's no better solar panel to get for RVs than the Renogy flexible panel.
It works with both off-grid and on-grid inverters, which means you can also install it at home if you ever need to. It comes with pre-drilled screws on the back, making for fast mounting, and it's also compatible with Renogy mounting systems.
It weighs just 6.2lbs, and installing it to the top of your RV should be a breeze.
The unit is very durable, having a positive output tolerance of up to 3%, and is capable of withstanding high winds (2400Pa) and heavy snow loads (up to 5400Pa).
The multi-layered sheet laminations and the heat-dissipating TPT back sheet ensures a long service life.
The junction box is rated IP68, which is relieving – you don't have to worry about anything breaking when it rains.
Customers report excellent low-light performance, with the panel delivering 80W and above on overcast days.
Pros
Lightweight
Flexible and durable
Excellent output
Junction box rated IP68
Cons
Supposed quality control issues
Sale
Last update on 2023-12-01 at 17:32 / Affiliate links / Images from Amazon Product Advertising API
If you're looking for a super-efficient solar panel that won't burn a hole through your wallet, the Newpowa 200W monocrystalline panel is perfect for you.
It features 21% efficiency and 200W output, making it the most powerful panel for survival situations.
It's relatively lightweight at 31.7lbs and boasts a durable build.
The panels use a heavy-duty anodized aluminum frame, which gives the panel exceptional rigidity. Also, the TPT back sheet makes for excellent heat dissipation, maximizing output, and increasing unit life.
The panel can handle high winds and snow loads, and the diodes come pre-installed in the junction box with a pair of 3ft MC4 cables.
There is one downside, though – it does not come with a charge controller, and you will need to purchase one separately.
But customers report getting a 175W output on most days, which is higher than what most solar panels supply in the market. The hassle of buying a controller aside, getting it is a no-brainer.
Pros
Rugged build
High efficiency
25-year warranty
Cons
No charge controller included
Last update on 2023-12-01 at 17:32 / Affiliate links / Images from Amazon Product Advertising API
It's refreshing to see that the low-budget segment is less and less polluted with bogus offerings.
You pay less than a dollar per watt if you get the RICH SOLAR 100-Watt panel, which was unheard of even a few years ago.
It can generate 5.4A of power and can work in series and parallel flawlessly.
The 14 pre-drilled holes make it easy to install, and since it weighs 16lbs, you will be able to install it on an RV alone.
The panel has an anti-reflective coated tempered glass covering, and the frame is made from anodized aluminum, maximizing unit life.
Customers compare it with more expensive panels from other brands and deem it the better purchase of the two. You cannot go wrong with this RICH SOLAR panel if you're on a tight budget.
Pros
Costs less than a dollar per watt
Sturdy build
Generates 5.4A
25-year warranty
Cons
Sale
Last update on 2023-12-01 at 17:32 / Affiliate links / Images from Amazon Product Advertising API
---
Solar Panel Buying Guide: Things To Look Out For
Solar panels are by no means new technology – they've been around since the 1800s. The panels have become more affordable and efficient since.
However, there are some other parameters you must understand and look out for:
Wattage
Wattage is a measure of electrical power and is used to indicate how much of it a solar panel can generate.
You can find smaller panels that can output upwards of 5 watts of electricity, but these can only be used to charge simpler phones and older MP3 players.
Newer phones often require more than 10W to charge at 'normal' speeds. If you use a low-power solar panel to charge your phone, it will likely take many hours to charge fully.
Luckily, you can find solar panels that can generate 200W and more for reasonable prices. Modern portable charges typically output more than 10W, so keeping your phone charged with one shouldn't be a problem.
The higher the wattage, the better – try and get the panel with the highest wattage you can afford.
Size and Weight
Size and weight is often the deciding factor when getting a solar panel – if you're hiking, traveling in an RV, or struck by disaster, having a panel that you can move around can be a lifesaver.
There are several backpack solar panels available in the market, and these can easily keep your phones and other smaller devices charged.
But they cannot charge laptops and other more demanding devices.
You can also find several larger solar panels that are sized just big enough for you to be still able to carry them around with relative ease. These tend to be a lot more powerful, and coupling a few of these will enable you to power an entire home.
Technology
As I mentioned earlier, you don't have to worry about efficiency. Modern solar panels typically have an efficiency of 20% and above, which is impressive, considering that the highest efficiency ever achieved is 40.8%.
However, panels use different technologies, which is something you must know about.
Crystalline technology is by far the most popular tech used in solar panels. Monocrystalline panels are considered the most efficient, and polycrystalline considered second-best.
You can pick any of the two unless you're fussy about getting the highest efficiency possible. 20% efficiency is the average, and finding a panel with efficiency higher than 23% is rare.
Thin-film tech is also gaining popularity – these are compact, durable, and flexible. While their efficiencies are slightly lower compared to crystalline panels, they are easy to carry around, making them the go-to choice in the portable solar panel market.
---
Open Questions about Solar Panels in Survival Situations
Why do I need a solar panel for survival?
If the grid goes down temporarily (or permanently), then you will need renewable energy sources to power your home to survive. It's crucial to keep solar panels in your home or bug out location in case of such emergencies.
How to ensure I'm getting the best solar panel for my money?
Bigger panels perform better than smaller ones, so get the biggest one you can within your weight, space, and budget constraints.
Does a panels' output capacity cap off at lower power after a cloud passes overhead?
No – this may have been an issue in older solar panels, but there is no such issue in modern solar panels.
What's the best way of charging a solar panel?
Position the panel perpendicular to the sun, and in direct sunlight. Barriers like glass windows decrease how much light is converted into electricity.
Also, try to keep the panel as cool as possible – place it in an area with sufficient air circulation and away from hot rocks and metal. This will ensure optimum performance.
Is it okay to charge electronics directly from the solar panel?
You can charge phones, headlamps, and more directly from the panel, but it is recommended that you charge a battery pack first and then charge electronics with it.
How long should I leave my panel outside my house?
As long as there's sufficient air circulation and you're sure it won't get stolen, you can leave your panel outside indefinitely, so your battery is fully charged when you need it the most.
---
Verdict
My vote goes to the Renogy 175-Watt 12 Volt Flexible solar panel.
It's not only durable, but it's exceptionally lightweight at 6lbs. Installing it, uninstalling it, and moving it around will never be a problem – and this counts for a lot in a doomsday scenario.
Its output is on-par with what I expect out of a panel, and while it's slightly more expensive than the competition, paying a few dollars more for long-term convenience is worth it.
In a survival situation, you want the most power and convenience possible – this panel gives you both.