Surviveware started as a small family-run business. But owing to the high-quality first aid kits they provide, it didn't take long for the company to see success.
Its products are featured on Fox, NBC, and CBS, which made the brand a household name for travelers and thrill-seekers.
Surviveware's Small First Aid kit is their most compact offering, but the company promises it comes with the right tools to keep your loved ones safe.
In this review, I will look at the quality of the bag, its contents, and determine who it is best for.
Last update on 2023-03-23 at 14:23 / Affiliate links / Images from Amazon Product Advertising API
Surviveware Small First Aid Kit Review
Design and Durability
The Surviveware Small is super compact – it's sized like a modest lunchbox.
But looks are deceiving since the bag is made to last years and stay intact even after rough use.
It is made out of 600D polyester, which is the thickest type of polyester available. The fabric is not just thick – it is also rugged. You don't have to worry about it ripping open and you losing your supplies.
It is arguably the most rugged bag in a first aid kit in its price range.
The kit weighs exactly one pound, making it super easy to carry. Its dimensions are 5.5" x 7.5" x 3.5", enabling you to fit it in your car's glove box without taking up much space.
The bag comes with MOLLE compatible straps, making it super portable. Since it is small and lightweight, you won't even notice it.
You can use the straps to wear the kit on your belt or strap it to your cycle. The small size is a significant advantage since it is easy to carry it around when going backpacking or camping.
Of course, you can also keep it at your house, at school, or the office for safety.
But the best part about the bag is that it is water-resistant. While this does mean that water will seep into the bag if left in the water for long enough, you don't have to worry about your supplies.
The inner sleeves where the medical supplies are stored are waterproof – keeping the supplies safe from moisture at all times.
These sleeves are durable, and Surviveware makes the most of the sleeves by labeling them according to function.
In a survival situation, you'll likely panic. But the folks at Surviveware understand that there are more important things than stress management in that situation.
You can quickly retrieve the right supplies using the labeled sleeves. Replacing supplies in the right spot is also easier with the convenient labeling.
Although the bag is small, it offers some additional space for personal items. You also get a zippered pouch that is separate from the pack to store your prescription meds.
In addition to being MOLLE-compatible, the bag also features D-rings, which makes carrying it around convenient if you don't want it on your belt or don't have MOLLE on your bag.
The last, but most obvious detail that I appreciate is the red color of the kit. It sticks out – so you'll be able to find it quickly.
Contents
The bag comes with 100 essential first aid items – I'll go over the contents briefly.
6" Shears
Alcohol wipes
Antiseptic wipes
Seven types of adhesive bandages
Cotton swabs and gauze swabs
CPR pouch (with instructions)
CPR mask
Crepe bandage
Eye pads
Tape (hypoallergenic)
Nitrile gloves
Laminate bag
Five mini bags
PBT conforming bandage
Safety pins
Splinter probes
Strip wound closures
Sting relief wipes
First aid guide
Triangular bandage
Tweezer
Whistle
Who Is It Best For?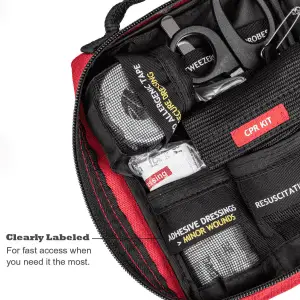 The contents of the back make it perfect for backpackers – but it is equally handy for cyclists, motorcyclists, and campers.
In essence, it is perfect for thrill-seekers.
FSA and HSA Approval
If you have FSA or HSA accounts, you can buy the Surviveware first aid kit from funds in these accounts.
---
Surviveware Small First Aid Kit Pros and Cons
Pros
Super durable and waterproof bag
Inner sleeves organized by category
Expertly organized supplies
Easy access
Waterproof bag
100 supplies
Cons
No antiseptics
No antibiotic ointments
No splints
Last update on 2023-03-23 at 14:23 / Affiliate links / Images from Amazon Product Advertising API
---
What People Are Saying…
Customers feel like they got more than their money's worth with the Small first aid kit. One of the most mentioned things is the high-quality bag, and customers feel like the bag alone makes buying the package worth it.
The supplies are well organized, which is something all customers appreciate as much as I do.
But, like all products, the Surviveware Small First Aid Kit does have some shortcomings.
The included tourniquet's loose elastic band is a common gripe, and many customers reported having to replace it.
Also, there are no antiseptics or antibiotics in the kit, which is a little disappointing.
But there are no significant issues with the kit. It offers a lot of value for the money.
---
Questions About the Surviveware Small First Aid Kit
Q: Does it have enough extra room for an icepack?
A: There's more than enough room in the Surviveware Small First Aid Kit for an icepack.
Q: Is there a thermometer in the kit?
A: No, a thermometer is not included in the kit.
Q: Are the labels in the kit printed or sewed?
A: The labels are printed on a patch of fabric, which is sewed to the sleeves. The print may wear off with time, but the patch will never come off.
Q: Does the kit have a fire starter?
A: No, there is no fire starter included in the kit. However, there is enough space to add a flint and steel inside the kit and personal area.
---
Verdict
I didn't expect much out a first aid kit this small, but Surviveware managed to fit a hundred supplies in there, which I found impressive. The kit is affordable, and the virtually indestructible bag alone makes it worth the money.
Last update on 2023-03-23 at 14:23 / Affiliate links / Images from Amazon Product Advertising API