One of my favorite outdoor topics is fire and the tools to make it. Surprisingly there is one product that I have yet to test out, electric lighters. These lighters have been around for a while now and I just never got around to trying on out. That is until today.
When you are in the wilderness, it is important to carry a dependable tool with which you can make fire. Even if you like to try your hand at friction fires or flint and steel fires, it is always a good idea to have a dependable back-up plan. In this in-depth hands-on review, we will be taking a look at the Tesla Survival Lighter.
Check out the lighter below:
Dual arc plasma with long battery life

Waterproof, Windproof, and Shockproof!

Built-in flashlight, rechargeable with USB, and lanyard

Check Latest Price
Below you will find the features of the lighter, some pros and cons, what people think of the lighter, and some frequently asked questions. Let's get started with the lighter's features:
Tesla Survival Lighter Review: Best Plasma Lighter?
Video Review
I did a detailed hands-on video review which you can check out below:
Top Facing, Dual Arc Plasma
The lighter uses plasma to ignite. Plasma is dependable and can ignite materials nearly instantaneously. The plasma arches face upward, making it simple to hold and orient in the necessary direction to safely light whatever it is that you need to light. This is a great feature that sets this model apart from previous versions and many other lighters out there.
Long Battery Life
The Tesla Survival Lighter has a long-lasting battery. The lighter has approximately 300 'ignitions' or 'uses' before it needs to be recharged. This means that it can be used plenty of times without having to worry about the battery dying on you.
Battery capacity is 220 mAh with an output of 3.7V.
Lanyard
This lighter comes with a lanyard so that you can always keep it secured to your person. This is important since keeping a means for fire-building is so critical for survival. It ensures that you are always aware of the location of your lighter and that you don't risk losing or misplacing it along your journey.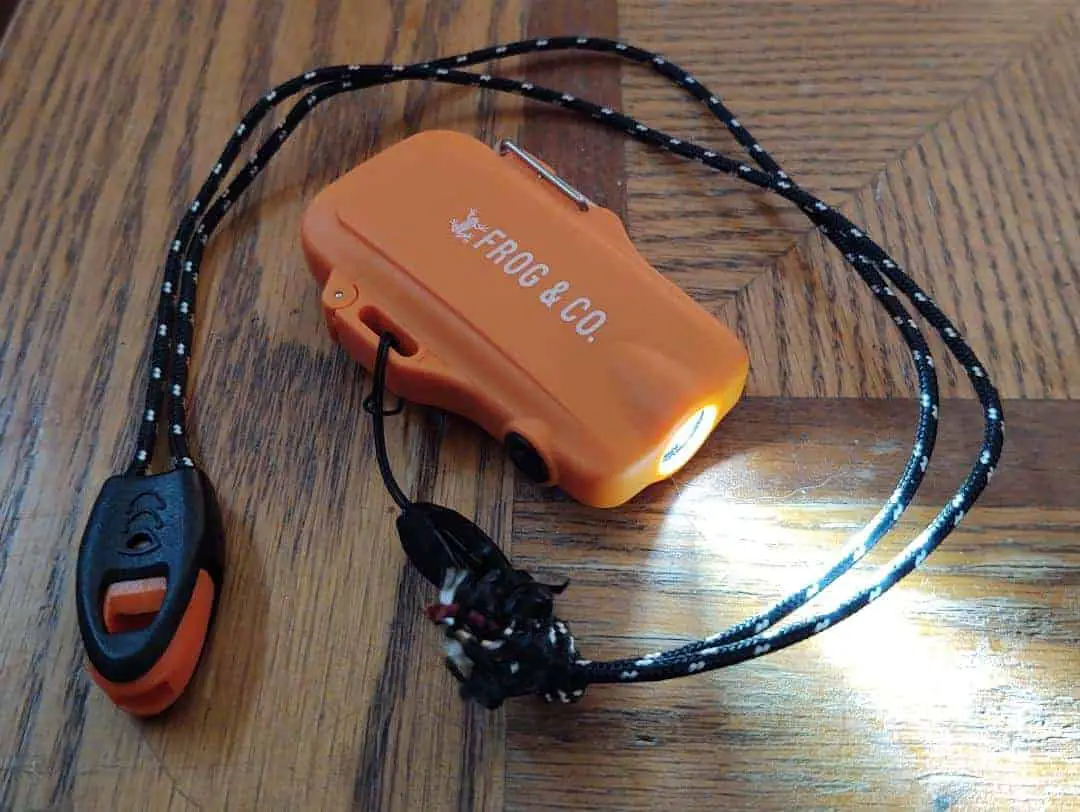 Flashlight
The Tesla Survival Lighter also has a built-in flashlight that can be used for a variety of purposes. This includes helping to light your path while searching for tinder or firewood. It is impossible to control whether or not necessity will arise during the day. It is good to be ready for anything, no matter the time of day. The flashlight is also fully waterproof.
The bottom of the lighter houses a 100 lumen LED flashlight. The light has multiple modes that include high beam, low beam, and strobe. 
Waterproof Housing
Not only is the flashlight waterproof, but the body of the entire lighter is waterproof. This will ensure that no matter the conditions or inclement weather, you will always have the ability to start a fire. Trust me, the worse the weather conditions, the more vital a fire will be.
Chargeable Electric Lighter
One of the best features about this lighter is that it is fully rechargeable. The Tesla Survival Lighter comes with a convenient charging cord that allows for charging anywhere that an outlet is available. Since the cord is USB compatible, it is also possible to charge the lighter from a laptop or other device, or from your car.
Safety
This lighter is equipped with a 10 second time-out function. This means that after running for 10 consecutive seconds, the lighter will stop producing plasma. This is a safety feature to keep the lighter from overheating and to help prevent injury or accidental usage.
Windproof
The Tesla Survival Lighter is windproof, making it impervious to windy or breezy conditions. Again, in my experience, the more severe the weather, the more important a fire will be for your comfort and survival.
Shockproof
The lighter is housed in a shockproof casing, making it impervious to drops and spills. This way, you do not have to worry about tumbled and rugged terrain.
Battery Specs
The battery has a capacity of 220 mAh and has a voltage output of 3.7V.
Construction
Weighing 2.1oz, the lighter is made of Zinc Alloy and has a waterproof, ABS plastic case.
Pros
Lightweight and compact 
Multiple tools included. Flashlight, signal whistle, fire cord
Waterproof and windproof.
Shut off safety function
Rechargeable via USB cord (included)
Cons
More expensive than a typical lighter
Dependent on a power source for indefinite use
Dual arc plasma with long battery life

Waterproof, Windproof, and Shockproof!

Built-in flashlight, rechargeable with USB, and lanyard

Check Latest Price
---
Customer Sentiments of the Tesla Survival Lighter
It was difficult to find anything negative about the Tesla Survival Lighter. Most people who purchased the lighter say that it is more easily carried as an EDC item than other plasma lighters on the market. It is also handier than most to use because the plasma arcs face upward. This makes it easy to use and much safer.
The only thing that was said that could be an improvement was that it needs to have a small bag to carry it in. This being said however, it would not be hard to find an appropriately sized bag. Overall, those who have bought the lighter share the opinion that it is a great survival lighter, especially at the minimal cost.
---
Open Questions About Plasma Lighters
Q: What is plasma?
A: Plasma is an ionized gas that is created under conditions of extreme heat. The plasma used in lighters is basically created using electrical resistance. This means that the plasma is extremely hot and is made using electricity, making it much more eco-friendly.
Q: Can this lighter be used underwater?
A: Though it might be possible, it is not at all recommended. Not only could it pose a safety hazard, if water were to get inside of the lighter, it could quickly ruin the components.
Q: How many charges can the battery handle?
A: This depends upon the frequency of use and the charging habits practiced. It is recommended that you allow the lighter to 'die' completely, or nearly so, before you recharge it. This will greatly preserve battery life. Charging should take no longer than approximately 2 hours.
---
Tesla Lighter Verdict
This little light is a beast. The additional features are handy and could save you in a pinch. The best things about the Tesla Survival Lighter are the rechargeability, water and wind-proof capabilities, and the fact that it uses plasma in upward-facing arcs. The charge time is short, and the micro USB makes charging convenient and easy. The lighter performs well in adverse conditions, and best of all, the plasma is hot, effective and easy to use. This is a great little light that will save you from the frustrations of faulty fire-starters. It could also save your life in a dire situation.
While I do think this is a fun little lighter there are two reasons why this should not replace a traditional flame lighter in your kits. The first reason is that it is dependent on a power source for indefinite use. The second is that on one charge it is good for 300 "lights." That is pretty good but a Bic Lighter is rated for far more than that. If you have all of your bases covered in terms of fire-making tools, I think this is a cool alternative lighter to supplement a kit.  
Hopefully, you have found this review of the Tesla Survival Lighter to be helpful. Stay warm!
Dual arc plasma with long battery life

Waterproof, Windproof, and Shockproof!

Built-in flashlight, rechargeable with USB, and lanyard

Check Latest Price