Many of us never think about where we'll get our food from in the event of a crisis.
But the latest global issues act as a reminder and a warning – relying on the government entirely for your food and especially medicine is a mistake you will regret.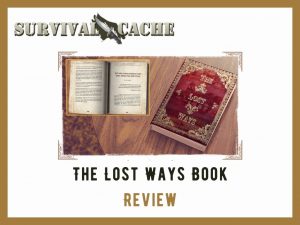 You cannot rely on luck when that catastrophic earthquake hits, or when a hurricane wrecks your entire town.
You must be ready for a situation like that.
In his book The Lost Ways, survivalist Claude Davis reveals the forgotten skills that our forefathers used to survive through famines, wars, and disasters.
It's already helped over 250,000 Americans prepare for a crisis.
In this review, I will give you an overview of the skills Claude teaches in the book and show you why it's worth every cent.
Learn to build a shelter from scratch

Master the art of poultice.

Learn about defending yourself and your home

Check Price
What is the Lost Ways Book about?
Imagine this:
You have no electrical power for heat, no refrigerator to store food, no internet to learn what to do, no TV to know what's happening, and no Walmart to get supplies from. Oh, and CVS has been ransacked.
How do you survive?
Claude Davis teaches you precisely that in his book The Lost Ways.
You will learn to cook superfoods that can be made for next to nothing and stored for years. You will also learn preservation methods to keep food fresh without a refrigerator.
Additionally, Claude reveals 25 other survival foods, so you will never run out of food in a crisis. Not only will you have enough to feed your family, but you'll be able to help your neighbors, too.
But in good times, you could spend fun weekends with your kids, teaching them how to make rustic survival foods like Mud Apples or Mormon Johnnycakes.
You will also learn a lot about defending yourself and your home.
In a crisis, it's not unrealistic to expect society to collapse. Looters will appear, and sooner rather than later.
The author uncovers the techniques that sheriffs from the frontiers would use to defend the village – even when they were outnumbered and outgunned.
Claude also takes into account the possibility that you run out of ammo. He will teach you ways to hunt while conserving ammo and reveal how the people who wandered the West never ran out of ammo.
Learning to heal your wounds is critical if you want to make it out of any survival situation alive.
The book will help you master the art of poultice.
You will be surprised to learn how many similarities old-fashioned poultice has with modern medicines.
Plus, think of the relief you'd feel in a crisis knowing that you can heal wounds with this lost skill.
There's more.
A Native American secret to survival was the roundhouse – an underground house that can serve as your storm shelter, bunker, and even act as the perfect hideout.
You will learn to build it from scratch.
It can fit up to four families with ease – if there's a crisis, you will be able to call your loved ones and offer them shelter.
But besides being a backup shelter for when you need to leave your home, it also makes for the perfect storage space for extra water and food reserves year-round.
Speaking of water, Claude will also teach you how sailors preserved drinking water for months and even years sometimes. The centuries-old technique will enable you to store clean drinking water for your family free of cost.
Learn to build a shelter from scratch

Master the art of poultice.

Learn about defending yourself and your home

Check Price
---
Features of The Lost Ways Book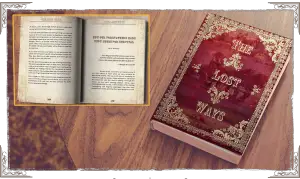 The Lost Ways teaches you simpler skills like making bread like people did in the early days when there was no food, and also more complex skills like building a traditional backyard smokehouse all by yourself.
But make no mistake – The Lost Ways is NOT a cookbook.
It's a full-fledged survival guide that will teach you everything you need to know to survive during a crisis.
The 350-page book will make you a master of ancient survival techniques. These are techniques that got our forefathers through war, famine, and disaster.
Thriving in dark times with the shortage of things is no joke.
Which is precisely what makes these techniques so reliable.
Claude Davis firmly believes that the rise of modern technology has made us too complacent for our own good.
When SHTF, most won't be able to support themselves – let alone their families.
But learning PROVEN survival techniques that our forefathers used to survive virtually guarantees the safety of your family.
Here's all you'll learn from The Lost Ways:
How to collect water and store it for years without spending a penny.
How to cook nourishing food using ingredients Native American scouts have been using for centuries.
How to build an underground house to shelter in a disaster scenario.
How to survive without a house.
What to do when you're out of ammo. The book uncovers a clever trick that a group that roamed the West used.
How to trap animals and cook them the right way.
How to grow edible plants in your yard.
How to heal yourself with ancient poultices.
It's important to remember that the entire world will instantly be KICKED back into the dark ages when there's a crisis.
These are only a few of the many topics that the book covers that will help you ensure your basic needs are always met – crisis or no crisis.
But along with the book, you will also get access to two short videos that will teach you how to cook an ancient painkiller and a superfood.
The superfood is called Pemmican, which can be stored for up to a decade. It's very nutritious and will ensure that you and your family remain healthy if SHTF.
Additionally, you will also learn how to make a painkiller with wild lettuce – a plant you can easily find locally or even in your backyard.
Claude will teach you how to use the plant extract, which proved so effective for our forefathers that it was an alternative to opium.
The painkiller itself does not contain opium – but it offers unbelievable medicinal value and will relieve pain quickly.
Survivalist Claude Davis makes sure that you understand all the techniques he reveals in the book.
The writing is not flowery or convoluted – it's an easy read.
---
Where to Buy?
You can only buy the book from Claude Davis himself via his official website.
You will not find the book in local bookstores or on shopping portals.
But at the time of writing, Claude Davis is offering THREE exclusive bonuses to those that buy now (at no extra charge):
What Every Survivalist Should Grow in His Backyard
How to Outlive an EMP the Early Pioneer Way
A Step-by-Step Guide to Building Your Own Can Rotation System
What Every Survivalist Should Grow in His Backyard is a special report that reveals the most nutritious plants there are.
You must start growing these NOW to ensure that your home never runs out of food in a crisis.
Claude Davis does you one better by also showing you how to plant, grow, and store each plant the right way.
How to Outlive an EMP the Early Pioneer Way is a blueprint for survival for when there's an EMP strike.
Claude goes into meticulous detail, showing you what you must do on a day-to-day basis to become self-sufficient in just 30 days.
He will guide you through the ten things you must do on day 1, what you must make on day 2, what you must grow on day 3, and so on, till day 30.
The book virtually guarantees that you never run out of food, water, or heat after an EMP.
A Step-by-Step Guide to Building Your Own Can Rotation System is an instruction manual for building a system to arrange canned food for you.
It works like this:
You buy a can and insert it on the upper shelf. Older cans will roll down to the bottom shelf automatically.
This way, whenever you need a can, you will pick the one with the closest expiration date from the shelf below.
Building the system doesn't cost much, and the illustrated guide makes it very easy. You can build it in a day or less.
But here's the kicker:
Claude gives all of his readers a 60-day money-back guarantee.
This means if you want your money back for any reason at all, you can request Claude, and he'll wire the funds within 24 hours.
But the bonus material I spoke of earlier is FREE with the book only for a limited time.
Claude says it will be off the table soon.
Learn to build a shelter from scratch

Master the art of poultice.

Learn about defending yourself and your home

Check Price
---
Verdict
Combining Claude's knowledge with your ability will enable you to virtually guarantee food, water, and shelter for your family in times of crisis.
But more importantly, you'll learn to keep them safe and also craft medicine using nothing but the plants that grow in your own backyard.
It has my full recommendation.