I like to go backpacking. I also spent 13 years in the military. I didn't have to be a genius to notice the significant weight (and volume) difference between my civilian backpacking gear and my military gear. I have spent all day walking around in full military gear and I have spent all day walking around in civilian backpacking gear. I definitely prefer the much lighter civilian backpacking gear.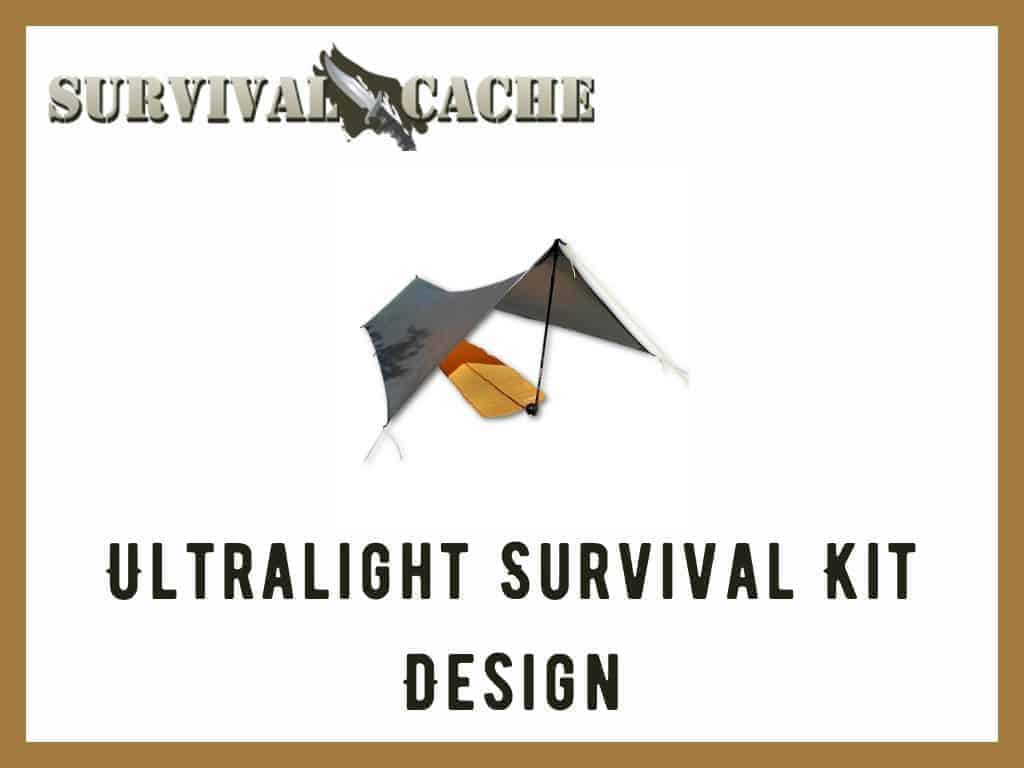 Many people, when they create their survival kits and their "bug-out bags", tend to think in terms of military and tactical gear. I personally prefer to select my gear from the civilian camping and backpacking world. If the SHTF, and I have to head to the streets or the woods carrying everything that I need on my back, I would much rather be carrying 20 to 25 pounds all day instead of carrying 40 to 60 pounds.
Survival Kit By Weight
I am going to share some backpacking terminology with you.
BASE WEIGHT: The weight of the backpack and everything in it—except food, water, & fuel.
LIGHTWEIGHT:  A backpacking base weight under 20 lbs.
ULTRALIGHT:  A backpacking base weight under 10 lbs.
SUPER-ULTRALIGHT:  A backpacking base weight under 5 lbs.
I have discovered that I feel the most comfortable (and most prepared) when my base weight is in the ultralight range.
There are hundreds of gear choices in these lower weights. I could not possibly discuss all of them. So, I am going to discuss what I believe are six of the essential categories for a lower weight survival kit. 
In each category, I am going to highlight and review just one possible piece of gear.  Most of my own gear is starting to get old and I am in the process of replacing it. So, in most categories, I am going to highlight a piece of gear that I want to buy, as opposed to a piece of gear that I currently own.
---
Must Have Gear In An Ultralight Survival Kit
ESSENTIAL CATEGORY # 1: SHELTER
Most people think of tents for shelter. In a typical survival kit, a tent can weigh anywhere from 3 lb. to more than 8 lb. For a lower weight survival kit, there are tents that weigh under 2 pounds. At the very minimalist end, some people use just a tarp for shelter. Some of the lightest backpacking tarps weigh only 5 to 8 ounces.
A third category of shelter is hammocks. These hammocks include bug netting and a tarp to go over the top.  I tend to prefer hammocks (or just tarps) when I am outdoors.
THE TARP ON MY WISH LIST: Mountain Laurel Designs (MLD) Grace Tarp
The MLD website describes this tarp as follows:  "The MLD Grace Tarp is a classic, lightweight 'A Frame' tarp that is slightly trapezoidal with a catenary (curved) cut ridgeline, rear, and front ends. This shape pitches quick, and only three side tie-outs are needed for a tight pitch!"
Weight: The duo, 20d Pro SilNylon version, weighs 11 ounces.
Dimensions: Width 9.5 feet at the front and 7.5 feet at the rear and a 9.25 foot ridge length.
PROS:
The Duo, SilNylon version, is the largest and most durable version of this tarp.
It is much lighter than a tent or hammock.
It is big enough for one person and gear or two persons with their gear outside of the tarp. I like to have my gear under the tarp with me.
CONS:
Tarps are more open to the elements.  This can be an issue when combining heavy rain and strong winds.
No bug netting is included
There is a "learning curve" associated with learning how to pitch a tarp.
NOTE:  A solo version of this tarp, made out of .5 DCF Dyneema® Composite Fabric(A.K.A. "Cuben Fiber"),  weighs only 5 ounces. However, it is smaller and the cost was $105 more for the 5 oz. solo version.
ESSENTIAL CATEGORY #2: SLEEPING BAG OR QUILT.
Being warm and comfortable when sleeping is vital to me having energy for the next day. I personally prefer quilts over sleeping bags.  I find sleeping bags, especially mummy-style sleeping bags, to be confining and claustrophobic.  Furthermore, the fill (or insulation) on the bottom side of the sleeping bag gets crushed under my body and provides only limited insulation value.
I find it more beneficial to have that same fill (that is crushed underneath me in a sleeping bag) being used to have a thicker and warmer quilt above me. In a typical survival kit, a sleeping bag that is rated for 30 degree temperatures, will often weigh more than three pounds. In a lower weight survival kit, a quilt that is rated for 30 degree temperatures can sometimes weigh between 1 to 1.5 lb.
THE QUILT ON MY WISH LIST: Enlightened Equipment (EE) Enigma Quilt
This is a very low weight quilt. It is not a flat quilt or rectangular in shape.  It has a tapered design with a sewn "foot box".  It has a pad attachment system that uses elastic straps and clips on each side of the quilt to keep it securely connected to a sleeping pad. This system also helps to block out drafts. This is a down-filled quilt.  The ultralight nylon fabric has a DWR finish and has been customized for breathability and comfort.
WEIGHT: For the regular length and regular width 30 degree quilt: 
850 fill down (17.94 oz.)    950 fill down (16.33 oz).
PROS:
Very low weight.
Relatively draft-resistant when compared to other quilts
The outer shell is breathable and somewhat water resistant.
CONS:
Quilts can be drafty.
Definitely going to want a sleeping pad underneath me if I use this.
The down needs to be kept relatively dry and is not machine washable.
ESSENTIAL CATEGORY # 3: WATER FILTRATION
Whether I am hiking in the backcountry, or responding to times of extreme disaster in an urban area, water filtration or water treatment is a necessity. Water treatment tablets (or drops) have expiration dates and treat a very limited amount of water. They take over a half hour to complete the treatment process. Tablets and drops do nothing to filter the dirty water. 
Conversely, water filters don't expire and they can filter many thousands of gallons of water before they need to be discarded.  There is no waiting period with a filter. That is why I choose water filtration over water treatment. Traditional, pump action, water filters can weigh 8 to 18 ounces. Some of the newer, and ultralight, types of water filtration systems weigh far less than that.
THE WATER FILTRATION SYSTEM THAT I USE
The Sawyer Mini is a very versatile filter.  It weighs just 2 ounces. It comes with a foldable water collection bag (to collect "dirty" water).  I find that the provided bag doesn't fill easily from most water sources. However, I can also attach this same filter to many of the disposable plastic water and soft drink bottles that are sold in stores.
I can collect dirty water in those empty bottles and then filter it. I can also buy special adapters to connect this filter to large water bladders and create a gravity flow water filtration system. With adapters, I can even connect this filter (in-line) to the hydration system that I sometimes carry in my backpack. I have had my Sawyer Mini for approximately six years. We did a detailed Sawyer Mini Water Filter review as well you can check out.
PROS
Very lightweight (2 oz. for the water filter)
Versatile. I can make it a part of many types of water filtration systems.
It can filter up to 100,000 gallons of water before needing to discard the filter.
CONS
If using it as part of a squeeze system, it takes a significant amount of time and effort to squeeze enough filtered water to fill a cooking pot or to fill extra bottles of filtered water.
Like many water filters, the Sawyer Mini is prone to becoming blocked with dirt and sediment. It needs to be back-flushed often if the water is especially dirty.
It is primarily a water filtration system for one individual (unless adapters are used to make it part of a gravity flow system).
Sale
Last update on 2023-09-25 at 12:12 / Affiliate links / Images from Amazon Product Advertising API
ESSENTIAL CATEGORY # 4: RAIN GEAR
It is important to have protection from the rain. Some people like rain suits—which include pants and a jacket. The problem is, some rain suits can be bulky and weigh more than two pounds. Some people prefer to carry just a raincoat or rain jacket. Other people like a rain poncho. I usually prefer using a rain poncho.
Ponchos provide fairly reasonable coverage from the rain. Ponchos are open on the bottom. This allows some air flow. I like the fact that a good poncho can also cover both me—and my backpack. Many ponchos can double as a small tarp. 
Lighter weight ponchos can weigh 5 to 14 ounces. There is also a fourth choice for rain gear, and that is a cape. I am strongly considering switching from a rain poncho to a rain cape.  Part of the reason, is so I can acquire the versatile rain cape that is on my wish list.
This rain cape weighs 11 ounces. This is a bit heavier than many rain ponchos. What makes this cape unique, is that it doubles as a pyramid-shaped tent.  Unlike a tarp, that is typically open on one or two sides, the Gatewood Cape (when used as a tent) provides protection from the elements on all sides. I can buy a special pole to set it up as a tent, or I can set it up using a hiking or trekking pole.
PROS:
It is versatile because it serves as rain gear and as a basic tent.
It is lighter than some ponchos and many rain suits.
When used as a tent, it can be another significant weight savings.
It covers both the person and their backpack
CONS:
It comes in just one size.  That one size is most appropriate for a tall person.
The system of snaps (to adjust it for smaller people) is complicated to use.
If you don't plan on using it as a tent, there are better and lighter ponchos.
Last update on 2023-09-25 at 15:54 / Affiliate links / Images from Amazon Product Advertising API
ESSENTIAL CATEGORY # 5: A KNIFE
It is important to have a knife to help do some cutting. The key question is, how big of a knife does someone really need? Many people, who are survivalists, have these huge 8 to 17 ounce knives.
They want their knife to be a hatchet, a compass, a cutting blade, a weapon, a saw, and a machete. In my opinion, that is overkill. I have been known to go on a two-week trip into the backcountry and use my knife only 2-3 times —to cut a piece of cord or to slice open a food packet.
This small knife weighs just 0.7 oz.   It has the following features: small blade (1.2 inches long), small scissors, nail file, screwdriver, toothpick, and tweezers. What more does the average person need?
PROS:
Small and lightweight.
Many different functions
Mine has stayed sharp for 2-3 years
CONS:
It is small and light. Thus, it will not be a hatchet, machete, or intimidating weapon.
It can be easily misplaced due to its very small size. (I've lost two over the years. Now, I usually keep it attached to something larger—like my pack, my set of keys, or a lanyard.
Victorinox Swiss Army Classic SD Pocket Knife
A CUT ABOVE THE REST: Compact, agile and ready to face any adventure head-on. Our range of Swiss...
DURABLE CONSTRUCTION: Swiss made stainless steel construction encased in our popular scales offers a...
Last update on 2023-09-25 at 15:54 / Affiliate links / Images from Amazon Product Advertising API
ESSENTIAL CATEGORY #6: BACKPACK
After I have all of this gear assembled, I need something to carry it in.  Standard backpacks can weigh from 4 to 6+ pounds.  Ultralight backpacks can weigh as little as one to three pounds. If I have selected extremely light gear in all of the other categories, I probably don't need a five or six-pound backpack. I can very likely go with something smaller and lighter. I would give on major warnings. Ultralight backpacks are not designed for heavy loads.  Use an ultralight pack only if you plan to carry ultralight loads. Check out our bushcraft backpacks for more ideas.
THE BACKPACK ON MY WISH LIST: Arc Blast 55L Backpack by Zpacks
This pack is very light (approximately 21 oz).  Volume wise, it is estimated to have a 55 liter capacity. I probably wouldn't recommend carrying more than a 30 lb. load in this pack. The ideal top capacity for this pack is probably around 20-25 lb. This pack has received many good reviews.
PROS:
Very low weight (around 21 ounces)
Fairly decent load carrying capacity (55 liters and 30 lbs.)
Considered to be more durable than many other ultralight backpacks.
CONS:
Can't carry heavy loads (About 30 lb. maximum and 20-25 lb. ideal weight)
Expensive. (Around $325)
Not many pockets or compartments.
---
Conclusions
These six items of civilian ultralight backpacking gear have a combined weight of less than 64 ounces. That's roughly four pounds. Furthermore, if I use the Gatewood Cape as both rain gear and as a tent (and leave the tarp home) the total is just 53 ounces.  That's three pounds and five ounces.

When creating a survival kit, or a bug-out bag, many people outfit themselves with military or tactical gear (or even traditional camping gear).  Their items, in these same six categories, will probably weigh approximately 15 pounds. Then, they start adding other tactical and civilian gear. They carry extra clothes and outerwear that are not ultralight. They will choose bulky and heavy food items —such as MREs.  Their default mindset is military and tactical—instead of backpacking and ultralight.

Conversely, my additional gear, food, and extra clothing are going to be lightweight or ultra-lightweight. My additional items are probably going to weigh one-third to one-half of what the typical person brings with them. With five days worth of food, my pack is going to start outweighing 20 to 25 pounds—including water.  It would not be uncommon for other people to head to the woods (or the streets) with a survival kit that weighs 40 to 60 pounds.

My ultralight gear is going to probably cost much more than what the typical person might choose for their survival kit. However, for me, I would much rather "bug out" carrying just 20 to 25 pounds on my back than to carry 40 to 60 pounds all day.

For me, the verdict is clear. I am almost always going to choose ultralight backpacking gear (over military and tactical gear) when I choose the various components of my survival kit.
---
P.S. Additional Ideas
Whether you are making a light survival kit or emergency preparedness kit, there are a ton of different ways to customize them, and the options of emergency supplies available is an extensive list. It should also be noted that critical items shouldn't be sacrificed due to weight.
But, if you are looking for more ideas to make your emergency kits light, below you'll find few more ideas to make sure you have the survival essentials you need while keeping the weight down.
1. Duct Tape
Duct tape is an incredibly versatile item to have. Instead of carrying a whole roll of duct tape, wrap several feet of it around different items such as lighters and tool handles. From gear repair to an aid as a fire starter, you'll always want some duct tape with you.
2. Fire Starter
A good fire starter is always needed. Lighters and ferrocerium rods are durable, easy to use, long lasting, and lightweight. Waterproof matches are a good choice, too, although they are more finite.
(By the way an easy way to make waterproof matches is to dip them in melted wax)
3. Sewing and Fishing Kit
A sewing kit and a fishing kit are incredibly helpful. These can be designed as a compact kit that will easily fit into a pocket. Add a few safety pins and aluminum foil into these kits as they are quite useful.
Speaking of safety pins, add a few more with your medical supplies as they have a number of uses and many first aid kits actually come with them.
4. Emergency Whistle
Tuck an emergency whistle in your pocket so you can always signal for help.
5. Surgical Blade
While it's not a substitute for a good outdoor blade or pocketknife, a surgical blade is extremely lightweight and there may already be one in your first aid kit.
6. Multipurpose Items
Multipurpose items are another way in which to save space and weight. For example, fishing line can be used as fishing line, or it could be used as snare wire.
7. Paracord Bracelet
A well-designed paracord bracelet can carry other items than just paracord.
8. Waterproof Containers
Be sure to keep your emergency supplies safe by packing them in a waterproof container. A lightweight version could be something like a reusable zipper lock bag that will help protect all the supplies.