After water, food is going to be the next most important item to have in a survival situation. Storing food long term can become problematic when you consider storage space, budget and the desire for fresh produce. A renewable food source such as gardening can alleviate some of these issues.
Usually, the first question when it comes to gardening is what to grow. If the plants are being grown outdoors, what to plant in the garden will primarily depend on the region in which you live. It is also a personal choice because most gardeners will only grow the type of produce they enjoy to eat.
The second question then is how to grow it. Modern gardening materials, techniques, and the technology available allows for several growing methods to be used.
4 Ways to Grow Your Survival Food
Backyard Gardening
This is the most traditional way of growing your food and is probably the most familiar. A backyard garden can give ample space to grow an abundance of food in a variety of ways. Some plants actually work well growing in close proximity such as the three sisters method which uses corn, beans, and squash.
The initial cost may be the cheapest and it is simple to dig a hole and drop a seed in, the overall maintenance of this method may be the most time consuming. Weeds will need to be kept in check, pests and diseases will have to be dealt with, fertilizer will may need applied, and an irrigation system will need to be available. But do not let this discourage you as this method has been used throughout history and it is still a viable means of growing to this day.
Pros
Low start-up costs
The garden can be left alone for days or weeks
The most natural way for plants to be grown
Gives the gardener exercise outdoors
Cons
Only certain plants can grow in specific regions
Requires protection from local wildlife
More prone to diseases and insects
May require a lot of outside resources that include water and fertilizers
Weeds will need to be kept in check
Require a lot of space per plant
Short growing season
Container Gardening
This may be a more suitable growing option where space is limited, such as urban environments for example. Different types of plants or ones that grow well together are separated and planted in individual containers.
However, this method does not have to be used where only space is concerned. When containers are used you will not have to tear up a yard and if need be, the garden (the containers) can easily be moved. If you are particularly budget-minded, check big box stores or local bakeries where they frequently throw away plastic containers and buckets. 
Pros
Much easier to care for
Works in extremely limited space
Growing requirements like fertilizer, water, etc., can be closely monitored and controlled.
Can be used outdoors or indoors
Cons
May not yield as much produce
Start-up costs include containers, soil, a possible framework for the containers, grow lights (if the required amount of sunlight is not available)
Hydroponics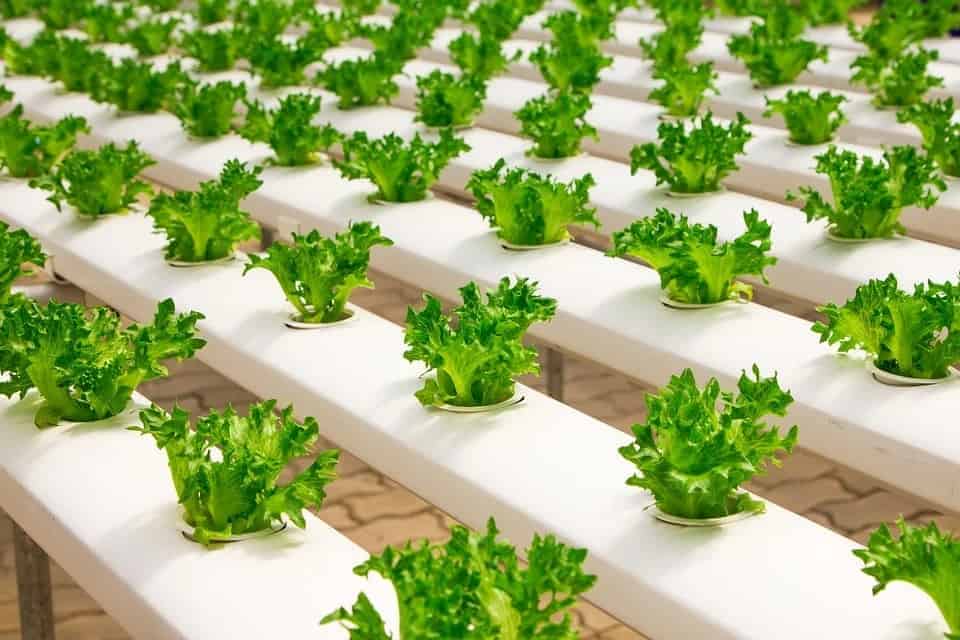 Hydroponics is a method of gardening without soil. Instead of using soil, plant roots are suspended in a nutrient-rich water supply. Traditional gardening can take up a lot of space due to the amount of soil needed per plant. But because the roots are in constant contact with the nutrient-rich water supply, they do not need the normal amount of space to spread out.
A power supply and a pump are used to continuously recirculate water and nutrients through the system. This ensures that each plant receives exactly what it needs at all times. With traditional outdoor gardening and farming methods, a lot of water is wasted due to run off or it not getting to the roots directly. But in hydroponics, since the water is brought directly to the roots the only water loss is through evaporation or leaks in the system.
The startup costs of a hydroponics system can be expensive. But no one designmust be used. They can be as small or large as you like, and they can be constructed to specifically fit a certain area.
You do not have to be a rocket scientist to utilize this growing method, but it will take a lot of your time and commitment. Many aspects need to be monitored such as pH and nutrient levels, temperature, and the power supply and the components it services. Because of this, hydroponics is generally used indoors or in a greenhouse type of structure.
While this method may require a good chunk of your time, the benefits can be great. Since the plants are grown in optimal conditions, they will grow faster, have higher yields, and can be grown all year round.
Pros
It is incredibly space friendly
Requires no soil
Requires no weeding
Is generally thought of as organic since pesticides and herbicides are limited
Uses much less water. Water is only lost through leaks in the system and evaporation.
Plants can be grown all year round indoors
Faster grow time
Higher yields.
Cons
Can be expensive to setup and run
Some plants are better to grow than others
Requires more attention, monitoring, and cleaning
A failure in the power supply or a pump can have a serious impact on the entire system
Aquaponics
Aquaponics shares some similarities to hydroponics but is also quite different. It is still a soilless growing method in which plant roots are suspended in water. The main difference between them is the addition of aquatic organisms to the system, usually fish. The fish's natural waste products are circulated through the system and used as fertilizer for the plants.
Aquaponics can be thought of as more organic than hydroponics because of the symbiotic relationship between the plants and the fish. Due to this relationship, some chemicals that might be used in hydroponics may be harmful to the fish and therefore are not used.
Because the fish are providing the "food" for the plants there isn't a need to invest in nutrient solutions specifically needed in hydroponics. Just as much attention if not more needs to be given to this type of system both the plants and fish are being cared for. Because fish need adequate space to thrive this system isn't as space-friendly as hydroponics but overall will require less area, will produce higher yields, and a faster grow time than traditional gardening. The added benefit is that not only one source of food is grown but two!
Pros
Far less water loss than traditional gardening
No soil
Limited weeds and pests to deal with
Faster grow time
Higher produce yield
Can be grown year-round
Can be used indoors
Fish are an additional food source
Requires less space than traditional gardening
Cons
Expensive initial costs
Requires close monitoring and adjustments
Requires more space than hydroponics
A failure in the system can spread quickly and affect all of the plants and fish
---
Conclusion
There are many different methods and techniques for growing your food and while the above list is by no means a complete guide to doing so, it is meant to get you thinking about this process. To whet your appetite, so to speak.
Some growing methods might seem expensive or labor-intensive, but the overall benefits are too great to ignore. By growing your food, you are in control of its quality. This means you know exactly what it has been exposed to during its development and harvesting. The availability of manufactured products can be affected by national recalls, seasonal weather, problems associated with the supply chain, and a national or worldwide crisis. But by having your garden you can avoid these issues while maintaining a renewable source of fresh food. In my experience, gardening is not a difficult endeavor but rather one that anyone can do. If you can devote time, commitment, and discipline to the task, a green thumb will follow as well as the satisfaction of growing your own fresh food supply.
---