Over the years I have tried many things out in the field and one thing I found that works really well for those of you that don't like a heavy pack is WEB gear, sometimes known as LBE (Load Bearing Equipment).
Harness
I prefer the H-Harness to any other kind. They also have a Y-Harness, but I prefer the weight distribution of the H.  With either of these you have the ability to put a compass pouch on one shoulder and a knife one the other. I know it sounds like a bad movie but having those on your harness is a good thing.
I found that a Cold Steel SRK (Survival Rescue Knife) works well for the knife because of the sheath. Also, on the either harness is a spot for a sleeping bag once it is in the synch strap. I like that feature because is hangs down your back out of the way.
Belt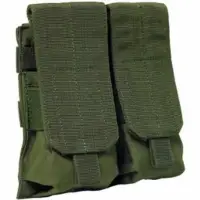 To outfit my web belt I like to use M-16 magazine pouches, but I take out the magazine dividers first. Here is a list of everything I'm able to carry in the pouches and around the belt of the harness:
Pouches
Bandanna folded and put on the bottom
Back up compass
Small fine hone stone
Pocket knife (Spyderco Manix 2)
Granola bars
Water proof pill bottle with matches
Pill bottle with a fishing kit
Zippo
10ft of Paracord
Mini mag light
On Belt
2 Military Canteens with cup and iodine tablets
Parry Blade Survival Knife
Butt Pack
Two pair of socks and underwear wrapped up in a water resistant bag and compressed
MREs (without the cardboard boxes) enough for three days
Small roll of toilet paper around a dowel rod
A small first aid kit:
20 alcohol prep pads
75 Band-Aids of various sizes
4 ace bandages
Eye drops
Saline solution
Tweezers
Scalpel with disposable blades
Another mini flash light
Chest wound compress
Three slings
On the bottom of the butt pack is my poncho which can be used as a shelter, rain gear, water gatherer, or a ground mat. Almost all I carry can be used for multiple purposes.
Ammunition
9mm Ammuntion I carry in a low riding tactical sling on my right side with spare mags. I try to make sure I have at least 120 rds for my pistol.
I am always open to suggestions on how to improve my set up but this is a good list to start from.
---