Take your pick of knives, axes, hawks, or hatchets, I have been a fan of all of them since I can remember. Maybe it's because of all years I spent as a boy splitting wood for our fireplace or the time spent in the woods, hunting or fishing.  Either way I have always loved an outdoor tool with multiple uses. Since then I have always carried at least one of these items with me at all times. Sometimes though, having just a knife really isn't enough and it should be partnered with a more robust edged tool like a hawk or hatchet.
Many years ago a good friend of mine gave me a gift that I had never heard of but it soon became a piece of gear that I always carried. The Wilderness Tool, now the Mini Wilderness Tool, made by Condor Tool and Knife. Condor has manufactured excellent tools for a long time, but I will admit that at first glance this one looked a bit out of place.
Why carry a more robust tool?
Certain platforms like to tell us that knives can do absolutely everything under the sun and fulfill all of our needs. This simply isn't true as any tool, simply by its design, has its limitations.
A larger edged tool is better at processing wood, hammering, digging, making certain projects and gives different options in a self-defense scenario.
Wilderness Tool Review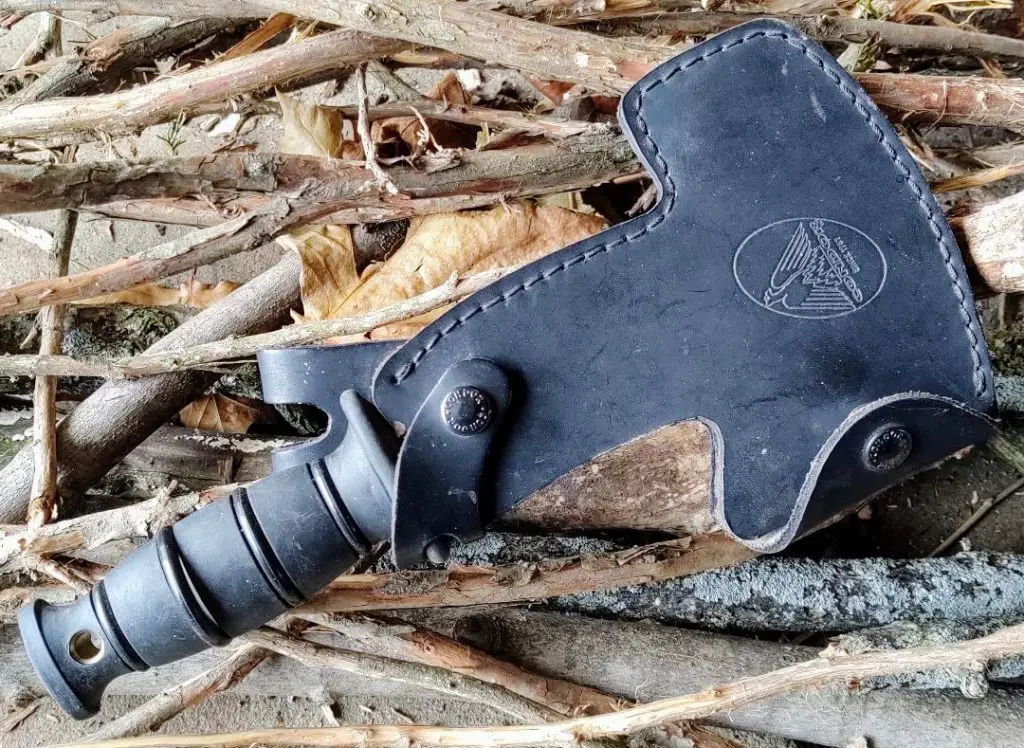 The Wilderness Tool is made from 420 HC stainless steel, giving the tool a higher level of corrosion resistance and maintaining a sharp edge longer. The majority of the metal surface is covered in a black finish, giving an added layer of protection to the underlaying steel. The cutting edges do not have a finish on them.
The blade measures in at 6 ¾ inches long with an overall tool length of 12 1/8 inches. The round handle is made from santoprene which is a rubber like material. The metal portion of the tool fits nicely into a welted leather sheath that uses two snaps for securing the tool.  
Pros of the Wilderness Tool
Several cutting edges allowing for a wider range of tasks
Lightweight but durable
Stainless steel makes it easier to care for
Predrilled hole in the handle gives different options for storing or carrying the tool
Very affordable
Cons of the Wilderness Tool
Stainless steel can be harder to sharpen. Also doesn't produce as many sparks when using with a ferrocerium rod.
May not be appropriate for certain individuals. For example, younger kids may have difficulty using it
You won't really be able to sharpen it with a pocket sharpener, like you would a knife. Requires something a bit larger, like a sharpening stone or a file.
It appears the manufacturer no longer makes this particular model, but they can still be found on the web as well as the next version that was made.
FAQs about the Wilderness Tool and Condor
The company can be traced back to 1787
This particular model was made in El Salvador
Condor produces a wide range of tools for hunting and fishing, survival, kitchen use, everyday carry, martial arts, the outdoors and throwing knives.
Last update on 2021-09-24 at 07:33 / Affiliate links / Images from Amazon Product Advertising API
---
Wilderness Tool Hands-On Review
I have to admit that when I first had this tool in my hand I kind of wondered, "what in the world am I going to use this for?" The short answer is a lot! Before I dive into my personal review of this product there is something you really need to understand about this product. It doesn't have just one cutting edge but four! Now that we have that out of the way let's get into my experience with this tool and I why I think it so useful.
Last update on 2021-09-24 at 07:33 / Affiliate links / Images from Amazon Product Advertising API
The Edges
Larger double-sided cutting edge on the right side, measures in at roughly 2 ¾ inches. This cutting edge looks just like what you would use it for, chopping tasks. Even though the wilderness tool isn't as hefty as a full-sized chopper there is still enough weight behind it that it allows me to chew my way through log after log.
Other than being comfortable, the thick rubberized handle does a great job of acting like a shock absorber when I have found myself chopping for extended periods of time. This cutting edge would also work well with heavier duty food prep. All the transitions from cutting edge to cutting edge are continuous except for the bottom of the chopping "hatchet" edge. The bottom portion of this edge comes to a point which can be used for more detail work or picking purposes.
Large one-sided cutting edge at the top measures in at roughly at 4 ¾ inches. This portion is designed more like a chisel/scrapper. That is why it is better suited for tasks in which I need to chisel, scrape, dig or pry. There have been many outdoor projects in which I wanted to have larger pieces of tree back or wood kept in intact and this tool was great for that task. I could also see it being used in the same way an ulu is used.  
Smaller double-sided cutting edge on the left, measures in at roughly 1 ¼ inches. For me this cutting edge is used for chopping purposes but on a smaller scale. For times when I still want to quickly remove larger pieces of wood but in a more controlled manner and space. This part of the tool has come in handy when I have worked on some of my outdoor wood projects.
The longer edge on the left, resembles more of a knife, and measures in at roughly 4 inches. This double sided, "wavy" cutting edge also has a hook bend in it measuring roughly 1 inch. I have primarily used this edge of the tool for more knife-like functions. Slicing and cutting of cordage, food prep, raw material processing for outdoor projects and anything else I would be more prone to use a knife for. The "hooked" portion of this edge works extremely well in removing the outer layer of plants and branches when used in a sweeping motion.
When it comes to food prep and field work with food sources, all of the varying cutting edges available would be helpful in fulfilling those needs.
---
Verdict?
When I first got the Wilderness Tool it didn't me long to realize its usefulness and quality. I was equally surprised that I had never heard of it and how affordable it is. If you ever come across this Wilderness Tool I highly recommend adding it to your gear.  I hope this review gave you a bit of insight and interest on a piece of gear that was once obscure to me but soon became one of my favorite outdoor tools. Feel free to leave a comment below. Stay sharp!
Last update on 2021-09-24 at 07:33 / Affiliate links / Images from Amazon Product Advertising API
---