Years ago, I was out in the field with a pack on my back. It escapes me at the moment if I was hunting, fishing or just enjoying a good hike. What I do remember is that at some point I stopped for a short break and a snack. When I swung the pack around, I noticed something seemed off with the weight of the bag. Upon opening the main compartment, I discovered that I could see the ground through the bottom of the bag. A small tear had turned into a hole that I could fit my arm through. I backtracked and luckily, I was able to find most of the items that had fallen out.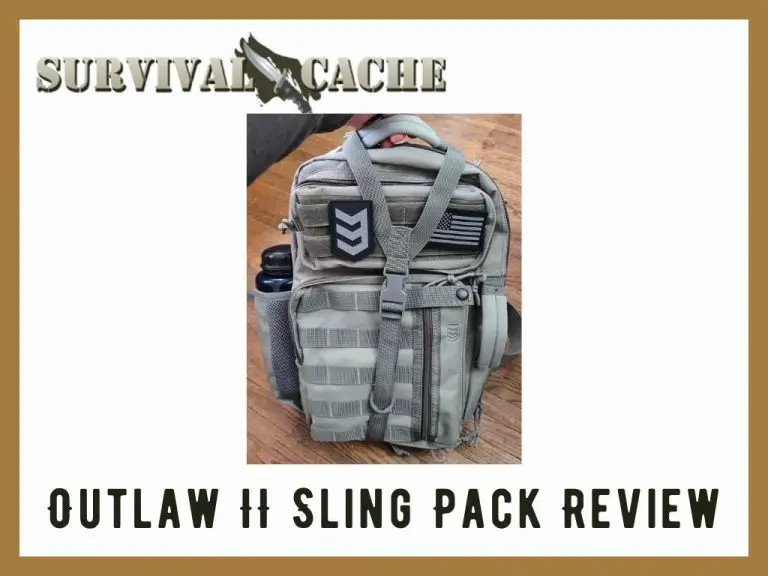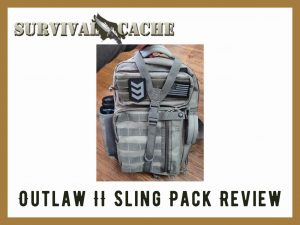 A high-quality pack can literally be a lifesaver. It ensures that we always have the items we need at a moments notice and it helps in protecting the investment of gear inside. It would be next to impossible or at the least extremely irritating to try and carry all the gear we require without a good pack.
Recently I had the opportunity the check out the Outlaw Sling Pack by 3V Gear. The timing couldn't have been better as I was in the market for a new bag. To be honest I have only used sling-type bags a few times in my life so I was eager to try one that is a bit more rugged. Here is a quick rundown of what it has to offer.
3V Gear Outlaw II Sling Pack Review
Specifications (from manufacturer)
Main compartment 17"h by 10.5"w by 4"d
Top front 5"h by 9"w by 1.75"d
Bottom front 10"h by 9"w by 1.75"d
Hydration compatible
Theft deterrent cord-lock
MOLLE compatible
Pros
Four color choices, black, olive drab, foliage grey, coyote tan
Affordable
Very comfortable
Comes with two Velcro patches. One is the 3V logo and the other is the American Flag
Compressions strap as well as a stabilizer strap
Cons
A few quality issues that I will address at the end of the article
A secondary stabilizer strap would have been nice
First Impression of the 3V Gear Outlaw II Sling Pack
Right out of the package I like the look and the feel of this bag. Being made from 600D PVC-backed polyester, the bag feels thick and study, unlike many packs that feel cheap. The grab handles and shoulder strap are thick, cushioned and comfortable. Grab handles are something that most people might overlook but I use them a lot. Having ones that are so cushioned will definitely be nice.
Different Carrying Options
There are 3 different carrying options for this pack. The shoulder strap for carrying it as a sling pack. The top grab handle for carrying it upright like a normal backpack. And the side grab handle for carrying it like a briefcase. It's nice to have several different carrying options.  
Compression Strap
When I was looking the at 3v Gear's website I somehow overlooked that this pack comes with a compression strap. That is a plus for me because it helps to keep everything inside locked down. When items bounce around inside, they cause wear and tear to one another, the pack and can shift the load around. So, having a compression strap to reduce all of this is a plus in my book.
Heavy Duty Zippers
The zippers appear to be larger than those on average bags, which is nice in terms of use and fixing any potential problems down the road. I like that they use cordage pulls over metal pulls. I have had many metal pulls break on me and because of the small zipper size I couldn't add a cordage pull to them. Without a handle a zipper is pretty annoying and difficult to use. If the cordage pulls on this bag break or wear out, I have the option of easily adding a new one. Also, the zippers glide very smoothly, making it easy to get in and out of pockets frequently.
Need Water?
On the side of the bag is a water bottle holder. I have a large 900mL, wide mouth water bottle that doesn't fit well in a standard backpack bottle holder. I was able to fit it into Gear Slinger's holder with some space left over. The pack is also hydration compatible so if you have a system like that, this pack will support it.
Attaching Extras
Need to carry extra items or gear? No problem. This company wasn't kidding about the pack being MOLLE compatible. By my count there are 51 individual loops covering the front of the pack, side and shoulder strap. I shouldn't have a problem finding a spot to attach any extra gear.
Patches
I know that many people like to personalize or showcase certain things on their gear by displaying stickers or patches. On the top portion of the bag is a large area of Velcro where patches can be put on. I know that this an additional area for attaching gear but can also be used for this purpose. This pack came with two Velcro patches. One is the logo of 3v Gear and the other patch is the American Flag. This doesn't have to do with the quality of the bag but I do think it is cool when a company adds in some extras. Good job 3V Gear.
---
Inside of the 3V Gear Outlaw II Sling Pack
Compartment Number 1       
There are four outer zipper compartments on the outside of the bag. The first is the one under all of the MOLLE strapping. This compartment is simple with no interior pouches. It is large enough that I can put an average size paper back novel in it.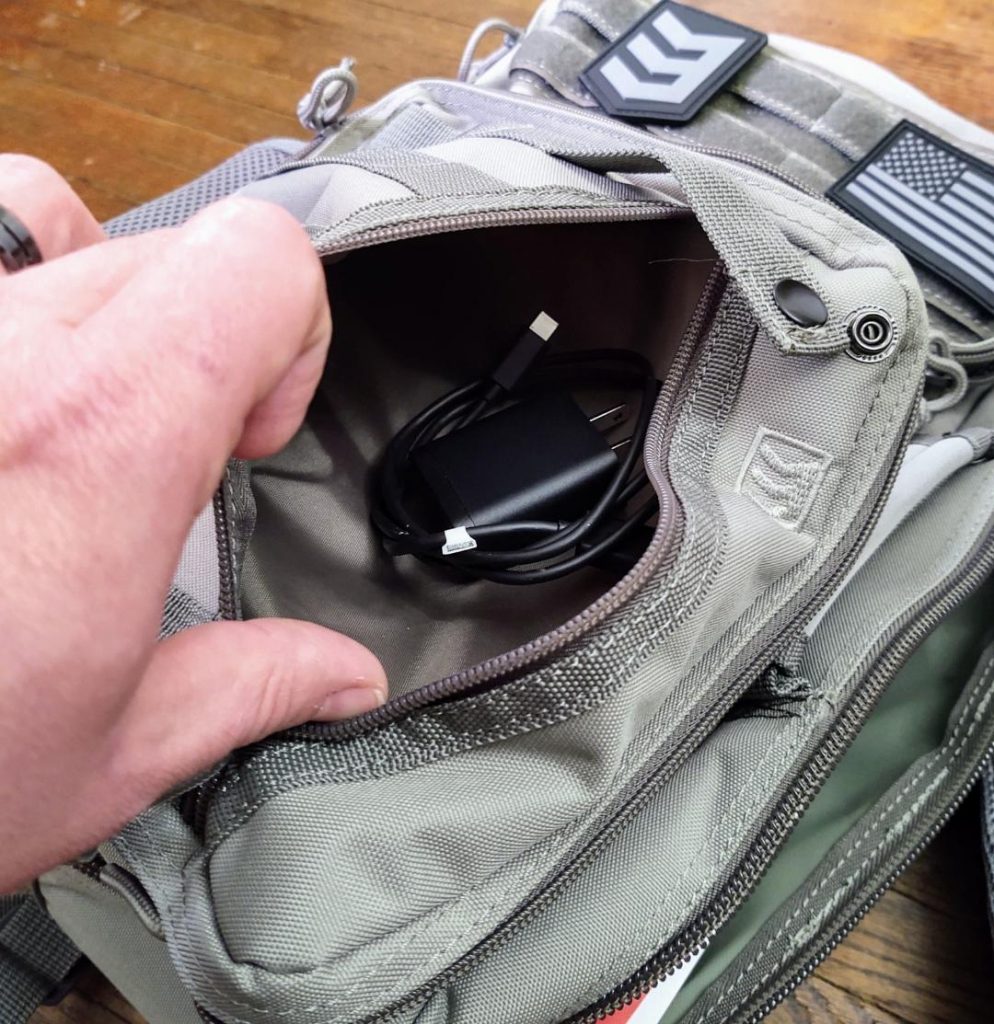 Compartment Number 2
The next compartment (the Admin Panel) is underneath the previous one and is roughly double the size. It has several pockets for keeping items like a small notebook, and writing utensils organized.
Compartment Number 3
The compartment at the top of the bag appears to be the smallest. On the inside it has an additional pocket and three MOLLE straps.
Compartment Number 4: CCW
The last exterior compartment is on the back of the pack. It is large enough that it can hold a standard size pad of paper. This compartment is designed to be used for CCW. Inside there is a large Velcro patch in which to attach a holster, should you find the desire to carry.
Main Compartment
The main compartment of the bag is split up into four sections. Three large side pockets and the interior of the bag. One of the pockets has a Velcro strap and this one is designed to be used for carrying a 13-inch laptop. I placed my laptop in there with no problem. The other large pocket does not have any zippers but a single buckle strap for holding in larger items, such as a clipboard. The next compartment is closed by a zipper that runs the length of the pack. The front of this compartment is made up of a mesh front, giving quick visual access to what is inside.  
The last thing that I wanted to note about the interior is that all of the compartments have a water-resistant liner. Very important for keeping your gear dry should you get caught in the rain.
---
My Thoughts on the 3V Gear Outlaw II Sling Pack
In its name, this pack describes where it should be used. Based on its size and the way the compartments are set up I think it is best suited for urban environments. Having said that I don't see any reason why this pack couldn't be used for short excursions in the outdoors, preferably day hikes. Having just got this pack it feels sturdy enough to hold up to a bit of rough use but only time will tell.
What I Don't Like
Before putting anything into this pack I did what I always do with gear right out of the box, I gave it a thorough look over before using it. One thing that I noticed was that there were several spots where the sewing seemed subpar or at least how the sewing was finished. Many areas had long threads hanging down that I later had to trim away. These long threads could get caught on items and weaken the seam. One thread in particular I tugged on (not hard) and it pulled out several stiches from the seam.
The second item was a semi-broke zipper. When I opened the main compartment there was a zipper sitting halfway opened along the pocket. The problem was that the opened side of the pocket was on the reverse side it should have been. Think of when you try to zip something up and the track doesn't close behind it. The zipper was a bit stuck but after some careful manipulation I was able to properly get it back on track. The above two items could simply have been missed by quality control and not indicative of the product as a whole. However, seeing as this is my first experience with 3V Gear, I thought it worth mentioning.  
The webbing on the front of the interior pocket is a pro and con for me. I like that it provides quick visual access to items within. But in my experience with packs that have this, the webbing tends to tear quicker than any of the other pockets that have a solid make. Of course, this could be due more to the items I tend to carry. So, when carrying items in this pocket my recommendation would be to make sure that the items are not sharp or have hard edges.  
---
Wrap up
Overall, I am quite happy with this pack and pleasantly surprised by its heavy-duty construction versus low cost. I have bought cheap bags and I have bought expensive bags. For how much I rely on them I will never go back to buying cheap backpacks. Thus far it seems that 3V Gear has brought a higher quality bag to the market at a very affordable price. I haven't put this pack through its paces yet so I will wait to comment on its durability. Be sure to look for an update to this article down the road.
The largest of their packs, the Paratus 3-Day Operator's Backpack, is not much more expensive than the Gear Slinger. Yet, it looks to have a ton more room and pouches to stuff gear into. That will be the next item in my sights to see if you can truly get a large, quality pack at an affordable price.
Feel free to leave a comment below and thank you for reading.