Long term food storage is an issue with which most of us struggle when prepping for survival situations (e.g., urban, or wilderness).  There are several considerations in setting up a long term food storage program for yourself and your family.  One of the best methods I have found is to purchase survival food kits.  There are several companies of survival food kits in the US today, and their products have come a long way since long-range patrol rations and MRE's were the choices.
In truth, there are several different ways you can approach long term food storage.  My personal method is a three-tiered approach.  I try to keep a three month supply of what we use the most from the grocery store.
At the second tier, I store a supply of things that are shelf-stable for 12 to 18 months.  I must admit that most of this is food that I pressure can fresh out of our garden.  The third tier is a supply of long term survival style food (e.g., these can be emergency food bars).  Most of what I keep have a 25-year shelf life when stored according to the manufacturer's direction.
What to Look For in Long Term Food Storage?
There are things that I believe are essential in any product that you purchase as a long term food storage solution.  Some of them have to do with the product and some of them are related to the packaging.
Eatability
This is my term and its number one on the list for a reason. Eatabiity encompasses several factors.  The three that are the most important are
Taste – If you are spending hundreds or thousands of dollars on long term storage food and you aren't cooking with it and eating it before you invest, you are making a huge mistake.  When the time comes and that food you bought is the only food you have, I want to know it is going to taste good.  In a bad situation, a good meal that tastes good is a priority.
Texture – I did a large part of my planning and preparation when I had young children in my home. I quickly learned that taste important but the texture was a big thing as well.  How does that food feel in your mouth and on your tongue when it is cooked?
Looks – Comfort is a big thing in a survival situation. Maintaining some semblance of normalcy is important to relieve some of the stress in any sort of emergency situation.  Being able to prepare a meal that not only tastes good but looks appealing and appetizing goes a long way to add to that comfort factor.
Sustainability
The whole concept of survival preparedness is built around the concept of looking into the future and trying to anticipate what might happen, what may be needed, and what conditions may exist at that time. Your survival food has to meet the sustainability challenge. In other words
Can it sustain you both physically and mentally – Does your food stash have what you need to remain physically at your peak?
Can it be sustained for long periods of time – What is the shelf-stable life of the product? Ten years?  15 years?  25 years?  What conditions do you have to provide to make sure that the product is sustainable for that period of time?
Affordability
Can you afford to stockpile enough of the product for you and your family? Can you start a buying program to incrementally build up your long term food reserve?  Are their bulk buying options?
Those are the things that I look for when choosing long term food storage options.  I used these three criteria when looking at what ar the best survival food kits to used for my stash.
---
Best Survival Food Kits: My Top 6 Survival Food Companies
Here are my top picks at a quick glance:
FOOD KITS
DETAILS

Easy preparation. Just add water.

30 year guaranteed shelf life.

Many sizes from individual meal packages to #10 cans..

Check Price on

Amazon.com

Freeze-dried meats.

Vegetables in abundance.

25-year shelf life on their products.

Check Price on

Amazon.com

25-year shelf life.

Gluten-free and organic buckets available.

Stack well and make for efficient and compact storage.

Check Price on

Amazon.com
If you spend any time in the outdoors camping or hiking, you are familiar with Mountain House.  Originally a producer of freeze-dried bulk foods, the company, then known as Oregon Freeze Dry, won a contract from the US Military to produce freeze-dried meal packets for soldiers in the field.  That was the birth of what was to be known as LRP's or long range patrol rations.
Mountain House brought the concept to the civilian market and scored a huge success with outdoor enthusiasts of all kinds.  Mountain House has expanded its product line from simple pouch meals to include Pro-Paks, #10 cans, buckets, and kits.
Check out our detailed Mountain House hands-on review.
Pros
Easy preparation. Just add water.  No heating, no other pots or dishes.  Eat from the pouch or can and eliminate a lot of waste and cleanup.
Resealable pouches cut down on food waste.
30 year guaranteed shelf life
Mountain House has a huge array of meal choices in many categories such as breakfast, entrée's, side dishes, meats, and even desserts.
Many sizes from individual meal packages to #10 cans.
Buckets and kits are also available that allow you to build a survival food stock quickly and conveniently.
Mountain House products are easy to find. Almost every outdoor store carries Mountain House.
Cons
You will need a measuring cup or bottle to be able to get the right amount of water into a pouch. There are no marks on the pouch to tell you how much water to add.
You need to have a good can opener to get into the #10 cans. They are not quick to open.
Easy preparation. Just add water.

30 year guaranteed shelf life.

Many sizes from individual meal packages to #10 cans..

Check Price on

Amazon.com
Upfront, let me be clear.  Thrive Foods is technically not a survival food product.  They don't advertise toward the preparedness crowd, nor do they package their products into kits or packs or buckets.  They don't, for the most part, package complete meals.
However, that being said, if you are building a long term food storage stockpile in your home or other location, you really need to consider Thrive Life Foods.  I sold these products when I had my retail store and they were immensely popular with many people who were building big pantries for really long term food storage.
Why did Thrive come in as a runnerup?  They made my list because of the selection of products that they offer.  I have always believed that the most likely scenario for me was a long term shelter in place condition where the whole food supply chain has ground to a halt.  Stocking a long term pantry with products from Thrive is like stocking my three-month pantry.
Pros
Freeze-dried meats. You can even get pork products from Thrive like ham dices, sausage, and pulled pork.
Vegetables in abundance.  Thrive offers almost every vegetable you can imagine in freeze-dried form.
The 25-year shelf life on their products
A complete and rich recipe library that shows you how to cook with the Thrive freeze-dried products.
Some products from Thrive are available on Amazon.
Cons
Thrive Life products can be hard to find. They aren't sold in stores for the most part.  They do have a subscription service that allows you to build up a long term food pantry on a regular and predictable basis.
The vast majority of their products come in cans. This can make storage difficult, and if you foresee a need to move rapidly with your survival food, it will take some planning and execution.
If you really want to explore the Thrive Life line of freeze-dried foods, you can visit their website here.
3. Best Long Term Survival Food Kits – Wise Company Review
Wise is probably the best-known brand in long term survival food storage kits.  The product line from Wise Company includes everything from their Grab-and-Go kits to bundles designed to meet the requirements for entire families.
Wise even has a line of emergency kits dogs and cats, automobile emergency kits and survival packs. Wise even has specialty buckets for anyone shopping for long term survival food but needs a gluten-free option or wants only organic foods in their supplies.
I carried Wise products in my store and, on more than one occasion, when I was alone and busy, I enjoyed a Wise meal when I could work it in.  The food tastes good, comes out looking good, and doesn't turn into mush.  Wise is a wise choice.
Pros
Best Tasting Survival Food
Wise products are packaged in convenient black square buckets that stack well and make for efficient and compact storage.
25-year shelf life
Wise offers bundled packages from individual meal packs to kits that contain over four thousand servings.
Wise Company products are readily available on Amazon.
Gluten-free and organic buckets available.
Wise builds a survival backpack complete with everything you need if you are forced into a situation that takes you away from your home.
Cons
You need to purchase a sample kit before you make a bigger purchase to know if you will like the food.
The pouches are not resealable
You can prepare the food in the pouches. You will need cooking utensils to properly prepare the food.
25-year shelf life.

Gluten-free and organic buckets available.

Stack well and make for efficient and compact storage.

Check Price on

Amazon.com
4. Runner Up Long Term Survival Food Kits – Augasaon Farms Review
Augason farms have a long history of producing food products.   They have been in business since 1972.  Now their products can be found in most of the big box retail superstores and in the membership bulk purchase stores across the country.
The Augason Farms product line is deep.  You can purchase everything from bundles kits to individual packages of soup and drink mixes.  Augason also now carries a complete line of prepper supplies to help you round out your long term preparations.
Pros
Free shipping on some of their bundled kits if you purchase directly from Augason.
Easy to find in many large retailers and on Amazon
Square pail packaging makes storage convenient and more compact than round pails.
Some products are available in #10 cans as well as in their Pail packaging.
A huge library of recipes and tips for cooking with the Augason products.
A 25-year shelf life on most of their products.
Cons
Cooking is required. You will need pots, pans, utensils, and a heat source to properly prepare the Augason products.
No samples are available. To be able to try out the Augason products you must purchase one of their smaller bundles
The buckets are hard to open with a special tool.
No resealable pouches.
5. Best Alternative Survival Food Kits – Valley Food Storage Review
If you want to carry your concerns about organic foods, non-GMO ingredients, and MSG-free food, then you should look to Valley Food Storage products.  This company offers a variety of individual survival food options as well as kits and bundles for families or groups.
Valley Good Storage has taken their survival thinking a step further with their Kid's Favorites Selections.  These additional kits include things like mac and cheese, freeze-dried fruits, and a host of other foods that will keep kids satisfied and happy.
Pros
Some of the best tasting pouch meals on the market
Valley Foods products are some of the highest nutritional value products available
Valley food products are available as individual pouches or in bundles.
Cons
Valley Good Storage products are a premium product.  Their food is great, but you will pay the price for that quality.
Unfortunately, Valley Foods Products are not available except through dealers or the Valley Food Website here. Our team performed a hands-on review of Valley Food which you can check out for more details.
=I admit it. I threw MRE's on the list out of nostalgia.  I have too many great memories of nights at a deer camp, or on the lake fishing, sitting around the fire and enjoying an MRE with my friends. It's a tradition I have carried on with my own kids and now, my grandkids.
There are some civilian versions of the military MRE's available. I prefer military issue products.  I have my favorites among the meal selections included in the cases.  One of my all-time favorites is the Mexican style Chicken Stew.
These shouldn't be considered long-term survival food kits.  Under the best storage conditions, you can only expect MRE's to retain their full nutritional value and flavor for ten years.  If they are stored where they are exposed to extremes of temperature, that can be shortened to 5 years.
However, for intermediate emergency food storage, MRE's are a great option.   Even now, I will grab one from my closet and head out to the park and sit by the lake, enjoy an MRE, and watch the sun go down.
Pros
Complete meal packages including sides, dessert, snacks, and condiments
Eat hot or cold. The meals are all fully prepared and ready to eat.  You can use the included heater pack to raise the temperature of the entrée.
High Calory counts. MRE's are designed to sustain military personnel during rigorous activity.
Cons
MRE's are heavy. Ready to eat meals have lots of water, and this drives up the weight.
Heavy on the Carbs. MRE's are designed to provide lots of calories, so you get lots of carbs.
Genuine US War Fighter Rations.

Ships lightning fast.

Serious MRE consumers who want the best, longest shelf life.

Check Price on

Amazon.com
---
Open Questions about Survival Food Kits…
What about Water?
Almost all of our picks require water to prepare the food.  This is true of any dehydrated of freeze-dried food.  Your long-term survival food kit plan should include the means to produce clean portable water for you and your family.  There are many good water filtration and purification systems on the market.
Where should I store my survival food?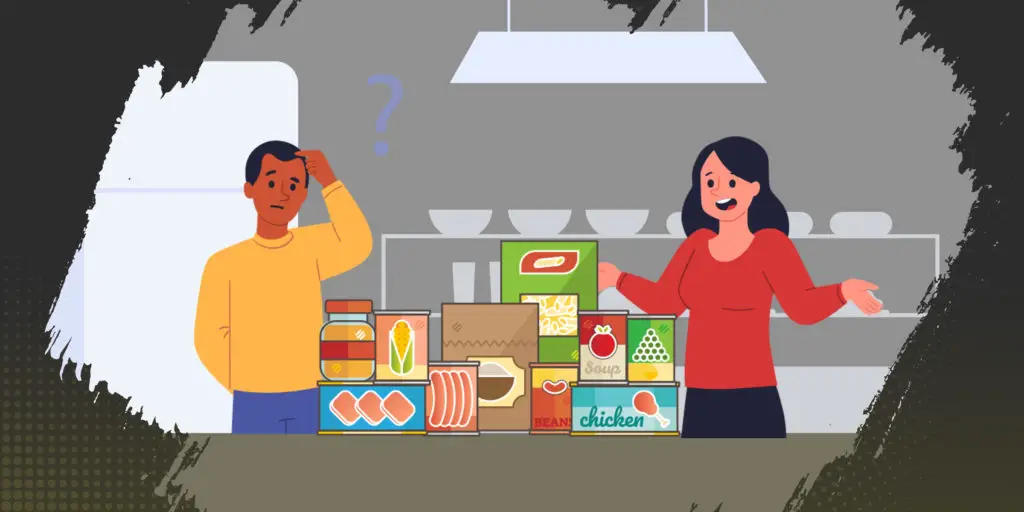 The enemy of any long term survival food product is temperature.  Any extremes in heat or cold can seriously compromise the quality and nutritional value of your stored food.  Each manufacturer has recommendations on how to best store your long term survival food, and you should follow those recommendations.
How much survival food do I need?
More than anything that depends on what you are planning?  Different scenarios in a plan require different approaches to deciding how much long term survival food storage is appropriate.  There are lots of questions to be answered.
Do you plan to bug-in and shelter in place or bug-out? (read more in our Urban Survival situation article)
How many people are you planning to feed?
How long do you plan to need to depend on your long term survival food cache?
Personally, I try to keep at least a 12-month cache of long term survival food in my cache all the time.  There are other extenuating circumstances that you may need to consider.  Planning a long term survival food storage system should be undertaken carefully.
---
As you begin exploring the emergency food kits
As you begin to plan and procure your long-term survival food kit, I hope that you now have a better understanding of what you should think about and what is on the market.  You are making a sizeable investment and you want to be sure that you are getting the best possible outcome for your money.
Our suggestion is the Wise Company.  From personal experience, I know their products to meet my three essential tests of being the best survival food kit.  The Wise kits meet the eatability test.  The meals are tasty.  As far as Sustainability, their packaging is superior and their 25-year shelf life meets my goals. You won't find a company that meets the affordability criteria better than Wise.