In recent years emergency preparedness has exploded and there are now quite a few companies that specialize in survival food. 
Survival food is food that requires no or minimal cooking and is prepared and packaged in such a way that it has an extremely long shelf life. 
In an emergency when surviving becomes a day to day proposition, the above are two key components for riding out a rough patch as it relates to food. 
Emergencies can range from a two-day stint without power from a bad storm to something far more reaching and devastating. 
Since we never know what may come our way it is best to be as prepared as possible when it comes to food. 
The ultimate answer would be for people to be as self-sufficient as possible in this regard. That would mean raising livestock, fish, or maintaining a large garden. 
Considering that most of the population lives within large towns and cities this is not an immediate answer to storing food, but it should be the goal. 
Without having a renewable food source, looking to survival foods is a good choice for always having a stockpile of consumables on hand. 
What To Look For In Survival Food
When deciding to buy survival food, there a few things to be aware of.
Taste
The first thing to keep in mind is that survival food is meant for surviving. It is not going to taste like food from a five-star restaurant.
Having said that, these products have come a long way in terms of taste. 
Many years ago, emergency food tasted awful. 
But now I have no problem opening a pouch or can and eating one of these meals. 
And that is a good thing considering this stuff does not last forever. This allows a person to eat some of their stockpiles while rotating it rather than it being thrown away.
Now that there are more companies to choose from and the food tastes better, I recommend getting samples or buying a single pouch before purchasing an entire case or bucket. This will allow you to see which brand you like the best before committing too much money to a single brand.
Shelf Life 
How long survival food lasts is the name of the game. 
If it does not taste that great that is okay because you are eating it to survive and not for pleasure. 
But when an emergency arises, often we do not have access to the power grid. 
This primarily affects our ability to refrigerate and freeze items. 
Depending on the company and the product they make, survival food can last anywhere from a few years to decades or more. The latter being the best option. 
Packaging
Generally, survival food comes in either a pouch or a can. 
This can depend on the food type, how it is prepared, and the company that sells it. 
Pouches are going to take up less space to store, can be resealable, are much easier to transport, but the packaging can be easily punctured. 
Metal cans are going to be more durable but will take up more space to store and difficult to transport. 
Be sure that you are considering the type of packaging when it comes to purchasing survival food and your emergency plans.
 Also, have plenty of manual can openers on hand if you are storing cans. 
Preparation 
The other consideration is how the food needs to be prepared before consuming it.
Most survival food can be eaten as is but following the preparation instructions will make it more palatable or easier to digest. 
MREs and some of the food canned in liquid only need to be warmed up. 
But the freeze-dried meals need the addition of water.
Typically, hot water is used because it makes it tastier. But in a pinch, cold water can be used to reconstitute it.
---
Best Survival Food Companies: My Three Picks 
Mountain House Review
This company can be traced back to providing meals for the United States Military during the Vietnam Conflict. 
These meals are so trusted that they have traveled to every corner of the Earth and have even been on trips to the Moon!
They are incredibly popular among outdoorsmen, hikers, survival minded individuals, and those wanting to be prepared for the unknown. 
These freeze-dried meals come in pouches, #10 cans, or buckets. This gives you the option of storing food in small amounts or bulk.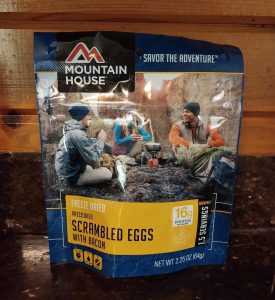 Mountain house foods include breakfast, entrees, desserts, sides, and meats. They have several options that almost anyone can find something they like. 
This food also lasts a long time. Most of their products have a 30-year guarantee. This does not only mean it lasts for that long but that it still tastes good after three decades!
When it is time to eat, all that it required is a little hot water and ten minutes of waiting. 
Pros
Tastes great
Variety of meals 
Variety of packaging 
Lasts decades 
Easy to prepare 
Cons
Pouches can puncture easily so take care how they are stored and transported
Last update on 2022-10-03 at 20:33 / Affiliate links / Images from Amazon Product Advertising API
We did more detailed reviews of Mountain House in this article.
Ready Wise Review
Ready Wise food is the only other freeze-dried product that I have tried that I have liked. 
They have a slightly different approach to how they make their meals.
They use a combination of freeze-dried and dehydrated ingredients in their meals. This can create a meal with a better taste or texture depending on the food item used. 
Their products boast a shelf life of up to twenty-five years and are as easy to make as adding a cup of hot water.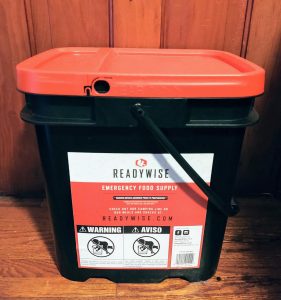 These meals come in individual pouches that are then packed into boxes or sturdy buckets. 
One perk to Ready Wise is that they offer a wide range of food products that include meals, vegetables, fruits, milk, eggs, and snacks. 
I recently made an order and here are some of the great tasting meals I received.
Pros
A large variety of food options 
Easy to prepare 
Affordable 
Comes in single pouches or sturdy buckets 
Up to a twenty-five-year shelf life
Cons
Pouches can be easily punctured so take care when storing or transporting them
Sale
Last update on 2022-10-03 at 20:33 / Affiliate links / Images from Amazon Product Advertising API
SURE-PAK from SOPAKCO Review
SOPAKCO is another company that has provided food for the United States Military as well as other government and emergency agencies.
This company manufactures a range of different packaged food but since I have only consumed their MREs that is what I am focusing on. 
MREs are different than freeze-dried food in that the food is placed into a pouch and then boiled. This sterilizes the contents of the pouch while the food within contains its moisture content. By retaining its moisture, the food can taste fresher than other survival food options.
Unlike freeze-dried food, MREs can be eaten straight out of the pouch much like canned food. However, some come with heaters that are activated by water, and who doesn't like a warm meal?
The MRES I have eaten by SOPAKCO are very good and provide an all-around comforting meal in part due to the extras provided. 
For example, in a SOPAKCO MRE I received:
An entrée
A side dish 
A dessert 
Bread or cracker
Spread such as peanut butter or jam
Napkin and eating utensil 
Powdered drink 
Condiments that included salt, pepper, sugar, and coffee creamer
Instant coffee
Heater (optional)
And a wet towelette for cleaning up
While MREs can be more expensive per meal, the convenience and number of items included outweigh the cost in my opinion. 
The two biggest downsides to MRES are their shelf life and size. 
When stored at optimal conditions of around fifty degrees Fahrenheit they are good for up to five years. 
Although when stored at one hundred and twenty degrees, which is quite warm, they are still good for about a month. 
Given how they are processed and all that is included in an MRE, they are a bit bulky and can be a paint to store in bulk.
Pros 
Taste great 
Variety of meal options available 
Can be eaten hot or cold 
A complete meal in one package 
Up to a five-year shelf life
Cons
Bulky to store and can be difficult to transport in quantity 
Short shelf life when compared to freeze-dried food
Not knowing the manufacture date before ordering will shorten the shelf life
Last update on 2022-10-03 at 20:33 / Affiliate links / Images from Amazon Product Advertising API
Other Good Survival Food Companies…
There are MANY brands of food out there. We have done reviews of the following as well:
Check out those reviews for more details.
---
Open Questions about Survival Food Brands
Q: Do survival foods go bad?
Most do not go bad in the traditional sense that they will make you sick if consumed after the expiration date. If they have surpassed the best by date, generally they are still good to eat but may not taste as good.
Q: Should I buy only MRES or only freeze-dried food?
This is a personal choice as it relates to your taste, budget, and storage capabilities. But I have found a mixture of the two provides more options in terms of preparation, transport, storage, and prevents menu fatigue. 
Q: Where should survival food be stored?
In almost every case, survival food should be stored in cool, dry locations, away from direct sunlight. But most manufacturers will provide instructions on their websites for how their food is best stored.
Q: Can I make survival food at home?
There are some types of food like hardtack and pemmican that you can make at home.
Overall though for a full diet, unless you are self-sufficient, these food packages are going to be your best bet.
---
Further Reading…
We recommend reading the following articles to get a better sense:
Also you can take a look into supplementing ready-to-go meals with emergency food bars
---
Wrapping It Up
One of the best options when it comes to survival food is having a renewable source that you can draw from and be self-reliant on.
But things can go sideways in a hurry and the survival foods, like those listed in this article, can help to fill gaps in your preparedness.
Thanks for reading and stay prepared!
Do you have any experience with companies featured in this article? If so please sound off in the comment section below and let us know!