When it comes to building a stockpile of survival food, canned food is going to be one of your best options.
Interestingly, I have met people who did not have an emergency supply of food in their homes because "That fancy survival food is too expensive!"
However, once I pointed out to them the perks of using canned food, they quickly changed their tune.
Whether you are unsure of what to purchase or just want to learn a little more about prepping with canned food, stick around as I share with you my buying guide pointers and 5 of my favorite canned food options!
What To Consider When Buying Canned Food
Before running out to the store, here are a few things to think about when it comes to prepping with canned food.
What Kind of Food
"What kind of food should I buy?" This is undoubtedly the first question people ask.
And my answer is super easy.
Open your kitchen cabinets and look to your shelves to see what food you already have. This food is what you like, what you buy, what you eat, and what your body is already used to.
An emergency stockpile of food is simply an expansion of what you already have.
If you like chicken noodle soup, then buy more of that.
If you do not like beans, then do not buy that.
Part of the reason you should buy what you like is that this food does not last forever and will need to be rotated at some point.
This means when it gets close to its expiration date you can eat it instead of throwing it away because you do not like it.
Mix It up!
You will want to have a variety of canned items stored away.
I know this kind of goes against what I said in the above section about only buying what you like but, hear me out.
If you only have one or two types of canned food stored away, you are going to quickly have menu fatigue, i.e. you will be bored.
The other reason is that you may not be receiving all of your nutritional needs with those two items. In a survival situation, you may have to hold your nose shut and eat something you do not like to make sure you are being nourished.
---
Why You Should Store Canned Food
Canned food makes great survival food for several reasons.
Cost
The first reason is that it is incredibly affordable. I recently went to the store and found chicken noodle soup on sale for eighty cents a can. I was able to put ten cans of soup in my cabinet for only eight dollars! But even when it is not on sale, canned food is still a cheap option.
If you shop around, you can find deals all the time. This is especially true at bulk stores where flats of canned food can be purchased.
Long Shelf Life
Most canned goods have expiration dates of at least a year if not two or more. And when stored properly canned goods can last well beyond their best by dates.
When the SHTF you may not be able to go to the store for the foreseeable future. Looking into your cabinets and seeing food that will remain good for years is a pretty darn good feeling.
No Refrigeration
When the SHTF you may not have power, which means no refrigeration.
The fact that canned food stays good for so long without refrigeration is a pretty sweet deal.
Storing cans properly in cool, dry, locations will help to extend their shelf life. 
No Cooking Required
Just like in the above section, you may not have the ability to use your appliances like a microwave or stove.
But no worries because canned food does not need to be cooked before eating. It can be eaten straight out of the can!
Storage
Since canned food does not require refrigeration, freezing, or special packaging steps, it is incredibly easy to store.
They can be bought at the store and placed in the basement or pantry as soon as you get home. It does not get much easier than that!
Different Sizes
One type of canned food may come in several different sizes.
This allows you to easily personalize portion sizes based on your needs.
But another reason to have different sizes of cans has nothing to do with portion sizes but the can itself.
After the contents have been eaten up, wash the can out and it can be used as a water collection device, a stove, security alarm, a means of transporting fire, a candle holder, and many more uses!
---
Best Canned Food For Survival: Top Picks
Below are five choices for canned food to stock up on. The choices are based more on the food type rather than the brand. So, substitute out brands or low sodium options based on what you and your family like. A meal that your family is used to can be very comforting during difficult times.
Beef stew is loaded with carbs, fat, and protein. Everything that a body needs.
Okay, not everything a body needs but it has large chunks of potatoes, carrots, and meat that will leave you filling full.
Other than being incredibly filling on its own It can be used as a base for other recipes. By serving it with rice or beans this two-pound can will feed several people.
Many people like beef stew for the above reasons. It is one of those meals that "sticks to your ribs," making you feel full throughout the day.
Here is another trick I have found with these large cans. A couple of cups of water can be added to them to thin the stew out without affecting flavor all that much. This will allow you to feed more people out of a single can and will help to cut down on the sodium content per serving.
Pros
Very filling
Can serve several people
Contains meat and vegetables
Can be used to flavor other dishes
Can be bought in large cans
Does not require additional water
Cons
When eating this cold much of the fat is solidified into chunks
Canned Food
DETAILS

Very filling.

Can serve several people.

Contains meat and vegetables.

Check Price on

Amazon.com
Ah, pork and beans, one of the staples of a prepper's pantry!
This is because they are a good source of fiber, taste great, and can be added to other foods.
I am sure they are out there but I have not met a prepper yet who doesn't have pork and beans in their cabinet.
The can in the photo are beans in tomato sauce but they do come in different flavors if tomato sauce is not your thing.
Pros
Filling
Good source of fiber
Has some fat and protein
Can be added to other dishes
Taste just as good cold as it does when it is warmed up
Cons
Too much fiber can cause "stomach" issues
There are quite a few different options to choose from such as chicken, sardines, kipper snacks, SPAM, and tuna.
I chose tuna because most of my family likes it. But other than liking it, tuna is a great source of protein, omega 3 fatty acids, and B vitamins.
Many people enjoy tuna and use it in various ways. Such as eating it right from the can, adding it to casseroles, or making a sandwich.
Pros
Provides protein
Can be added to a lot of different dishes
Can be made into sandwiches for a quick meal
Cons
Tuna does contain mercury which is why it is advised to only eat it once a week
Provides protein.

Can be added to a lot of different dishes.

Can be made into sandwiches for a quick meal.

Check Price on

Amazon.com
When fresh foods are not available, having some canned vegetables and fruits will help in receiving hard to get nutrients.
While canned vegetables and fruits do not have nearly as many nutrients as fresh ones do, getting some is better than nothing.
Canned vegetables are great to use as side dishes and fillers in the main meal.
The sweet taste of canned fruit will be a nice treat when you are only eating survival food and when other desserts are hard to come by. For a healthier option be sure to choose fruit that is canned in its juice and water instead of syrup.
Pros
Can be used to help fill in meals
Provide some nutrients other canned food does not
Cons
Not as healthy as fresh vegetables and fruit
While this can be eaten as a soup it is not all that filling.
The main reason I added this to the list is that it is great at flavoring or thickening other dishes.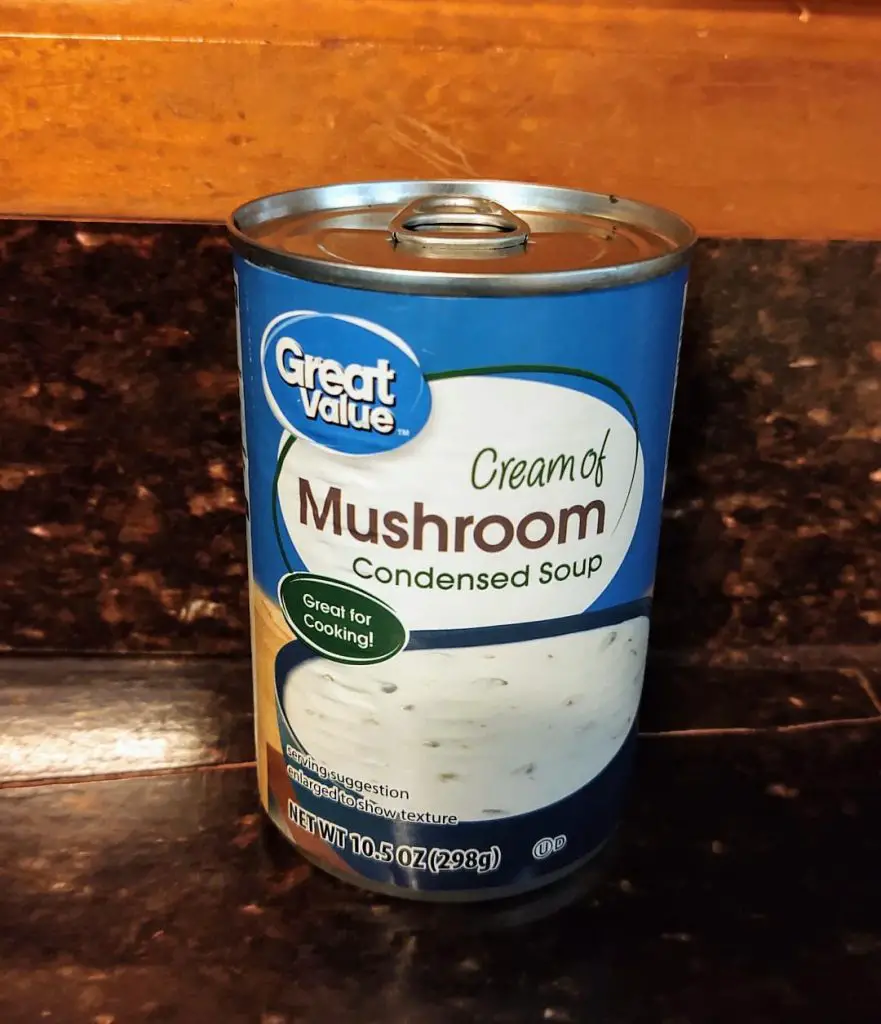 For example, noodles by themselves can be rather bland. But add a can of cream of mushroom soup to it and it instantly tastes much better!
This is another one of those canned items that almost everyone buys, making it a popular option to have stored with your survival food.
Pros
Adds flavor to many kinds of dishes
Can be used as a base or thickener for other soups or casseroles
Cons
Not filling by itself
Requires cooking for best results
---
Open questions about Survival Food Prepping
Can you eat cold soup?
Without a doubt, you can eat cold soup. In fact, all canned food is safe to eat right from the can. But warming or cooking it will make it tastier!
Are there any downfalls to eating canned food?
Yes. Many canned foods are not that healthy because they typically have a lot of preservatives such as sodium (salt) A diet consisting of only canned food is not recommended. But this is partly because our diets during normal times consist of fast food and other highly manufactured products.
Can you eat canned goods after their expiration date?
Most canned foods are still good well after their expiration date. Older canned food may not taste as fresh but can be perfectly fine to eat. Here are some signs that indicate a can of food should NOT be eaten.
Bulges anywhere on the can
Lids that can be pressed down and then pop up
Leaking cans
Rust on the outside or inside of the can
Dents near the seams or lid
Food smells bad upon opening
A loud hissing sound or food being pushed from the can upon opening
Any odd coloration to the food or liquid
---
Verdict
Canned food is a great way of beefing up survival food stores easily, cheaply, and quickly, not to mention they have a very long shelf life.
During a survival situation, canned food will provide the calories we need to keep going and to get work done.
If you plan on storing canned goods do not forget to purchase a manual can opener! Actually, it would be best to have several on hand. Thanks for reading and stay prepared! What are your favorite canned foods to store and why? Sound off in the comment section below and let us know!