Whether you are shopping for a flashlight for your everyday carry, your bug-out bag, or just an emergency survival flashlight for around the house, you want to make sure you have the most dependable light possible. You typically reach for a flashlight when things are not as they should be. The situation may be as simple as a burned-out light bulb in a dark closet or as dire as an area-wide disaster that has left all the public utilities compromised.  Either way, when you reach for that flashlight, you want it to work.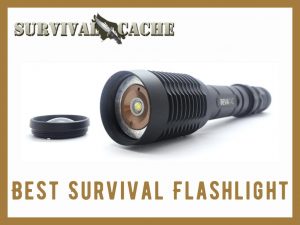 Depending on the situation, different flashlights fill different roles in a survival situation. There are also considerations about the type of light source, the battery, and the size that are important. Choosing that flashlight is crucial and, in some circumstances, can be lifesaving. Before we get into it, check out hand-picked products that I recommend:
Rated at 1200 lumens LED.

Compact size will fit anywhere

Comes with battery charger, and tactical storage case

View Latest Price

Charge battery using USB or Solar

Includes belt cutter, glass breaker, and phone charger

Perfect to place in your bag, vehicle, or home

View Latest Price
Best Survival Flashlight: Our Top 9 Picks
Let's get into the reviews!
1. Top Recommendation – EVATAC Pro-XML Flashlight Review (Best LED Flashlight)
The EVATAC Pro-XML is our #1 recommendation. Rated at 1200 lumens, this is a super bright LED flashlight at only around 4 inches in length. It's jam-packed with brightness but small enough to fit into an EDC, or go-bag.
The flashlight is powered by 18650 lithium-ion batteries. Overall, lithium baterries have a much longer life than typical lead acid batteries. You can change the settings to 5-different modes of operation: Full Light, Half Light, Low Light, SOS (perfect for emergency situations), and Strobe. I really love the fact they add a SOS feature; in critical situations, most people tend to "freeze" and having such a feature can really save you!
Compact at only 3.77 inches long and 1.3 inches wide

Made out of aircraft-grade aluminum body

Waterproof, freeze-proof, stainless, and rustproof!
Comes with a battery charger (no more dead batteries!), and a lock down hard case for storage.
SurvivalCache.com Exclusive Discount: EVATAC has provided our visitors with a special offer. For a limited time, these are on a liquidation sale! EVATAC ordered way too many and they want to sell them quickly. Get the discount by going here, or clicking below as well.
Rated at 1200 lumens LED.

Compact size will fit anywhere

Comes with battery charger, and tactical storage case

View Latest Price
2. Multi-tool Flashlight – Procharge Review
Multi-tool flashlights are becoming the norm. The Procharge light has a built-in battery that can be charged via USB or it's solar panels on the siding of the handle! You won't run of batter anytime soon with this one. The body of the flashlight is made of aircraft-grade aluminum.
It also has a built-in belt cutter, glass breaker, and phone charger. This is the #1 device to have in a crisis situation.
The Procharge has three modes of operations: high light, low light, and strobe light.
We at SurvivalCache.com recommend that if you are to buy a flashlight, it should have other features built-in to it. The Procharge fits our criteria perfectly!
Charge battery using USB or Solar

Includes belt cutter, glass breaker, and phone charger

Perfect to place in your bag, vehicle, or home

View Latest Price
For many of us, carrying a small tactical style flashlight as part of our everyday carry has become second nature.  In our world where light is available at the flick of a switch, many of us forget that darkness can happen almost instantly.  Large buildings, subways, movie theaters are just some of the places you may find yourself in the dark and with a need to find your way out.
Fenix came to the US market in 2005 and immediately caught the attention of the military and law enforcement community.  Attention to detail and the production of high lumen lights at a reasonable garnered Fenix a solid market share.  Fenix has continued to lead the industry with its innovative designs and engineering.
Fenix delivers on its reputation with some impressive features.
Produces 1,000 lumens for up to 2.75 hours
Low-level usage at 8 lumens can run for up to 140 hours
CREE XP-L(V5) LED
125 inches in diameter and 5.6 inches long, the PD35 flashlight is the perfect size for everyday carry.
Weighs only 4.2 ounces with the batteries
Waterproof
Advanced digitally control to regulate power output for consistent brightness
Multiple modes of operation for the best efficiency
Users consistently rate Fenix flashlights well.   The PD35 is no exception.
Pros
Incredibly bright.
Tough and durable all-aluminum construction
Can use rechargeable or regular batteries
Cons
Gets hot in a hurry at the highest illumination
Two-button controls can be confusing
In extremely cold weather, the LED may flicker
We chose the Fenix PD35 as our Best Overall EDC Survival Flashlight because it offers the best performance, durability, and features at the best price.  If you can only afford one survival flashlight to carry every day, the Fenix PD35 tactical flashlight should be in your pocket.
Incredibly bright.

Tough and durable all-aluminum construction

Can use rechargeable or regular batteries

Check Price on

Amazon.com
Without a doubt, the choice of lights by most military operators is the Surefire E2D Defender.  Across the board, when asked, law enforcement, military, and emergency first responders will choose the Surefire E2D to carry at work and at play.
Surefire has a long history of high-quality engineering and manufacturing, using only the best materials. The E2D is no exception.  This flashlight is often the standard against which other EDC flashlights are measured.  The list against which other flashlights face in the challenge is impressive.
Dual output functions for energy conservation
Delivers 1,000 lumens for 2.75 ours
At 5 lumens runtime is 63 hours
Crenelated strike bezel and scalloped tail cap for strike surface use
Mil-Spec hard-anodized aluminum construction
Dual function pocket clip
Single tail button control for easy manipulation even with gloves
You don't find many complaints about the Surefire E3D Ultra.  When you do, you almost always find that Surefire customer service was on top of the issue with a quick solution.
Pictures our team took of the product:
Pros
Can be rifle mounted with optional accessories
Intense bright light on high setting with a long runtime
Perfect size for everyday carry. Fits in a shirt pocket easily
Great distance and reach.
Cons
If you want the best, you can't get much better than the Surefire E2D Defender Ultra.  The only reason that the Surefire E2D isn't our overall top pick is the price.  You are going to pay a bit more to carry the Surefire E2D Ultra.  A lot of people do make that choice making the Surefire E2D a top seller.
Can be rifle mounted with optional accessories .

Intense bright light on high setting with a long runtime

Perfect size for everyday carry. Fits in a shirt pocket easily

Check Price on

Amazon.com
5. Best Standard Battery Survival Flashlight – Nitecore EA41 Review
Nitecore isn't as well-known as some of the other brands of survival flashlights, but they have quickly gained a reputation for producing gold flashlights with solid engineering.  The many designs and engineering awards the brand has garnered over the past few years is a testament to the emphasis Nitecore puts on quality and customer service.
The Nitecore EA41 offers the same sorts of features with one bonus.  Many users complain about the difficulty in finding the specialty batteries that many tactical EDC flashlights require.  Nitecore addresses that problem directly.  The Nitecore EA41 is designed to use standard AA batteries as its power source.
No more searching specialty stores for batteries.  The convenience of buying standard AA batteries makes the Nitecore EA41 a prime choice for many who are looking for an EDC survival flashlight.  Easy to find batteries is not the only standout feature of the Nitecore EA41 flashlight.
CREE XM-L2 US cool white or neutral white LED light
Uses 4 AA batteries
1020 lumens output with 1.75 hours of runtime
520 lumens yields 2.75 hours of runtime
Strobe, SOS and location beacon features built-in
Weighs only 5.33 ounces
Aircraft-grade aluminum construction
Dual switch operation
Integrated power indicator
While not too many people are familiar with the Nitecore line of flashlights. Those who have become users of these lights praise the durability and quality of these flashlights.
Pros
Switches offer an easy to use one-handed way to control the functions of the flashlight
Well-constructed and designed. Fits nicely in hand.
Very bright and gets good distance
Cons
Can't use lithium-ion rechargeable batteries
Careful when using the included holster that you don't accidentally turn on the light putting it back in.
The convenience of using standard AA batteries in your EDC flashlight is attractive to many people.  Unfortunately, many of the low-end, tactical style flashlights that use AA batteries just don't offer the light or the runtime necessary for an ESC flashlight.  The Nitecore EA41 has met that challenge and in a package that doesn't bust your budget.
CREE XM-L2 US cool white or neutral white LED light .

Uses 4 AA batteries.

1020 lumens output with 1.75 hours of runtime

Check Price on

Amazon.com
Say Smith and Wesson and almost everyone immediately thinks of guns with good reason.  With a history dating back to the early years of this country, Smith and Wesson have a proud history of producing some of the most iconic firearms in history.  Their reputation for quality is at the top of the ladder.
What most people don't realize is that Smith and Wesson also produce some of the best lines of tactical gear as well.   This includes flashlights.  Their Galaxy mid-sized flashlight is one of the most popular.  If you need a flashlight a bit bigger than a tactical EDC flashlight for your car, home, or gear bag, the Smith and Wesson Galaxy should fit the bill.
The Galaxy flashlight features a 12 LED array in a durable aluminum housing.  In addition to the 15-lumen flashlight, the LED array also houses red, blue, and green LEDs to allow just the right color setting for the conditions without having to fumble for lens filters.
Other features make this the best budget buy in a mid-sized flashlight.
Impact-resistant aluminum construction
Waterproof to 6 meters
Dual function switch system for mounted on the barrel of the flashlight for easy use.
5-hour runtime
Uses 3 AAA batteries
Limited Lifetime Warranty
Pros
Great flashlight for utility purposes.
The color LEDs a handy, especially the red for reading maps at night without ruining night vision
Uses AAA batteries which are easy to find
Cons
The light can be a little dim when using only the color mode LEDs
The design requires you to cycle through all the modes to get to a specific color. This can be distracting, especially at night.
The Smith and Wesson Galaxy is a great addition to a bug-out bag, get-home bag, or just to have handy for utility purposes.  It is not by any stretch of the imagination a tactical light.  However, everyone should have a good utility light in their kit.  The Smith and Wesson Galaxy handles that chore perfectly at a minimal cost.
Great flashlight for utility purposes.

The color LEDs a handy, especially the red for reading maps at night without ruining night vision.

Uses AAA batteries which are easy to find.

Check Price on

Amazon.com
Until the advent of LEDs and high capacity batteries, the mainstay of the flashlight industry was the D-cell flashlight.  The Maglite 3 D-cell flashlight was the choice of most emergency responders.   Law enforcement officers prized them because of their quality and dependability and the rugged construction that allowed the hefty flashlights to break windows as a self-defense weapon when necessary.
Now Maglite offers that same all-around useful flashlight in a modern version complete with multi-functional LED light.  The Maglite LED 3-Cell D light maintains the same utilitarian design and ruggedness with the capabilities for long run time and extremely bright lights.
To make the Maglite 3 D-cell light even more functional, Maglite offers three different configurations of features to fit the needs of almost any profession.  The function sets are designed for outdoor use, military use, and law enforcement use.
Water-resistant
625 lumens
High power setting gives 16 hours of runtime
Low power setting offers 77 hours of runtime
Eco mode runs up to 117 hours
Spot to flood adjustment in ¼ turn of the focusing head
Pros
Rugged and almost indestructible construction
Made 100% in the USA
The focus ability is essential in a full-sized flashlight. It makes this light much more versatile than comparable lights.
Cons
The Maglite LED #-Cell D Flashlight is the perfect flashlight to keep nearby in your home or in your vehicle.  It feels good in your hand and adds a measure of comfort, not just because it is a dependable and functional flashlight, but also because it has enough heft and strength to survive some intense encounters.
Rugged and almost indestructible construction .

The focus ability is essential in a full-sized flashlight. It makes this light much more versatile than comparable lights.

Made 100% in the USA.

Check Price on

Amazon.com
Sometimes an unconventional flashlight is a better solution and the Streamlight 90540 LED Right Angle Flashlight is a perfect example.  Designed for firefighters who need dependable and tough equipment that can survive extreme conditions, the Streamlight 90540 could also be the answer to your needs in a survival light.
Firefighters need to have light in early impenetrable smoke conditions and keep their hands free for other work.  The Streamlight is designed to hang from firefighter's protective gear, project light forward, and survive conditions most flashlights would find deadly.
These same sorts of conditions might be what you anticipate and having those capabilities in a flashlight the features you want.  You won't find yourself lacking if you chose the Streamlight 90540 flashlight.
Rubber protected push button is easy to manipulate with gloves
Uses either rechargeable NiCd batteries or 4 AA Alkaline batteries
C4 LED light source
High power, low power, emergency flash, and moonlight modes
175 lumens provide 405 meters of distance
5 hours runtime
Lexan lens
Waterproof
Pros
Tough and resilient
Bright orange case makes it easy to find
Bright beam on high and the moonlight mode is great in the tent when camping
Cons
Tough and resilient.

Bright orange case makes it easy to find.

Rubber protected push button is easy to manipulate with gloves .

Check Price on

Amazon.com
9. Best Headlamp Survival Flashlight – Fenix HM23 Review
Hand-free light is essential, especially in a survival situation.   Some jobs just require that you keep both hands free but have light exactly where you need it.  Often, the solution to the dilemma of hands-free with light is to employ a good headlamp.
No bug-out bag or get-home bag should be without a dependable headlamp.  The Fenix HM23 is a great solution to the problem of keeping hands free with available light. This headlamp from Fenix brings all the qualities we have come to expect from Fenix flashlights in an ergonomic design at a reasonable price.
The Fenix HM23 uses the same long-lasting LED system as the other Fenix flashlights. Fenix lights are noted for their durability and quality construction.  This has made them a mainstay in many people's EDC kits.  The Fenix HM23 doesn't lack the features we expect from Fenix lights.
CREE neutral white LED
Lightweight and compact
180-degree adjustable beam
Uses one AA Alkaline Battery
Waterproof
240 lumens on high setting with 8 hours of runtime
Digitally regulated output
One switch controls
Pros
Simple and easy to use controls
Lightweight and comfortable to wear for long periods
Great bright light and good distance on the beam
Cons
Don't expect 8 hours of runtime at full light output
Whether you are out fishing and need to tie on a new lure or deep in the wilderness and needing both hands to fix a broken backpack strap or administer first aid, a solid and dependable headlamp can be the difference in success or failure.  The Fenix HM23 is a superb choice for a headlamp whether the situation is recreation or survival.
---
What We Look for in a Survival Flashlight
Picking a survival flashlight can be an overwhelming job.  The market is flooded with LED flashlights, all claiming to be 'tactical,' 'survival,' or 'mil-spec."  In truth, very few of them should be assumed to meet any of these classifications.
As we considered our picks for the best survival flashlights, we looked at several criteria.
Lumen output
Features and modes
Quality of construction
Type of LED
Price
Our objective is to find the best combination of all these criteria in one package.  However, making such choices always involves compromise.  There may be areas in your needs for a survival flashlight that require no compromise in certain features or capabilities.  Always consider your needs above any other recommendations.
---
Survival/Tactical Flashlight Questions
What are Lumens?
To keep the answer simple, think of lumens as a measure of light that you can see.  The higher the lumen count, the brighter the light will appear to your eye.  Lumens have nothing to do with power, often associated with ratings in watts such as 60w.
How do LEDs Work?
LEDs or Light Emitting Diodes are a product of the semiconductor industry.  These small electronic parts have an interesting capability.  When electricity flows in a specific direction through the material of which the LED is made, the LED emits light.  LED's consume less power than conventional incandescent bulbs and produce much less heat.  Their life expectancy is many times that of conventional bulbs.
If LEDs Run Cooler Than Conventional Lights, How Come my LED Light Gets Hot?
Anything that produces light will get hot if driven hard enough.  When your LED flashlight is used at the highest setting, the lamp will produce heat, which is taken away from the bulb and the electronics by the body of the flashlight, which serves as a heat sink.  This is why good LED flashlights have a limiting technology that will only allow the flashlight to operate for a limited time at peak power.
How Many Lumens Should a Good Flashlight Have?
In a survival situation, any amount of light is better than none. But most flashlights today have an average output of around 100 lumens. Since this is the standard that is a good place to start. While more lumens do give more visibility, the trade-off is battery time. Typically, the more powerful a flashlight is the shorter its run time will be.
What is the Purpose of a Flashlight in a Survival Kit?
The primary purpose of a flashlight in a survival kit is to allow a person to see in low light conditions. This makes moving around in the dark possible and safer. The secondary purpose of a flashlight is that of a signaling device. The light emitted from a flashlight can easily be seen from great distances at night and aids in rescuing stranded individuals.
Do LED Flashlights Last Longer?
LEDs are among the longest-lasting types of flashlight available. Traditional incandescent bulbs used in a flashlight had a lifespan of roughly 1,000 hours. In comparison, a LED flashlight has a lifespan that runs into the tens of thousands of hours.
---
Before You Choose a Survival Flashlight
Everyone's needs and expectations of what a survival flashlight should do are different.  We feel that the selections we have made bring the best possible combination of features, capabilities, and prices to our list.   Before you choose from one of the best survival flashlights listed above, consider your own expectations, needs, and budget.  We hope that our suggestions make your decision easier and more informed.
Our recommendation is the EVATAC Pro-XML Flashlight.  The high lumen output and the features for the price make this tactical survival flashlight our choice for everyday carry and inclusion in our gear bags. 
Rated at 1200 lumens LED.

Compact size will fit anywhere

Comes with battery charger, and tactical storage case

View Latest Price

Charge battery using USB or Solar

Includes belt cutter, glass breaker, and phone charger

Perfect to place in your bag, vehicle, or home

View Latest Price