A good survival rifle provides a means for hunting and food gathering and self-defense. A great survival rifle is also affordable, lightweight, sufficiently accurate, easy to store and maintain, and comes chambered in an easy-to-find caliber.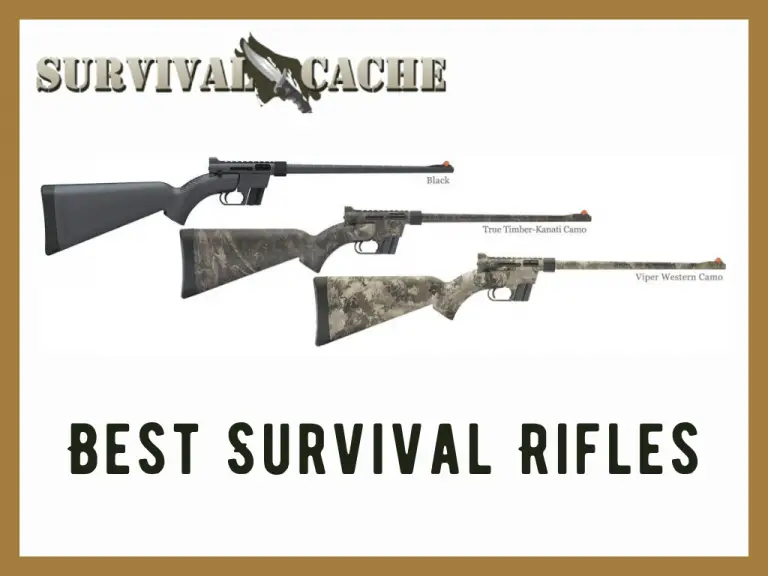 Thanks to new carbines and configurations, this category has grown from the likes of the ole' AR-7 Takedown to a plethora of different cartridges and rifles. We're comparing the top survival rifles of 2020, covering traditional breakdown rimfires, pistol-caliber carbines, the legendary 10/22, the AR, and more.
The Best Survival Rifle of 2021
1. Best 22 Survival Rifle – Ruger 10/22 TakeDown Review

In a nutshell: Ruger took the legendary 10/22 and made it a proper toolless break-down rifle.
It should be little surprise this comes as our first entrant: The Ruger 10/22 platform has long been favored by woodsman and survivalists for its legendary reliability, shoot-the-wings-off-a-fly accuracy, and its low price.
The TakeDown configuration of the 10/22 provides greater portability, allowing the rifle to be – as the name obviously implies – broken down into two portable halves. The barrel and front stock separate from the receiver, allowing the rifle to be stowed more easily in a carry bag or container.
Broken in two parts, the business end measures 18.5" from chamber to muzzle, and the receiver and buttstock end measures the same for a total length of 37". No tools are required to separate or reassemble the rifle, and the TD configuration doesn't depart from Ruger's parent design in any other way.
That means you still get to use the original rotary mag or 25-round magazine, and the TD can still use the same irons, optics, and accessories. Ruger also managed to keep the TD lightweight – it graces the scales at 4.7 pounds – by keeping the buttstock hollow and using plenty of polymer.
You'll pay around $80 to $100 over the standard wood-stock Ruger for the TD configuration (which often retails in the $250 price range) but Ruger is kind enough to throw in a ballistic nylon carry bag for storing your rifle and accessories or ammo.
Few other survival rifles can provide such a compact break-apart profile without sacrificing some measure of performance or function. For that alone, the 10/22 TakeDown is arguably one of the top choices on the market. We love it so much we wrote a full review and got a closer look.
We also compared the S&W 15-22 vs Ruger 10/22 as well.
Excellent Hunter's Rifle. Our Favorite!

Easy to assemble and disassemble

Easy to carry. Lightweight for a Rifle.

Check Price on

Brownells.com
2. Henry AR-7 Review

In a nutshell: The AR-7 is one of the most compact .22-cal. survival rifles ever made (and it floats!).
If you want a survival rifle that measures less than a foot-and-a-half when stowed, affords great accuracy out to 50 yards or more, and functions with a proper stick magazine, the Henry AR-7 is tough to beat. Originally fielded by U.S. Air Force pilots, the rifle now known officially as the U.S. Survival .22 is considered by many to be the original survival rifle. Developed by ArmaLite in the late 50s, the AR-7 is a true "emergency shooter" before anything else:
It sports no front stock or any other off-hand assist, it comes with a single thumb safety, the receiver is canted off-center to fit inside the buttstock, and there are no chamber-integrated feed ramps – the magazine itself provides the ramp.
The tradeoff is an incredibly lightweight rifle that weighs just 3.5 pounds loaded and measures only 16.5" when stowed inside its water-buoyant buttstock. Fully assembled, the Henry is still more compact than Ruger's finest, measuring 35" with a 16" barrel.
Cramming the whole gun into the stock means sacrificing some ammo. The OEM mags sport an 8-round capacity, though plenty of aftermarket mags are available on the cheap. We found there is some extra space inside the stock for a few extra rounds or a fire starter.
The Henry isn't just made for emergencies by configuration. It sports a rugged Teflon coating for the receiver, and the barrel is coated, too. The ABS plastic stock is impact-resistant and features a rubber O-ring seal in the chance it winds up in the wet. Adjustable sights with a bright orange blade make target acquisition easy in low light and the whole kit comes in at around $250. We dove into the AR-7 in greater detail and tested it out in a review.
3. Chiappa Little Badger Review
In a nutshell: The Little Badger is the simplest, lightest, and most affordable survival rifle, maybe ever.
The Henry AR-7 wasn't the only survival rifle to be fielded by the U.S. Military. A competing design dubbed the M6 Survival Weapon offered a single-shot, break-action rifle/shotgun combination that was even simpler. It had its flaws (we reviewed the M6 here) and was discontinued. Chiappa, the Italian arms maker, saw potential and took inspiration from the M6, improved on its roots and ran with it.
Intro the Little Badger.  This pencil-thin survival rifle is so small and simple, it's practically impossible to break it. Well, except for the break-top action. It's a single-shot rifle with no magazine like the M6 – and no complicated internals – to speak of.
It ditches any fixtures, pins and other baubles and bits to combine the break-action with the folding feature. Just pop it open and tuck the barrel underneath the stock, and it's ready for a backpack or storage, forming a 17" x 8" triangle. Some owners have reported swapping out the main bolt for a pull-tab hitch pin, allowing one to disassemble the rifle into two halves like the Ruger TakeDown.
The wireframe buttstock and minuscule receiver keep things as light as possible (the whole rifle weighs just 2.9 pounds loaded). The surprisingly well-considered adjustable iron sights mimic that of an A2-block M16, paired with a 16.5" barrel to provide excellent accuracy. A beautifully simple bandolier is built into the end of the stock, allowing one to store up to 12 rounds of ammo. Chambers come available in good ole' .22 LR, .22 WMR, .17 HMR, and the incredibly quirky 9mm Flobert shotshell.
Chiappa recognized the Little Badger may be too simple for some, so they provided plenty of rail estate for adding a pistol grip behind the trigger housing and a small glass optic or red dot up top. The wire frame's perfect for creative bushcrafters who may want to stow away a few yards' worth of paracord or a hunting knife with a sheath, too. The Little Badger comes in under the $200 price point, making it the most affordable entrant you'll see on our list.
4. Savage Model 42 TakeDown Review
In a nutshell: You like the Badger's profile but want a rifle/shotgun combo for birds and bigger game.
Most ultralight break-down rifles are stuck with small rimfire chambers. That's no good if you're hunting small boar, deer, or you're trying to take some birds. The Savage Model 42 TakeDown is the M6 Survival Weapon in spirit, offering a break-top action with a .410 and .22-LR/.22 Magnum chamber.
Obviously, a 20-gauge isn't ideal for taking a trophy elk or big buck during your regularly scheduled season. But a .410 slug has a great chance of putting the typical deer down inside 100 yards with the right shot placement.
The .410 shotshell was also practically made for calling birds no matter where you may find yourself, and feathers are always in abundance where other game may hide. That makes for an easy meal with a single trigger pull. Varmint doesn't get left out either, again thanks to the .22 sitting atop the smoothbore.
For double barrels, the Model 42 weighs 6.1 pounds. That makes it the heaviest of the breakdown rifles. But it compensates with what most reviewers say is amazing accuracy. Both barrels measure 20" while overall length stays relatively compact at 25.5" when folded. Folding is toolless with a button push.
The Model 42 manages to stay small and compact like the other entrants on our list, but Savage kept things comfortable: The 42 features a proper synthetic buttstock with rubber recoil pad and ergonomic foregrip with ambidextrous thumb grooves. Factory sights are simple open leafs, but the top of the receiver accommodates a scope or red dot base.
Make sure to check out top picks for prism scopes that go well with these rifles.
5. KelTec SUB2000 Review

In a nutshell: The SUB2000 is a PCC that's small like a proper survival rifle with high ammo capacity.
Varmint rounds like the .22 family are great if you want to carry a rifle that's small, simple, and compact, but pistol calibers can afford all the same benefits and provide plenty of extra power. That's the approach KelTec took with their folding SUB2000 pistol carbine.
At just 4.25 pounds it's still lighter than Ruger's 10/22 and comes with a 15-round grip magazine like a traditional handgun. Aftermarket mags can pump up total capacity to whopping 40 or 50 rounds. It's also just as compact (if not more so) than most survival rifles: Locked and loaded it measures just 29.5" and it hunkers down to a respectable 16" when folded in half. Barrel length is 16.1" and the chamber's available in 9mm or .40 S&W.
Blowback operation keeps the rifle reliable, and the quick-burning powder of those pistol cartridges means you're getting max velocity and excellent accuracy out to 150 yards. KelTec included small features like a spring-loaded collar that ensures the barrel is tight against the receiver when unfolded.
Heavy-duty hardware keeps the firing pin and extractor seated and the recoil spring is captured to an operating rod with a buffer much like the high-end JP Silent Springs you'd find on a custom AR. Folding is simple and toolless, too – just pull down on the trigger guard to unlock the receiver from the barrel and swing the barrel up over top the buttstock.
A folding rear sight and front open-leaf sight come standard, with some rails on the forward stock to add a light or other accessory. The buttstock is simple but it does adjust. If you're a Glock owner, you'll be happy to learn you can pick up the SUB2000 configured for Glock magazines. Or you can stick with KelTec's OEM mags. The SUB2000 can be had for prices ranging from $360 to $420, depending on color and caliber.
6. KelTec SU16 Review
In a nutshell: The SU16 takes the folding rifle and adds power with a 5.56 NATO chamber and mag.
The break-down rifle category's filled with small .22-rimfire chambers, but KelTec once again departed from the norm and introduced the SU16 with a beefier 5.56 NATO coming down the business end.
This folding survival shooter also comes packed with some surprising features you'd normally find on a typical high-end tactical rifle: A gas piston-operated AR bolt and extractor with side charging handle, a standard AR-15 mag well for 30 rounds down the tube, a crisp trigger, comfortable polymer handguard that doubles as a fold-out bipod, adjustable irons and a factory rail for glass or red dots.
Variants of the SU16 come with even more features: a thicker buttstock capable of holding two additional magazines, a carbine version with a quad rail handguard, an AR-style buffer tube with an adjustable stock, and a ½x28 threaded muzzle for your favorite suppressor. Of course, final price ticks up with every additional bell and whistle.
But the base price of around $500-$600 for what amounts to a gas-operated black rifle that folds down to just 26.4" is one helluva deal. Standard barrel length is 18.5" with a 1:7 twist, affording maximal velocity and accuracy. That fast twist rate handles the most common 55-grain and 62-grain loads but favors heavier 77- to 90-grain loads (which is what you should be shooting if you're trying to take some game, anyway).
Total weight for the lightest folding variant –the SU16C – manages to stay at just 4.7 pounds, impressive for any gas piston rifle. In fact, that's as light as the Ruger TakeDown, and much lighter than the typical AR-15 and AK-47.
7. Best All Around Survival Rifle – The Good Ole' AR-15 Review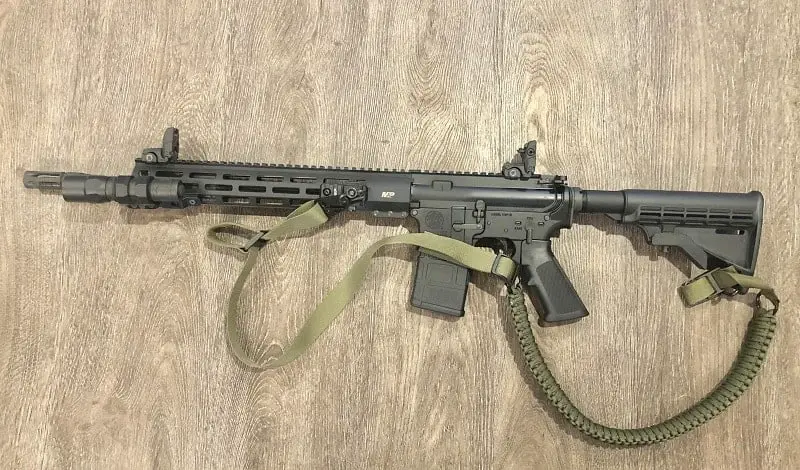 In a nutshell: You knew this was coming: The AR's light, rugged, accurate, proven, and popular.
The AR-15 is not foldable and under normal circumstances, it won't fit in a tiny little satchel like an AR-7. But it is the direct descendant of the U.S. Military's most popular weapon platform, and today, it is the single-most popular firearm sold in America. Check out our six-part piece on why that's the case (and how to build one).
The AR-15 is one of the best survival rifles for a few reasons: It's still compact, its reliability and ruggedness now rivals that of the stick-'er-in-the-mud Kalashnikov, and the aftermarket's plethora of parts – to include break-apart barrels and buttstocks – make the black rifle capable of being stowed and performing perhaps better than any other entrant on this list.
Thanks to polymer receivers, skeletonized handguards and bolts, and high-strength pencil barrels, ultralight ARs can be had under 4 pounds for the relative cheap. Sure, it'll cost you more than a $250 rimfire. But if you're skipping all the usual breakdown .22's and gunning for the AR-15, chances are you're willing to spend two to three times the cost of a simple Ruger or Henry. That brings us back to one of the big selling points:
We're sizing up this rifle piecemeal because most owners build, not buy. The AR-15's overly saturated parts market means you can grab a 28-oz. barrel for around $175. Pair it with a cheap but reliable mil-spec upper and lower and a solid parts kit for around $150 more. Grab a lightweight handguard for $50. Even if you splurge and spend $250 on that nifty folding buttstock, you're just over $600.
Stick with a "run of the mill" AR and you'll still get about 1 MOA of accuracy at 100 yards and an easily stowable rifle (the standard setup still breaks apart at the upper and lower receiver) for under $500. Don't like the government knowing what kit and gear you've got? Grab an 80% lower and you can put together your AR completely off the books. Many preppers and survivalists do. Ammo is affordable and available aplenty, and you can effectively take most game with shots out past 200 yards.
Good Characteristics of a Survival Rifle
Generally, most rifles with the label "survival," are takedown rifles. This means they are easily disassembled and assembled which is great for those wanting to pack a rifle without having it displayed all time.
Often the process of assembly and takedown are done with minimal or zero tools. This makes the process much quicker, easier, and without the need for carrying an extra tool bag.
Lastly, since these survival rifles are meant for specific situations, they are usually designed in such a way as to reduce weight and are constructed out of lightweight materials.
When "ounces become pounds," these lightweight designs and materials make carrying a rifle much less burdensome. 
Bad Characteristics of a Survival Rifle
Not all the characteristics of a survival rifle are great. Some survival rifles are smaller than their counterparts. This makes them more compact and easier to transport. But when assembled and ready to use, they can be noticeably shorter and smaller which does not make them as comfortable to operate.
Due to the fact that some survival rifles are designed to be easily taken down, the areas in which the pieces are connected can become weak points. This coupled with other design features and materials means a survival rifle may not be as durable as a regular rifle.
What is the best survival rifle caliber?
I will try to make this as brief as possible, as this is an age-old debate among firearm enthusiasts and not just as it pertains to survival situations. There are many different types of ammunition out there and some are certainly better suited than others at specific tasks.
I am not going to be able to tell you what the best survival caliber is but I can give you two questions that you need to answer for yourself that should help you choose.
In a survival situation, a firearm is going to be used for two purposes. Protection and procuring food. In the region you are preparing to survive in ask yourself the two following questions.
What do I need to protect myself from?
What is the most abundant food source that I will be going after?
For example, if you are going to be in a region with large predators such as a polar bear, or large non-predators such as a moose, then a larger caliber may be more appropriate.
On the opposite end of that spectrum, if you are in a region with small predators and an abundance of small game that will be used as a food source, then a smaller caliber may be more appropriate.