We are all aware of the concept of the Bug Out Bag, but there are times when our Bug Out Bags is at home and we are not. Usually, this is because we spend a good amount of our lives having to go to our workplace or outdoors. It is not realistic to be able to bug out at a moment's notice while at the office so in the event of a critical incident, we need to get home to either bug out of or bug in.
Where to Start?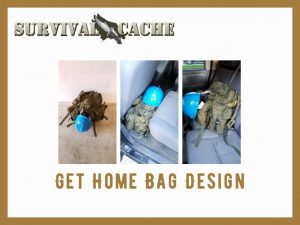 First step is to determine what probable disasters may cause you to have to use your get home bag. Where I am in the Pacific Northwest, earthquakes are my main concern. This is why my personal get home bag is geared towards walking home after a major shaker.
Before building you Get Home Bag (GHB) ask yourself the following questions:
Where is the furthest location that I will reasonably expect to be when a disaster strikes?
Of all the places I regularly frequent what obstacles would stand in my way from getting home?
Is it even possible to walk home?
Most of us spend eight hours a day at work (make sure to have a car survival kit as well), and some of us commute hours each day to get to their place of employment. One of the first considerations that you should have is how possible it is to walk home from your workplace because in some cases walking home is not going to be an option or it will have to take several days to accomplish. 
For more information, we did a thorough write-up on the differences between Bug Out Bags vs Get Home Bags vs INCH bags. It is crucial to understand the differences.
---
Bag To Be Used For A Get Home Bag
This is what holds all your stuff so it needs to not only hold everything but be comfortable and durable. One thing that can be useful is to have a bag that has multiple pouches and compartments so you can organize all your kit for easy and quick access.
When it comes to capacity you should gather all the stuff you want to carry and then get a bag that will easily hold all the items with room to spare.
You may want to consider purchasing a backpack that is non-tactical and does not look like it is expensive. This is so you can be a 'grey man' and blend into the crowd not drawing attention to yourself. My personal Get Home Bag is an old ratty ALICE pack which I am sure will not draw too much attention when I'm picking my way through the rubble after a major seismic event.
Overall, if you are looking for a useable backpack, we recommend the following below:
Our Favorite Bag

10.6 gal/40L storage capacity. Weighs 2.4 lbs.

10 seperate waterproof compartments

View Latest Price
For further details, read our survival backpack guide.
---
10 Types of Gear To Include in a Get Home Bag
Shelter
Speed is the name of the game when it comes to Get Home Bags. Your shelter kit should be small, lightweight, and offer rapid deployment. I like to run with a SOL 2 person emergency blanket and another one-person emergency blanket. I've got a length of paracord rigged with some prusik loops and some tent stakes. I throw in a Bic lighter with duct tape wrapped around it as a fire kit.
An emergency Bivvy sack would be a good option for shelter as well. Remember that this is a get home bag and not a bug out bag so keeping it really lightweight is essential.
Clothes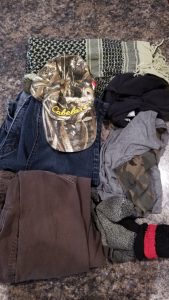 If you wear a suit to the office make sure you have a comfortable change of clothes that you can hike home in. You'll need to adjust these clothes according to the season and some diligence and planning are going to be required here.
Make sure that you pack a full change of clothes including any warm layers. Don't forget your feet, the shoes that you go to the office in are probably not suitable to hike home with. Remember to keep rotating your footwear according to the seasons.
Check out our top picks for footwear.
Water
This depends on how far the hike is going to be and also how much weight it is reasonable for you to carry. Depending on the situation you may want to acquire and filter water from streams, creeks, or rivers, but remember that in an urban environment you may have to be concerned about chemical and heavy metal contamination. Some things to consider packing would be:
Stainless Steel Water Bottle
Water Filter
Purification Tablets
Collapsible Water Bladder
Stainless Steel Nesting Cup
Brew Kit with Coffee, Tea, Bullion, sports drink mixes etc
Food
This is very individual. I don't pack any food in my Get Home Bag since I work so close to home and practice intermittent fasting on a daily basis. For most people, food is going to be a consideration even if the walk is going to only last a few hours where high energy calorie-dense bars would be a good option. Try to avoid carrying food that needs to be prepared or cooked, this only adds weight which will slow you down.
PPE
Remember what the air looked like during 9/11?  Protecting yourself from dust and debris is crucial when walking back home after a major disaster. Think about protecting your eyes, lungs, head, feet, and skin. I like to have a half-mask respirator, work gloves, safety glasses, a high-vis vest, and a hard hat. You may want to consider steel toe safety footwear as well.
Here's a few PPE items to consider packing.
Safety glasses or goggles
Respirator of at least N95 but preferably P100 better to use a properly fitted half mask respirator than a dust mask
Cut resistant work gloves
Hardhat
Steel toe boots
Ear plugs
High-Vis Vest
Communication Gear
This is a bit tricky. Chances are good that the cellphone networks will be down and the store-bought FRS/GRMS radios don't have the range to be useful. While it is possible to purchase VHF handheld radios, it is not legal to use them without a license. If you are properly licensed then it may be possible to send a check-in message through a local repeater back home. If you are not licensed then doing so would be illegal.
A portable AM/FM/Shortwave/Weather Radio should be in everyone's Get Home Bag. You can opt for the battery-operated types or the hand crank emergency ones. This is an item that will keep you up to date and in the loop as far as what is going on in your area.
A radio scanner is something that will help keep you informed while on the move as well. The problem with these is that you need to figure out and program all the frequencies for your area before disaster strikes.
Read our guide on HAM radios.
Tools
Whatever vehicle you drive should have a basic tool kit in it and your get home bag should have a few tools as well. Think about what you may have to do to get from A to B and ask yourself what tools would be nice to have. Everyone's skill level and the situations are different but here are a few that you should consider that I like to have on hand.
Fixed blade knife
Zap straps
Headlamp and flashlight
Paracord
Protection
This is another touchy subject when it comes to preparedness. For example, here in Canada, our firearms laws prohibit concealed carry of handguns. There are also a lot of laws that limit what citizens can carry and do in terms of self-defense.
When it comes to close personal protection you are going to have to decide what you are legally allowed to carry and do and what your personal comfort level is in regard to going outside of those laws.
Training is also key when it comes to personal protection if you are not proficient in the effective use of a weapon do not pack it. If you choose to carry a firearm make sure that you have some extra mags and an effective means of carrying it concealed.
First Aid
First aid kits are totally useless if you do not know how to perform first aid properly. There are people running around out there with decompression needles and tourniquets having only ever watched a couple of YouTube videos on the subject.
Build your first aid kit around your training and if your training is inadequate then improve it before adding any new items to your kit.
Some items that will be good to have post disaster are:
Sam splints
Tourniquets
Abdominal dressings
Crepe Bandages
Chest seals
Triangle bandages
Saline solution
Miscellaneous
A few extra things to think about putting in your get home bag are items that would help you out day to day in the very minor emergency situations that befall you.
Solar battery banks
Sewing kit
Cash and coins
Wet wipes
Hand sanitizer
Paper and pencil
Garbage Bags
Sunscreen
Small hygiene kit with toothbrush, toothpaste, floss, and soap
Hard candies, gum, or mints
A Get Home Bag should be with you always and if you are also using it for day to day necessities then you are more likely to maintain the contents and make sure everything is always ready to go.
---
Further Reading…
Our team put together more resources to help you plan your GHB better. Check them out:
---
Final Thoughts
A Get Home Bag helps you to get home to your family and your survival preps. When SHTF you have to be thinking about getting home in the quickest and most efficient manner possible. Some of you are lucky like me and work only a few kilometers from home wherein the worst-case scenario would take only a couple of hours to walk home. Others will be facing a potential multi-day hike to return home.
The most important take away should be that a Get Home Bag needs to be crafted and tailored to your individual situation and skill level.