Three things come to my mind when I start talking about survival situations.  Without these three things, any chance of long-term survival is impossible. My list of the three things I must consider first are
In this article, I will cover shelter using the best survival sleeping bags. Let's get to the reviews. In a hurry? Check out my top picks:
Last update on 2021-10-19 at 23:22 / Affiliate links / Images from Amazon Product Advertising API
What do I use?
My choice for a sleep system is the US Military 3-piece sleep system. This system is made up of a lightweight patrol sleeping bag, an intermediate cold sleeping bag, and a Gore-Tex bivy cover.  This sleep system offers me a wide range of options and possibilities
Lightweight Patrol Bag – The lightweight patrol bag is a summer weight mummy-style sleeping bag that is rated to 35 degrees Fahrenheit.  This bag is lightweight and packs down to an extremely small size.  This bag is great for late spring through early fall, especially when combined with the bivy cover for extra environmental protection.
Intermediate bag – The intermediate bag of the US Military sleep system provides cold weather protection down to 5 degrees Fahrenheit.  In all but the most extreme conditions, this bag makes sleeping comfortable.
Combined Bags – The two bags are designed to snap together to provide warmth down to -30 degrees Fahrenheit.  When the bivy cover is also used, the combined bags create an extreme weather sleep system that will take you almost anywhere in the continental US.
The Bivy Bag – I consider the bivy bag to almost be a shelter, not just a part of the sleep system.  The bivy bag is made of Gore-Tex, which provides elemental protection yet allows the interior sleeping bags to breathe for maximum comfort. The bivy bag can be used with any of the other parts of the sleep system individually or combined.
I have used this sleep system from the extremes of West Texas summers to the cold of the Rocky Mountains alpine conditions.   The complete system is a little heavier than most other bags, but the advantage of a customizable system that can be used in any climate makes this a pick for me.
I also like the bivy cover that is included with this system.  I have slept comfortably in almost all conditions with just the bag and the bivy cover. 
---
My Picks of the Best Survival Sleeping Bags
1. Best Down Filled Survival Sleeping Bag – ZPACKS Solo Quilt Review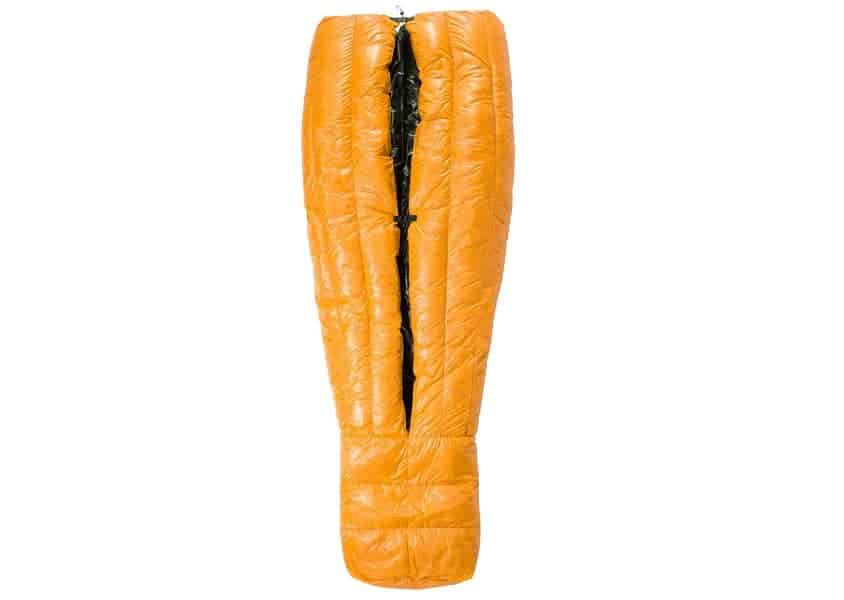 Down is the choice of filler when considering sleeping bags.  It is lighter and offers better insulation than synthetic fillers.  On the other hand, if you anticipate lots of water in your survival future, down may not be a good choice.  Once wet, down loses all its insulating ability and becomes one heavy flat dead weight.
However, if you want the lightweight and superior insulating properties of down in a survival bag, my choice is the ZPACKS Solo Quilt style bag.  ZPACK offers these bags in sizes that will fit all but the tallest of individuals and in a range of temperature options.  The features list is impressive as well
DownTek water-resistant treatment on the 900-fill power goose down filling helps keep the down dry 90% longer than untreated down. 
The compartmented design keeps the down in place and prevents lumps and bumps from forming.
Vertical baffles in the compartments keep the down where it should be and prevents side shifts as you lay and roll in the bag.
Rectangular foot box for more comfort and more warmth
The quilt style of this bag has a flat clip in the center to help keep the bag closed as you move.  Zippered styles of the ZPACK Solo feature either a ¾ or full-length zipper
ZPACK includes a roll-top dry bag with the Solo sleeping bag. 
All ZPACK products carry a two-year limited warranty.
Pros
The ability to choose from a variety of styles, sizes, and temperature ranges make this a versatile bag to fit almost any climate or need.
Convenient hang strap on the foot of the bag for storage
Weighs on 20 ounces and when packed takes up only 7" x 13"
Cons
If down isn't in your budget or you are anticipating having to deal with lots of rain or possible wet situations, a synthetic bag may be a better choice.  Synthetic fill dries quicker than down and still retain some insulating qualities even when wet.  The trade-off is a bit more weight and less insulation for the same amount of fill.
The Big Agness Pin Ears 20 Degree bag offers some of the best performance and quality of any survival style sleeping bag on the market.  If you aren't expecting to have to deal with Everest like conditions, the Big Agnes bag should serve you well.   The features you get with this bag are impressive.
Flex Pad sleeve keeps your sleeping pad in place no matter how much you move
Free-range hood provides lots of head movement while maintaining a snug fit to your face.
Internal hood drawcord
Free Range foot box for comfort and warmth
Anti-snag zippers
Hanging loops for storage and drying
Includes a mesh storage bag and a stuff bag
Weighs 3lbs. 3oz.
Compresses to 8" x 9.5"
Pros
Big enough for anyone except truly tall and large people
Easy to get into and out of
The sleeping pad pocket keeps your sleeping pad in place all night.  No more rolling onto the ground
Pillow barn keeps your pillow in place all night
Cons
Requires a sleeping pad.  There is no insulation on the bottom of the bag
Last update on 2021-10-19 at 23:22 / Affiliate links / Images from Amazon Product Advertising API
I have a son-in-law who stands 6' 4".  Finding a sleeping bag of reasonable quality that didn't weight 12 lbs. was a challenge until I found the Teton Sports LEEF Mummy bag.  This high-quality bag uses Polarlite Micro Insulation and a P5 poly liner to ensure comfort down to zero degrees Fahrenheit. 
If you are looking for a mummy-style bag that doesn't break your budget yet provides all the features you need in a survival bag, including lightweight and a small package, you should consider this bag.  Looking at the features reveals an impressive list.
87-inch overall length
34 inches at the shoulders
22 inches at the foot box
Weighs only 4.2 lbs.
Packs down to 14 inches x 8 inches x 8 inches
Includes a stuff sack with drawstring closure
Ripstop nylon shell
Micro-poly liner
Hanging loops for storage
Lifetime warranty
Rated to zero degrees Fahrenheit
Pros
Durable and lightweight for its size
Roomy and comfortable for the biggest person
The ventilated foot box makes this an easy choice as a year-round bag
Extra padding and insulation on those "hot" spots that often get cold or hard
Cons
Not an extreme conditions bag
Working the zipper can be a challenge
Last update on 2021-10-19 at 23:22 / Affiliate links / Images from Amazon Product Advertising API
Budget can be a big restraint for many of us when we start putting together our kits.  Fortunately, there are some good reasonably priced sleeping bags on the market.  There are some trade-offs when you start looking at lower-priced sleeping bags. Finding the balance between budget and the right features can be a challenge.
Coleman has stepped up with an answer to this challenge.  The Coleman North Rim mummy bag is a great balance of features and price.  You can get into a decent mummy-style survival sleeping bag for less than $50 with this bag.  The low price doesn't mean you have to go without the more important features of a survival sleeping bag.
Listed as a zero-degree bag
Polyester ripstop cover and lining
Adjustable drawstring hood
Quilted construction
Full-length draft tube
Box-shaped foot
Fits heights up to 6' 2"
Two-way zipper allows you to vent the foot box on warm nights
Includes a stuff sack
5-year limited warranty
Pros
Great balance of features and price
Built roomy enough for taller people
Generous foot box for comfort and warmth
The ZipPlow system prevents zipper snags and overruns
Cons
A little bulkier than most other bags
Last update on 2021-10-19 at 23:22 / Affiliate links / Images from Amazon Product Advertising API
Water and food are obvious.  Anyone who has given even a minutes thought to a survival situation knows that food and water are essential.  What many people fail to consider is the shelter aspect.  For me, shelter goes beyond a tent.  Shelter, for me, is the means to keep warm and dry and to rest.
---
The Issue of Staying Healthy
You cannot survive if you can't keep yourself healthy and a large part of staying healthy in any stressful situation is the means to rest.  Being able to sleep comfortably and adequately is an often-overlooked part of any survival situation.  Lack of sleep, or sleep deprivation, quickly begins to take both a mental and a physical toll on your body.  In a survival situation, this can begin to reduce your survival chances in a matter of just a few hours.
---
Planning for Rest
Making rest a part of your survival plan is a good idea.  Part of that planning is making sure that you have the proper kit to ensure that you can rest.  This is where a shelter kit becomes important.  At a minimum, your shelter kit should include:
Tent or something that protects you from the elements
Sleeping bag
My focus in this article was the second item, sleeping bags.  There are several things to consider when you start choosing a sleeping bag for survival situations.  Briefly, the most important of those things are
The climate you anticipate- Obviously, someone planning a survival kit for the Arizona desert has different conditions to deal with than someone who anticipates having to bug out into the conditions that might occur in the Rocky Mountains in winter.  Carefully consider what you may be facing as far as weather and conditions.
Weight – If you are planning on moving on foot for any length of time, weight becomes a critical consideration.  If your plan is to bugout by vehicle, weight may not be as big an issue, but size certainly does figure into the equation.
Quality – Remember that just like the other pieces of essential gear that you may be depending on to stay alive, your sleeping bag deserves that same consideration.  Your overall health depends on how well you can sleep and rest. 
Comfort – Just like your boots, your sleeping bag needs to fit.   If you are 6' 4" and your sleeping bag only accommodates someone 6', you are not going to get any rest.  Quality sleeping bags can be fitted almost like clothing.  Find a bag that fits you.
---
FAQ's
Do I need two bags, one for summer and one for winter?
That depends a lot on the climate you anticipate where you may have to survive.  In most of the United States, a good sleeping bag designed to operate down to 15 degrees Fahrenheit should perform for you year-round.  Remember that when sleeping, cold is your enemy not heat.
Which is better, a mummy-style bag or a rectangular bag?
If your concern is a survival style sleeping bag, the overriding issues are weight and size, especially if you may have to depend on your feet and legs for transportation.  If you are carrying everything you need to survive, weight and size matter.  Mummy bags tend to be more efficient on both weights and packed size than traditional rectangular bags.  This makes mummy-style bags the definitive choice in my book.
Can't I just depend on my blanket and clothing?
If you are a real bushcrafter, you can sleep quite well and quite comfortable with a blanket and a prepared bed made from local materials.  However, this takes skill and lots of practice to perfect and still may not offer you the comfort and protection you need if the weather turns extreme.  For your survivability, the addition of a good mummy-style bag to your kit could make the difference.
I read that my sleeping bag should not be stored in the stuff sack.  Is this true?
Yes, it is!  Storing down or synthetic fill will cause the fill material to eventually lose its insulating properties.  The long the fill stays compressed, the less it will fluff back up when it is unrolled.  The eventually turn your sleeping bag into a mass of lumpy non-insulating junk.  Your bag will last much longer and provide better service if it is hung by the attached straps or loops in a closet.
---
---
Getting the Best Night's Sleep
The main goal of picking a sleep system is to find the one that allows you to get the best night's sleep possible despite the conditions outside your shelter.  Comfort is the key.  I hope that this short article helps you find the right mix of features to make the decision of which survival sleeping bag is right for you. If you have any comments, experiences, or suggestions, please add them to the comments section below.
Your experience and knowledge are important to help others make these critical decisions.  Join our community and help others who can benefit from your knowledge and experience.
---