What constitutes a 'survival jacket'? What is it beyond an article of clothing intended to help you survive?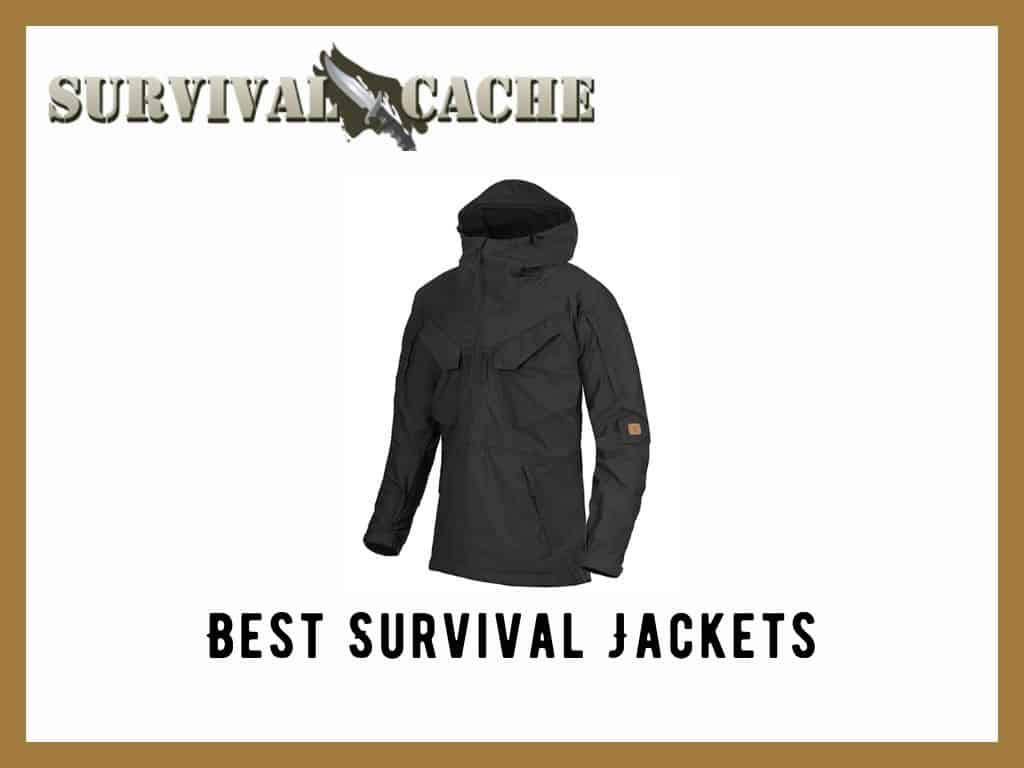 It's actually not easy to categorize. But the difficulty in trying to pin down even a single /universal common trait, one that's shared between all 'survival jackets' is a telling sign.  A survival jacket is essentially whatever you most need it to be. How this translates or manifests into an article of clothing will come down to your individual requirements and personal preferences.
Below for your convenience, I have broken down some of the main areas that you may wish to consider when choosing your ideal survival jacket. 
5 Things To Consider When Buying A Survival Jacket
Climate
What sort of weather do you need your jacket to protect you from? For cold or very frigid environments you'll likely require a jacket that can insulate and trap as much of your body heat as possible. For hot or humid conditions, extra ventilation or at least the ability to increase air flow and dispense heat will be important.
Similarly, a jacket that offers a decent amount of UV sun protection would be a godsend if you were traversing desert/sun-drenched terrain. If it's a location that usually experiences a lot of rainfall, a jacket that incorporated some degree of waterproofing would be a must.
Environment
Are you needing a survival jacket to get you safely across an urban or a rural setting? You might think that climate would be the more important defining quality for choosing your preferred clothing.
However, in a specific SHTF situation – a certain type of survival jacket may be overly attention grabbing, sending out the wrong message to those around you which could negatively impact your chances for survival, thereby defeating the garment's purpose. Aesthetics such as color, pattern, material, etc. can be just as important, if not sometimes more so, than function.  
Activity
Do you plan on being physically active? If so, to what degree? Walking will place different demands on your jacket of choice to say, running or climbing. The latter two, would require your jacket to possess enhanced articulation in the arms and shoulder regions. Under cold conditions, you may still require moisture-wicking features from your survival jacket to prevent your body's perspiration from lowering your core temperature after conducting strenuous physical activities.
Similarly, are you planning on wearing something over your survival jacket, perhaps a backpack? Some jackets are designed with reinforced fabric in the locations that sees contact with a backpack, to prevent friction and wear. Can you still access your jacket's front pockets while your backpack's hip belt is engaged and fastened? Some jackets contain a pass-through pouch to allow your backpack's hip belt to be fastened behind the exterior of the jacket, therefore reducing any likelihood of snagging. Remember, your survival jacket needs to move easily when you do.
Fit
This can go hand-in-hand with activity but can also be a deciding factor on its own. Like many, I prefer to layer my clothing and appreciate being able to add/subtract the number of layers underneath a survival jacket to ensure its suitability for different climates and seasons. That's not to say that I like excess bagginess, as I generally steer clear from jackets that have a 'boxy' fit or profile. That said however, you may require further slack from your jacket especially if you wish to wear a piece of low-profile body armor or perhaps a slim chest-rig underneath.
The length of the jacket may also be an issue, especially if you wish to conceal a longer firearm, such as a short barrel rifle on a sling with a collapsible stock. One thing to note, is that your jacket's fit or profile can have a direct effect on those you come into contact with. Puffier jackets may exaggerate your physical presence, putting-off would-be aggressors in a SHTF scenario from messing with you – but by the same token, garner you more attention when you try to blend in within a crowd.
Miscellaneous
These are more user-specific and variable requirements than those listed above. For example, it might be crucial that a jacket runs as silent as possible when worn. Certain fabrics when rubbed can produce a loud noise. If you are hunting game or need to move through a SHTF scenario unnoticed, a jacket made from a fabric that runs loud could be a deal-breaker.
Another example of miscellaneous criteria could be the desire to carry at all times, a very specific set of accessories within the jacket's pockets. Having enough storage real estate to comfortably house these may be high on your list of survival jacket must-haves.  
There's no such thing as a dumb question.
Hopefully these have given you some food for thought for identifying your own survival jacket criteria. It's always helpful to ask yourself what you expect from your gear, what you need it to do and how it should perform.
---
5 of the Best Jackets To Get Your Survival Hooks Into
To help illustrate how different, well-made survival jackets can be, I have compiled a list which outline the main features and unique selling points of these, as well as weighing-in with some of the main pros and cons to show you how they stack up against one another and help identify any trade-offs between their abilities.
Chances are that you're familiar with this Polish brand, they make some fantastic, high-quality gear and ensure that their products remain competitively priced. This, their Pilgrim Anorak Jacket doesn't disappoint on any of those fronts.
As a jacket aimed at the outdoor enthusiast and geared towards bushcraft/camping, it does a lot of things right for those needing their survival jacket to stand-up to the punishment of the elements.  The Pilgrim is made from DuraCanvas, a spark and abrasion-resistant, material that can be made to be waterproof by impregnating with wax should you desire.
In its off-the-shelf form it remains a light (31oz approx.), quick-to-dry, elongated anorak jacket, with a main front zip that travels from the garment's hood all the way down over 2/3 of its height, stopping at its zipped kangaroo pouch.
Two main chest pockets have been intentionally tilted to improve accessibility and make them more ergonomic to the wearer. These pockets are secured using Canada-style buttons that are separately sewn on a cord that increases their strength and prevents twisting, allowing for easier manipulation while wearing gloves.
Inside the pockets there are tabs for attaching gear using cord or small carabiners and as with all of the Pilgrim's pockets – a breathable mesh forms the lining, meaning any empty pocket can be unzipped purely to assist with ventilation. All zips used are the industry gold standard YKK.  Speaking of ventilation and YKK zips, pit-zips located under both arms ensure there is sufficient airflow when it is most needed.  
The Pilgrim contains a further two zipped bicep pockets, two zipped chest pockets and a dual zippered hip pocket that forms the kangaroo (pass-through) pouch. Inside two levels of cinch cord allow the bottom and lower mid-section of the anorak to be drawn in, a great feature for heat retention.
A similar use of cinch cord has been used for the jacket's hood, allowing it to be cinched at both the neck internally and outside around the crown, ensuring heat is not lost from the neck, as well as allowing for the hood when used to rotate with and not against the wearer's head movements. The same mesh material that backed all of the Pilgrim's pockets has been used in the jacket's lining. Finally, gear loops inside allow for gear to be hung behind the anorak's main zipper and adjustable hook and loop cuffs ensure a good fit over the wrists.       
Pros
Anorak – the lack of a full central zip, along with multiple areas for cinching allows for better heat regulation.
Designed by polish survival experts Survivaltech.pl
Ventilation is a big feature of this jacket – great for the high activity user.
The spark resistant, durable DuraCanvas is a godsend for camp duties and moving through the brush.
Generous exterior pocket storage solutions and ergonomically designed buttoned chest pockets make retrieving contents far easier. The security of having tab loops for further tying of gear, like a compass etc. is a nicely thought out solution.
The style of the jacket is not attention grabbing, no large manufacture logos and a classic but simple silhouette means it should not attract unwanted attention in a SHTF scenario.
Price – The cheapest on the list and representing outstanding value.
Cons
The lining is thin and is designed as a working, higher activity jacket. If you didn't layer sufficiently, there is a good change that you would be uncomfortable under colder conditions.
A lack of internal pockets, more for securing valuables would have been a nice addition.
Anoraks, even ones where the 2/3 zip comes down further thanks to deliberate design, still won't be for everyone.
Provided you are happy to layer appropriately, the Pilgrim is an excellent all-rounder. With a wealth of pockets and storage, combined with the benefit of having been designed to offer as many practical solutions to those out on the trails, it won't look out of place in an urban context either.
Last update on 2023-05-31 at 13:42 / Affiliate links / Images from Amazon Product Advertising API
Kifaru: Lost Park Parka
Kifaru are a well-known, American owned family business that specializes in manufacturing a wide range of gear for hunters. From backpacks, pouches, tents, to wearable apparel and even titanium stove systems. This puffy, hooded anorak is actually made from the same Climashield APEX synthetic ®insulation material that Kifaru use for their sleeping bags.
What you get is a highly warm, extremely lightweight anorak jacket that comes with a water-resistant finish and 500D Cordura paneling on the front and elbows for increased abrasion resistance.
Thanks to an innovative construction process that sees the jacket's insulation sewn into a durable inner lining, creating a single piece of fabric; there are no cold spots. An open kangaroo pouch has been specifically designed large enough to pass through a Kifaru backpack hip belt, while still allowing enough room to place your hands to warm them.
An elasticated drawstring allows the wearer to cinch the waistline in, maximizing heat retention, while elasticated cuffs ensure cold air cannot enter via the sleeves. A detachable hoodie with drawcord, rounds things off.  The Lost Park Parka is also available in a full-zip version (non-anorak) and both partial and full zip models come in selection of camouflage patters as well as solid coyote brown color.
Pros 
Extremely lightweight, a Lost Park Parka in size L weighs only a mere 21 ounces.
Highly portable, thanks to the Lost Park Parka's ability to be easily compacted, due to its synthetic insulation compacting doesn't affect its insulation properties.
Multi-climate Apex®synthetic insulation works even if the material becomes wet, keeping the wearer warm.
Reinforced elbow and front paneling added to ripstop material ensure the jacket is tough despite its lightness.
High Quality: Every component used in Kifaru's products are sourced and made in the USA.
Cons
Lack of closable pockets or storage.
Possibly too warm to wear in conjunction with high levels of activity.
Depending on the size you need, the jacket may seem a little overkill for urban outings.
The Lost Park Parka would lend itself to a survival scenario that required as much static heat retention as possible. The jacket's hunter origins and intended use lend itself to being more of a camp-based garment, for spending long periods of time surveying the land, staying in one place and not having to worry about the cold.
Another entry for Helikon Tex. This might be one, if not 'the' most adaptable item of clothing – making it an excellent candidate for your survival jacket consideration.
Essentially a woobie, or poncho liner, the 'Swagman Roll' takes its name from the historic transient farmworkers of 19th century Australia who travelled from farm to farm by foot. These nomadic laborers carried only the basics with them. Taking this ethos to heart, Helikon Tex have transformed the simple poncho liner into a swiss army knife of uses.
As a wearable poncho liner, the Swagman Roll is made from a nylon outer that is filled with Climashield Apex insulation, the same material used in Kifaru's Lost Park Parka. Water-resistant, like the Lost Park Parka – it keeps you warm even when wet. Whereas a normal poncho liner can be unwieldy, flapping in the wind – the Swagman Roll has a clip that ties where the jacket drapes over the arms and secures at waist level, meaning that it creates sleeves for the user and helps retain body heat. An adjustable hood helps trap warm air while also preventing cold from entering.
In this format the Swagman Roll can be worn as is or combined with either Helikon Tex's own outer poncho or a standard USGI. Togs on the Swagman fit to the grommet holes of a poncho securely, preventing cover and liner from moving separately.
But the magic comes in the other forms that the Swagman can take. The hood can be cinched completely, using its drawcord to close off entirely. A zip that runs the outer edges of the jacket can then be folded and zipped up, turning the swagman into a makeshift sleeping bag! What's more it can be paired with your sleeping bag to be used as a sleeping bag liner for added warmth.
There may be times where you could just do with a large warm blanket. Again, the Swagman roll can have its hood entirely closed off and the jacket can be laid flat, which when it does, provides an impressive 57.04"x78.74" of coverage! When not in use, the Swagman Roll can be packed into its main internal chest pocket or separately into the stuff sack that it comes with. Weighing in at 1.64lb, it provides the wearer with a lot of options for not much weight. 
Pros
Warm, can insulate even when wet
Multi-functional: wearable, sleeping bag, sleeping bag liner, blanket/quilt
Waterproof capable when paired with a poncho.
Designed by Survivaltech.pl – specialists in outdoor survival.
Very competitively priced and good value.
Cons
Likely to look out of place when worn in an urban context – unless paired with a poncho
Only one large chest pocket – you may require more
Advice from owners to keep it away from naked flames/campfires
Even with the tie strap beneath the waist – you don't have 'true' sleeves which may put some of you off.
A stunningly versatile piece of highly affordable kit. Can be thrown in a go bag and forgotten about until needed. I love the compatibility with most ponchos, allows you to get the most from existing gear.  Could help you achieve a lighter load by allowing you to remove some of your more dedicated solutions e.g. a spring/summer sleeping bag could be removed and swapped for this garment etc. Would likely need to pack up or conceal the Swagman Roll if I was traversing urban SHTF scenarios, as it can look a little strange when worn. For me the pros outstrip the cons. 
Last update on 2023-05-31 at 13:42 / Affiliate links / Images from Amazon Product Advertising API
The Swedish 'Artic Fox' manufacturer really know a lot about limiting exposure to cold. I have selected this recommendation for those of you who may find yourself in much colder conditions, who need a wind and waterproof item. I have personally had the pleasure to put this garment through its paces and I'll describe how it has stacked up against the cold shortly.
First, let's get an overview of what's on offer. This is a pretty bombproof option weighing in at a hefty 3.96lbs. Why so heavy? Well you do get a lot of coverage and insulation for the weight. The Yupik Parka has a longer fit that comes down to your thighs. The jacket is filled with Supreme Microloft filling, a synthetic insulation that is incredibly warm. This garment also has what feels like the largest, most cavernous hood which is detachable and can have the synthetic fur trim that runs the hoods edges removed if desired.
The Yupik also has a mass of pockets and storage: x2 button down chest pockets, x2 zip pockets directly behind these, x1 button shoulder pocket, x2 button hip pockets, 2x open hand warmer pockets behind these. And inside: x2 high up zip pockets with cable management for electronic devices, x2 inside chest pockets, x2 large mesh pockets, x1 hidden, secret zip pocket.
Securing all of this to the wearer is a heavy-duty zip that is located behind snap button storm flap. If this all sounds a bit like overkill, you may be right. However, I own this jacket and I have endured temperatures as low as -31F/-35C in Eastern Europe. One feature I absolutely loved were the huge internal mesh pockets that can be cinched as required. These are perfect for placing a glove in each one. The amount of heat the jacket retains is astonishing, especially when you have used the drawcord to cinch the bottom of the jacket around the tops of your thighs. Whenever I would retrieve my gloves from the internal mesh pockets, they were warm and toasty which really helped me to endure freezing conditions for longer.
Special mention must go to what first seems like a ridiculously large sized hood. The logic of this hood and its faux fur trim escaped me, until I found myself in a harsh snowstorm. Like the proverbial turtle, retracting its head into its shell, the hood and its trim protects your face from harsh cross winds, while the trim takes out snow flurry that would block your vision. In short this is a fantastic feature. Having such a large-sized hood also allows plenty of room to wear even bulky woolie hats etc.  
Pros
Water & windproof
Masses of pockets for storage
Incredibly warm insulation that works even if wet.
Yupik's cut gives maximum protection from the elements.
Will last a lifetime
Can be worn in any setting without attracting unwanted attention
Cons
Heavy! This isn't a jacket for moving quickly in. If you add a weighty backpack you are going to feel encumbered quickly.
Aside from adjusting the main zip – there aren't any additional ventilation options
It's not cheap, but when you look at extreme cold jackets in general its quite competitively priced.
Overall – and drawing on a lot of personal use with this product, I'd say this jacket is excellent for sheer durability and protection from the cold. However, it isn't designed for lots of exertion or physical activity. I wouldn't hesitate to recommend this as an emergency cold jacket, ideally for storing in your truck/car bug-out-vehicle, where its weight wouldn't really be an issue.
Last update on 2023-05-31 at 13:42 / Affiliate links / Images from Amazon Product Advertising API
Patagonia Men's Galvanized Jacket
My last recommendation is when you need protection from rain and wind, but also freedom of movement. This Galvanized Jacket from outdoor sports expert, Patagonia really caters to high activity.
Essentially a hard-shell, designed for the needs of climbers; the Galvanized Jacket is made from a tri-layer of polyester/spandex material that guarantees water and windproof properties but also thanks to a soft jersey lining, provides some moisture-wicking capabilities.
Aside from protection from wind and rain, the Galvanized Jacket excels at stretch and articulation. It comes with pit-zips for extra ventilation and the hood is designed to accommodate a user wearing a helmet. The dual, zipped waterproof handwarmer pockets have been positioned high up so as not to interfere with climbing harnesses. A further watertight zipper chest pocket completes the Galvanized Jacket's storage capabilities.
Pros
Lightweight (16.8 oz)
Articulated: Allows for full range of arm movements and stretching without jacket riding up at the waist or coming loose.
Water and windproof
Ventilation options – pit-zips allow for adjustable levels of airflow
Recco® reflector technology allows for emergency responders to scan for your position, ideal if you're are lost or injured.
Generic style means this jacket (especially in a darker color) is less likely to attract attention
The high position of the waist pockets will suit backpack wearers and those situations where one may need to wade through water.
Cons
It's a hard-shell jacket and therefore will not offer much in the way of insulation. You will need multiple layers in colder temperatures.
Breathability, despite features such as pit-zips etc. almost all waterproof clothing will struggle to offer acceptable breathability, especially when you are highly physically active or in a stressful situation.
Fairly expensive for what you get, although the true cost comes down to the technologies used that are imbedded in the preparation of materials e.g. tri-level material and waterproof zips and seams.
Best for high energy activities where you need protection from the wind and rain. It falls down somewhat when it comes to heat regulation, requiring multiple layers for warmth and difficulty to maintain airflow when you find yourself running hot. But where you need a full range of movement in the arms, shoulders, chest and back while remaining protected against the elements there aren't many jackets out there that can compete with the Galvanized jacket.
---
Open Questions About Jackets
What's the difference between hard-shell and soft-shell jackets?
Hard-shell jackets are usually water and windproof. They fall under the umbrella of 'hard-shell' as they usually comprise of a less flexible/malleable outer layer. Soft-shell jackets by contrary tend to rarely be waterproof/windproof (though they can have a degree of resistance to both) but are generally warmer with more stretch in their fabric.
What are the advantages/disadvantages between synthetic and natural insulation?
Natural insulation such as down feather tends to have a better insulation to weight ratio than synthetic but suffers from insulation degradation under compression. Natural insulation also loses its ability to insulate when wet. Synthetic insulation tends to be heavier when trying to achieve similar levels of heat retention to natural insulation. On the plus side, synthetic insulation is largely unaffected from compression and still insulates when wet. It also dries faster than natural insulation.
Is there always a trade-off between breathability and waterproofed clothing?
Yes. The act of waterproofing natural layers, such as cotton, by impregnating the material with wax for example, prevents warm air from escaping too. Even the best, most expensively engineered waterproof fabrics will not be as breathable as those that are permeable to water.
What is DWR?
The abbreviation stands for Durable Water Repellency. It is typically a chemical treatment that helps water bead rather than collect and seep through the material that it has been added to.
For clothing that loses water repellency, is there anything that can be done to restore it?
Yes, there are DWR sprays and technical washes that you can apply to clothing to boost its hydrophobic (water-resistant) qualities. The sprays are usually applied to a washed item of clothing while it is still damp, which seals the water repellency at the same time that the item of clothing dries. The alternative technical washing solutions are added to a clothing's usual wash cycle in place of detergent and then allowed to dry normally.
---
Wrap Up
Hopefully, this buyer's guide has introduced you to your future survival jacket or at least brought you a couple of steps closer to finalizing the most important requirements that your next survival jacket must meet.