I often get asked why I carry a flashlight as part of my every day carry.  The simple answer is that I don't like to be in the dark unless I am asleep.  This comment generally evokes some slightly uncomfortable laughter until I explain a bit further.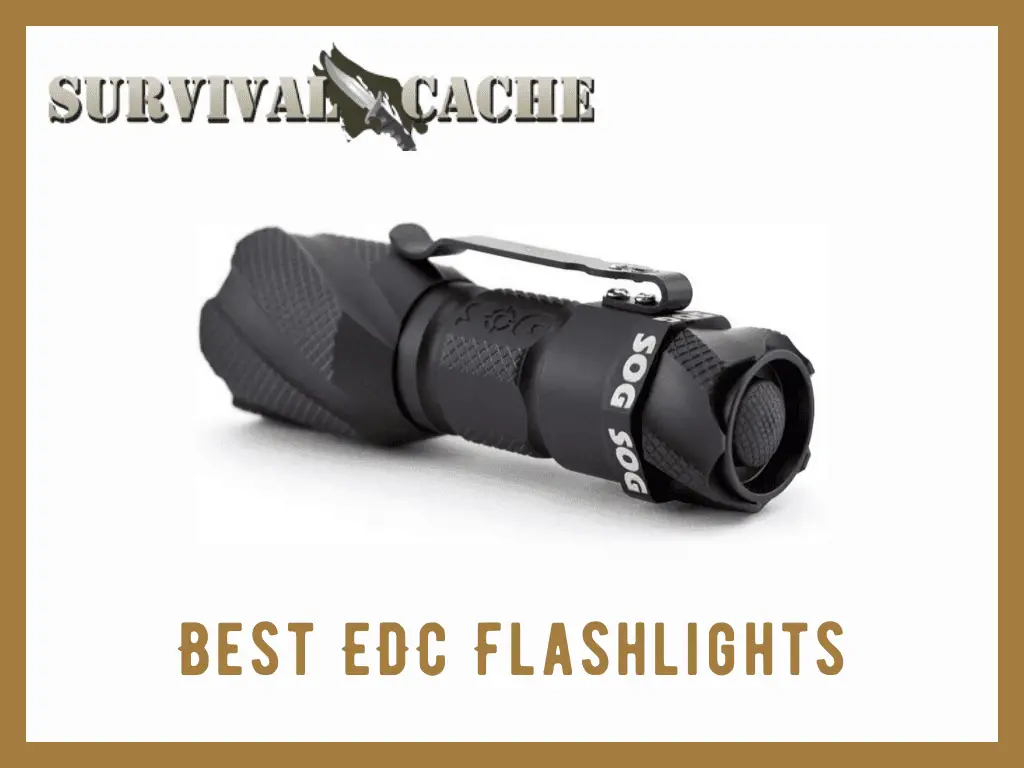 I begin by pointing out how much time most people spend inside buildings where there is no available outside light if the power fails.  Most people nod and there is usually someone who mentions that almost all buildings these days have battery-powered emergency lights.  I agree.  Many building codes now require emergency lighting.
The problem is those battery backup lighting systems are notorious for being badly maintained. Many will only last for a few minutes and the rest will never even brighten.
How, I ask, will you find your way out of an intensely dark situation, with panic mounting around you, and no real sense of direction?  Most of those who start this conversation have a sudden realization that they could be left in the dark as well.
That is where my EDC flashlight comes into play. 
Sure, it is handy when I am traveling and staying in a strange hotel, or at night when I am fumbling in the dark for car keys, and other mundane uses. But the real reason I carry that light is for that unforeseen situation where light could make a difference in surviving a bad situation.
I then get a few questions about which EDC flashlights I prefer, and I will get to that in a moment.  First, let's look at some choices of what I consider to be the top four best EDC flashlights.
---
Best EDC Flashlight: My List
This list represents my picks of the best choices for everyday care flashlights.  These are in no particular order as I feel that any of them are well worth the price and are dependable enough to serve the purpose. 
Olight S2R II EDC LED Flashlight Review
Olight, until recently, has been relatively unknown.  In recent years, reviews and product testing have found the Olight products to be real contenders in the EDC and tactical flashlight markets.  A growing system of dealers and Olight's presence on Amazon and other online markets have gained them a foothold in the flashlight markets.
The Olight S2R II flashlight makes my list of every day carry flashlights easily.  It meets all my requirements and more with the feature-rich design.  This small flashlight has a simple design that doesn't look "tactical," and its size makes it easy to carry fulltime.
ANSI/NEMA FLT-2009 Tested
CW LED unit
1150 lumens
TIR lens for a perfectly balanced beam
Includes one 3200 mAh rechargeable lithium battery
Magnetic cordless charging
Battery condition indicator on the side switch
Includes optional USB charging cable
Five brightness levels plus a strobe function
Weighs only 6.4 ounces
3.5 inches long
Less than one inch in diameter
All aluminum construction
Olights get consistently high marks from other users.  The attention to detail and the quality control exercised during manufacturing are proven out by the experiences related across the board by those who have purchased Olight products. 
Pros
Tough and reliable.
Clean and efficient design
Great battery life
Cordless magnetic charging is a great feature
Cons
Olight customer service can be a problem
Magnetic charger won't work with other Olight products.
Last update on 2023-09-25 at 22:12 / Affiliate links / Images from Amazon Product Advertising API
SOG Dark Energy Flashlight Review
SOG made a name for themselves designing and producing some of the finest knives available on the market.  Many people swear by the SOG line of knives and won't carry anything else. 
SOG has taken that concept into the flashlight field and produced a line of flashlights with the same attention to detail and ideas.
The SOG Dark Energy Flashlight DE-01 is a perfect example of that kind of engineering forethought. This is truly a tactical style every day carry flashlight. The SOG Dark Energy DE-01 flashlight offers all the features anyone could want in an everyday carry flashlight as well as a few that make it a dependable survival flashlight as well.
Cree R5 Cool White LED bulb
Light output 687 lumens on high settings
Optical grade polycarbonate lens
Four operational light modes (brightness settings) from 100 percent power to forty percent power on low setting
Tap switch mode changes
Momentary on feature built into the switch
Tactical strobe setting
IPX-7 protection for water immersion for 30 minutes to a depth of one meter
6061 T6 Aluminum alloy housing
Mil-Spec Type III hard-anodized
Aggressive checking on the barrel for grip security
Belt Clip
Power source, uses a CR-123A rechargeable battery (power source)
Length overall 3.8 inches
Weighs 3 ounces
Runtime 80 minutes on the high setting
The SOG reputation for design and dependability reflect the way those who carry this SOG flashlight respond in comments about the product. Consistently, this flashlight is ranked high among other flashlights and by users. 
SOG Pros and Cons
Pros
Well-designed and the heavily checkered barrel makes the flashlight secure and easy to handle even in extreme conditions
Tough flashlight that can withstand a lot of abuse on the job
Not the brightest flashlight, but the beam is tight and focused
Exceptional customer service
Cons
The switches tend to fail with a lot of use
The pocket clip is a weak point
Last update on 2023-09-25 at 22:12 / Affiliate links / Images from Amazon Product Advertising API
Streamlight 88054 ProTac Review
In the last few years I worked as a professional firefighter, I carried a Streamlight every day I was on duty, attached to the front of my bunker gear. 
It literally went through hell with me and never let me down.  Streamlight has a reputation among emergency first responders for building flashlights that are rugged and dependable.
Streamlight has migrated those same characteristics to the Protac HL USB Flashlight, and it makes my list of EDC flashlights for more than just fond memories from my earlier days. 
The USB recharge capability is a handy feature in any light and more so in an EDC flashlight that may need recharging away from home.
C4 LED bulb is shock resistant and includes solid-state power regulation
Produces a light output of up to 1,000 lumens and a 219-meter beam
Fully charged the battery will last 1.5 hours on the high setting
Four light modes, High, Medium, Low setting, plus tactical strobe
Power source, uses two CR123A batteries, or a rechargeable 18650 battery
USB recharging recessed into a sliding sleeve to protect the flashlight
Tail switch design
Aircraft aluminum construction
Type II Mil-Spec anodizing
Glass lens, gasket sealed
Removable pocket clip
Length 6.5 inches
Weight – 7.2 ounces
Package includes the flashlight, battery, USB charging cable, car charger, and wall charger
You won't be disappointed with this quality EDC flashlight.
It is a bit bigger than the other flashlights. However, that slight size difference is more than offset by the amazing runtime you get from the rechargeable batteries and the capability to recharge your EDC flashlight on the go in your car or from your laptop.
Streamlight Pros and Cons
Pros
Consistent high quality and dependability
Small enough to carry comfortably but packs a lot of power and long run time
Extremely bright light
The USB charger for the car is a great idea for keeping the flashlight charged on the go
Cons
The batteries are expensive
Customer service can be a problem
Sale
Last update on 2023-09-25 at 22:12 / Affiliate links / Images from Amazon Product Advertising API
Fenix PD35 V2.0 Tactical Flashlight Review
I first discovered Fenix Flashlight when I had my store open a few years ago. I saw the first Fenix lights at ShotShow in Las Vegas and immediately put in an order. 
I have carried and used Fenix flashlights regularly since that time. I still carry a Fenix PD35 Tactical Flashlight as my EDC light.
Fenix lights feature rugged construction, top-of-the-line materials, and an eye to functionality that makes them ideal flashlights for almost any circumstance. 
The PD35 meets my criteria across the board. The quality and dependability of these flashlights keep them in my pocket all the time. Here are some of the key features:
Light output 1000 lumen output
Cree XP-L HI V3 light bulb
273 yards of beam illumination
Tail switch design keeps accidental turn-ons almost unheard of
Tap operation for switching through light settings
Power source, uses two CR123A batteries or an 18650 rechargeable lithium battery
Light modes, 180 minutes of runtime on high or as much as 430 hours on low mode
Digitally managed output for constant brightness no matter the battery condition
Reverse polarity protection to protect the bulb and electronics
Aircraft-grade aluminum construction
Type III hard-anodized finish
Glass lens with anti-reflective coatings
Waterproof to IPX-8 standard up to 6.5 feet submersion for 30 minutes
Length overall 5.4 inches
Weighs on 3.1 ounces
Built-in USB rechargeability
Package includes the flashlight, recharging cable, rechargeable battery, pocket clip, and soft carry case
I have carried the earlier versions of this light for years and have never been disappointed in my choice. 
I still have several older models in my spare kit drawer and keep some version of a Fenix flashlight in my bugout bags, my get home bags, and my other outdoor gear. There is even one in my range bag. I just ordered the Version 2 with the onboard recharge capability.
Fenix Pros and Cons
Pros
Cree XP is a very bright light with great distance that lights up dark spaces well
Tough and durable construction
Not as expensive as some other comparable lights
USB charging is extremely useful when traveling or on the go
The design of this light makes it easy to carry every day
Extremely long battery life on low setting
Cons
Uses CR123A batteries, which can be expensive to replace and hard to find in some places
The soft holster is almost useless
Last update on 2023-09-25 at 22:12 / Affiliate links / Images from Amazon Product Advertising API
---
What do I look for in an EDC Flashlight?
When choosing an everyday carry flashlight, there are some features that I consider. For a flashlight that I intend to carry every day, these features are non-negotiable.
If I may need to depend on that light to get my family and me out of a dangerous or very dark situation, I want the comfort of knowing that I have the best possible tool in my pocket for the job.
Features of The Best EDC Flashlights
Reliability
When I push the power switch, I want light. As part of my reliability test, I want the components of that light to be of the highest quality, the materials from which it is made rugged and durable, and top-quality manufacturing practices.
A worthy flashlight must be a reliable flashlight.
Brightness
When the world goes dark, the more light I can throw on the situation, the better.  I want to see as far as I can and as much area as I can illuminate. If the situation calls for it, I want to be able to blind an opponent momentarily from a distance.
Battery life
When you need light, you can never be sure how long the situation will call for that EDC flashlight to work. A good EDC flashlight will have several power modes that can provide light while conserving battery power.
The type of battery you carry in your EDC flashlight can affect how much time you may have before power source fails.
Maintenance and Repair
A good EDC flashlight may represent a considerable investment for some people. The ability to get spare parts, to make effective repairs, and do the proper maintenance on your flashlight is as crucial as performing the same sorts of tasks on your EDC concealed carry gun.
---
FAQs
What is turbo mode on a flashlight?
Some flashlights on the market have what is called turbo mode, which is just an extremely bright setting.
What is moonlight mode on a flashlight?
Moonlight mode is just another name for the lowest brightness setting on your EDC flashlight.
What is an EDC keychain flashlight?
A keychain flashlight is just that, a flashlight that can be attached to your keychain. Some options are incredibly small and if you are carrying a flashlight every day on your keychain, then you can refer to it as an EDC keychain flashlight.
Generally speaking, a keychain flashlight is the smallest flashlight that you can carry.
Should my EDC flashlight have an adjustable focus?
This is purely a personal preference and ultimately depends on what tasks you will be using your EDC flashlight for.
Is it okay if my EDC flashlight uses an AA battery or AAA batteries instead of a rechargeable battery?
Nowadays, most shoppers are looking for a rechargeable flashlight, which is certainly a convenience and keeps you from having to scrounge for batteries when you need them. However, flashlights that use a AA battery or AAA batteries are not necessarily worse than a rechargeable model.
It all comes down to personal preference, availability of batteries, and availability of an external power source to recharge batteries.
---
When the Lights Go Out
No matter where you are when the lights go out, it is a good idea to have a source of portable light handy. That is why having a dependable flashlight as part of your everyday carry is so important.
Choosing which light to carry is almost as personal a choice as which every day concealed carry gun you choose. Making that choice is up to you. You know your needs and wants better than anyone. I hope that my insights and the information in this article make that decision a little easier.
If you found this article of help, or if you have comments or experiences that you can share about every day carry flashlights, please do so in the comments section below. Your experiences and knowledge can help up all as we seek the best flashlights on the market and to be better prepared for the unforeseen.