BulletSafe launched into the market in August 2013. Located in Troy, MI, a suburb of Detroit, MI, Tom Nardone, the company president has made sure the company has done a good job at sourcing quality materials and components in the manufacturing and assembly of his vests. Balancing quality with affordability the BulletSafe bulletproof vest – level IIIA is what you get.
I wore the vest for over 50 hours, and tested it with bullets from various firearms. Let's find out how it held up in this hands-on review of the BulletSafe Bulletproof vest!
Our Favorite Armor

Can stop high-quality ammunition designed for deep penetration

Comfortable to wear for long periods of time

Buy Now (Only $299)!
BulletSafe Bulletproof Vest Review
Specifications:
Manufacturer: BulletSafe 
Model Tested: BulletProof Vest IIIA 
Size Tested: Small 
Materials: 
Ballistic panels: Ultra High Molecular Weight Polyethylene (UHMWPE)
Carrier: 600 Denier Polyester 
Sizes Available: XS- 4XL 
Height/Weight Range: 
Addition Information:
Vests are manufactured in Shanghai with final inspection and assembly done in the US
MSRP: $299.00 XS-2XL, $378.00 4XL
Only available in black 
Has been tested up to .50 Desert Eagle
First Impressions
When I first removed the vest from the packaging, it felt slightly heavier than other IIIA vests I have used in the past. Based on my height and weight and referencing BulletSafe's size chart, I received a small size vest. This vest weighed in at just over 5 pounds. With other similar IIIA vest weighing in at 3.5-4.5 pounds. However, those vests have a price tag starting at double the price point of the BulletSafe vest. 
Wearability
The carrier impressed me with its overall quality, especially the details along the seams. With the vest being on the slightly heavier side, the additional width they offer with their shoulder straps helped in distributing the weight. While wearing the vest, I couldn't tell the difference in weight. 
The carrier also has external pockets to add rifle plates should the need arise. I wore the Bulletsafe vest for a little over 50 hours during each workweek. While wearing the vest, I would compare it to other level IIIA vests in an external carrier. The reason being is vests specifically designed to be worn under your uniform shirt do not have the benefit and durability of a 600 Denier Polyester shell.
A little fun and testing
Who doesn't want to shoot a ballistic vest? I, for one, would love the opportunity to put the capabilities to the test. Below shows an image of how the ballistic panels performed with several calibers and rounds.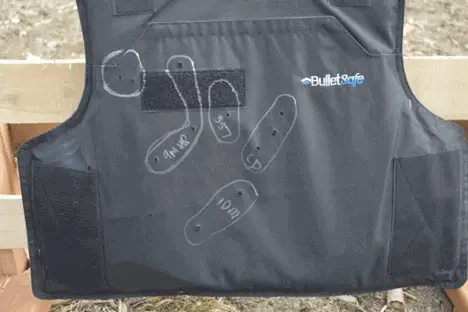 Finally had some favorable weather here in Alaska. It was a beautiful Sunday morning for some testing and range therapy.
List of Calibers Used in Testing
Federal 9mm 115 grain FMJ
Hornady 9mm 124 grain XTP
Fiocchi .357 Sig 124 grin FMJ
Hornady .357 Sig Critical Duty 135 grain
Buffalo Bore 10mm 220 grain hard cast
I took all shots at seven meters, with three different calibers I had readily available. Top left is Federal 9mm 115 grain FMJ, the ones just to the right as you look at the picture are Hornady 9mm 124 grain XTP, is Fiocchi .357 Sig 124 grin FMJ, say what you want on Fiocchi ammunition, but when it comes to range ammunition in .357 Sig, I buy what's in stock whenever I can find it, to the right is Hornady .357 Sig Critical Duty 135 grain, last but not least toward the bottom center is Buffalo Bore 10mm 220 grain hard cast lead rounds, one of my favorite calibers to shoot. The following pictures will show you the penetration int the actual vest. On the front side, you can see solid penetration into the vest material.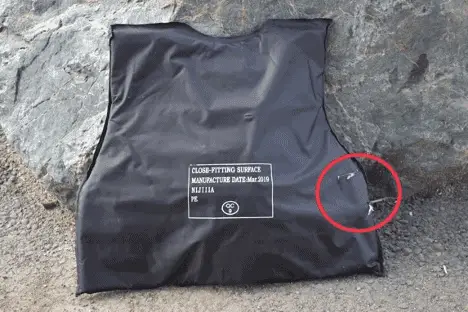 However, you can see there was absolutely no rounds, or any compromise in the material protecting you. A slight disclaimer, the damage you see inside the red circle, missed the ballistic material allowing it to penetrate the vest completely. The vest held up exceptionally well for being shoot 18 times total. Having seen shoot vest before but not having had the opportunity to put the equipment to the test personally, I've always had a slight hesitation in believing it works.
I can say now I've seen it stop not only several rounds, but it can stop high-quality ammunition designed for deep penetration.
---
Pros and Cons of BulletSafe Bulletproof Vest
Pros:
Very affordable
Wide range in sizes for all officer
Withstands a wide range of rounds up to .50 AE
Final assembly in America
Generous return policy
Wide straps distributes weight
Cons:
A little heavy
Some snagging issues on duty shirt
Sizing varies, remedy would be to try on it person If possible
---
Key Takeaways
You will be hard-pressed to find a ballistic vest with a IIIA rating for under $300. The attention to detail in BulletSafe's production, assembly, and inspection rivals higher priced products. With vest fit and sizing in mind, use the size chart available on their website. I find the vest to be slightly on the larger size compared to other vests with standard U.S. sizing. I found my height and weight right in the middle of the small vest's range. I would size down if ordering another one, due to the overall length and width at the chest and shoulders. The vest wore well under a loose-fitting uniform shirt. It is by far more comfortable when worn as an external vest.
BulletSafe has a generous return and exchange policy, considering this is a wearable product. There are a couple of things I would have changed while designing the vest. On the waist adjustable straps, I would switch the hook and loop. Being that the hook is on the vest portion of tends to snag on a uniform shirt when wearing the vest concealed. I would also increase the size of the hook and loop on the carrier along the belly portion to allow for farther adjustment.
BulletSafe as designed and made a quality product to reach individuals who have to procure vests on their own or for smaller companies who cannot afford to order their employees custom fitted vest with a price tag starting at $1000.
Our Favorite Armor

Can stop high-quality ammunition designed for deep penetration

Comfortable to wear for long periods of time

Buy Now (Only $299)!
About the Author
Mathew Umstead is a U.S. Marine Corps Veteran with 4 years active service as Military Police where he spent most of his time on a Special Reaction Team becoming proficient in special tactics and response. After his time with the Marine Corps, in 2007 he transitioned into law enforcement where he spent 8 years as a federal police officer. He now spends his days in Alaska as a lead firearms instructor teaching federal police officers, contractors, and military personnel on basic marksmanship and weapons tactics for various firearms ranging from 9mm pistol up to the .50 caliber machine gun. When not at work, he enjoys hunting, fishing, camping, and hiking with his family.