I am a survival enthusiast, and the multitools I bank on should meet or even exceed my expectations. Therefore, I took my time trying out hundreds of multitools to narrow down to the chosen, Leatherman Rebar Multitool. I have been using this tool for a couple of months, and I will never regret my decision to acquire it. In three words, I would describe this tool as "simple, strong, and effective."
When I compared this Leatherman Rebar Multitool to competitors like Gerber, Leatherman remained iconic due to its high-quality. Now, stay put as I take you through this excellent tool that has not only proved to be durable but also impressed in performance.
MULTITOOL
DETAILS

Two blade styles available

The entire knife is cold forged out of one a single piece of Sk-5 high carbon steel

Secure-Ex sheath with a ferrocerium fire steel

Check Price on

Amazon.com
Leatherman Rebar Multitool Review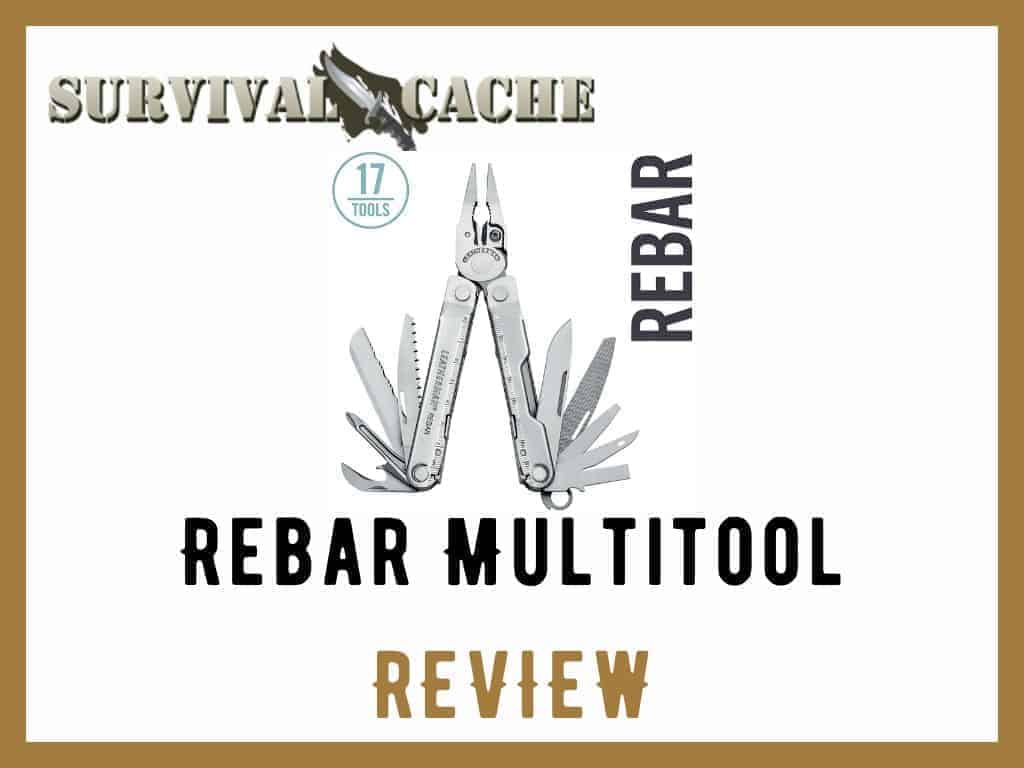 This is a solidly built tool that I found versatile to most of my indoor and outdoor events. Carrying this tool" was easy because of its small size and compact nature making it fit correctly in my pocket. This plies-based multitool has the following features that I found suitable for most of my DIY tasks.
17 tools in 1
I found the 17 tools an improvement to what is featured in the PST model. The locking design was epic as it improved my safety while using each tool. This is a unique feature in comparison to other regular multitools that snap every time exposing you to danger.
I used some tools on Leatherman Rebar Multitool which stood out. First, the needle-nose and regular combination pliers were a hit. I could use the prominent bite pattern to grip on anything. This was promising to my survival situations that previously challenged my other standard multitools.
Another thing that I rarely found on a variety of multitools was the replaceable wire cutter system. The regular and hard wire cutter sections are all replaceable. Therefore, if you damaged the tool cutting section while on your work, then worry less as it can be replaced easily.
Overall, I found the pliers, wire cutters, and crimpers functional during my electrical installation.
The knife blades also worked impressively. The clip point smooth edge and a serrated blade knife designs both come from stainless steel, which I found easier to sharpen. Besides, they were rustproof and seemed durable.
Still, on the knives, the straight blade has a length of 2.9-inches, which worked smoothly on my general utility work. Therefore, you can apply it in your tasks that require a quick and safe cutting.
Lastly, each of the knife blades on the handles has generous notches, so when you are opening the knives, the entire process becomes efficient.
I wanted to cut plastic and a piece of wood, and I almost reverted to a general hacksaw. Luckily, the manufacturer included a saw which I found a valuable addition to this multitool. The saw cut through wood and plastic, making my work easier.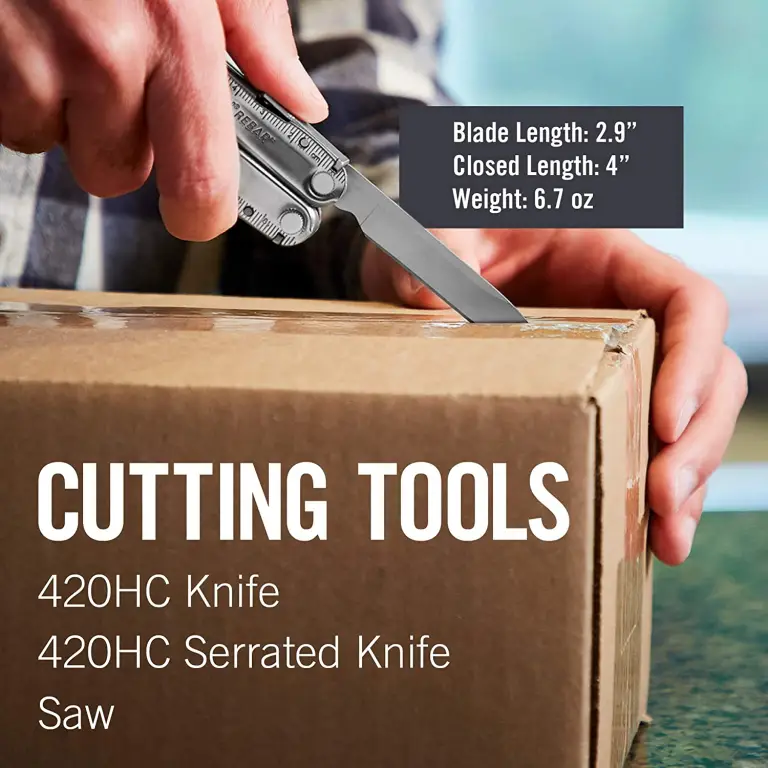 I rarely use the can and bottle opener, but when the situation presented itself, I would use it once in a while. Also, the inclusion of the awl was thoughtful. It came through when I wanted to pull a cord, thanks to the built-in thread loop.
Overall design
The craftsmanship involved in designing this tool was on a different level. I liked the compact nature that leaves you with a small and compact multitool for easy portability. Also, the design of the tools locking system guarantees safety. Note that every tool, when in use, has a look system. I haven't seen this in other competitors and hence a plus on Rebar.
The construction quality
For the many years of using the Leatherman tools, I would confidently say that I have never encountered a low-quality tool. When I bought this Rebar, I thought it could be a letdown, but it's now a game-changer in my multitool collection. All the parts come from high-quality steel. This means that they are resistant to harsh weather conditions hence durable. This encourages vigorous use for all your DIY tasks that require such a reliable multitool
Portability
How about a tool that you can carry with you everywhere? Well, I always have this tool clipped on my belt, thanks to the included pocket clip and leather sheath. Besides, this tool is light and will feel effortless as you move around with it.
Value and Warranty
This is a multitool and better than individual tools. Imagine carrying a knife, pliers, cutter, and additional tools in your backpack over a long distance. Isn't that exhausting? That's where the Leatherman Rebar Multitool comes in to compile all the tools into a single and portable unit. Therefore, you will be able to accomplish any job around the house or job site.
About the warranty, the manufacturer from Oregon assures you of 25 years. This is worth it when compared to other multitools available.
---
Leatherman Rebar Multitool Pros and Cons
Pros
The multitool has 17 tools in one
It comes from quality steel hence durable
The easy to use design makes the work doable
It comes with a 25-year warranty
Features a tool lock
Versatile for outdoor and indoor tasks
Weighs 6.7oz hence portable
Cons
No scissors
Smaller knife blades 
---
Customers Sentiments
A satisfied customer said that this tool does everything and anything with ease. It is worth the investment.
Another buyer bought this as a gift to the police daughter, and the daughter explained how great it fitted to her vest and the lightweight nature, which made her patrol much easier.
Lastly, a buyer said that this was her new companion that she used daily for her small tasks.
---
Common Questions I get
Are the plier's spring-loaded?
No, they are not spring loaded but still easy to remove and return after use.
Does the Leatherman come with a pouch?
Yes, it comes with a pouch for easy storage. The pouch is leather made and smooth.
Does this tool arrive with replacement blades?
No, it doesn't, but the blades come from quality steel; hence will serve you for an extended period.
---
My Verdict
Generally, getting a multitool with 17 functional tools isn't easy. I am glad I landed on this Leatherman Rebar Multitool. I am now able to complete even the most challenging tasks. Also, the replaceable cutters rank this multitool above the rest. If you are thinking of a multitool that can transform your survival tactics, then this Rebar is worth considering.
MULTITOOL
DETAILS

Two blade styles available

The entire knife is cold forged out of one a single piece of Sk-5 high carbon steel

Secure-Ex sheath with a ferrocerium fire steel

Check Price on

Amazon.com