We all know how vital it is to stay hydrated. The average person can live for 3 days without water, although that timeframe can drop further depending on the harshness of the environment, health of the individual, and their level of physical activity.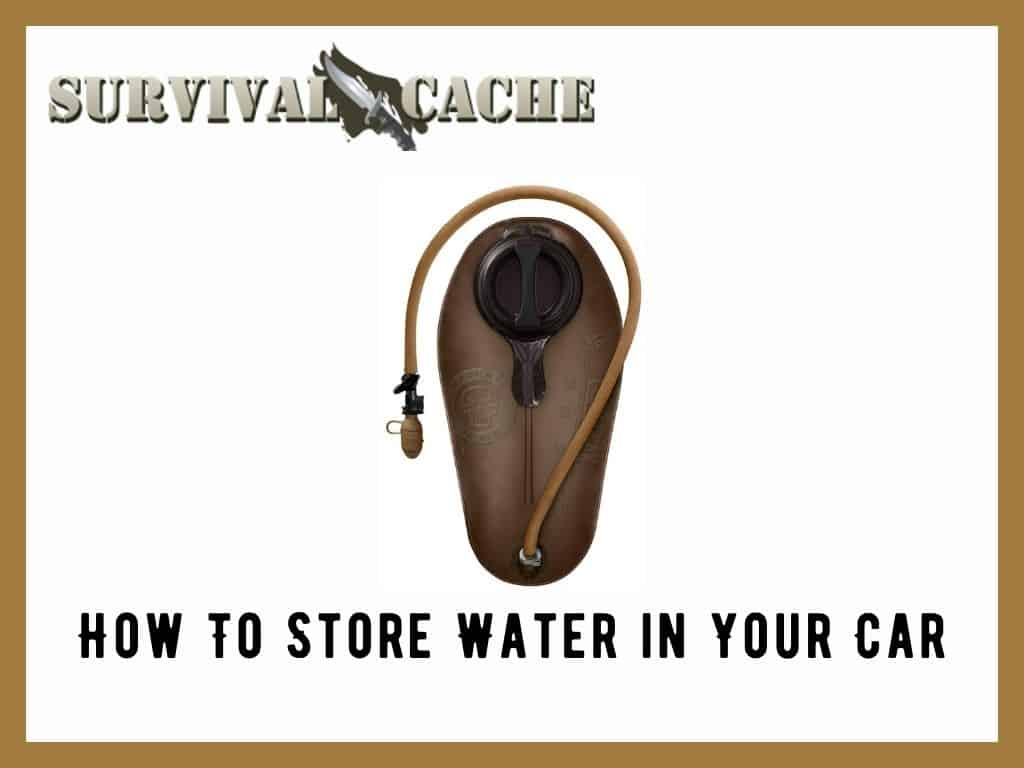 For those of us commuting to work, taking a road trip or heading out on an outdoor adventure – throwing a couple of store-purchased water bottles in the car will suffice. Those containers of water will likely be sufficient for our immediate requirements.
But what if you wanted to take more water, maybe for a longer period of time? Perhaps where you will be heading, there won't be shops or facilities to get hold of more of the wet stuff.
In an SHTF scenario, it could be that the water supply that runs to your home is expected to be disrupted.  Whatever your reasons, one solution that could remedy any of these scenarios would be to focus on a more long-term approach to car water storage and one that is 'on tap' (pun intended) wherever you are.
Why Storing Water In Your Car Makes The Most Sense…
Considering that we often tend to run into problems and challenges when we are away from the comfort of our home; it's rational to ensure that you have everything that you need in an emergency.
It's great to carry a water bottle in your day bag or on your person, but let's face it – as much as we may wish otherwise, physically transporting water is exhausting. More water equals more weight and more space to house it.  Carrying a large quantity of potable water means you are going to have to dramatically scale back on transporting other essentials, so it's not ideal.
That's why it makes sense to let your car or vehicle do the heavy lifting. Also, there's a greater chance that you will be further from your home or basecamp when you are driving. Therefore, having plenty of water with you inside your car is a godsend.
Check out how to put together a car survival kit. It's a must have!
The Issues With Bottled Water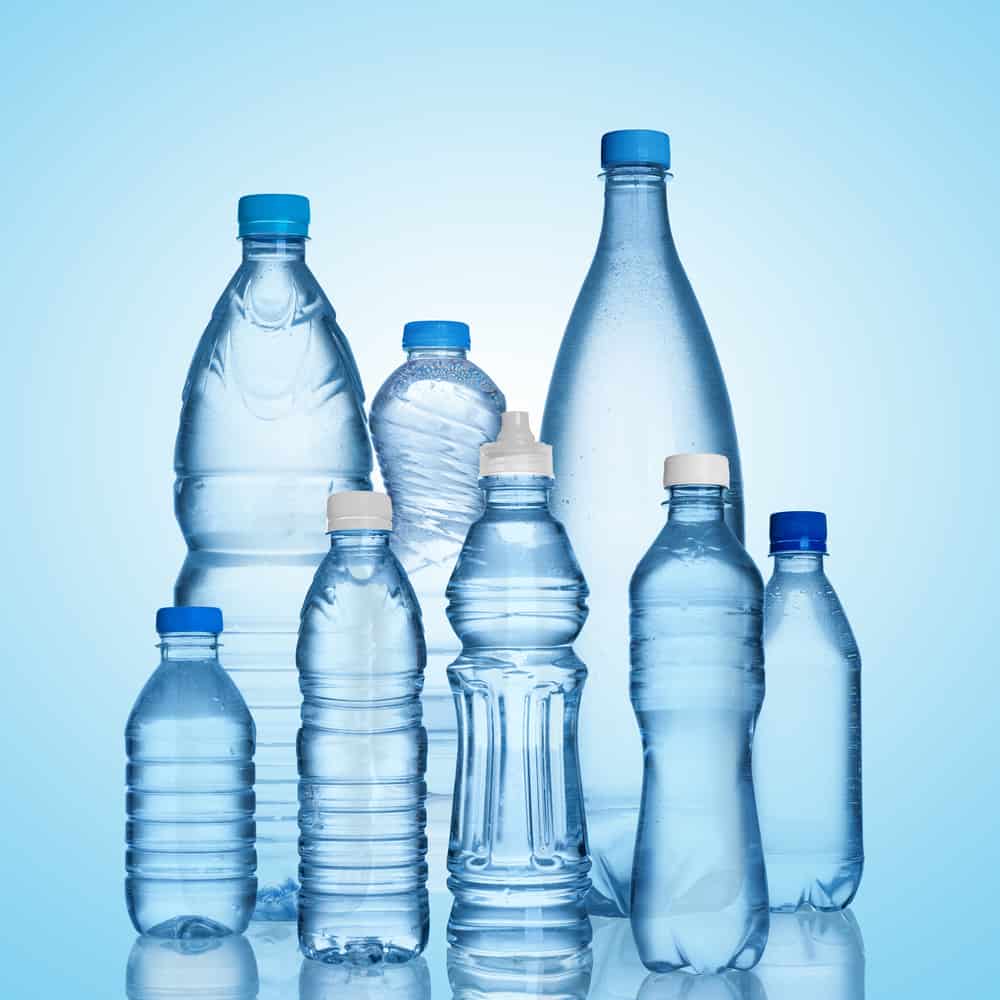 One of the greatest problems with store-bought water is its limited shelf life; a factor determined by how well it has been stored prior to purchase. While that's not going to be an issue for transporting small volumes of water, it gets more difficult when you start to consider larger capacity and longer-term storage.
Most disposable plastic bottles are not suitable for repeated use. Overtime, the plastic can leach harmful chemicals used in the bottle's construction into its contents (your drinking water). Toxins, such as Dioxin and Biphenyl A (BPA) are released from the plastic when the container is subjected to heat, like being left in a hot car. Many of these substances have been linked to a range of human illnesses and cancers. 
Thankfully there are number of alternatives to simply filling your car with disposable water containers and rolling the dice. This article will help signpost better options that are available and which will allow you to transport more water in your car, keeping it fit for consumption and for longer. And the best bit? These solutions won't cost you the earth.
How To Store Water in Your Car: 5 Suggested Methods
The following suggestions for boosting long term vehicle water storage have been put together with a variety of user needs in mind.
Specifically, the requirements that long-term larger capacity water can be suitable for drinking and light cleaning, as well as being convenient for transportation, filling  and draining. All of these suggestions have been compiled with the overarching need to ensure good water hygiene standards are achievable.
5 items to enhance your water contingency, storage and access capabilities.
A solution that allows for easy water transportation. This product is designed to 'play nice' with other Aqabrik containers, by slotting into one another (think giant Lego blocks) with the ability for multiple containers to be neatly stacked as required. This makes the Aquabrik a perfect solution for water storage within a car's limited space.
Made from a HDPE (high density polyethylene) material that is also BPA-free, each container is easy to handle and carry. The Aqabrick also benefits from being able to have its contents completely drained, a feature not always offered by the competition.
Being able to access all of your stored water is crucial, but it also means that the container can be washed and easily dried. This last point helps to prevent the growth of bacteria from occurring. Because of this, your water is always at its cleanest and therefore most useful.
No products found.
No products found.
This container has the edge over many of its rivals by being able to both filter and pressurize the water that you drink. A replaceable carbon filter allows the container to remove 99.99% of viruses, bacteria and parasitic cysts for an estimated 2600 gallons of water before the filter must be renewed. An integrated hand pump allows for pressure to be applied to the container's contents. This means that not only do you not have to worry about separately treating the water before storing, but you can also make the most of receiving a reliable jet of pressurized water, instead of the usual trickle. This feature helps minimize spillage and greatly speeds up the time it takes to fill other water containers. Additional extra attachments, like a hose and press-button shower head combo mean that you can use this as a means to wash dishes, clean a wound or take a basic shower while still conserving water.
As the name suggests you can both disinfect and preserve stored water up to a maximum of 5 years and you have the peace of mind knowing that the product is officially recognized by both US and state EPA's (Environmental Protection Agencies).
This lead and BPA free, food-grade water hose is a handy solution when looking to fill your onboard water containers. As the weight of even small containers, once filled with water can be significant – it's wise to have them already in situ and bring the water to them, rather than the other way around. This hose allows you to do just that.
Sale
Last update on 2023-09-27 at 02:00 / Affiliate links / Images from Amazon Product Advertising API
OK so on paper these sound great, sealed aluminum cans containing water with a 50-year expiration date! In practice there are a couple of points to bear in mind. The tradeoff for water with this amazing longevity is the expensive array of filtration processes required to achieve this. As a result, the cans are pretty expensive.
Also, while extreme heat and cold will not affect the taste of the water inside – having fragile metal containers that are filled almost to the top means they are prone to bursting under freezing temperatures as well as the purity of their contents becoming compromised if bashed/dented.  
I believe the benefits of longevity and convenience outweigh the disadvantages. But storing a larger, cheaper source of drinking water in your car is the direction I would advise you to explore. Having some of these cans on hand could be a viable back-up to the main water storage already present in your vehicle.  
Last update on 2023-09-27 at 02:00 / Affiliate links / Images from Amazon Product Advertising API
---
4 Water-Related Gear Ideas If You Have To Ditch Your Car
Things don't always go to plan. Here are some suggestions to make the most of your car's onboard stored water if you have to abandon your vehicle.
I would recommend that for each adult car occupant, you keep one 100oz hydration reservoir stowed in your vehicle in a suitable backpack/go bag. This particular example has served me well and uses something called Hydroguard Technology to prevent the buildup of harmful bacteria.  It is also insulated to maintain a regular temperature, preventing harmful UV from the sun affecting the purity of your water – as well as offering some protection from freezing. 
In the event that you have to abandon your vehicle – you can draw from your car's water storage, before continuing your journey on foot. By leaving the filling of your hydration reservoir(s) until you're ready to exfil, you can ensure that both the reservoir(s) as well as the water you're adding are fresh and hygienically clean.
Last update on 2023-09-27 at 02:00 / Affiliate links / Images from Amazon Product Advertising API
This is a handy product for making water that has been collected from an unsafe source drinkable. Simply fill up a container with clear water, then engage the Steripen's UV light.  The battery powered UV light actually denatures (kills) all water-based bacteria and viruses. Depending on the volume of water collected, you will need to stir the Steripen for a specified amount of time.   The water will then be fit for human consumption.
Last update on 2023-09-27 at 02:00 / Affiliate links / Images from Amazon Product Advertising API
A cheap portable filter, useful for making the majority of water sources (up to 100,000 gallons) drinkable.
With the versatility to either drink direct from the water source, connect to the mouth of most water bottles or place in-line to a hydration bladder's drinking tubes – it means you can choose whether to hydrate at a source without having to transport the water, or collect and filter the untreated water on-the-fly as you need.
Sale
Last update on 2023-09-26 at 22:53 / Affiliate links / Images from Amazon Product Advertising API
This small stainless-steel kettle is idea for boiling up water rapidly using only natural combustive materials like wood, pinecones, even animal dung! I'm suggesting this in case your car-stored water becomes compromised or its container has ruptured, and you find yourself needing to purify or heat water for survival.
I'd advise steering clear of stoves that use explosive gases or fuel, after all this is for car storage and you want to negate the possibility of accidentally starting a fire inside your vehicle. 
---
Things to avoid when storing water in your car…
Don't procure/buy a used water container
Even if the used container you have spotted boasts all the right specifications relating to its construction/durability, don't buy it. It's highly unlikely that you will be able to sufficiently disinfect a used container to an acceptable level of hygiene. You will almost always be unaware of the exact contents containers like these were used to store.
E.g. 'water containers' used by the military and later sold off are likely to have been used for other (non-water) liquids such as cola, fruit juice or even cleaning chemicals! No amount of bleach will remove the residue of past contents, instead, they will have become ingrained in the plastic of the container and will make any water you try to store spoil quickly.  
Don't skimp on disinfecting your container properly.
If you are using a solution to preserve and store the water for a number of years – ensure you disinfect all areas that the stored water will come into contact with. This includes food grade water hoses, funnels, container caps and plastic screw threads. Don't let all of your water preparation go to waste by cutting corners here.
Never fill your water containers with a conventional garden hose
Garden hoses contain lead and the one in your yard will be full of bacteria as a consequence of being exposed to the elements. 
Never fill your water containers up to the brim during winter
If the water inside your container freezes, causing it to expand and the ice has no more space to occupy, then the pressure will build until the container cracks. Prevent this by leaving ¼ of the container's total capacity unfilled.
Keep a track of your filter's status
If you are taking advantage of a container that uses a replaceable filter it's handy to keep a track of how many gallons you use. Change the filter in line with the manufacturer's guidelines. Storing a spare couple of filters in your vehicle will ensure you don't compromise the quality of your drinking water.
Never leave a filled water container unsecured within your vehicle.
Make sure that you fully secure your filled water containers. For overlanding you can have specific water storage systems and tanks fitted either on your vehicle's roof or if there is enough ground clearance, underneath the chassis itself.
Remember in the event that you are driving and suddenly need to stop – an unsecured, full water container can become a devastating projectile that has the potential to do serious harm to both a car's occupants and the vehicle itself. If storing your water containers in your car's trunk, it may be worth either chaining these to a tie down bracket or building a suitable fixed unit to safely accommodate them.
---
Final Thoughts
Hopefully this article has brought you a step or two closer to considering how to ensure that you are never caught out on/off the road without having enough of one of our most basic but necessary requirements, water.
If you are looking to build a vehicle that is dedicated to having a large drinking water tank on board etc. there is a huge amount of content available online from both the overlanding and van-life communities. Certainly I am of the opinion, that just as with your everyday carry items, your vehicle-based water solution needs to cater to the vehicle that you actually spend the most time in. For some that will translate into incorporating water storage into a work/company vehicle, for others it may be a small hatchback that they drive recreationally.