I don't always carry a handgun. The reasons vary. If I'm not carrying, I still like to have something that will give me an advantage. I carry a folding knife for utility work (what if there's cheesecake?), but needed something with a little extra pizazz, just in case.
A small fixed blade knife fits the bill; it's light, meaning I am more likely to carry it regularly. It takes up almost no space, so it doesn't affect my mobility. The only downsides are the goofy knife laws. I can carry a katana and a Desert Eagle into Walmart, but a 3" fixed blade IWB is illegal? Whatever. The nerds who passed that law must hate cheesecake.
The Emerson Karambit is a solid contender for the perfect self-
defense fixed blade. The only downside depends on your philosophy of use. The curved blade isn't designed for bush craft or utility. Since I don't intend to use it that way, it's a non-issue. For those of you who prefer an EDC fixed blade to fill those roles, this knife may not be for you. I'm not here to debate the efficacy of fixed blades for self-defense. You think it's a good idea or you don't, fine with me! I contend it is better than nothing.
The knife is full tang and made of 154 CM. 154 CM is a high carbon steel with Molybdenum in the mix. It's American made and has a hardness of 57.59 RC (reported by Emerson). It has good corrosion resistance (it is stainless, after all) and holds an edge well. It is a tough steel well suited for hard use. It comes in stonewashed or black Cerakote (like the one you see here).
Related: Neck Knives For The Masses
The handles are textured black G-10 epoxy. Five screws secure  
them to the steel. They are thin (but comfortable) and offer good grip. There are 4 holes bored from the handle, two small and two medium size. These must have been done to balance the knife, because it handles well. One feature I think is important in a self defense knife like this is the finger ring. Holding this knife with the index finger through the ring gives you a positive grip and reduces the chance it will be dropped. Every time I hold this knife, I have an overwhelming urge to spin it. So far, I have resisted. (If I do ever spin it, look for an article about sutures). There are 3 finger grooves in the handle. It is designed for your index finger to reside in the ring, and your middle finger to fill the first groove. The final groove terminates seamlessly into the finger guard on the blade side. The guard at the back of the blade is reminiscent of Emerson's wave feature. The back of the handle is smooth and narrows slightly where your pinky resides.
The handle is curved slightly. Its evident that Emerson spent the time necessary to design an ergonomic and minimalist grip on this knife. Everything you need, nothing you don't.
The blade thickness is 0.125" or 1/8th of an inch. I think this was a good choice. Any thinner would be too thin, and any thicker would be unnecessary. It boasts the classic Emerson chisel grind and is razor sharp. It is curved like a talon and has some smooth jimping right where you'd expect it to be. The point is very pointy. The blade length is 3.2 inches. What else can I say? It's a razor sharp and well-made karambit. I haven't needed to sharpen it, but it may take practice. This blade shape isn't one I have any experience with.
The sheath is made of kydex and holds the knife securely.
No rattle here! There are 3 eyelets on the blade side, and 5 on the other. It came with a Tek-Lok system. Some people love it, but it's not for me. For a long time, I just ran paracord through the eyelets, which allowed me to carry it OWB with a super low profile. There are no sharp edges. I recently traded in my trusty paracord belt loops for a soft loop from Tulster. I love this thing. It was $10 with shipping and easy to put on. Now I can securely carry my knife IWB.
Also read: Tops BOB Knife Review
Carrying the karambit is a breeze. The thickness of the grip panels contributes to its ease of carry. Its light and I often forget it's there. I like to carry it near
my midline, so it's accessible with both hands if need be. I usually carry it at about 1:30 or 2 o'clock, near my appendix. I can bend over or kick my leg up with no restriction in movement. The end of the handle is smooth, so it shouldn't hurt you. If it had a glass breaker  or something on it, bending over would jab you.
I love how simple this knife is. There's no flashy bullshit here. It's exactly what I would expect from Emerson: High quality, well thought out, and well made. The only thing I think may improve this knife is an edge on the back of the blade, just an inch or two. Now that I think about it, having a single blade probably makes a difference legally. Double edged "daggers" seem to have more restrictive laws. Oh well. They must hate cheesecake.
Emerson Fixed Blade Karambit Specs: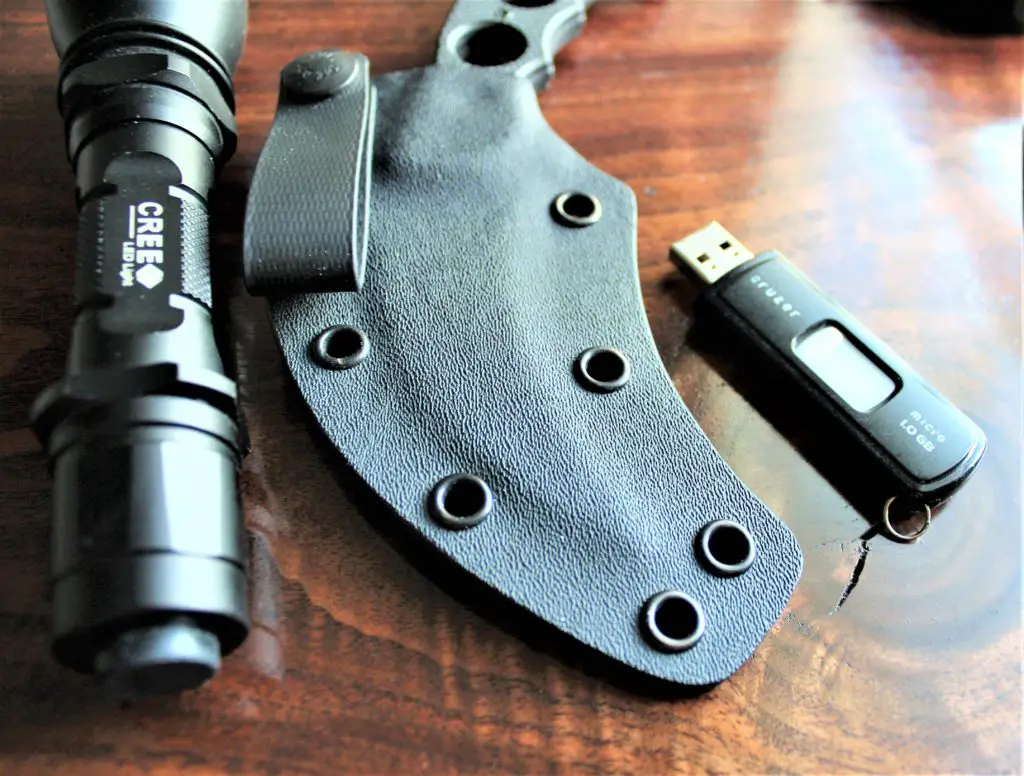 OAL: 7.6 in
Blade Length: 3.2 in, Chisel Grind
Blade Thickness: 0.125 in (1/8")
Weight: 6.5 oz (With Sheath and Tek-Lok)
Steel: 154 CM
Disclaimer: Knife laws vary by state! Please research and be aware of your local laws!