Growing up we had a what we called a "kitchen axe" that was bigger than a hatchet, but smaller than a felling
axe. It was used for everything from making shavings and small kindling for fire starting, to larger kindling, to splitting small rounds and quarters for fire. The kitchen axe lived just outside the kitchen door, but even found duties with meat prep and game butchering. In fact, the kitchen axe was an all-round indispensable tool that made its way onto camping trips as well.
Gransfors Bruk Small Forest Axe Review
Kitchen Axe
I hadn't thought much about the kitchen axe until I needed just such a tool.  In my stable of axes and hatchets
from the short handled Gränsfors Bruk Hand Hatchet with a 9" handle, to my Gränsfors Bruk American Felling axe with a 35" handle. While the extremes in size are nice, what would also be an excellent option is something right down the middle. A axe that behaves as an axe while also behaving as a hatchet. Or perhaps a hatchet that does hatchet things but jumps up to two-handed axe chores when needed. It turn out that there is a class of chopping tools known as the small forest axe that runs double duty as both a small axe and large hatchet. And does both with finesse, skill and elegance.
Last update on 2020-08-12 at 08:08 / Affiliate links / Images from Amazon Product Advertising API
Related: Review of the Gränsfors Bruks Outdoor Axe
The Gränsfors Bruk Small Forest Axe is an ideal compromise when you need to carry your own tools or space
is a premium. With a 19" handle and a two pound head, the Gränsfors Bruk Small Forest Axe will swing two handedly to fell small trees and chop and split firewood, but you can also choke up on the handle and shave wood, carve softwoods, and prep kindling of any size.
Like many of my kind, bug out kit is always on my mind. So having a great dual-purpose chopping tool that picks up where my big knife leaves off lands near the top of my bug out list. Sure, it would be ideal to have the perfect tool for every job, in reality if you are carrying you own load, you want to maximize the utility, and minimize the quantity. So packing the Gränsfors Bruk Small Forest Axe is an ideal choice.
Forged with Love
Gränsfors Bruk is known as one of if not the best axe maker in the world. Each tool is handmade by an expert
blacksmith with years of experience forging custom axes, hatchets, and other edged tools to the point where each Gränsfors Bruk axe and hatchet has it's maker's mark stamped into the head. And unlike those axe makers that leave the final sharpening to the end user, Gränsfors Bruk axes are shaving sharp from the factory with the understanding that anyone desiring to own the world's best axe is certainly capable safely using a razor sharp chopping tool.
Being a smaller axe, the Gränsfors Bruk Small Forest Axe is also a perfect size for those smaller in stature including kids mature enough to use such sharp swinging tools and women who are more comfortable with a tool of proportional size to muscles and swing radius.
The Gränsfors Bruk Small Forest Axe has  a gracefully curved handle of perfectly oriented grain Hickory. Lesser axes have seem to care less of the direction of the wood grain orientation. Ideally the grain visible at the base of the axe handle should be parallel to the axe head. If you check out the inexpensive hardware store axes, you will see grain orientation in any of the cardinal directions. Routinely you can find axe handles showing grain orientation closer to perpendicular to axe head direction than to parallel to it. And even some a perfect 90 degree off the direction it should be. That's 100% bad. Striking wood with that kind of low quality is just asking for a catastrophic failure.
Last update on 2020-08-12 at 08:08 / Affiliate links / Images from Amazon Product Advertising API
Value Added
Compared to other axes, this Gränsfors Bruk Small Forest Axe is on the expensive side with a street price
north of $130, but that's actually on the lower end for Gränsfors Bruk in general. You could easily spend twice that on another GF axe, but spending half that amount will only get you a Gränsfors Bruk ceramic sharpening puck.
Related: Review of the Council Tool Apacalaxe
The generous palm swell knob on the far end of the handle is plenty to hang on to, but hardly noticeable when ignored. The shoulder of the handle just below the bit is streamlined but strong. And the lugs under the axe head cheeks add strength and orientation during the strike. Chopping cylinders and trees uses both the wedge to slice and the wedge to split all in the same move. The initial angled strike of the axe on the tree cuts into the wood while the triangle of the wedge forces the wood chip from the tree body sending it flying out of the way.
The blade cover is the classic bikini Gränsfors Bruk uses for most of its axes. It's little more than a riveted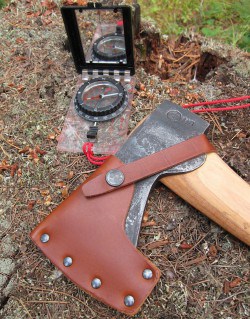 leather edge covering with a wrap-around snap strap that doubles as a belt carry loop. But this sized tool really pushes the limits of waist-carry.
Real Life
In the field the Gränsfors Bruk Small Forest Axe preforms like a champ. It hardly takes up any space and weighs little, but does all the work you throw at it. The minor weight the Gränsfors Bruk Small Forest Axe adds to your kit is more than made up by this tool's talents. Wrapping your hands around the axe smooth linseed-dipped handle gives you feelings of superpower. Any bug out wood needing work can be handled by the Gränsfors Bruk Small Forest Axe even if the tree is only be nibbled away at by the medium size of this striking tool. Any smaller jobs are quick and painless. So much so that might wonder how the rest of the world gets along with axes too big or survival hatchets too small.
A true bug out kit has only one chance to do things right. The axe is a tool with thousands of years of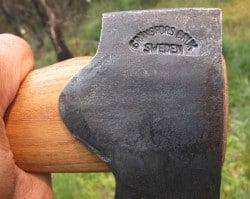 evolution, but one common mechanical purpose. So refining the size and shape of an axe to capitalize on the middle proportions necessary to stretch its capabilities deep into felling axe territory while retaining hatchet-like nimbleness is necessary in preparedness. So put the Gränsfors Bruk Small Forest Axe at the top of your shortlist of bug out chopping tools.
Last update on 2020-08-12 at 08:08 / Affiliate links / Images from Amazon Product Advertising API