A few years back, Springfield Armory came out with a single stack 9mm to much fanfare and then as quickly as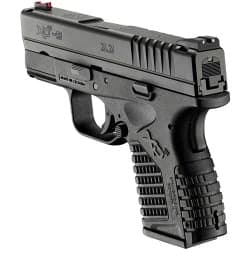 the pistol launched, they promptly recalled the pistol due to a possible unsafe condition. The recall read as follows (from manufacturer): "Springfield Armory is initiating this voluntary safety recall to upgrade 3.3 XD-S 9mm and 3.3 XD-S .45ACP pistols with new components, which eliminate the possibility of a potentially dangerous condition. We want to emphasize that no injuries have been reported to date. Springfield has determined that under exceptionally rare circumstances, some 3.3 XD-S™ 9mm and .45ACP caliber pistols could experience an unintended discharge during the loading process when the slide is released, or could experience a double-fire when the trigger is pulled once. The chance of these conditions existing is exceptionally rare, but if they happen, serious injury or death could occur."
Springfield Armory apparently learned the lessons of Remington and as soon as this unsafe condition was brought to their attention, they leaned into getting back every XD-S 3.3″ barrel pistol that they sold.  They then repaired the pistols and returned them to the customers.  They also changed the manufacturing process on all future pistols from the factory.  Now every XD-S 3.3″ off the line has the new improvements.
Related: The Katrina Pistol
If you are looking to buy a used XD-S 9mm 3.3″ pistol, you can tell very quickly if the pistol has been upgraded by looking at the outside grip safety without disassembling the pistol.  XD-S 9mm 3.3″ that have been upgraded have a visible roll pin on the left and right side of the grip safety.  See below.
With the new upgrades and the bugs worked out, we loved the XD-S 9mm.  As promised, it shot great.  The stock fiber optic sights were better than average and the slim profile of the pistol is very appealing to concealed carry customers and under cover police.  The downside of the single stack is a magazine that carries 7 rounds in the flush fitting mag and 8 rounds in the extended magazine.  Like I always say, I have never heard someone say "I wish I had less rounds in a gun fight."
Do You Have Concealed Carry Weapon Insurance?
Self-defense can land you into major legal battles, or even jail. USCCA provides top-class CCW insurance plus training for you and your family at $22/mo with $2,000,000 in coverage.
Join USCCA
Specs
Caliber: 9mm
Recoil System: Dual Spring w/ Full Length Guide Rod
Sights: Fiber Optic Front & Dovetail Rear (Steel)
Weight: (with Empty Magazine) 23 ozs.   Height: 4.4″ w/ Compact Mag, 5″ w/ Mid-Mag X-Tension™
Slide: Forged Steel, Melonite Finish
Barrel: 3.3″ Hammer Forged, Steel, Melonite® / 1:10 Twist
Length: 6.3″
Grip Width: .9″
Frame: Black Polymer
Magazines: 1 – 7 Round Flush Fitting, 1 – 8 Round With Mid-Mag X-Tension™, Stainless Steel
Field Test
Save
Save
Save
Save
Save
Save