Time and time again the Glock pistol has been used by military personnel, law enforcement, survivalists, hunters, and
the Average Joe for home and personal defense.  They provide value relative to their cost, they are reliable, accurate and consistently perform when put to the test.  When you factor all of the major considerations for an Ultimate Survival Pistol (Cost, Reliability, Accuracy, Versatility, Ease of Use, Available Spare Parts, Availability of Ammunition) you can see why the Glock pistol will finish at or near the top in almost every category.
Why Are Glocks The Ultimate Survival Pistol?
The Glock pistol is sort of like politics, everyone you ask will have an opinion on Glocks just like they do on politics.  Good, bad, and ugly, all you have to do is ask someone what they think about Glocks.  A lot of 1911 guys can't stand them, old timers think they are plastic pieces of sh*t and the list goes on.  I have heard them all.  The only thing you will never hear is that the Glock platform is  unreliable or it does not work.  That is sort of like saying that the Ak-47 platform is unreliable, when you hear that you have to question the person you are talking to and check their credentials to make sure he or she is not a Mall Ninja.
I am not here to say that the Glock is the best pistol on the market, you can certainly spend more money on some of the finer pistols and I have done so myself.  But if you are looking for a gun to pack away for a SHTF moment, something to keep disassembled in the hidden compartment of the trunk of your car when you are away from home, a pistol that will not break the bank but yet you can stake your life on it.  Then you are looking for a Glock, the ultimate survival pistol.
The Torture Test
I found this video on youtube where FPS Russia freezes a Glock Pistol in a block of ice and then proceeds to literally torture the gun (Glock Torture Video).  The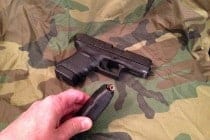 interesting thing he says in the video is that "If you compare a $500 1911 to a $500 Glock, there is no comparison, the Glock is just one of those guns that just never ever fails."  I agree with him, for the money the Glock is tough to beat.   1st in the video he shoots the Glock out of a block of ice.  Then he uses the Glock as a hammer.  After that he shoots the Glock with a .45 ACP pistol (yes – he shoots it!!!)  Then he throws it in a wood stove after which he blows it up with tannerite.  Sort of a waste of a nice pistol but I get what he is trying to prove, under almost any conditions the Glock will survive and if you are looking for a survival pistol then Glock is what you might need.
Knock Down Power
There have been many debates about the perfect pistol round… 9mm, .22LR, 10mm, .40 or .45.  Although the Beretta 92F is the 9mm pistol of our military, special ops still carry a .45 and most law enforcement personnel carry a .40cal or 10mm. Why? What round is perfect for your survival pistol?  What is the take-down potential of each round?  The Taylor Knock Out Impact Ratios are definitely worth looking at when considering the type of sidearm you are carrying and relying on when the Sh*t Hits the Fan.
Last update on 2023-09-24 at 13:02 / Affiliate links / Images from Amazon Product Advertising API
They are as follows:
Pistol Caliber / Taylor Knock Out Ratio
.22LR / 1.33
.380 / 4.99
38 Special / 6.46
9mm /7.43
9mm+P / 8.38
10mm / 11.56
357 Mag / 10.20
40 S&W / 10.56
44 Special /11.76
44 Magnum / 17.65
45 ACP / 11.83
45 ACP+P /14.89
*An average of three factory loads was determined for each value
*+P is a higher velocity round (higher pressure)
Although I did not review the .380, it is the concealed carry gun for many… look at how low the knock out ratio is compared to that of a 9mm, 9mm+p, 40S&W, and the 45ACP and 45ACP+P.  Then there is the .22LR, the knock down power is weak but rounds are cheap and the recoil is minimum.  I still like the idea of the .22LR for survival even with a weak score on the Taylor Knock Out list.  There are many variables to consider when choosing your survival sidearm.  Size? Is it truly concealable?  How many rounds in the magazine? Cost of the pistol?  Cost of the round? Availability of the ammo? Comfort, and others… I would encourage you to not overlook these knock out ratios and consider them when deciding what weapon is right for you.
Versatility
One of the things that I love about the Glock platform is the versatility of the Glock.  The Glock is sort of like the Jeep of the
pistol world, there are a lot of aftermarket parts.  With the rail under the barrel, the Glock provides the perfect fit for an integrated laser/light platform like the LED M6.  Other options include the awesome KPOS system from FAB Defense out of Israel.  The KPOS System turns your Glock into a sub-machine gun, make sure you check your local NFA rules before you put one together. The KPOS just scratches the surface of the customizations you can do with the Glock.
Now on to the Glocks!
When I dug deeper into the Glock family, there were 4 platforms that I really liked for survival and concealed carry.  They were the Glock 17, 19, 20 and the Glock 30. The comfort and feel of the Glocks were all very similar with each pistol.  The Glock feel is nothing new and it has come to be expected with any Glock pistol that you grab.  The feel is not sexy, but it has the feel of familiarity like a good pair of work gloves that you can rely on.
GLOCK 17
Caliber / 9x19mm
Weight / 22.22oz
Barrel Length / 4.48inches
Trigger / Safe Action
The Glock 17 can be used for self-defense and is the most widely used Glock by law enforcement around the world.  The average
magazine capacity is 17 rounds.  I enjoyed this standard sized 9mm Glock.  It shot well, fit in my hand well and with a 9mm round, there was not much recoil.  I could stay on my sights and stay on target consistently and accurately.  I could draw it rapidly and get on target.  With the availability of the 33 round magazine, this is a solid choice for an ultimate survival pistol.  Most survivalists (and most of the team at SurvivalCache.com) will tell you that the Glock 17 is their pistol of choice for SHTF.
GLOCK 19
Caliber / 9x19mm
Weight / 20.99oz
Barrel Length / 4.02inches
Trigger / Safe Action
The Glock 19 is a compact 9mm.  This sidearm can be used for everyday carry, used as a duty sidearm, and is used by special operators.  The G19 is ideal for multiple roles due to its reduced size.  Even though it is the compact version, it still fit in my hand well.  Just like the G17, the 9mm round did not give me too much recoil and was reliable and accurate.  This pistol can also accept the 33 round magazine making it an acceptable choice for a survival pistol.
GLOCK 20
Caliber /10mm
Weight / 27.69oz
Barrel Length / 4.60inches
Trigger / Safe Action
I've heard the G20 referred to as a Polymer version of a .357 magnum
with a 15 round capacity.  That's true! The Glock 20 comes with more Knock Down power than the G17 and G19, a slightly larger frame, and has a bit more weight to the weapon.  With the larger round, there was obviously more recoil, but I still got rounds on target and got back on the standard Glock sights quickly and did not compromise accuracy with the weapon.  As I mentioned, the G20 is larger, especially compared to the G17 and G19.  I liked the larger weapon and especially liked the larger round and got more knock down with the G20.  The gentleman that loaned us this gun for testing bought it as a bear gun for his trips to Montana. (I love the cartoon above, click on it to make it bigger)
GLOCK 30
Caliber / .45 ACP
Weight / 23.99oz
Barrel Length / 3.77inches
Trigger / Safe Action
Maximum Firepower and Maximum Concealment is what I have to say about the Glock 30.  This is my personal carry gun and it is an
awesome hand cannon that has a 10+1 capacity.  The G30 is the first choice carry gun for many plainclothes officers and security personnel in the US.  The G30 is easy to draw and quick to get rounds on target.  The G30 is a smaller weapon compared to the others I reviewed and my pinky finger hangs over the end of the magazine.  I've adjusted my grip and can still control the weapon well.  Once again, reliable and accurate fire is what I get from my G30 accompanied with MAXIMUM Firepower with a .45 round.
I recommend all of these Glock weapons.  Although, I am biased and partial to the .45 and G30 platform, I enjoyed the G17, G19, and G20 very much and plan on putting a few more Glocks into my arsenal.  Time and time again, Glock has performed on the battlefield, in law enforcement and in the hands of average civilians.  The G17 and G19 are what made Glock what it is today.  Glock continues to innovate and improve their weapon systems.  They now have Gen4, SF and S versions of many of the calibers that I reviewed.
You just can't go wrong with a GLOCK!
When choosing the right ultimate survival pistol for you: Remember the Taylor Knock Down Ratio, how does the weapon feel and fit in your hand, can you control the recoil, can you get back on the sights quickly, how many rounds do you need and want in your magazines, and what is the go to caliber for you?  The Ultimate Survival Pistol really depends a lot on you, what you can afford, what you can carry and operate effectively.  Consider all of these factors when you purchase your next pistol.
One note on Self-defense, specifically in the home… the Taylor Knock Down ratio for a 12-gauge shotgun slug round is a whopping 69.00!!!  Keep that in mind when thinking of home protection, nothing wrong with having one of these Glock pistols as a back-up weapon in the home, in your bug out bag, or at your bug out site.
Stay Survival Fit – Body and Mind!!!
Mark
Photos by:
SurvivalCache.com Team
FAB Defense
Unknown Artist
Save