Many shooting situations demand quick target acquisition combined with rapid sight position.  Iron sights and traditional scopes often make this combination of speed and accuracy impossible.  What iron sights and traditional scopes lack, reflex sights. This advantage has made red dot sights one of the fastest-growing optics market segments.
With so many entries in the marketplace, choosing a red dot reflex sight for your AR-15 has become a challenge.  What makes a good reflex sight?  How do the top brands compare?  Which reflex sight is the best? These are all reasonable questions that deserve answers before you decide on a reflex sight.
I have surveyed what I consider the top models of reflex sight on the market. From the information in this article, I hope you will gain insight into what makes up my top reflex sight picks and, with this information, you can decide which scope best fits your needs.
What is a Reflex Sight?
In general, reflex sights are considered a type of red dot sight.  Unlike a traditional scope with a lens at both ends connected by a tube, reflex sights have only one piece of optical glass in the sight plane.  The reticle's image or aiming point, often a single red dot, is projected onto the optical glass. A reflex sight system has several advantages.
You have unlimited eye relief.
You can aim and shoot with both eyes open
Reflex sights are among the fastest sights to acquire a target
Small and lightweight
Relatively inexpensive
---
What You Should Expect in a Good Reflex Sight
Shopping for a reflex sight is much like choosing any other type of sight or optic.  You should look for certain things in any piece of equipment and a few things specific to reflex sights.
Quality of Construction and Materials – Reflex sights don't have the metal tubes and body like most other optical sights.  The lightweight and low profile of reflex sights can leave them prone to begin more easily damaged.  You should buy the reflex sight with the best possible construction and made with the highest grade components.
Beware of knockoffs and Counterfeits – The marketplace, especially the online discounters, are rife with cheap off-shore knockoffs and counterfeits of the best reflex sights.  These cheap imports are, in some cases, visually identical to the originals and are hard to spot.  Buy from reputable dealers with a known reputation.
Little or no parallax error – Without going into a long and detailed explanation of parallax, suffice it to say that good reflex scopes virtually eliminate parallax error.  Unlimited parallax makes the aiming process faster and more intuitive.  Avoid reflex sights that have anything but a parallax that is close to unlimited.
Magnification – BY and large, reflex sights offer no magnification themselves.  However, magnifiers designed to work with reflex sights are available to give you as much as 4X magnification.  If you anticipate needing magnification, be sure that any reflex sight you consider is compatible with a magnifier.
Battery Life – Reflex sights depend on a power source to project the reticle onto the glass to make the aiming system.  Battery life is a critical part of the package.  If you want to avoid having to change batteries at all possible every time you go to the range.  Look for a reflex sight with long battery life and an easy-to-change battery system.
Dot Size – The size of the aiming dot can make a big difference.  Most reflex sights sport a 2 MOA dot.  At 100 yards, a 2 MOA dot will cover a bit more than 2 inches of your target.  There are reflex sights that offer smaller red dots, which makes these sights more precise.  Avoid a reflex sight with a dot larger than 3 MOA if possible.
---
My Choices for the Best Reflex Sight for you AR-15
This list is by no means comprehensive or exhaustive.  Space doesn't allow that kind of review.  However, the reflex sights I have chosen are what I consider the best for the average shooter, a few looks to the competitive shooter and the professional operator.   I caution you to do your research and draw your conclusions before making any decision.
Best Overall Reflex Sight for an AR-15 – Holosun HS510C 2 MOA Reflex Optic Review
In a few years since entering the reflex sight market, Holosun has built an impressive reputation.  The quality of the Holosun line of optics and sights continues to impress shooters across the industry.  Holosun has leveraged innovation and technology to bring products to the market that offer new and unique features to shooters of all levels and types.
The Holosun HS510C reflex sight is no exception.  From the advanced battery management system to the multi-reticle display, the Holosun HS510C reflex sight is, in my opinion, the best reflex sight for the price on the market today.  Just look at this impressive list of features.
A 2 MOA dot inside a 65 MOA circle provides a quick and easy to acquire target picture
The Solar Failsafe system harnesses the power of sunlight to keep battery use to a minimum.
LED light technology provides extremely bright and sharp reticle images with the least battery drain.
Shake Awake technology further improves battery life by putting the electronics in standby mode when the sight is not moving.  At the first movement, the reticle is back on and ready.
The combination of the Solar Failsafe system, LED technology, and battery management software allows up to 50,000 hours of battery life.
Easy to change battery tray design eliminates the need to remove your rifle's sight to change the battery.
Twelve total intensity settings on the reticle allow adjustment for any lighting conditions.  Two of the intensity levels are night-vision compatible.
Multi-layer optical coatings protect the glass on your Holosun reflex sight.
Technically, the Holosun is a match for almost any reflex sight on the market.
Reticle – 2 MOA dot inside a 65 MOA circle
Reticle color – Red
Parallax free design
Battery – Cr2032
Battery life – 50,000 hours
Window size – .9 x 1.26 inches
Length – 3.3 inches
Height – 1.68 inches
Weight – 4.94 ounces
Constructed of titanium and aluminum
Clicks per adjustment – .5 MOA
Total windage and elevation travel – 50 MOA
IP67 Waterproof certification
The Holosun HS510C reflex sight is defining the playing field for the other competitors in this market.  The quality, features, and performance of the Holosun reflex sight compared with the price makes this reflex sight the outstanding choice for the best overall pick on my list.
The Ultimate Reflex Sight for Your AR-15 – Trijicon RMR Type 2 Adjustable LED Reflex Sight Review
Picking the reflex sight for this category was no problem.  There is never a doubt in my mind that if the top of the line reflex sight is the goal, I am shopping at Trijicon.  This category usually means that the sight is meant for situations or circumstances where nothing but the best is acceptable.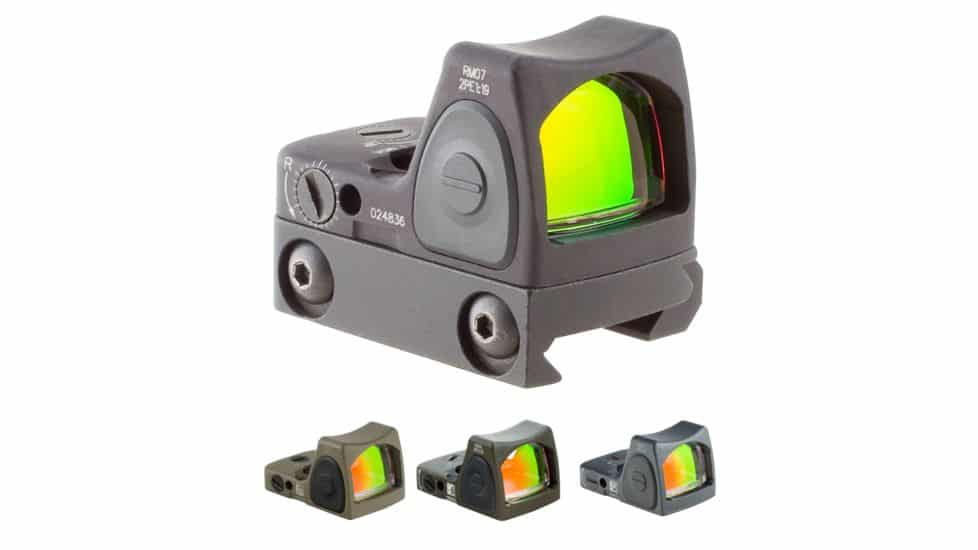 Trijicon is undeniably the top pick among military and police for both pistol and rifle mounted reflex sights.  If you want to mount a professional grade sight on your AR-15, the Trijicon is the most logical choice.  The feature list is a good indicator of why this is true.
A 1 MOA dot allows precise and accurate aiming up close and at a distance.
A Patented housing design that absorbs impacts and moves stresses away from the lens.
Upgraded electronics have proven to withstand the stresses associated with recoil on high power firearms.
Low profile and lightweight keep the Trijicon RMR reflex sight concealable as well as easy to holster and carry.
Easy to use buttons allow quick illumination adjustments.  All the sight controls are side-mounted for easy access and manipulation.
You can toggle quickly between automatic and manual illumination control using the side-mounted buttons
automatic cut off after 16.5 hours if the RMR sight is in manual mode
All RMR sights are compatible with night-vision equipment
Fully multi-coated lenses for maximum light transmission and clarity
Easy adjustments for windage and elevation
Waterproof to 20 meters (66 feet)
The technical specifications for the Trijicon RMR reflex sight maintain the high standards of Trijicon.
Overall length – 1.8 inches
Overall height – 1 inch
Reticle color – Red
Reticle size – 1 MOA
LED illumination source
Battery – 1 CR 2032
Adjustments per click – 1 MOA
Forged aluminum construction
Weight – 1.2 ounces
Eight illumination manual illumination adjustments
Automatic illumination adjustment
Battery life – over four years of continuous use at brightness setting 4 of 8
If the budget is not a factor or your situation and circumstances demand that you carry the best equipment, then the Trijicon RMR Type 2 reflex sight should be on top of your list.  When the sight on your rifle could be a matter of safety or survival, my pick would be the Trijicon RMR Type 2 reflex sight.
Best Alternative Reflex Sight for your AR-15 – Vortex Venom Reflex Sight Review
Surprisingly, the Vortex Venom sight has become almost a budget alternative.  I am a huge Vortex Optics fan.  Vortex optics outnumber any other scope or sight in my gun safe.  I believe that Vortex Optics produces some of the finest optical sights available for the price.  
The Vortex Venom is no exception.  I have several of these tiny reflex sights.  One of my Vortex Venom sights rides on my AR-15 pistol platform.  This pistol is my backup and rides in my truck almost all the time.  The Vortex Optics scopes' rugged reliability is a big factor in my decision on which optic I put on this gun.  
Even at its low cost, the Vortex Optics Venom reflex sight offers an impressive features list.
Extremely low profile and small size
Despite the size, the Vortex Venom sports one of the largest viewing windows available
A fully multi-coated lens increases light transmission, sharpens images, and reduces glare
Ten levels of intensity setting on the dot, including an automatic mode that senses the ambient light levels
Unlimited eye relief
Parallax free operation
3 MOA red dot reticle is perfect for close quarters use
Technically, Vortex scopes and sights are among the best in the industry
Weaver or Picatinny rail mounts
Reticle color – Red
Reticle dot size – 3 MOA
Eye relief – unlimited
Adjustment per click – 1 MOA
Maximum elevation adjustment – 130 MOA
Maximum windage adjustment – 100 MOA
Parallax free operation
Length overall – 1.9 inches
Weight – 1.1 ounces
Battery – CR-1632
Battery life – Up to 150 hours on the highest setting.  Over 30,000 hours on the lowest setting.
What is included in the package?

One Venom Reflex Sight
T-15 Torx wrench
Rain cover
Lend cloth
Mounting screws
CR-1632 battery
Screwdriver

Vortex Optics No Questions Asked warranty
For the money, the Vortex Venom reflex sight is unbeatable in my book.  The Vortex Venom is my choice for several of my firearms.  Value-wise, I don't think you can go wrong choosing a Vortex Optics product.  Whether on the range, in competition, or the field, a Vortex Optics sight won't let you down.
Best Runner-up Reflex Sight for your AR-15 – Sightmark Ultra Shot M-Spec LQD Reflex Sight Review
Sightmark optical systems often go overlooked or unnoticed by many shooters.  Sightmark came to the market in 2007 and has been quietly building a reputation as a quality producer of optical sights.  At one time, I was a Sightmark dealer and was always pleased with these products' quality and performance.
The Sightmark Ultra Shot M-Spec reflex sight holds to the goal of Sightmark to produce high-quality optics for the civilian shooting market.  Sightmark has built into the Ultra Shot reflex sight features that you would normally expect from much more expensive products. 
The Sightmark Ultra Shot M-Sec feature list bears out this commitment to quality and richness.
Integrated sunshade provides relief from glare as well as providing additional protection for the glass
Advanced coatings protect the lens system from scratches and damage
Integral quick-detach Picatinny rail mounting system
12-hour auto shut-off conserves battery power
Motion sensing on and off system means never having to fumble with a button to get ready to shoot
Visible low battery indicator
Circle and dot reticle pattern for quick and easy target acquisition.
Ten intensity settings
Night-vision compatible
Parallax free operation
IP55 weather resistance rating
IP68 waterproof rating
If you had to price the Sightmark Ultra Shot M-spec reflex sight based on the specification, the price would be much higher than you will pay.
Reticle – 2 MOA central dot surrounded by a 65 MOA circle
Reticle color – Red
Intensity Settings – Ten total with night-vision compatible setting
Overall length – 4.01 inches
Weight – 10.2 ounces
Unlimited eye relief
Maximum elevation and windage adjustments – 120 MOA
Adjustment per click – 1 MOA
Body material – Magnesium alloy
Battery type – CR123A
Battery life – up to 2,000 hours
Sightmark makes my list as the runner-up in the best overall category based on my experience with this brand from its introduction.  If you want a more traditional reflex sight without all the Holosun reflex sight's added technology, the Sightmark Ultra Shot M-spec sight is a great choice.
---
Make Your Pick, Your Pick
I hope that my comments, thoughts, and recommendations help you find the best reflex sight to fit your needs.  I encourage you to look at the market and see what else is available.  Make your choice after you have considered all the possibilities and your expectations.  As always, be safe, have fun, and happy shooting.